By Lauren Fisher for Jennifer Wood Media, Inc
Calgary, AB, Canada – July 3, 2014 – RCG Farm's Uceko quickly returned to the winner's circle with Kent Farrington (USA) at this week's Spruce Meadows 'North American' Tournament after nearly six months out of competition for a well deserved rest. Farrington and Uceko jumped to an impressive victory in Thursday's $85,000 Progress Energy Cup 1.55m over McLain Ward (USA) and HH Carlos Z (second), and Pablo Barrios (VEN) with Zara Leandra (third). Ward settled for second in that class, but got a win earlier in the day in the $33,500 Suncast Cup 1.45m aboard Zander. The $35,000 PwC Cup 1.50m was also held on Thursday with a victory for Darragh Kenny (IRL) and Picolo.
The 'North American' Tournament continues through July 6, featuring the $210,000 ATCO Power Queen Elizabeth II Cup on Saturday and the $210,000 Cenovus Energy Classic 1.50m Derby on Sunday.
Leopoldo Palacios of Venezuela is the course designer in the International Ring for the week and showcased another day of fantastic show jumping in Thursday's competition. In the $85,000 Progress Energy Cup, Palacios saw 42 entries with nine in the jump-off and six double clear rounds. Kent Farrington and Uceko stopped the clock in 36.93 seconds for the win.
McLain Ward and Double H Farm's HH Carlos Z clocked in at 38.49 seconds to finish in reserve. Pablo Barrios and ZL Group Inc.'s Zara Leandra placed third in 38.57 seconds.
Thirteen-year-old Uceko, a KWPN gelding by Celano x Koriander, has had an illustrious career with Farrington including some big wins at Spruce Meadows. Following a fantastic 2013 season, Farrington decided to give Uceko a rest while he focused on some of his other horses. Uceko has not shown since December and came out for the first time this week looking immediately back on form.
"That horse has worked really hard for me for four years," Farrington explained. "Now that I have some other horses that have stepped up to be competitive, I thought he deserved a break. I gave him six months to not even look at a jump and forget about showing for awhile. This is his first week out. He feels really fresh and better than ever and really excited to be back at a show. I could not be happier with him."

Kent Farrington and Uceko
Commenting on their winning round, Farrington noted, "My horse has a very big stride, so the field really suits him. He is also quite brave, so he can kind of go on the attack at the jumps. With him, it's really just playing to his strengths as a horse."
Often a consistent winner at Spruce Meadows each year, Thursday's win was actually Farrington's first victory at the Summer Series. He has gotten a lot of good experience in with his younger horses, but was happy to finally take a round of honor.
"That's sometimes our sport and how it goes. It's a game of inches and half-seconds," Farrington acknowledged. "I had a couple things not break my way so far, so it is good to get a win under our belt, so to speak. I didn't bring as many experienced horses as in the past. I really just brought Voyeur for the bigger classes. I have a bunch of younger ones that are getting a lot of miles and they are competitive, but they aren't really ready to win. When you have an experienced horse like Uceko, it is really nice to go in a class and know that you can put the pressure on, put the hammer down, and go to really compete and not have to hold back."
As Uceko continues to get back in shape, Farrington will likely jump him one more time this week with the ultimate goal of competing in the final grand prix of the Summer Series, the $400,000 Pan American Cup presented by Rolex on Sunday, July 13. He plans to jump Voyeur in Saturday's$210,000 ATCO Power Queen Elizabeth II Cup.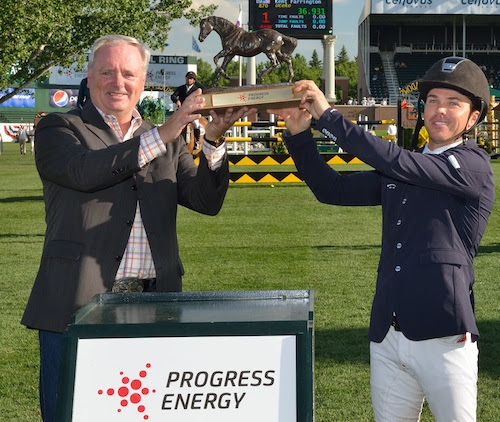 Kent Farrington lifts the winner's trophy with Michael Culbert,
President & CEO, Progress Energy
"Voyeur has done more, so that was my plan," Farrington stated. "I think he is really a great horse as well, but he doesn't have as much experience. This is one of the best venues not just for the top horses, but also to produce a horse. If they jump here in this ring over these jumps, you can feel pretty comfortable that they can go almost anywhere in the world."
Kenny and Picolo Win Again
The $35,000 PwC Cup 1.50m was held on Thursday with a win for Ireland's Darragh Kenny aboard Oakland Ventures LLC's Picolo. Thirty-eight entries jumped the first round track followed by a seven-horse jump-off with three double clear rounds.
Eric Lamaze (CAN) was first to go over the short course with Artisan Farms LLC's Zigali P S and set the time to beat at a very fast 38.69 seconds, but eventually settled for second place when Kenny and Picolo took the challenge, next to go. They blazed through the course in 37.33 seconds to take the lead. Kevin Babington (IRL) and Shorapur LLC's Shorapur completed the only other double clear round in 40.00 seconds to finish third. Quentin Judge (USA) and Double H Farm's HH Dark de la Hart had the fastest four-fault round in the jump-off in 37.96 seconds for a fourth-place finish.
Kenny and Picolo have been on quite a roll this summer, including a win in Wednesday's $33,500 AON Cup 1.45m as well as two victories in the 'National' Tournament. Although Kenny has many fantastic mounts, he owns Picolo himself through his Oakland Ventures LLC, and has a special appreciation for the talented gelding.

Darragh Kenny and Picolo
"He's my pet," Kenny smiled. "He's my favorite. He is not a 1.60m horse; he never will be a 1.60m horse, but I gave everything I had to buy him. I got him, and he has never put a foot wrong for me. He goes in the ring every day and tries harder than any horse I know. Today I turned back to the second to last jump in the jump-off and I was at no distance, no anything, and I was like, 'Ok, here you go,' and he was like, 'I got it, it's no problem.' When you have a horse like that, it's an incredible feeling. It is also great because he is my own. That makes it even more special."
Kenny spoke about his winning round in Thursday's competition, explaining that although he won, Picolo was a big help in the jump-off.
"The course was quite tough. The time allowed was very tight in the first round," he noted. "I went very early on before the break, so he had a lot of time to rest, which seems to be working for him. It's difficult to keep your concentration for that length of time and go back in, but the horse is an incredible horse. I don't think today was one of my best rides in jump-off rounds, but I think he saved me a lot. I don't think I have ever ridden something so careful that wants to win so much. I stepped him up a little bit today to 1.50m, which isn't a huge problem for him. I have been using him in the 1.45m classes because I know he definitely wins those! He coped super today. I was a little worried about Eric. Zigali is one of his best horses. He went first and he went very fast, so I had a lot to do, but when you have a horse like that, it's easy."
Kenny has had a phenomenal summer and praised his great horses. "I'm very happy! I have been very lucky," he smiled. "All of my horses have been going great. They seem to like it a lot here. Like everyone, confidence is a huge thing. It doesn't matter who you are, from me to Eric Lamaze to somebody in the 1.20m division, it's all about confidence. If you can believe in yourself and believe in the horse, when you win classes, you get more confident, and then you just get on a roll. When you're winning, it's a lot easier to put the bad rounds behind you. It is a massive advantage to have a lot of nice horses. I have eight horses that I'm showing in the FEI division here. It's an incredible opportunity and I think that is the main key to my success, that I have super, super horses."

Darragh Kenny and Cal Jacober, Office Managing Partner, PwC, lift the trophy
Ward and Zander Secure Victory in Suncast Cup
The $33,500 Suncast Cup 1.45m was the first competition of the day in the International Ring with a win for McLain Ward (USA) and the 10-year-old KWPN gelding Zander (Cantos x Saygon), owned by Ward and Grant Road Partners LLC. The pair was incredibly fast over Leopoldo Palacios' speed track, setting the winning time of 63.61 seconds out of 78 competitors. In total, the course saw 17 clear rounds. 
Ward finished almost three seconds faster than second place finisher Will Simpson (USA) aboard Monarch International's Warrant with a time of 66.50 seconds. Nick Dello Joio (USA) and Coker Farm's Contiki finished third in 67.38 seconds.

McLain Ward and Zander
Ward and Zander have already had a great summer at Spruce Meadows with a win in the $33,500 Westmoreland Cup 1.50m during the 'National' Tournament in June as well as a second place in the $85,000 ATB Financial Cup 1.55M that same week.
Kicking off this week's 'North American' Tournament, Zander jumped in Wednesday night's 1.55mcompetition, but had some trouble on course that resulted in elimination. Ward chose to step down to the 1.45m track on Thursday to give his horse a positive experience.
"We went at a funny time of the day, and obviously it wasn't a great round," Ward acknowledged. "He was very backed off in that line on the side (of the ring). It was a different kind of test, and I would have handled some things different in my preparation. I went with a small spur; I should have had something bigger. I made a few errors in my prep, but actually, I had a feeling he would come back pretty strong today. I did decide to put him in this class because of it, to try and get him to even out a little bit. The speed class is normally pretty good for that."
Ward had Zander revved up and flying from the start for Thursday's 1.45m round. The first fence was set straight at the side of the ring where they had an issue the night before, but the rider was on it.
"It was going up into that same kind of slot that he struggled with yesterday," Ward noted. "Yesterday was a little bit darker when I went, but I wanted him in front of my leg. He had a really good warm-up today. He's the type of horse where you set the pace, and he's careful enough to stay on it like that."
The pair also went 35th out of 78 entries, and Ward knew that he had to set an unbeatable time to maintain the lead to the end.
"There were 40 coming behind me. Here, when you have those kind of numbers, you have to keep that in mind," he detailed. "It's not like a jump-off where I typically go with the philosophy, 'beat what's in front of me, the chips will fall where they are.' That's my way of thinking. This is a situation where you have to be aware of what's coming behind you in a class. Forty entries, at this level, if you just beat what's in front of you, you end up in the middle of the pack."
"Zander was great," Ward stated. "He is great at these speed competitions. He is careful, and he has a huge stride. I knew it was a big field, and I knew there were some fast ones coming behind, so I was going to try and set a pace that was a challenge for them, and fortunately it held up."

McLain Ward in his winning presentation
The 'North American' Tournament continues on Friday with the $33,500 Pepsi Challenge 1.45m and the $50,000 LaFarge Cup 1.50m in the International Ring. For more information and full results, please visit www.sprucemeadows.com. 

Final Results: $85,000 Progress Energy Cup 1.55m
1 UCEKO: Dutch Warmblood / G / 13 Celano x Koriander
KENT FARRINGTON (USA), RCG Farm: 0/0/36.93
2 HH CARLOS Z: Zangersheide / G / 12 Chellano Z x Voltaire
MCLAIN WARD (USA), Double H Farm: 0/0/38.49
3 ZARA LEANDRA: Dutch Warmblood / M / 10 Metropole x Ahorn
PABLO BARRIOS (VEN), ZL Group Inc: 0/0/38.57
4 TRIPPLE X III: AES / S / 12 Namelus R x Cantango
TIFFANY FOSTER (CAN), Artisan Farms LLC: 0/0/39.47
5 CHILL R Z: Zangersheide / S / 11 Chellano Z x A Lucky One
CHARLIE JAYNE (USA), Alex R Jayne: 0/0/39.95
6 DIXSON: Belgian Warmblood / G / 11 Vigo D Arsouilles x Olisco
IAN MILLAR (CAN), Susan & Ariel Grange: 0/0/41.81
7 TIC TAC: Belgian Sport Horse / S / 11 Clinton x Darco
LESLIE HOWARD (USA), Jane Clark: 0/4/37.92
8 CASALL: Holstein / G / 9 Casall x Capitol I
ALI WOLFF (USA), Blacklick Bend Farm: 0/8/40.09
9 QUILEBO DU TILLARD: Selle Francais / G / 10 For Pleasure x Quat Sous
ENRIQUE GONZALEZ (MEX), Enrique Gonzalez: 0/16/55.77
10 VERDI III: Dutch Warmblood / G / 12 Hors la Loi III x Cantus
TIFFANY FOSTER (CAN), Artisan Farms, LLC: 1/72.67
11 EREGAST VAN'T KIEZELHOF:Belgian Warmblood / G / 10 Thunder van de Zuuthoeut x Lantano
SHANE SWEETNAM (IRL), Spy Coast Farm, LLC: 1/72.72
12 DOREMI: Belgian Warmblood / S / 11 Quidam de Revel x Cento
BEN ASSELIN (CAN), Linda Southern-Heathcott: 1/73.67
Final Results: $35,000 PwC Cup 1.50m
1 PICOLO: Selle Francais / G / 11 Diamant De Semilly x Alme
DARRAGH KENNY (IRL), Oakland Ventures LLC: 0/0/37.33
2 ZIGALI PS: Dutch Warmblood / G / 10 Kigali x Palfrenier
ERIC LAMAZE (CAN), Artisan Farms, LLC: 0/0/38.69
3 SHORAPUR: Hanoverian / M / 9 Stakkato Gold x Drosselklang II
KEVIN BABINGTON (IRL), Shorapur LLC: 0/0/40.00
4 HH DARK DE LA HART: Belgian Sport Horse / S / 11 Kashmir van Schuttershof x Nonstop
QUENTIN JUDGE (USA), Double H Farm: 0/4/37.96
5 GELEDIMAR: Zangersheide / M / 11 Grosso Z x Lord Z
WILL SIMPSON (USA), Monarch International: 0/4/39.14
6 ROSANA DU PARK: Dutch Warmblood / M / 9 Kannan x Ukase
ERIC LAMAZE (CAN), Artisan Farms LLC & Torrey Pines: 0/5/48.52
7 AMBOSELLI: Dutch Warmblood / G / 9 Silverstone x Lancelot
PABLO BARRIOS (VEN), Pablo Barrios: 0/8/44.50
8 QUIDAM BLUE: Hanoverian / S / 9 Quidam's Rubin x Come On
JILL HENSELWOOD (CAN), Ute Brinkmann: 1/75.04
9 PATER NOSTER: Belgian Sport Horse / G / 12 Parco x Heartbreaker
JACLYN DUFF (CAN), Jaclyn Duff: 1/75.81
10 CHAQUI Z: Zangersheide / S / 8 Chacco Blue x Quilana Z
SHANE SWEETNAM (IRL), Spy Coast Farm, LLC: 1/76.89
11 SAMSON II: Swedish Warmblood / G / 10 Cardento x Bellini
KIRSTEN COE (USA), Lovsta Stuteri: 1/78.39
12 FREESTYLE DE MUZE: Belgian Warmblood / G / 9 Lord Z x Cento
RICHIE MOLONEY (IRL), Equinimity LLC: 2/79.34
Final Results: $33,500 Suncast Cup 1.45m
1 ZANDER: Dutch Warmblood / G / 10 Cantos x Saygon
MCLAIN WARD (USA), McLain Ward & Grand Road Parters LLC: 0/63.610
2 WARRANT: Dutch Warmblood / S / 11 Numero Uno x Nimmerdor
WILL SIMPSON (USA), Monarch International: 0/66.501
3 CONTIKI: Swedish Warmblood / G / 8 Contendro x Calido I
NICK DELLO JOIO (USA), Coker Farm: 0/67.386
4 PALDATUS: Oldenburg / G / 13 Padarco x Aldatus
ANTONIO MAURER (MEX), Salvador Onate: 0/68.481
5 CHIARA WZ: Zangersheide / M / 14 Carthago Z x Voltaire
KARA CHAD (CAN), Stone Ridge Farms LLC: 0/68.733
6 BELIEVE: Dutch Warmblood / M / 8 Ulcato x Burgraaf
DANIEL BLUMAN (COL), Blue Star Investments: 0/69.681
7 LAPACCO: Holstein / G / 15 Lavaletto x Grundyman
WESLEY NEWLANDS (CAN), Weslands Farm: 0/71.048
8 DOBRA DE PORCEYO: Dutch Warmblood / M / 8 Action Breaker x Indorado
SCHUYLER RILEY (USA), Wolfstone Stables & Sales Inc: 0/71.316
9 SIEC LEDGEPOINT: Holstein / G / 13 Lancer II x Capitol I
GABRIELA MERSHAD (USA), Mershad Stables: 0/71.588
10 WAOMI: Dutch Warmblood / M / 11 Lupicor x Boreas
MEAGAN NUSZ (USA), Amalya Investments: 0/71.822
11 ZINNIA: Dutch Warmblood / M / 10 Mermus R x Darco
ANDREW WELLES (USA), Andrew Welles: 0/73.652
12 GENEROSO RM: Warmblood / S / 8 Orame x Bachus
ANTONIO CHEDRAUI JR (MEX), Armando Torrado Martinez: 0/74.016
Based in Calgary, Canada, Spruce Meadows is the brainchild of the Southern family who built a Show Jumping complex at the foothills of the Alberta Rocky Mountains. It was in 1976 that the first Spruce Tournaments were held, with annual spectator attendances reaching over 50,000 by the end of the decade. Today, Spruce Meadows boasts one of the greatest outdoor equestrian venues in the world and offers an incredible experience for riders and fans alike. Spruce Meadows focuses on the organization and hosting of show jumping tournaments of unmatched quality for junior, amateur and professional athletes in a manner that reflects basic family values in a clean, green and welcoming environment that celebrates the horse and encourages the breeding and training of quality sport horses and the teaching and development of athletes. For more information on Spruce Meadows, please visit www.sprucemeadows.com.
Photos © Spruce Meadows Media Services. They may only be used in relation to this press release and with photo credit.