By Lauren Fisher for Jennifer Wood Media, Inc.
Calgary, AB, Canada – July 5, 2014 – The 'North American' TournamentCSI 5* at Spruce Meadows featured the $210,000 ATCO Power Queen Elizabeth II Cup on Saturday with an exciting win for USA's Kent Farrington and Voyeur. With an incredible resume of wins, this was Farrington's first time winning the prestigious competition. He finished ahead of Paulo Santana (BRA) and Taloubet, and Quentin Judge (USA) and HH Copin van de Broy, who finished second and third respectively.The $85,000 TD Cup 1.50m winning round competition was also held on Saturday with a win for McLain Ward (USA) and HH Carlos Z.
Course designer Leopoldo Palacios (VEN) set a big challenge for the horses and riders inSaturday's $210,000 ATCO Power Queen Elizabeth II Cup. The competition was held in a two-round format with a final jump-off if needed. Thirty-one entries jumped in round one with 14 clears to advance over the second round course, but a jump-off was not necessary as none of the competitors were able to finish round two without fault. Kent Farrington took the win with one time fault in 77.40 seconds aboard Amalaya Investments' Voyeur, a 12-year-old KWPN gelding by Tolano van't Riethof x Goodwill.
"It felt great to win this class today. I have never won the Queen's Cup before," Farrington said after his victory. "I have had a lot of good seasons before, and I have come close, but I have just never won this class. I have come third and fourth and probably every other ribbon. That was really exciting for me today. I think I have a very special horse in Voyeur, and I look forward to big things from him in the future."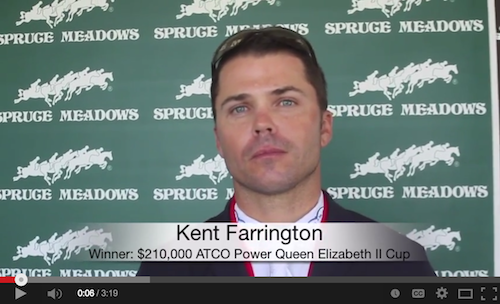 Find out more about Kent and Voyeur in this "One on One" video!
"I was excited to show," Farrington said of his mindset coming into the competition. "I really think a lot of this horse. I was really angry with myself the first week. I thought I gave away the grand prix, making a mistake in the jump-off. I wanted to be very focused today and give him the best shot to win it."
Finishing behind Farrington, three competitors had four faults each in round two and were placed based on their round one time. Paulo Santana (BRA) and Taloubet took the reserve honors with four faults in round two and a first round time of 87.86 seconds. Quentin Judge (USA) and Double H Farm's HH Copin van de Broy also had four faults in round two and placed third with their first round time of 88.18 seconds. Sameh el Dahan (EGY) took the fourth place prize with four faults and a round one time of 90.27 seconds with Joanne Sloan Allen's WKD Pepperpot.
Course designer Leopoldo Palacios set tough tracks for both rounds of competition and explained his strategy and reaction to the results, stating, "I wanted the first round as the qualifier for the second round. I don't like to have a jump-off with two rounds. It's not fair to horses jumping big, big fences to go two rounds and jump-off. I want to congratulate Kent and Paulo and Quentin for what they did. This second round was a very, very serious course."
The riders agreed on the difficulty of the course, and Farrington noted that his horse was definitely up to the challenge. "He's a very versatile horse," the rider stated. "The second round today was as big as almost any course in the world, and I think that he showed that he is on par with those horses."

Kent Farrington and Voyeur
Second place finisher Paulo Santana praised Palacios on stepping up the level of competition with his courses outside of Europe, stating, "I think America and Latin America have to thank Leopoldo for pushing the level of competition over here for the last ten years. I think it's very good for our sport to stay on a level close with Europe. We can see riders like Kent Farrington and Beezie Madden who are always in the top ten in the world jumping here and then staying competitive worldwide. In this course, your horse needed to be clever, be brave, and have power."
Santana jumped second in the first phase of round one of competition at 9 a.m. this morning and had to wait most of the day to return last in round two. Although it was a long day for the rider, he was happy with the end result.
"Coming in the last round, I thought, 'Oh this is a good position, but there is so much pressure,' Santana noted. "I didn't know if I could make a clear round. My horse had an old injury and he was not supposed to jump this horse show, and I had broken my ankle five weeks before we came here, but I rode and he was improving all of the weeks. He got all the support from the veterinarian team at Spruce Meadows, and it came together at the right moment."

Paulo Santana and Taloubet
Quentin Judge finished third with a fairly new mount in HH Copin van de Broy and was quite happy with his result as well.
"It's really special to do well in the grand prix here, especially as prestigious a class as this, with this much history," Judge acknowledged. "I can't say enough good things about the horse. He has miles and miles more experience than I do, so to have a horse like that going into a second round with tricky jumps, it gives me confidence as a rider. I have been really fortunate to have Hunter and Jeannie Harrison invest in this horse and believe in me. McLain Ward and his team gave me really good advice this summer. It has been great. He has been consistent, but it has been a slow progression to get to this. This really proves that we have done the right thing and done our homework, so I am really happy for him."
Commenting on the competition, Judge added, "I think the courses were difficult. The first round was difficult, but not impossible. It was a qualifier and the right horses got into the second round – veterans like Kent and McLain, and then people like myself who are just getting into it. It was a good mix of riders. The second round was a hard test. Coming to Spruce Meadows, it's going to be hard, and I thought it was a great course."

Quentin Judge and HH Copin van de Broy
Ward Wins TD Cup
The $85,000 TD Cup 1.50m competition was held earlier on Saturday in a winning round format with the top 10 out of 24 combinations returning for round two. McLain Ward and Double H Farm's HH Carlos Z were the only pair to jump clear in both rounds of competition. They completed the fastest of three clears in round one, making the pair last to go in the winning round, where they had the fastest clear in 44.58 seconds to take top honors.

McLain Ward and HH Carlos Z
Mexico's Jaime Azcarraga was the first rider to jump clear in round two with Matador in 46.26 seconds and had the rest of the field chasing his time, eventually finishing second. Elizabeth Gingras (CAN) and B Gingras Equestrian Ltd.'s Zilversprings were clear in 46.56 seconds to place third. Antonio Chedraui of Mexico also cleared the second course in 46.64 seconds to finish fourth with Fortin. Ian Millar (CAN) and Team Works' Star Power were fifth with a clear round in 49.61 seconds.
"The first round was difficult. The time allowed was tight again, but he has been performing really well," Ward said of HH Carlos Z, a 12-year-old Zangersheide gelding (Chellano Z x Voltaire). "We just tried to jump a nice, clear round and get under the time. Certainly being the fastest one helped, being able to watch Eric (Lamaze) and Quentin (Judge) go before me. It was certainly nice to be in that position. It was a little bit of a better position than we have been all week. This horse has been trying to win big classes the whole time here, it just came together today."

McLain Ward raises the winning trophy with
Derrick Cresswell-Clough, District Vice President Alberta Central, TD Canada Trust.
Ward stated, "He can kind of do everything. I almost put him in the grand prix today, but my stallion needs the experience. Carlos can do anything you want, basically. He's a bit of a younger version of my old mare Goldika. When you need her, she goes, kind of an ATM machine. I really like him."
HH Carlos Z will jump two classes in next week's 'Pan American' Tournament to conclude the summer series at Spruce Meadows and will then have a nice break while Ward hopes to be headed to France for the Alltech FEI World Equestrian Games. He then plans to come back to Calgary for the 'Masters' Tournament in September.
The 'North American' Tournament concludes on Sunday with the $210,000 Cenovus Energy Classic 1.50m Derby and the $85,000 Enbridge Cup 1.50m. For more information and full results, please visit www.sprucemeadows.com. 
Final Results: $210,000 ATCO Power Queen Elizabeth II Cup 1.60m
1 VOYEUR: Dutch Warmblood / G / 12 Tolaro Vant Riethof x Goodwill
KENT FARRINGTON (USA), Amalya Investments: 0/89.11 1/77.40
2 TALOUBET: Dutch Warmblood / G / 14 Baloubet de Rouet x Quidam de Revel
PAULO SANTANA (BRA), Paulo Santana: 0/87.86 4/72.70
3 HH COPIN VAN DE BROY: Belgian Warmblood / S / 12 Darco x Brown Boy
QUENTIN JUDGE (USA), Double H Farm: 0/88.18 4/69.30
4 WKD PEPPERPOT: Irish Sport Horse / M / 12 Heritage Fortunus x Diamonds Aretrumps
SAMEH EL DAHAN (EGY), Joanne Sloan Allen: 0/90.27 4/73.71
5 TRIPPLE X III: AES / S / 12 Namelus R x Cantango
TIFFANY FOSTER (CAN), Artisan Farms, LLC: 0/87.99 5/76.45
6 DIXSON: Belgian Warmblood / G / 11 Vigo D Arsouilles x Olisco
IAN MILLAR (CAN), Susan & Ariel Grange: 0/88.18 5/77.54
7 SHOWGIRL: Selle Francais / M / 14 Gold de Becourt x Elf III
YANN CANDELE (CAN), Watermark Group: 0/89.28 5/76.01
8 HH CANNAVARO: Holstein / S / 10 Caplan x Caretino
MCLAIN WARD (USA), Double H Farm: 0/88.35 9/75.41
9 ANTARES: KWPN / G / 9 Manhattan x Cavalier
PABLO BARRIOS (VEN), Stal Thijssen: 0/88.50 9/75.73
10 DYNAMO: Belgian Warmblood / G / 11 Skippy II x Veritas
MEAGAN NUSZ (USA), Amalya Investments: 0/89.20 9/77.55
11 CONCONCRETO SANCHA LS: Studbook La Silla / M / 11 Chin Chin x Polydor
DANIEL BLUMAN (COL), Daniel Bluman: 0/89.51 9/75.05
12 SPECIAL LUX: Irish Sport Horse / G / 10 Lux x Coille Mor Hill
JONATHAN MCCREA (USA), Candy Tribble: 0/89.61 12/74.84
Final Results: $85,000 TD Cup 1.50m
1 HH CARLOS Z: Zangersheide/G/Bay/12 Chellano Z x Voltaire
MCLAIN WARD (USA), Double H Farm: 0/0/44.58
2 MATADOR: Dutch Warmblood/S/Chestnut/12 Indoctro x Corland
JAIME AZCARRAGA (MEX), Jaime Azcarraga: 2/0/46.26
3 ZILVERSPRINGS: Dutch Warmblood/G/Grey/10 Silverstone x Emilion
ELIZABETH GINGRAS (CAN), B Gingras Equestrian Ltd: 1/0/46.56
4 FORTIN: Zangersheide/G/Bay/9 Forsyth x Quinar Z
ANTONIO CHEDRAUI (MEX), Antonio Chedraui: 2/0/46.64
5 STAR POWER: Dutch Warmblood/G/Bay/13 Quick Star x Calvados
IAN MILLAR (CAN), Team Works: 1/0/49.61
6 FINE LADY 5: Hanoverian/M/Bay/11 Forsyth x Hauptstutbuch
ERIC LAMAZE (CAN), Artisan Farms, LLC: 0/4/43.21
7 HH DONNATELLA: Belgian Warmblood/M/Bay/11 Toulon x Mr. Blue
QUENTIN JUDGE (USA), Double H Farm: 0/4/43.36
8 VICTOR: Dutch Warmblood/G/Bay/12 Elmshorn x Grandeur
TIFFANY FOSTER (CAN), Torrey Pines & Artisan Farms: 4/4/44.98
9 SAMSON II: Swedish Warmblood/G/Bay/10 Cardento x Bellini
KIRSTEN COE (USA), Lovsta Stuteri: 1/4/49.07
10 FINEMAN: Swedish Warmblood/G/Bay/11 Feliciano x Beach Boy
SHANE SWEETNAM (IRL), Sweet Oak Farm: 4/12/47.52
11 QUIGLEY: Oldenburg/G/Chestnut/11 Quidams Rubin x Argentinus
KYLE KING (USA), Paul Politeski: 5/81.50
12 UTAH: Dutch Warmblood/G/Bay/13 Andiamo/Jus de Pomme
LESLIE HOWARD (USA), Utah Group: 5/81.58
Based in Calgary, Canada, Spruce Meadows is the brainchild of the Southern family who built a Show Jumping complex at the foothills of the Alberta Rocky Mountains. It was in 1976 that the first Spruce Tournaments were held, with annual spectator attendances reaching over 50,000 by the end of the decade. Today, Spruce Meadows boasts one of the greatest outdoor equestrian venues in the world and offers an incredible experience for riders and fans alike. Spruce Meadows focuses on the organization and hosting of show jumping tournaments of unmatched quality for junior, amateur and professional athletes in a manner that reflects basic family values in a clean, green and welcoming environment that celebrates the horse and encourages the breeding and training of quality sport horses and the teaching and development of athletes. For more information on Spruce Meadows, please visit www.sprucemeadows.com.
Photos © Spruce Meadows Media Services. They may only be used in relation to this press release and with photo credit.