CULPEPER, VA (October 4, 2014) Dedicated sponsor Back on Track and HITS recognized and honored top performers of The HITS Culpeper Show Series 2014 during the Parade of Champions on the final day of competition.  Nearly 100 custom embroidered coolers provided by Back on Track and flowing tri-color ribbons were given to outstanding horses, ponies and riders who consistently rose to the top throughout the 6 weeks of competition at HITS Commonwealth park.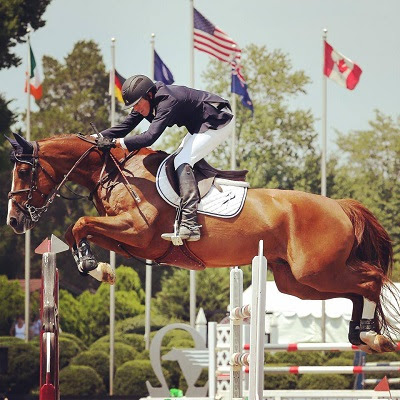 ©ESI Photography
Gallery of HITS Culpeper Back on Track  2014  Grand Circuit Champions and Reserve Champions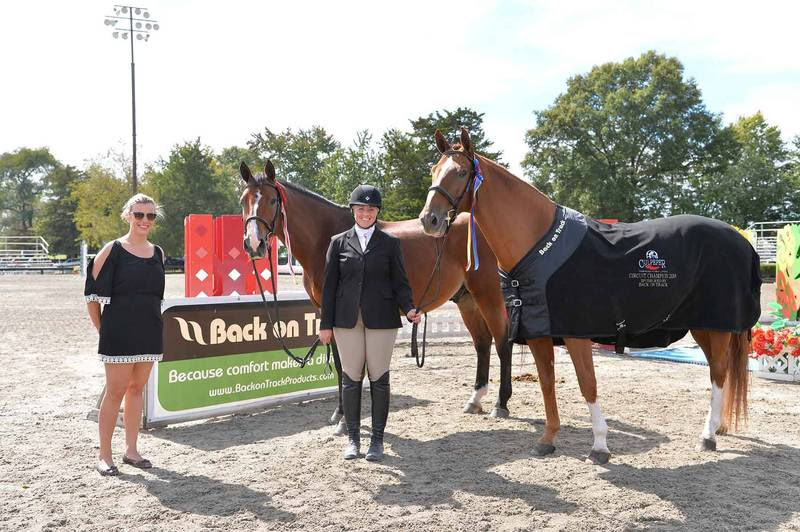 ©ESI Photography
Leading the way throughout the season at HITS Culpeper was accomplished professional Jason Berry, who captured four Back on Track Circuit Awards.
 ©ESI Photography
"This Back on Track cooler is one of the nicest prizes I have ever won at a horse show," noted Berry. "Its therapeutic advantages make it both memorable and very useful—I'm happy to bring it home." Berry competed every week at HITS Culpeper in 2014 and in addition to four circuit awards, was named the Charles Owen Leading Hunter Rider Week II, won the Devoucoux Hunter Prix Week I and placed in the top five in four of the other five weeks.
It was a memorable 2014 Culpeper Circuit for Berry and others…
For more inside scoop, personal stories and news from HITS Culpeper Series 2014 please click here.
HITS' staff thanks Back on Track for their support and the spectators and exhibitors who came and competed in 2014.  For the full list of 2014 HITS Culpeper Back on Track Grand Circuit Champions and Reserves please click here
About Back on Track
Mission
To improve the life and performance of horses, riders, and dogs! If you want to improve soundness and comfort for your horse by alleviating pain associated with inflamed muscles, ligaments, tendons and joints—choose Back on Track. State of the art therapeutic products clinically proven to reduce pain & inflammation.
Company Overview
You are on the way to a pain free life for both you and your animals.  Maybe it's hard to get excited since you have tried everything and not had any luck? Give yourself one more chance to a better and pain free life. We have a 30-day money back guarantee on all of our people products. It is our goal to provide an easy, comfortable and effective contribution to a life of health and well being. We do not say these are miracle products, but some of tens of thousands of Back on Track users all over the world do!
This includes some of the world's most accomplished riders:
Everything has been excellent since using the Back on Track leg wraps. We do a better job of protecting the horse's legs and stopped using poultice so it cuts down on the problem of drying out the legs and skin irritation. This is a wonderful product that keeps our horses in great shape.
– McLain Ward, Olympic rider: gold team medal in Athens.
After trying Back on Track we've seen a dramatic improvement with these great products. The horses' legs are tighter and cooler …Their comfort and soundness are number one for me, that is why Back on Track is the way for my horses and myself. It works!"
– Anne Kursinski, Olympic rider: silver team medal in Seoul and Atlanta.
We started using Back on Track products on our Grand Prix horses with such great results that now I use Back on Track all the time. I recommend their products to everyone with horses and for themselves.   – Margie Engle, 9 time Rider of the year and Olympic rider.
Back on Track leg wraps and back pads have proven themselves to me.  I can say without reservation I have seen a dramatic difference in our horses' legs.
Beezie Madden, Olympic rider: gold team medal in Athens.
To find out who else uses Back on Track's remarkable products  click here
Thank You Back on Track 
See You All Next Year at HITS Culpeper 2015!