CULPEPER, Virginia (July 14, 2015): Melisssa Rudershausen and her Charmeur Ask won first place in Sunday's $40,000 HITS Purina Animal Nutrition Grand Prix at the HITS Culpeper Cavalier Classic.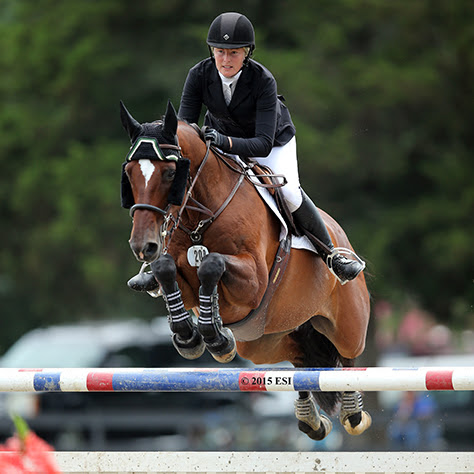 Rudershausen, of Kennett Square, Pennsylvania, went fourth in the 10 horse jump-off, taking first after the lead changed hands several times. "It was kind of a big jump-off. I had a plan to just go smooth and fast, but not out of control," said Rudershausen. "That strategy seemed to work."
The first to go clear in the jump-off was fourth-place finisher Conor O'Regan, of Upperville, Virginia, who went second on MCB Maya, owned by Robert Jornayvaz in 43.569 seconds. Third-place finisher Ian Silitch, of Ocala, Florida, on Cordovo, owned by Gaston Family Investments, went third and completed the round in a clear 40.290 seconds, taking the lead. Rudershausen, however, shaved more than a second off of Silitch's time to claim the lead finish in 39.159 — a time that would hold for the remainder of the round. Sillitch also went eighth in the jump-off on Vanita, of the same owner, and finished in 40.197, to top his earlier time and claim second place.
Rudershausen said Charmeur Ask, a 9-year-old Danish Warmblood, is still "quite green, but very, very talented. He's showing a lot of promise."
Anna Dryden and Classified Win $10,000 Junior/Amateur-Owner Jumper Classic, presented by Vetera® XP Vaccines
Anna Dryden, of New York City, and her Classified won Sunday's $10,000 Junior/Amateur-Owner Jumper Classic, presented by Vetera® XP  Vaccines — claiming the blue ribbon as the only pair to go clean in the first round.
Randy Johnson, of Clarksburg, Maryland, and Allegretta, owned by Greener Pastures Bethesda LLC, claimed second with the fastest four fault round in 83.170 seconds. Andrea Torres Guerreiro, of Waterford, Virginia, rounded out third and fourth with four faults on both Santa Catalina Farm's Victoria in 84.241 and Fifty Shades in 86.580. Dryden also placed fifth in the class on her Petrushka III in 86.660 seconds.
The Junior/Amateur-Owner Jumper Classic is held each week at HITS Culpeper and is a qualifier for the Vetera® XP Vaccines $250,000 Junior/Amateur-Owner Jumper Prix at the HITS Championship in September at HITS-on-the-Hudson in Saugerties, New York. At the Culpeper Finals (Week VI, September 23-27), the prize money increases to $15,000 in the Classic.
Aaron Vale and Quidam's Good Luck Win $15,000 Brook Ledge Open Jumper Prix
Aaron Vale and Quidam's Good Luck, owned by Troy Glaus, took first place in
Friday's
$15,000 Brook Ledge Open Jumper Prix. First to contest the jump-off course, Vale, of Williston, Florida, finished the 12-horse jump-off in the fastest time out of five riders who also made it double-clear.
Second-place finisher Jason Berry, of Verona, Virginia, on Varios, owned by Willoughby Stables, completed the shortened course in 39.941 seconds, and David Matisz, of Upperville, Virginia, placed third in 41.737 on Charles Pinckney, owned by David Matisz LLC and Margaret O'Neill.