The final winners of the 61st annual Washington International Horse Show (WIHS) were named on Sunday, October 27, at Capital One Arena in downtown Washington, D.C., marking the conclusion of the six-day horse show.
Among those claiming victories on Sunday was Samantha Takacs, who rode Brighton to the Grand Pony Hunter Championship title, and claimed The Miles River Moonglow Perpetual Trophy, donated by Scott Novick and Rustic Woods. Hallie Moss topped the WIHS Pony Equitation Finals aboard Birtley's Crowned Jewel to take home The Jane Marshall Dillon Memorial Perpetual Trophy, donated by the Friends and Students of Mrs. Jane Marsoall Dillon.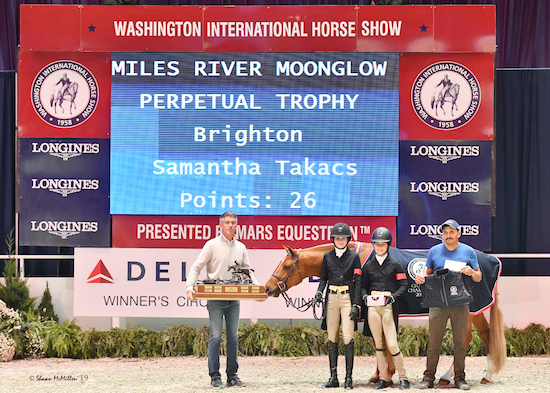 Takacs, 14, of Oldwick, NJ, and Brighton, owned by Ellie Sadrian, won the under saddle and earned a first and second over fences in the Large Pony Hunter division to clinch the division championship and the Pegasus Stable Perpetual Trophy, donated by Ms. Fenwick Kollock, on their way to the grand championship title.
"It feels so good!" said Takacs of her major victory. "I can't even describe how happy I am feeling right now. It's such an honor at this amazing horse show."
Takacs topped the WIHS Pony Equitation Finals last year riding Storyteller, and this year, she got the ride on Brighton from her good friend and fellow rider, Sadrian.
"My friend Ellie Sadrian and the Sadrian family own him, and they're so nice to let me ride him!" said Takacs, who began showing the 10-year-old German Riding Pony in May of this year. "He's so amazing. He rides like a little horse. His canter is so smooth, and he jumps so nice.
"Yesterday, he was really good," continued Takacs, who also claimed the Best Child Rider on a Pony title, sponsored by Gotham North. "I had a little bit of a mistake, but I knew that I had to do well today. He pulled through for me, and he was awesome today. I just tried my best and tried to keep it as consistent as possible, and it worked out really well."
Takacs has trained with David Belford and Christopher Payne at New Hope Farm for the last nine years, and she was not the only Belford and Payne-trained student seeing success on Sunday, as all three of the pony hunter division championships went home to New Hope.
In the Medium Pony Hunters, the championship and the Shenandoah Sundowner Perpetual Trophy, donated by Evan Coluccio and Ashmont Farms, went to Alexa Lignelli of New York, NY, riding EMC Entourage, owned by the Lignelli Family.
It was also Lignelli who claimed the Small Pony Hunter championship and the Stombock Saddlery Challenge Trophy, donated by Stombock Saddlery in Memory of E.P. (Bud) Stombock, this time aboard Rollingwoods Knee Deep, also owned by the Lignelli Family.
The day's reserve championships were awarded to Vivian Golden of Wyomissing, PA, and her own Dressed to Go in the Small Pony Hunters; Emilia Richard of Middlefield, CT, and Blue Chip, owned by Heritage Farm, Inc., in the Medium Pony Hunters; and Caroline Signorino of Basking Ridge, NJ, and Storyteller in the Large Pony Hunters. 
Hallie Moss Wins WIHS Pony Equitation Finals on Her First Try
Hallie Moss watched Sam Walker win the Lindsay Maxwell Charitable Fund WIHS Equitation Finals on Saturday evening at WIHS and carried her inspiration from that into her performance in the WIHS Pony Equitation Finals, presented by Betsee Parker, to take the blue.
Moss, 11, scored an 84.5 in the over fences phase of the class to stand in third before the flat phase, after which the judges, Sue Ashe and Timmy Kees, put her on top as the winner of the riding Birtley's Crowned Jewel. It was Moss's first time showing in the WIHS Pony Equitation Finals, though she showed in the pony hunter divisions last year.
"It's my last show on 'Teddy,' so it's pretty incredible," Moss said. "I wasn't slow, which I've been working on, and I was able to find the jumps out of stride." Teddy is a 12-year-old Welsh Pony by Eyarth Tayma and owned by Three Ships LLC.
Moss, of Fishers, IN, rides with Abby Blankenship at Three Ships LLC. Her mother, Kristen Moss, teaches the beginner rider lessons at Three Ships, while Blankenship trains the students who show. "I've been riding for a long time. My mom put me on a pony, and I loved it, so I've stuck with it," Hallie said.
"She's a hard worker, so the flat was pretty easy for her because she's always working on her position," Blankenship said of Hallie. "That makes it easy because there's not much you have to remind her of."
Hallie has grown up at the barn, so she's familiar with horse care. She doesn't own a pony of her own, and leased Teddy for the year. "Hallie is essentially a working student, so she's been put on a lot of different ponies," Blankenship said. "We get to try and think about what her pony is doing in that moment and adapt. That's something all kids need to learn how to do, but that's something she's really developing by riding all different types of ponies and horses."
Blankenship's students Moss, Addison Stoughton, and Taylor Landstrom were first, second, and fourth in the class. "They all seemed to be really focused on this class and really wanted to do well in this class," she said. "None of them had ever done it before. They all work really hard. It's a great team, and they love each other and support each other."
The final events of the 2019 WIHS were the Regional Hunter Finals, which kicked off last week at the WIHS Regional Horse Show at Prince George's Equestrian Center in Upper Marlboro, MD.
With a win in the WIHS Regional Pony Hunter Finals, McKenna Gregorio of Ashland, VA, was named grand champion of the division riding her own Autumn Frost. The reserve championship went to Caroline Pennington of Washington, D.C., riding Dreamscape, owned by Mosie LLC.
Olivia Brown of Whaleyville, MD, and her own Lapis topped the WIHS Regional Hunter Finals and received the Black, Starr & Frost Perpetual Trophy, donated by Black, Starr & Frost. The reserve championship went to Caroline Childs of Lothian, MD, and Aladdin, owned by Gabriella Conte.
The Washington International Horse Show wrapped its 61st edition, year-end championships, and horse show-inspired entertainment on Sunday, and will return to Capital One Arena in downtown Washington, D.C. for a 62nd season from October 20 through 25, 2020.
WIHS Pony Equitation Finals Results
Name Hometown Horse
Hallie Moss Fishers, IN Birtley's Crowned Jewel
Addison Stoughton Carmel, IN Newhaven's Magnum
Kat Fuqua Atlanta, GA Chic In Time
Taylor Landstrom Excelsior, MN Good Reason
Alexa Lignelli New York, NY Fox Creeks Curious George
Maddie Tosh Milton, GA Goldhills As You Like It
Ashleigh Colantuoni Raleigh, NC Zoolander
Hannah Famulak New York, NY Mind Your Step
Emilia Richard Middlefield, CT Blue Chip
Josephine Rose Springboro, OH His Way