Traverse City, Mich. – June 19, 2020 – The excitement was palpable in Traverse City as equestrian competition returned to the show ring beginning Wednesday for the Traverse City Spring Horse Show, presented by Turtle Creek Casino & Hotel. Friday afternoon featured the highlight class of the week thus far, with contenders taking to the Turtle Creek Casino & Hotel International Ring for a shot at the top prize in the $36,600 Welcome Stake CSI2*, the first FEI class of the two-week show.
Saving the best for last, Jonathan Corrigan (IRL) and Debra Wycoff's Loughnavatta Indigo edged out the pack by mere milliseconds to emerge victorious and lead the victory gallop as the first FEI winner of the spring event.
Samuel Parot (CHI) statistically stood the greatest chance of victory with three mounts in the field, followed by Corrigan, Margie Engle (USA), Wilhelm Genn (GER) and Ryan Michael Genn (USA) each with two horses apiece. Challenged over a 15-effort initial track constructed by veteran designer Leopoldo Palacios (VEN), six horse-and-rider pairs ultimately mastered the first test to advance into the jump-off. Ninth in the order-of-go, Parot piloted Dubai to the first successful round of the class, and the younger of the Genns, Ryan, immediately forced a jump-off with his fault-free effort on Dieta. Making it three in a row, Jacob Pope (USA) navigated Fiero to the next clear performance, and Kendall Bourgeois (USA) soon added her name to the list with a penalty-free ride on Collin 4. Before the end of the first round, Engle on Aston Des Etisses and Corrigan with Loughnavatta Indigo rounded out the list of returners.
As the very first challenger, the younger Genn left all the rails in their cups aboard his first mount, Colora, but the partnership incurred a single time fault to keep them out of contention. The time-allowed proved to be a hair too tight for a number of competitors, as Ryan's father Wilhelm, Kristen Berian (USA) and Corrigan's first mount each also earned a single time fault aboard their respective mounts.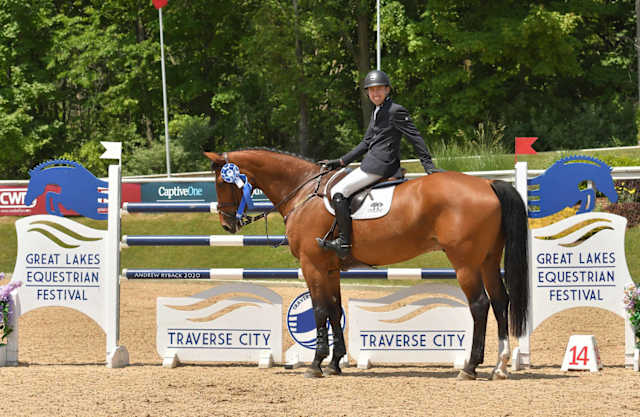 Jonathan Corrigan and Loughnavatta Indigo.Photo: Andrew Ryback Photography
Whittled down to an abridged pattern, Parrot and Dubai set the pace to beat as the first double-clear competitors of the afternoon, tripping the timers in 38.59 seconds. Subsequent exhibitors chased down the leading duo, but none came close until Corrigan and Loughnavatta Indigo took to the ring as the final contestants. Turning on the speed in order to catch the frontrunners, the Irish pair managed to shave just enough time off the clock to capture first prize, crossing the finish line with all the fences intact in 38.50 seconds. The third and final double-clear pair of the class, Pope and Fiero earned the final podium spot thanks to their time of 40.98 seconds.
The Traverse City Spring Horse Show, presented by Turtle Creek Casino & Hotel, will continue throughout the weekend. Show jumpers will have another chance at substantial prize money in the $72,900 Grand Prix CSI2*, which will take place Sunday at 2 p.m.

FROM THE WINNER'S CIRCLE

Jonathan Corrigan (IRL) – $36,600 Welcome Stake CSI2* champion
On his horse:
"Loughnavatta Indigo is an 11-year-old Irish Sporthorse, the Wycoff family owns him for me. We have jumped some 4* and 5* classes before and this is our first show back in a long time, just like everybody else."

On his jump-off strategy:
"I was kind of thinking of jumping a slow clear, but I watched Samuel [Parot] go. He was quick, but I thought there were one or two areas where I could be quicker without having to run. Since I was last to go, I figured I might as well take a chance."

On his first trip to Traverse City Horse Shows:
"It's been pretty good so far, considering we just won! I have a good feeling about it. There is a sense of quietness about it, and there is a lot of room and countryside, so it's very nice and relaxing. The footing is amazing and all the horses jump great on it. I'll be here for next week, too."

RESULTS

$36,600 Welcome Stake CSI2*:
Place / Horse / Rider / Country / Owner / R1 Faults / R1 Time / R2 Faults / R2 Time
1. Loughnavatta Indigo / Jonathan Corrigan / IRL / Debra Wycoff / 0 / 67.30 / 0 / 38.50
2. Dubai / Samuel Parot / CHI / Renato Soffia / 0 / 67.43 / 0 / 38.59
3. Fiero / Jacob Pope / USA / Gladewinds Partners LLC / 0 / 68.93 / 0 / 40.98
4. Dieta / Ryan Michael Genn / USA / Shannon Reid / 0 / 67.87 / 4 / 36.22
5. Collin 4 / Kendall Bourgeois / USA / Imagination Lane / 0 / 67.55 / 4 / 38.42
6. Aston Des Etisses / Margie Engle / USA / Gladewinds Partners & Storm Ride Capital / 0 / 70.83 / 4 / 40.11
7. Fantast Van Het Vinckenhof / Kristen Berian / USA / Coral C Stables LLC / 1 / 71.15
8. Colora / Ryan Michael Genn / USA / Bridlebourne Stables LLC / 1 / 71.73
9. Van Gogh / Wilhelm Genn / GER / Wilhelm Genn / 1 / 72.35
10. Super Chilled / Jonathan Corrigan / IRL / Debra Wycoff / 1 / 73.06
11. Vingtcoeurs Du Chalet / Samuel Parot / CHI / Claude Pergent / 4 / 66.00
12. Essince W / David Beisel / USA / David Beisel / 4 / 67.64