For Immediate Release
Mill Spring, NC – September 20, 2020 – The ProElite Tryon CDE concluded with the Cones phase at Tryon International Equestrian Center (TIEC), wrapping up three days of competition and the ADS North American Preliminary & Intermediate Championships. The inaugural event saw competitors in 18 classes compete at the venue, marking the first time Combined Driving was hosted there since the FEI World Equestrian Games™ Tryon 2018 (WEG).
In the Championship Preliminary Single Pony Class, Barbara Sims (SC) and Errisistable, a 2009 Dutch Harness Horse mare came out on top with a total score of 119.32. In reserve, Jim Hudson (SC) piloted Razel CAF, his 2004 Halfinger mare, to a total score of 124.99. Sims and Hudson train together, she revealed, and were close competitors heading into the final phase:
"We were second in Dressage, and we were four points behind then. After Marathon, we made up six points, so it was really close heading into Cones. Jim and I both train with Janelle Marshall, and he was even at my house twice last week training! That makes it really fun."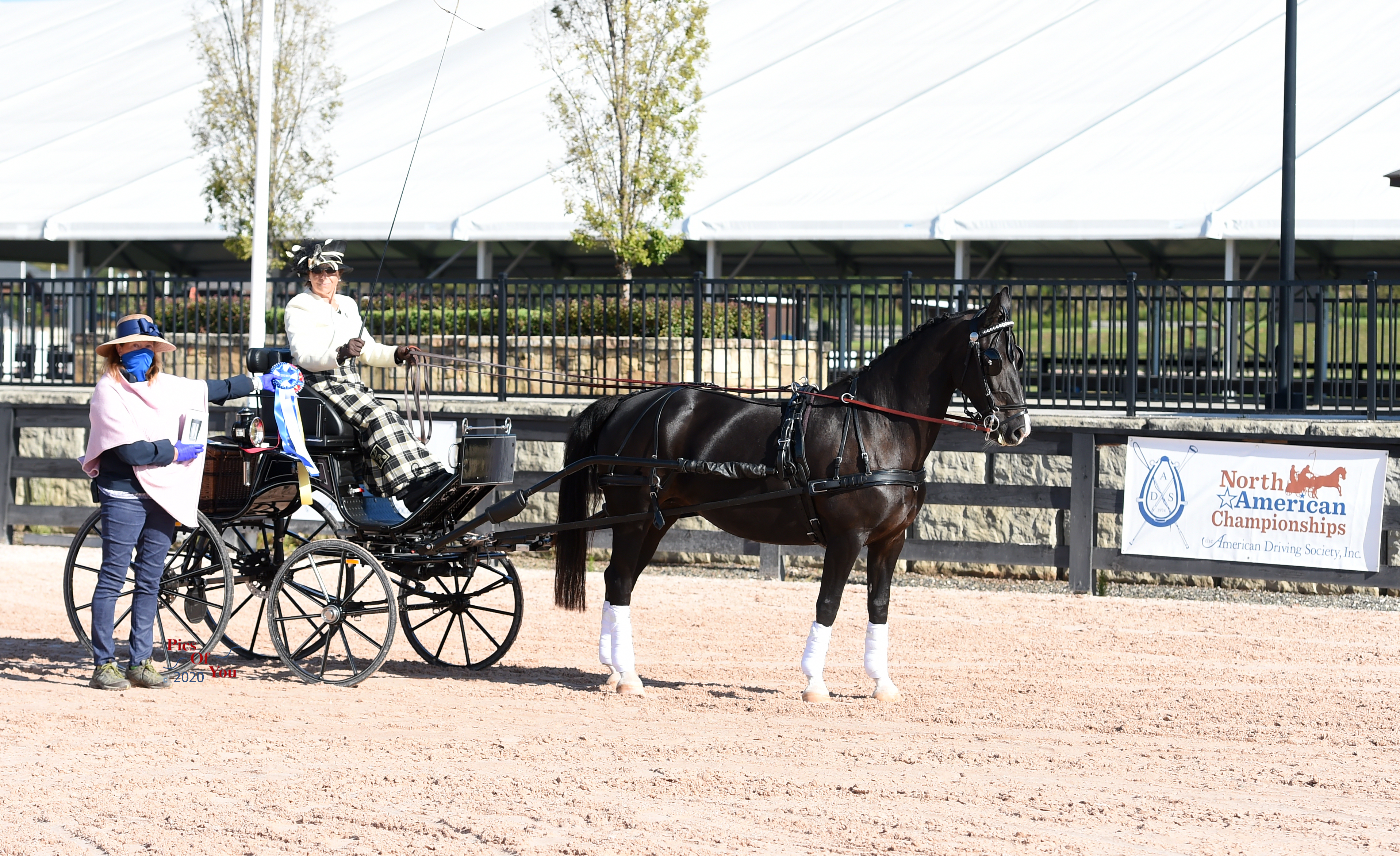 Errisistable is returning to competition after healing from an injury for a while, Sims explained, and this weekend was her first Marathon experience back at the Preliminary level. "She's a Dutch Harness Horse – registered KWPN. She is just a freak in that she's a pony instead of a horse – people don't realize that Dutch Harness Horses can come in small packages. This was just a fun event for us!"
Sims is an experienced Combined Driving athlete and purchased Errisistable following years of success with "Flyer," and she's looking forward to continuing to compete. "Prior to having this mare, I was an Advanced Driver with my pony, Flyer, who was one of the best Dressage Ponies in the U.S. I bought this one to be my next pony. I've been driving for 23 years. This was my first time here ever, and it was just amazing. I just turned 70 this year and I'm still trying to have fun, so I'm looking forward to being in more competitions, and I'm hoping we get to [come back here soon]."
Sims admitted that she was cautious heading into Marathon for the first time, but said it felt to be back on course. "I was a little nervous about Marathon, but she was really right with me the whole time. I'm not as smooth as I was a few years ago, but we'll do it a few more times and get back there! She's really strong going uphill, which is really a lot of fun, and there were a lot of hills for her to really grab in and run. It was really fun, and felt good to be back! Driving on the golf course was really cool. I'm just thrilled with the weekend… I had so much fun. And the weather was perfect!"
Kim Allen (SC) and miniature horse Fudge claimed a win in the Championship Intermediate VSE Division on a total score of 186.94. Allen, who started driving five years ago with Fudge, has come all the way up the levels with her miniature partner, she explained.
"I started in the Hunters, and then when my husband started driving I picked it up about five years later. I've been here before to watch the Hunter/Jumpers, and for WEG. This weekend went well!"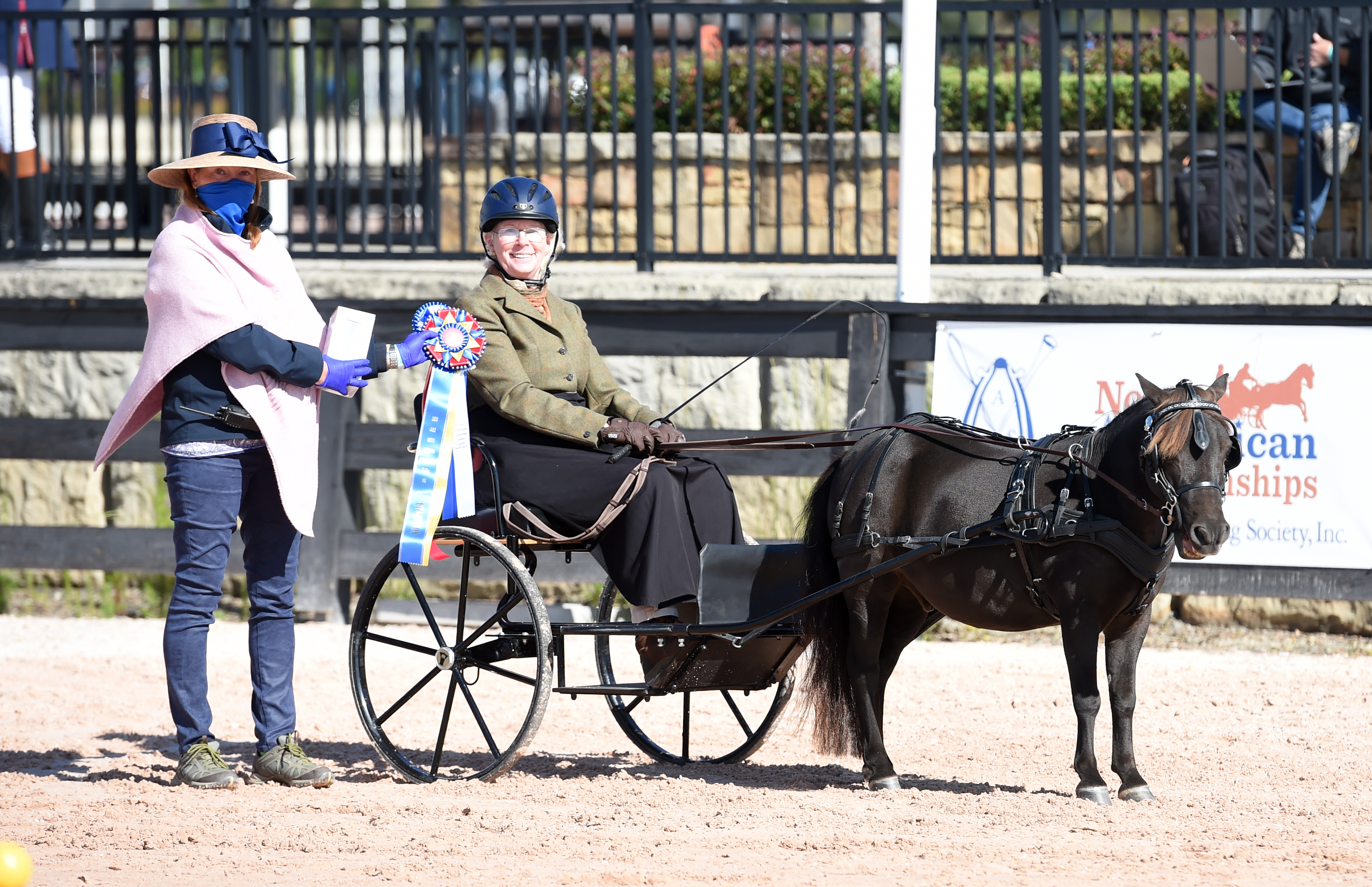 Both Allen and husband Bill picked up Championship titles, with Bill competing in the Championship Intermediate Single Horse Class. For Kim, the weekend was about working with the conditions to finish strong, she reported. "We did okay in Dressage, which isn't his forte anyway. On the Marathon course, I didn't push him because of the footing, and a couple of the hazards were a little bit mushy for him. He made good time, though, and he was fine at the end. He didn't even have an ounce of sweat on him!" She concluded, "The Cones phase went great. He was a little slow, but the course was great and I was very happy with the finish."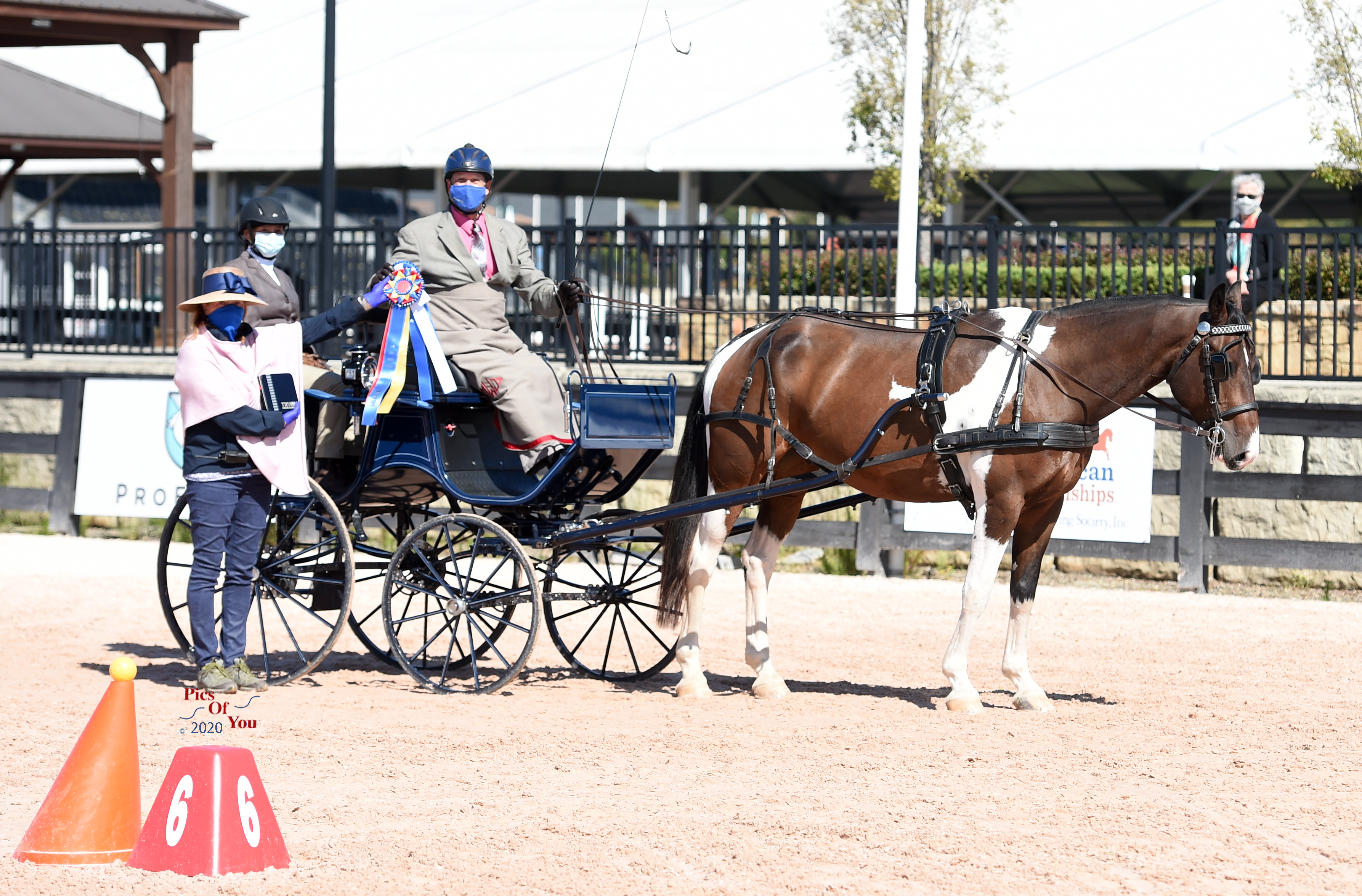 Gene Rhinehart (SC) and BF Troubadour, the 2014 Friesian Sport Horse cross gelding, ended up on top in the Championship Preliminary Single Horse Class, accruing a total score of 136.86. Taking reserve, Bob Vance (TN) drove Buckeye to a score of 136.97.
"I was extremely happy going double-clear today, as that allowed me to hang on to the lead," Rhinehart reported. "We did have a little trouble with the Marathon; it wasn't one of our better runs. We were able to stay close enough that we were able to keep our lead, which is always good."
Rhinehart and BF Troubadour have an exciting future ahead of them, having grabbed a Preliminary Championship in their first full year of competition at the level despite a significant interruption in competition. "He's very young… he's just six, so we've still got a lot of work to do. I did one Prelim competition last year, but with COVID-19 we hadn't done much since then by the time we competed last month at the Windridge Farms Horse Driving Trials."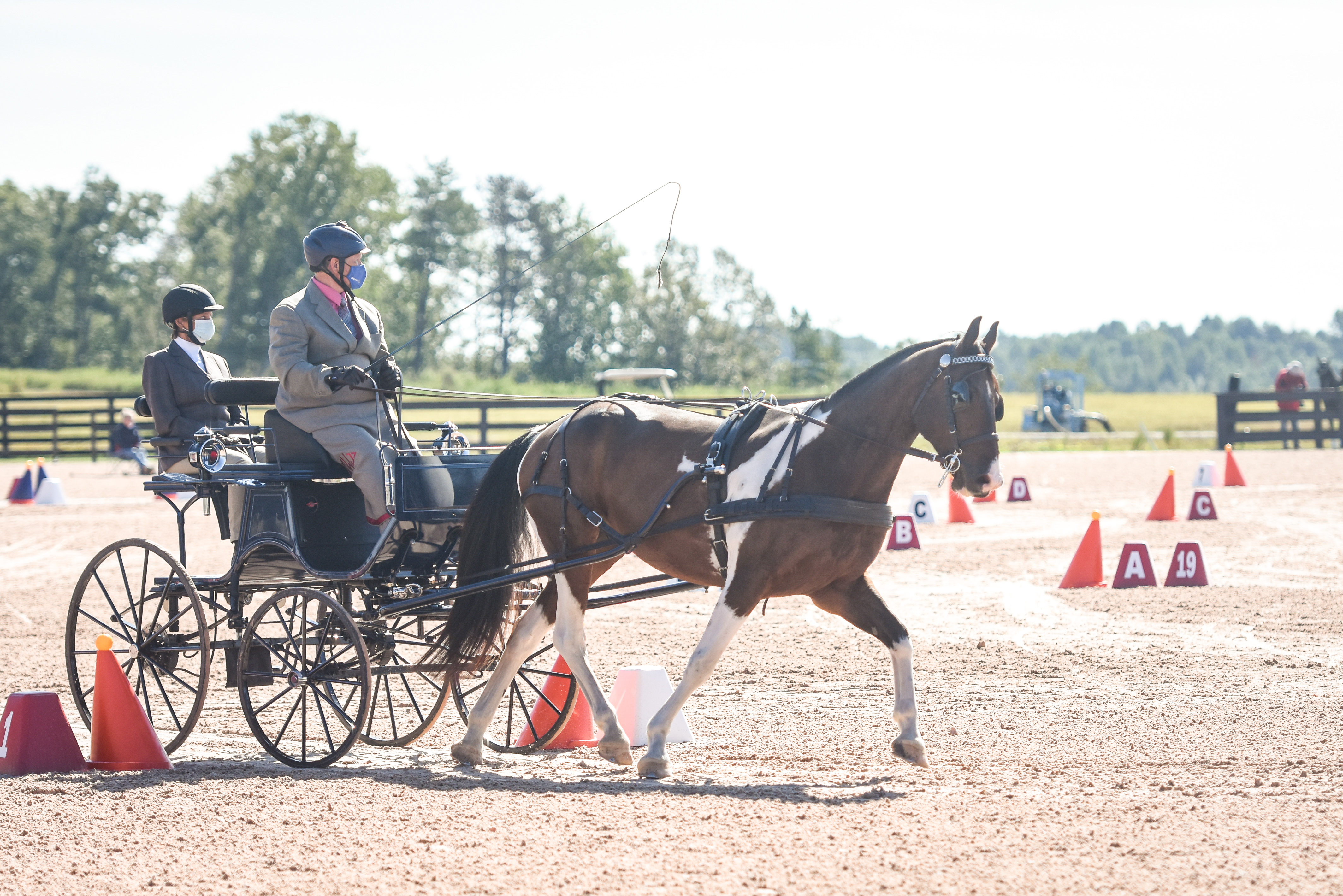 A former volunteer for both the Driving Test Event and the World Games in 2018, Rhinehart was familiar with the venue already, but enjoyed competing on the White Oak Cross-Country Course, he shared. "I thought it was a nice course. Obviously, with all of the rain, it was a little soft in some places, but it still was a very nice course. I enjoyed doing some of the hazards that they used for the WEG. That was a fun thing to be able to do. I volunteered for both the WEG Driving Test Event and for the WEG itself, but those were the only times I've been here before now."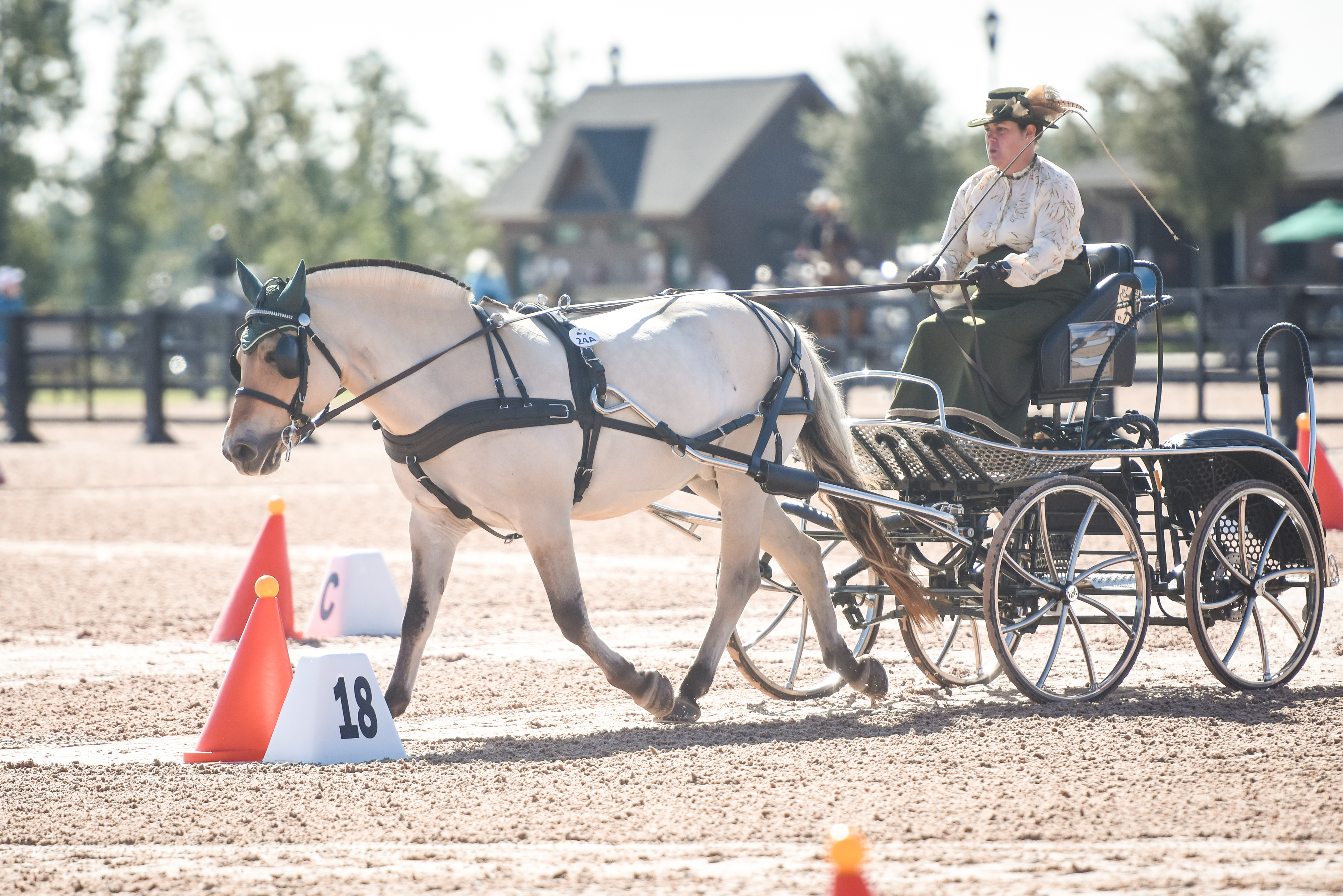 The Championship Intermediate Single Pony Class was dominated by Jessica Reuterskiold (WI) and Wood's Kandi, a 1998 Fjord mare, scoring 176.63 over three phases. Reuterskiold and the 22-year-old mare have been driving together for ten years, and have enjoyed several disciplines together before finding their niche:
"I've had her 15 years. Before I did Driving with her, I did some English, Western, and some Jumping with her. The Driving seems to be her niche, and we've been having a lot of fun doing it. She's headed to retirement in the next few years, so I wanted to bring her to a big show and see how it would go."
Intending to come to the Tryon CDE for a learning experience, Reuterskiold shared that she "wasn't expecting to walk away with a win. I came to learn; it was a big trip to haul halfway across the country. It was the first big trip for both me and my horse, so it was a lot of learning with a great result at the end! It was an amazing experience that I'll certainly not forget about.
"I thought it was an amazing facility," Reuterskiold concluded. "The course was very tough, which was to be expected, so I knew I was fighting an uphill battle, there, but I was up for the challenge. Cones went well. I had some time penalties, but I was going for an easy-going round. Walking it the first few times was a little intimidating, but once I got my plan down it drove very nicely."
The Advanced Single Horse Class, the biggest of the ProElite Tryon CDE, saw Jennifer Thompson (WI) and Funnominal CG, the 2010 Dutch Warmblood gelding, drive to the best score of the weekend with a score of 116.69. Nifty Hamilton (FL) and Makari Design, the 2008 Dutch Warmblood gelding, claimed reserve with a score of 118.30 after three phases, while Donna Crookston (PA) drove Victor, the 2008 Dutch Harness Horse gelding, to third with a total score of 129.35.
"We were able to walk the Cones course last night, so I had a good grasp of where I was going, Thompson shared. "I was really happy with the way my horse felt this morning. He went in, did his job, and we completed the course using techniques that we've been working on over the last several months. It all came together this morning and I was pleased to be able to put to use some recent tricks and techniques for Driving Cones. It was a fun and nice course."
Even with stringent COVID-19 safety policies in place, Thompson described how great it was to be back to competitions, reuniting with horse show friends. "It's really good to be back to competition. It's great to see your friends from across the eastern half of the United States who you wouldn't normally see if you weren't at a horse show. Even though you have to keep a distance from them it's still nice to see faces and get back into a routine!
Thompson traveled from Wisconsin for the ProElite Tryon CDE, and raved about the facility. "I think TIEC is a great facility to be at. It was wonderful to have the barns, especially with the amount of rain we got on Thursday. It made things a bit easier for the weekend to stay dry and out of the mud. It's well worth the 900-mile drive for me to come down here.
"I'm really happy with my horse," Thompson concluded. "He's growing up, and all of the hard work that we've put in since March is starting to pay off and shows that taking a step back and working on specific things was the right thing to do. Hopefully, we get better and stronger from here!"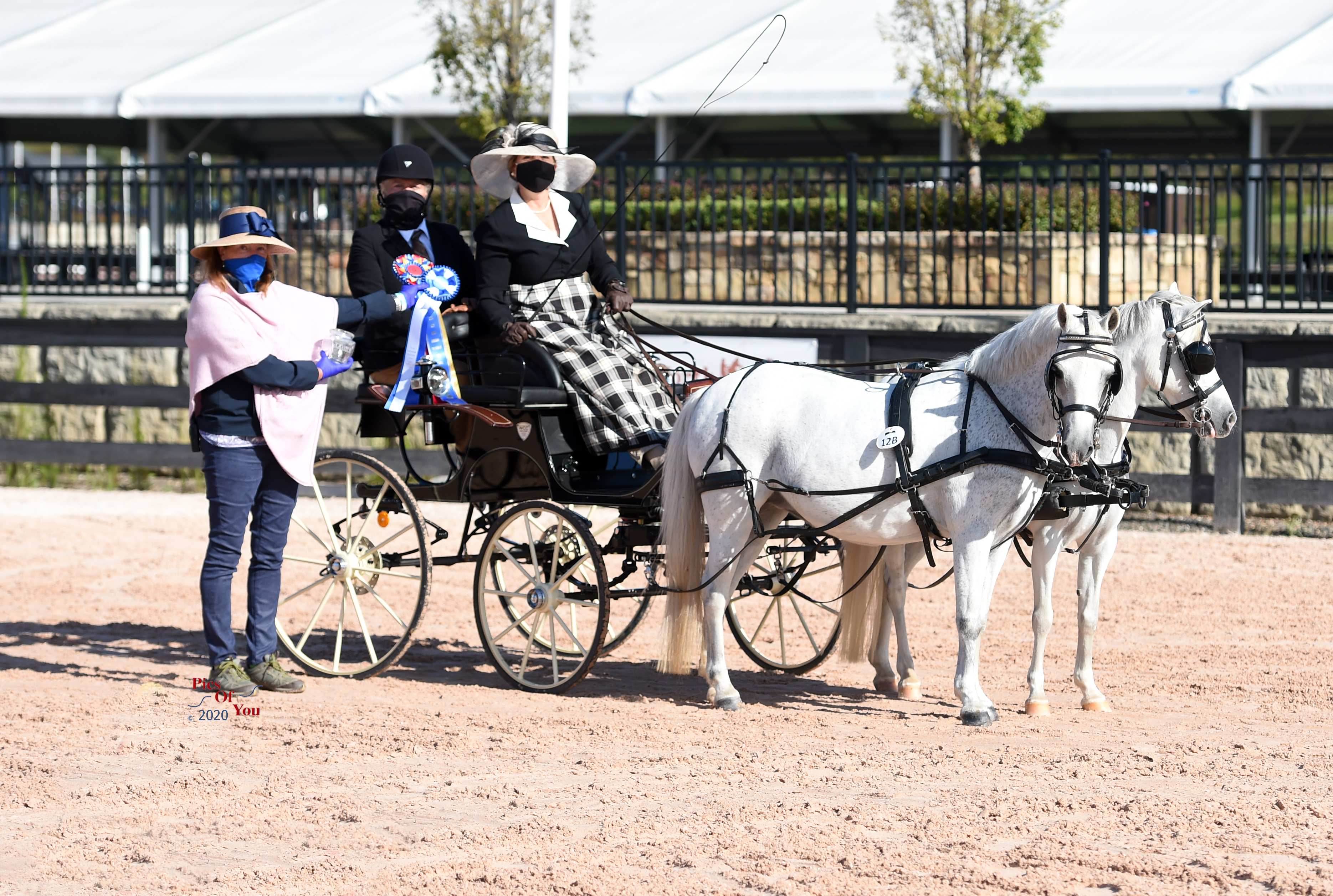 The Championship Preliminary Pair Pony Class saw Yvette Harris (MD) drive her Welsh ponies, Suki and Morwel Amber, to a total score of 124.81.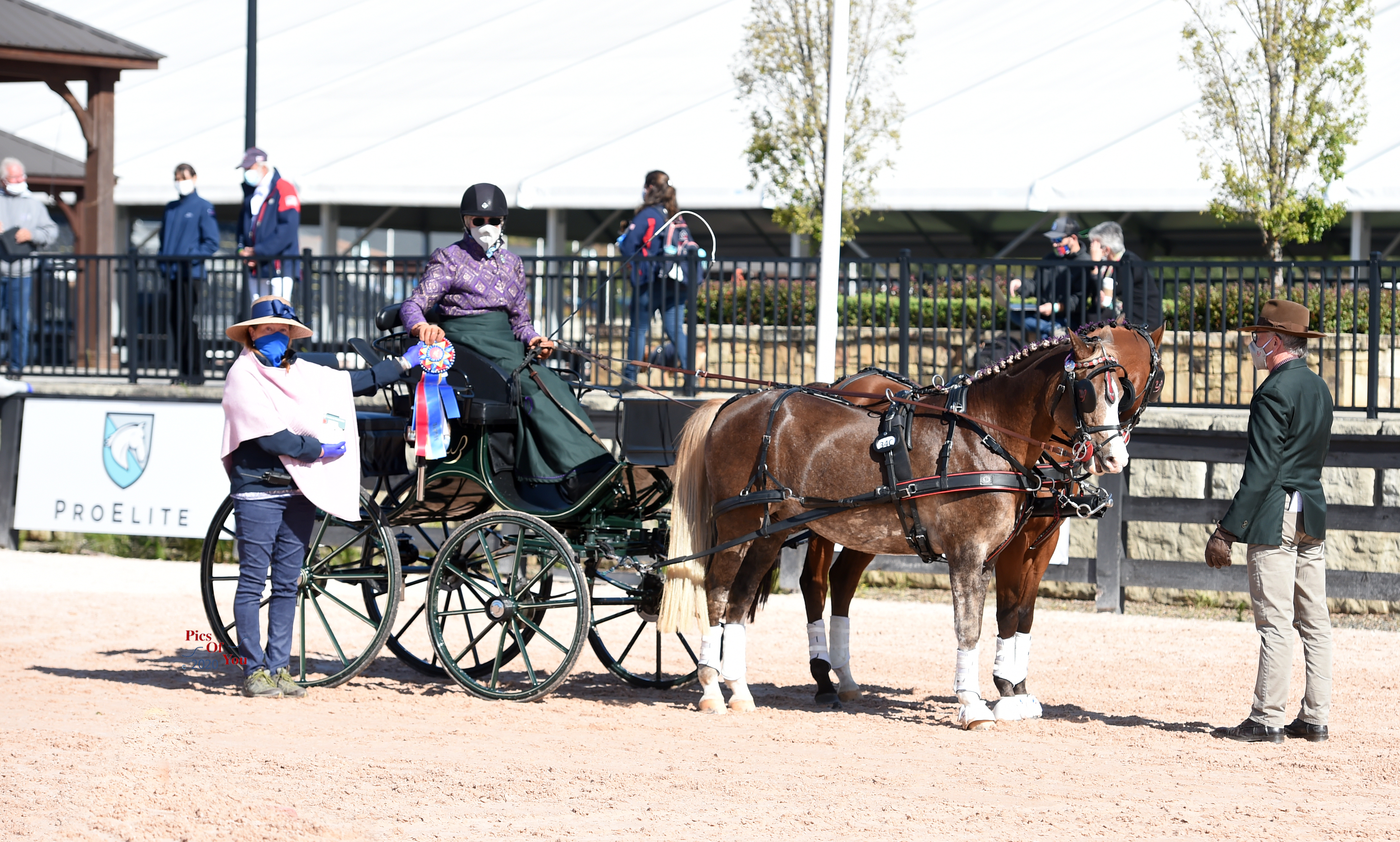 Driving German Riding Pony Bax 3 and Welsh Cob Mista Q, Boots Wright (FL) dominated the Championship Intermediate Pair Pony Class to be named the 2020 Champions on a score of 127.02. In reserve, Megan Fullgraff (NC) earned a score of 130.14 with her Dartmoor ponies, Bayshore Pastime and Dunbarton Double Stuff Oreo.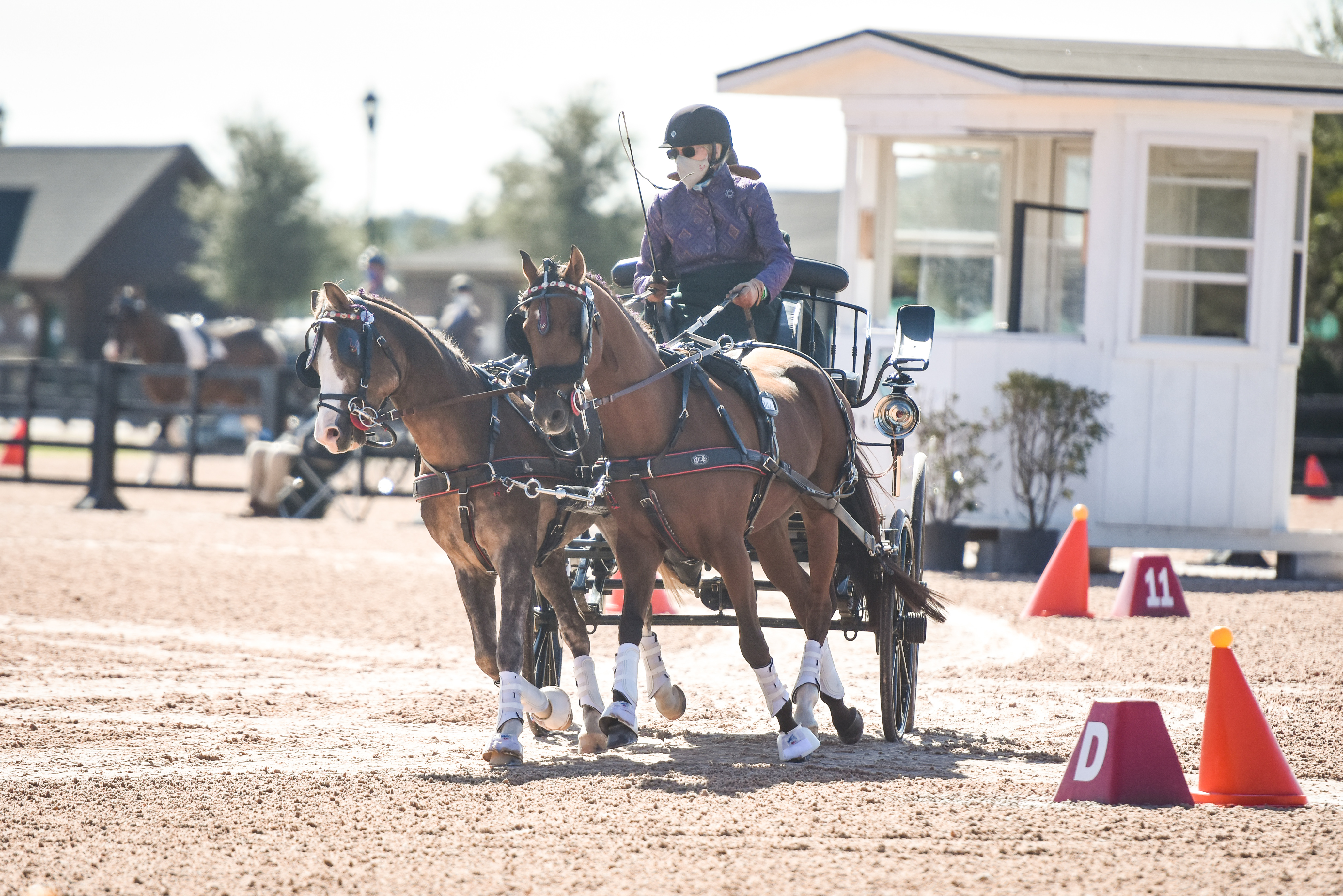 Results: To view results from all Divisions and classes, click here. 
Driving will return again to the Tryon International Equestrian Center with the Katydid CDE, originally scheduled to relocate to the venue in spring of 2020 and postponed to 2021. Stay tuned to www.Tryon.com/Driving for news and updates.
Photos ©Pics of You unless otherwise noted as ©TIEC.