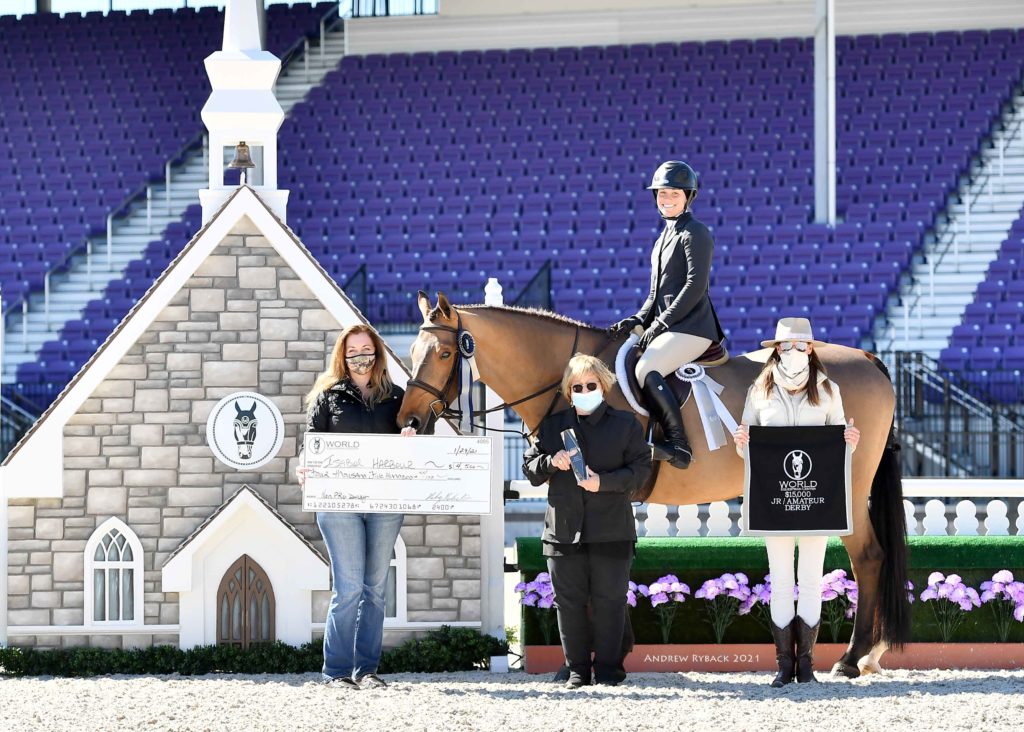 Isabel Harbour and IMH Equine, LLC's Fitz (Numero Uno x Kootje) topped a competitive field of 19 entries in today's $15,000 WEC Derby 3′ Non Pro. Harbour and the 13-year-old Dutch Warmblood gelding show regularly in the Amateur Owner Hunters and Performance Hunters, and they were well prepared for today's class. The pair delivered a fantastic first round for a score of 87, then returned with identical style in the handy round for a score of 88, brining their total score to 175 to ultimately take the win. Harbour also took 4th place aboard IMH Equine, LLC's G. P. Burdell, earning scores of 76 and 84 for a total of 160.
Alliy Moyer and Daniel Bedoya's Hero (Eldorado Van De Zeshoek x Peliana) were also impressive in today's class. The 8-year-old gelding showed at the Winter Equestrian Festival earlier this month with owner Daniel Bedoya in the Schooling Jumpers 1.15m and took on the hunter ring today. Moyer and the handsome gelding were rhythmic in the first round, earning a score of 82.5. The duo returned for the handy round, hugging the inside track and finding each jump beautifully in stride for a score of 90, bringing their total to 172.5 for a 2nd place finish.
Christopher Coberley found success again this week in the $15,000 WEC Derby 3′ Non Pro. Coberley has been collecting top placings in the derbies throughout the past three weeks and piloted David Glefke's Undercover (Untouched x Tosca) to a 3rd place finish today. Coberley and the 8-year-old Westphalian gelding earned scores of 86 and 85 with two lovely rounds.
Harbour took time to chat with us ringside about her win, "My first ride in the class was G.P. Burdell, who was one of my jumpers that we turned into a hunter. He's loving being a hunter. He's a good boy and super brave. Fitz is my old faithful horse. He's always perfect and never changes, so I knew that I could trust him. Today was a lot of fun with them. I thought the course was very well done. It was fun to get a nice gallop and keep the flow. The footing is great, as well. It's a great ring. Both horses are super handy, but Fitz is my number-one handy horse, so I can always do all of the inside turns."
When asked about her horses' personalities, Harbour replied, "G.P. Burdell is like a big puppy, he wants to be in your lap all of the time. I could say the same about Fitz, but he can also be a little quirky, sometimes. He has his moments, but he's been my favorite for a long time. I used to do the equitation with him when I was a junior and we've done the big derbies. I've had him for about four years."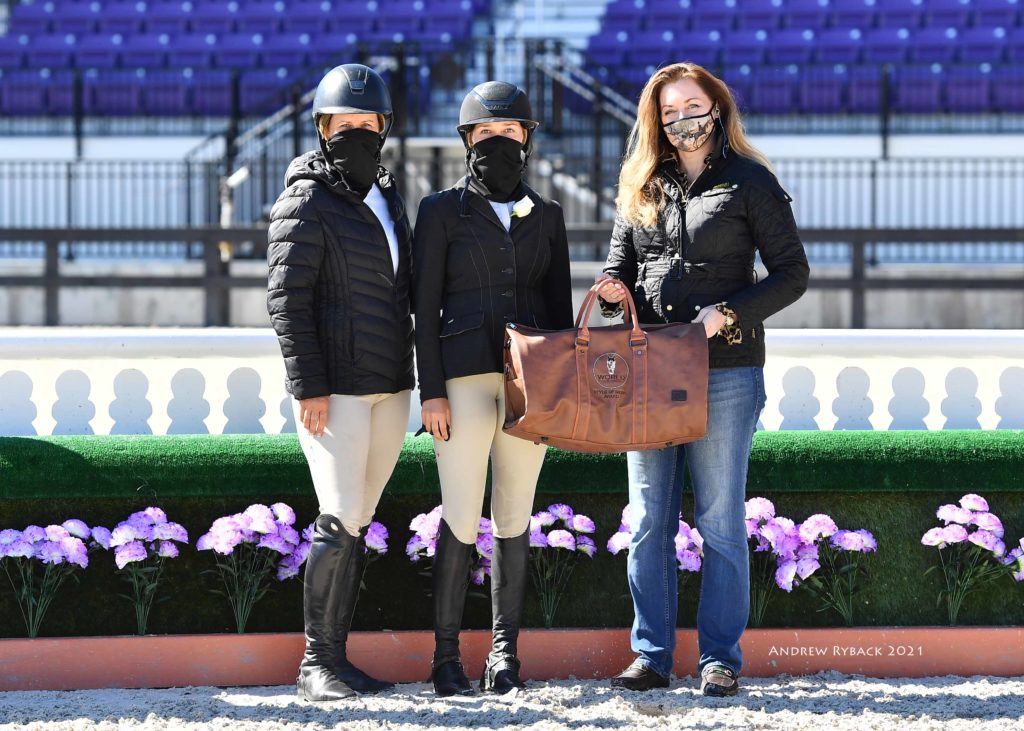 Before the start of the handy round, the prestigious Style of Riding Award was presented to Alliy Moyer for her classic style and her sportsmanship. The Style of Riding Award is generously donated by Bill Rube to be awarded to the rider who best displays the American Style of riding in the ring and sportsmanship outside of the competition arena. The recipient serves as a role model for preserving the integrity and tradition of equestrian sport. "This award is very special to me because the recipient of this award pays it forward both in and out of the show ring," says Rube. Moyer received an elegant leather duffel bag and wore a white rose corsage on her lapel throughout the handy round to signify her achievement.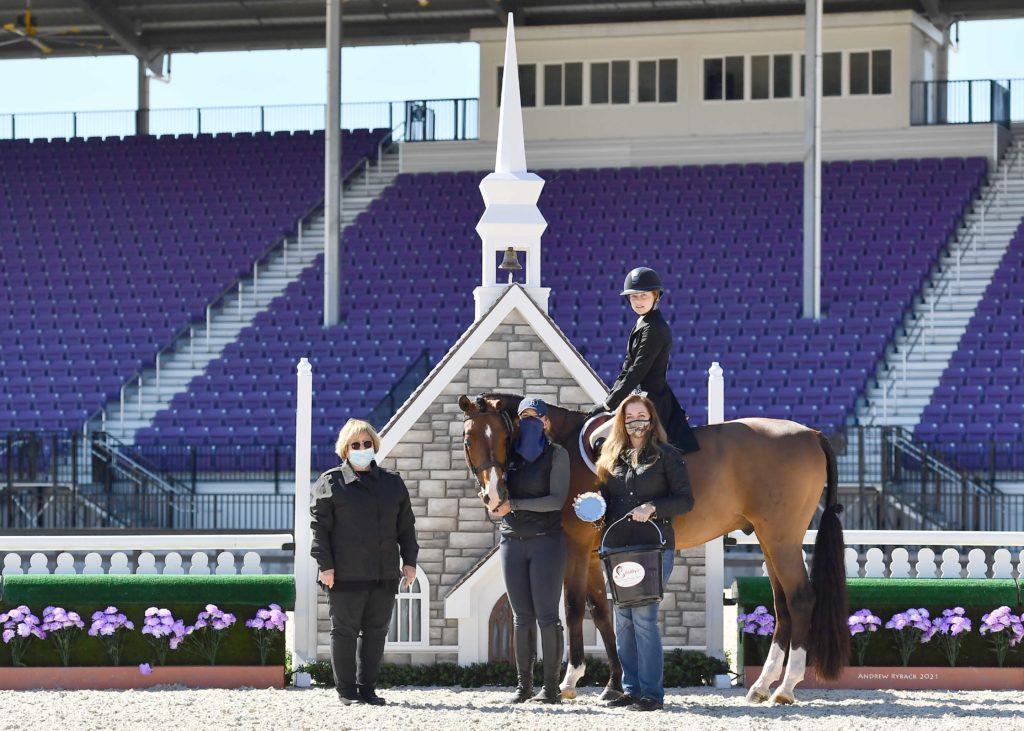 Sally Stith-Burdette, Director of Marketing for Shapley's, was on hand to present The Shapley's Champion Groom Award to Haleigh Landrigan, groom of 9th place finisher Skorekeeper (Casall), for the best turnout in the class. Shapley's is a proud sponsor of the World Equestrian Center and is thrilled provide an award each week of the Winter Spectacular to the groom of the best turned out horse. Landrigan received a Shapley's Award Bucket for Skorekeeper's stunning turnout.
$15,000 WEC Derby 3′ Non Pro Results
Fitz, Isabel Harbour – 87 | 88 | 175
Hero, Alliy Moyer – 82.5 | 90 | 172.5
Undercover, Christopher Coberley – 86 | 85 | 171
G.P. Burdell, Isabel Harbour – 76 | 84 | 160
Elusive, Kyle Winters – 80 | 79.5 | 159.5
The Boyfriend, Paige Beisel – 79.5 | 79 | 158.5
Salem, Paige Beisel – 75 | 81 | 156
Quasar, Joshua Graves – 71.5 | 80 | 151.5
Skorekeeper, Ava Berman – 81 | 68 | 149
Chakira, Jillian Minahan – 72 | 72 | 144
Photos courtesy of Andrew Ryback Photography.