Feature class action for Week 4 of the World Equestrian Center — Ocala Winter Spectacular 2021 kicked off with 36 entries vying for the top prize in the $20,000 Welcome Prix 1.45m. The course was designed by Manuel Esparza of Mexico, an FEI Level 3 course designer who has assisted with courses at five Olympic Games including Atlanta, GA, in 1996; Sydney, Australia in 2000; Athens, Greece in 2004; Beijing, China in 2008 and Rio de Janeiro, Brazil in 2016.
The track featured 15 efforts including a double combination, a triple combination, and both forward and steady lines that would test each entries' adjustability throughout the course. Fourteen entries advanced to the jump-off with five jumping double clear, but none could best Mexico's Santiago Lambre and his own Comtess.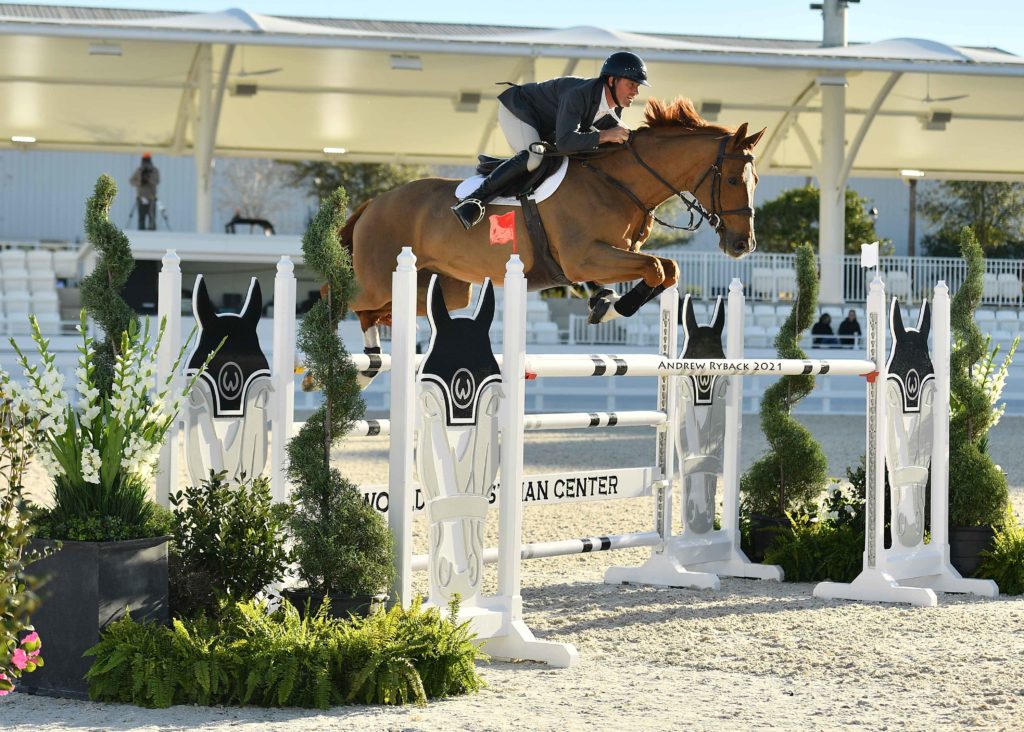 A quick pace was set early in the order by Trapp O'Neal and AG Arion, LLC's Baltazar D Z (Balougran Z Thalia De Quidam). The pair earned 2nd place in last week's $20,000 Welcome Prix 1.45m and returned to the WEC Grand Arena this afternoon with hopes for the win. O'Neal and the 12-year-old Zangerscheide gelding were clear in the first round in 80.651 seconds, well within the time allowed of 84 seconds. They continued straight to the jump off, picking up pace throughout the course. O'Neal and Baltazar D Z galloped through the timers with a second clear round in 39.361 seconds, setting a tough pace to beat.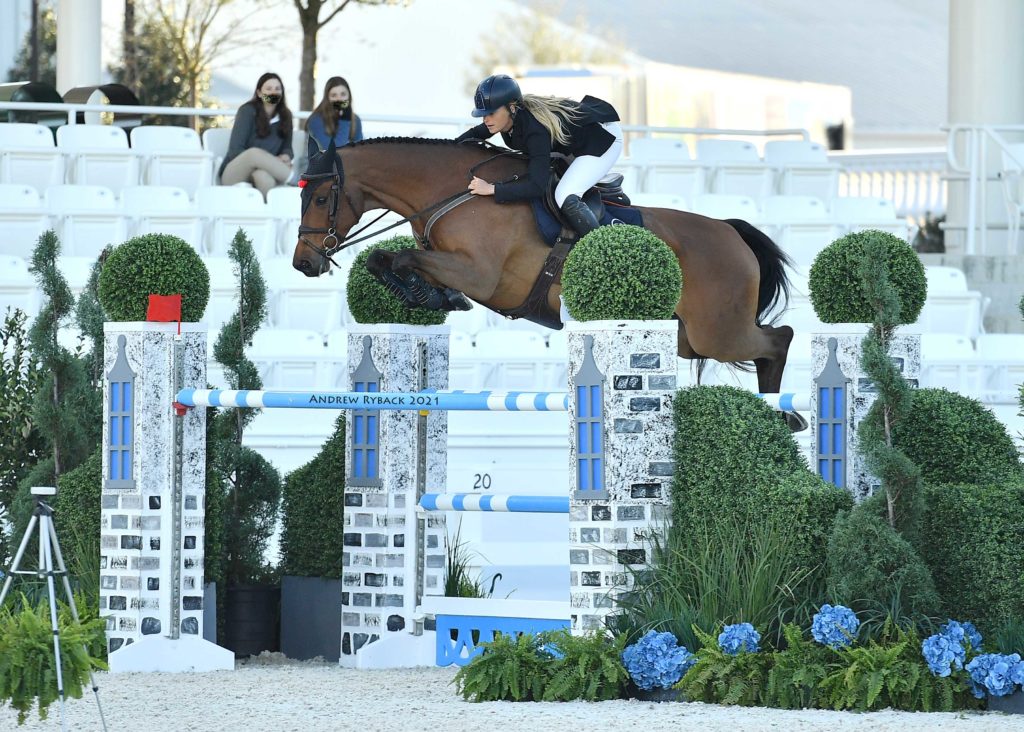 The pair held the lead in the class until Kristen Vanderveen and Bull Run Jumpers Sic LLC's Bull Run's Prince Of Peace (Cardenio x P-Comtesse) entered the arena. Venderveen and the 11-year-old Holsteiner gelding have taken several top placing in Prix throughout 2020, preparing them well for this afternoon's 1.45m track. The duo left all rails up in the first round in 81.901 seconds before continuing to the jump-off. Vanderveen and Bull Run's Prince Of Peace blazed through the course, stopping the clock at 38.906 seconds, moving into the top spot.
Santiago Lambre and his own Comtess took to the course near the bottom of the order. Though Comtess is a new mount for Lambre, the course was no match for the experienced rider whose resume includes the 2000 Olympic games in Sydney, Australia, the 2014 FEI World Equestrian Games and nearly 90 career wins. Lambre and the 10-year-old mare delivered a clear first round with ease in 83.107 seconds, then continued straight to the jump-off. Knowing the time they needed to beat, the duo gave the course their all, galloping between fences and hugging the inside track. Lambre and Comtess sped through the timers at 38.339 seconds with all rails up to ultimately win the class.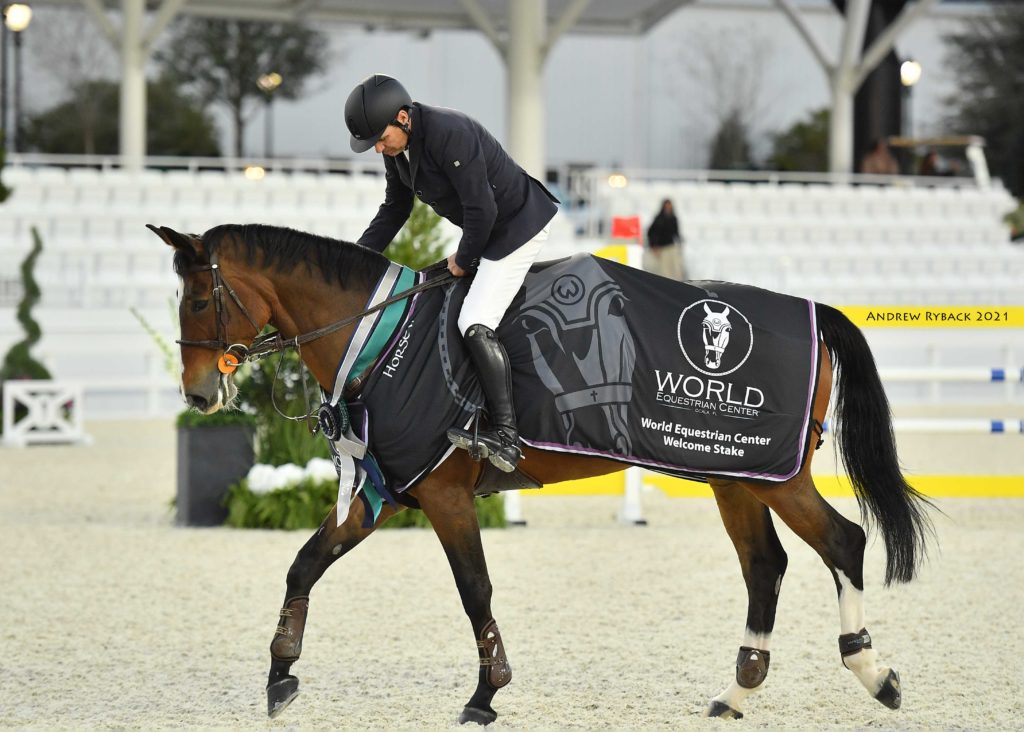 "Comtess is a new horse for me, this is our second show. She's a very nice horse," Lambre said. "I had a very good feeling about her from the beginning. I will try to build her up over the next couple of weeks to do the Grand Prix. She is 10 years old and was purchased from a good stable in Europe. She's a good mare and I think she will jump the Grand Prix. She's not so big, but she has a big stride and a lot of scope."
When asked about his plan on course, Lambre commented, "Today was the first time I have jumped 1.45m with her so I decided that, if she jumped clear, I would try for the win. She jumped very good in the first round and I saw how fast Kristen was, so I tried to go for it."
Lambre also added, "I have been at World Equestrian Center since the beginning of the show series, so this is my fourth week here. It is very nice. I have to go to Wellington to show in some FEI classes, as well, but I will do both shows. I have been in Europe for 15 years and I have never seen something like this. This is the best facility in the world."
$20,000 Welcome Prix 1.45m Results
Comtess, Santiago Lambre – 0 | 0 | 38.339
Bull Run's Prince Of Peace, Kristen Vanderveen – 0 | 0 | 38.906
Baltazar D Z, Trapp O'Neal – 0 | 0 | 39.361
Lukaku VD Bisschop, Andre Thieme – 0 | 0 | 41.512
CHS Krooze, Holly Shepherd – 0 | 0 | 42.421
Boheme De La Roque, Grace Debney – 0 | 4 | 38.813
MTM Through The Looking Glass, Dorrie Douglas – 0 | 4 | 39.522
Coverboy, Catherine Wachtell – 0 | 4 | 39.761
Darius, Sean Jobin – 0 | 4 | 41.144
Jasmijn, Jonathan McCrea – 0 | 4 | 42.044
Photos courtesy of Andrew Ryback Photography.