More than 80 entries took to the WEC Grand Arena today for the $75,000 WEC Grand Prix 1.50m and the $7,500 Futures Prix 1.40m. Courses for today's classes were designed by Manuel Esparza of Mexico, an FEI Level 3 course designer who has assisted with courses at five Olympic Games including Atlanta, GA, in 1996; Sydney, Australia in 2000; Athens, Greece in 2004; Beijing, China in 2008 and Rio de Janeiro, Brazil in 2016.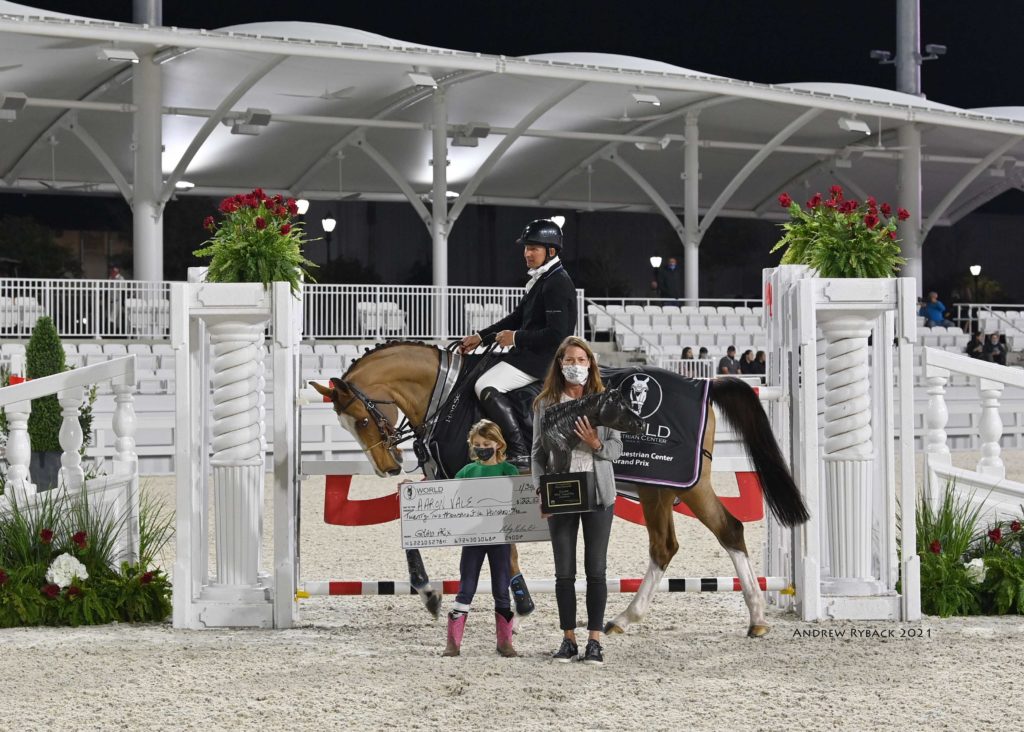 A field of forty-three international entries took to the WEC Grand Arena this evening for the $75,000 WEC Grand Prix 1.50m. The track featured 16 jumping efforts including two combinations, a triple bar and two liverpool fences. Eleven entries managed clear first rounds and seven jumped double clear, but it was Aaron Vale of Thinkslikeahorse in Williston, Florida, who claimed his third $75,000 WEC Grand Prix 1.50m victory of the World Equestrian Center — Ocala Winter Spectacular 2021 aboard Sleepy P Ranch LLC's Major (Carmargue x Pinot).
Vale and Major have found great success in the $75,000 WEC Grand Prix this winter, taking 2nd place Week 1 and 3rd place Week 2. Vale and the 13-year-old Danish Warmblood gelding were hunting for a win tonight, jumping a clear first round in 76.761 seconds, well within the time allowed of 79 seconds, securing a spot in the jump-off. Vale also earned a spot in the jump off aboard Taylor Granat's Candro Van De Zuuthoeve (Thunder Van De Zuuthoeve x Walach Van De Zuuthoeve), delivering a clear first round in 77.983 seconds.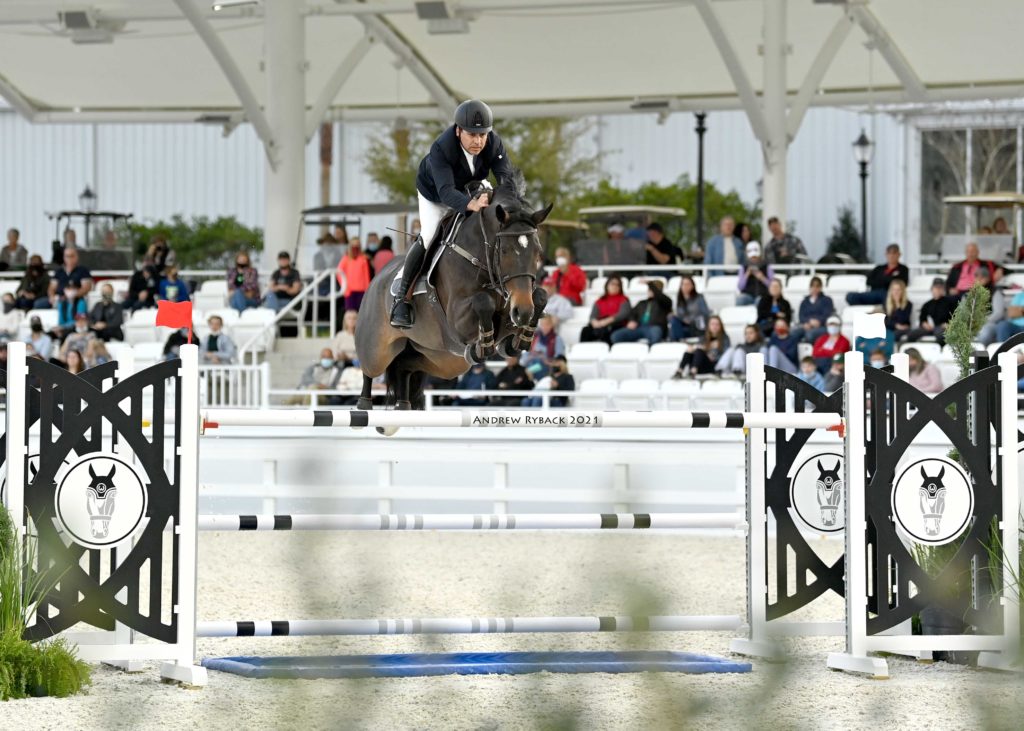 Mexico's Santiago Lambre also nabbed a spot in the jump-off aboard his own Easy Girl (Conthargos x Nanina). Lambre and the 10-year-old mare took 3rd place in Week 1's $20,000 Welcome Prix 1.45m and the pair were on-form tonight. They left all rails up in the first round in a time of 77.320 seconds, conserving plenty of energy for their second round.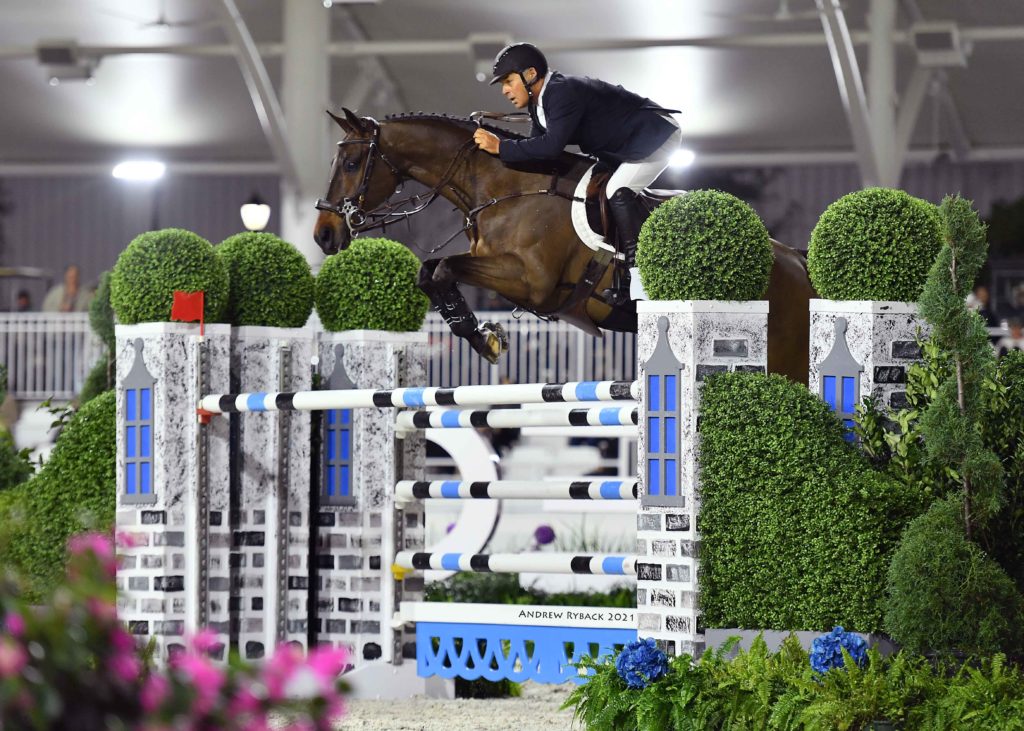 Also securing a chance at the short course were Chile's Samuel Parot and his own Dubai (Cardento 933 x Ozella). Parot and the 13-year-old KWPN gelding competed in CSI4* events in Wellington just one month ago, preparing them well for tonight's track. The pair cleared each fence with ease, managing a clear first round in 77.525 seconds.
Parot and Dubai returned early in the order in the jump-off and were first to jump clear. The duo chose the inside track to fences 8, 15 and 16, and galloped through the timers with all rails up in 41.834 seconds, setting the time to beat. Vale was next in the ring with Candro Van De Zuuthoeve. The pair managed a quick, clear round, also taking the inside track, and stopped the clock just behind Parot and Dubai at 41.920 seconds. Parot and Dubai held the top spot until Lambre and Easy Girl took to the course. The duo chose to attempt all inside turn options, even taking a tight left turn to the final fence. Their efforts paid off as they crossed the timers with a clear round at 41.717 seconds, moving into the lead. Last in the order were Vale and Major. Knowing the time they had to beat, the pair picked up the pace and mirrored Lambre's inside track. Vale and the scopey gelding flew through the timers at 40.470 seconds for the win in the class, moving Lambre and Easy Girl to 2nd, Parot and Dubai to 3rd and himself and Candro Van De Zuuthoeve to 4th.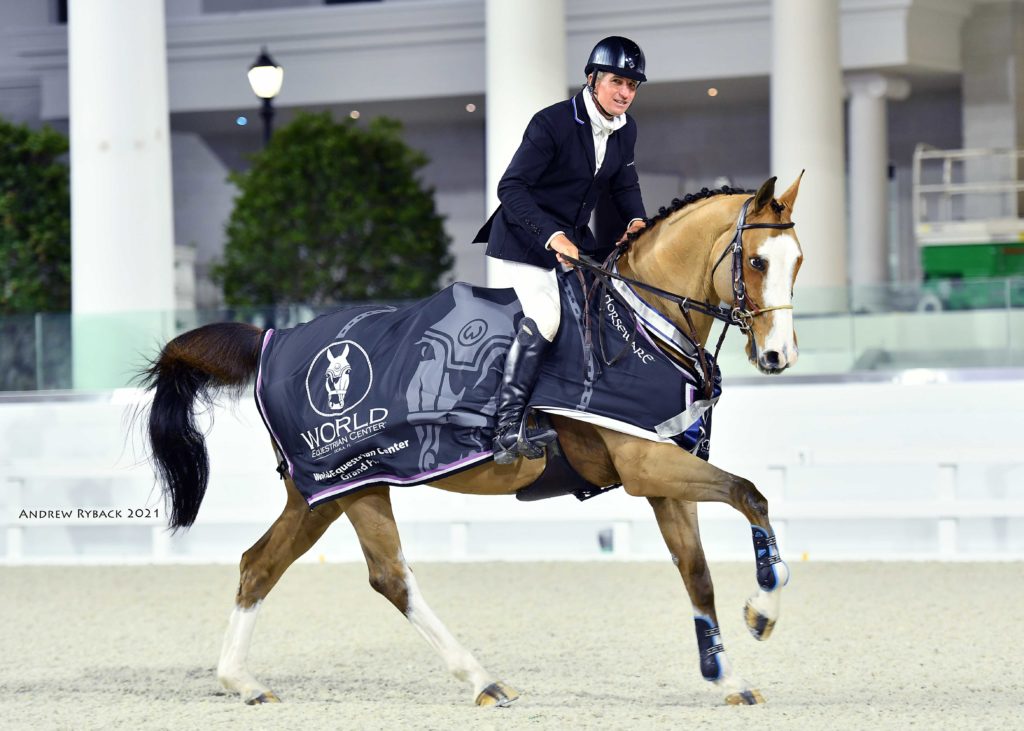 Vale took a moment to chat with us ringside after the class "For Major in the first round, the 11 to 12AB line was tough, but I thought everything else suited him fairly well. I got a good ride into that line and he jumped it clear. The horses just jump great here; the footing is so good, the lights brighten the ring, the jumps are beautiful, so it's just an atmosphere that allows for the horses' best performance."
When asked about his plan in the jump-off, Vale responded, "Major is naturally a pretty quick horse. Santiago had a pretty quick round, but nobody was crazy fast. I thought, as long as I didn't make a mistake, Major would probably be quick enough to win. The course was suited to him, too. It was a great night with a great crowd."
Vale also added, "Candro Van De Zuuthoeve, who was 4th, is a new horse for me. He was super. Mr. Incredible ticked the rail in the first round, but he's a very young horse with massive ability, so he's just getting experience. He's an Olympic-caliber horse, but this is just his fourth or fifth grand prix."
$75,000 WEC Grand Prix 1.50m Results
Major, Aaron Vale – 0 | 0 | 40.470
Easy Girl, Santiago Lambre – 0 | 0 | 41.717
Dubai, Samuel Parot – 0 | 0 | 41.834
Candro Van De Zuuthoeve, Aaron Vale – 0 | 0 | 41.920
VDL Bravo S, Hunter Holloway – 0 | 0 | 42.386
CHS Krooze, Holly Shepherd – 0 | 0 | 43.752
Falcon De Hus Z, Scott Keach – 0 | 0 | 49.390
Bull Run's Risen, Kristen Vanderveen – 0 | 4 | 42.214
Bull Run's Prince Of Peace, Kristen Vanderveen – 0 | 5 | 58.214
Boheme De La Roque, Grace Debney – 0 | 8 | 40.216
All Photos by Andrew Ryback Photography