By Kate Pettersen for Jennifer Wood Media, Inc.
February 3, 2021 – Wellington, FL – Laura Chapot (USA) had a stellar day to open the Marshall & Sterling/Great American Insurance Group CSI4* week at the 2021 Winter Equestrian Festival (WEF), taking the win in the $6,000 Bainbridge Companies 1.40m Jumpers aboard Shooting Star, an entry owned by Laura and Mary Chapot, and adding to that by capturing the top four spots with her other mounts on Wednesday, February 3, at the Palm Beach International Equestrian Center (PBIEC).
Coming up on Friday is the $50,000 Adequan® WEF Challenge Round 4 on the grass Derby Field at Equestrian Village, the $25,000 Hermès U25 Grand Prix Series Team Event in the Global Stadium Arena, and in the International Arena at PBIEC is the $25,000 USHJA International Hunter Derby Hunt & Go at 1 p.m.
Saturday's schedule is highlighted by the $37,000 CaptiveOne Advisors 1.50m Classic on the Derby Field followed by the Great Charity Challenge, presented by Fidelity Investments® taking place in the International Arena on Saturday night. The week wraps up with the $50,000 Palm Beach Equine Clinic 1.45m Grand Prix CSI2* followed by the $214,000 Marshall & Sterling/Great American Insurance Group Grand Prix CSI4*, both set to go on the Derby Field. Don't miss a minute of the action and catch all feature classes for free on the livestream.
A total of 96 combinations contested the opening day, two-phase track set by Olaf Petersen Jr. (GER). Chapot and Shooting Star, her 20-year-old gelding by Phin Phin x Filexa, were the first to enter the International Arena. Their speedy effort of 26.825 seconds in the jump-off held from start to finish for the victory.
"I think Olaf always sets a nice track, especially for the first day here," she said. "The first part of it was pretty straightforward and allowed you a little opportunity to go fast in the jump-off. Shooting Star may be 20 years old this year, but he's the smallest horse with the biggest stride. The big, open ring really plays into his strengths because he can really gallop across and leave out strides that way. That's where he can be really fast."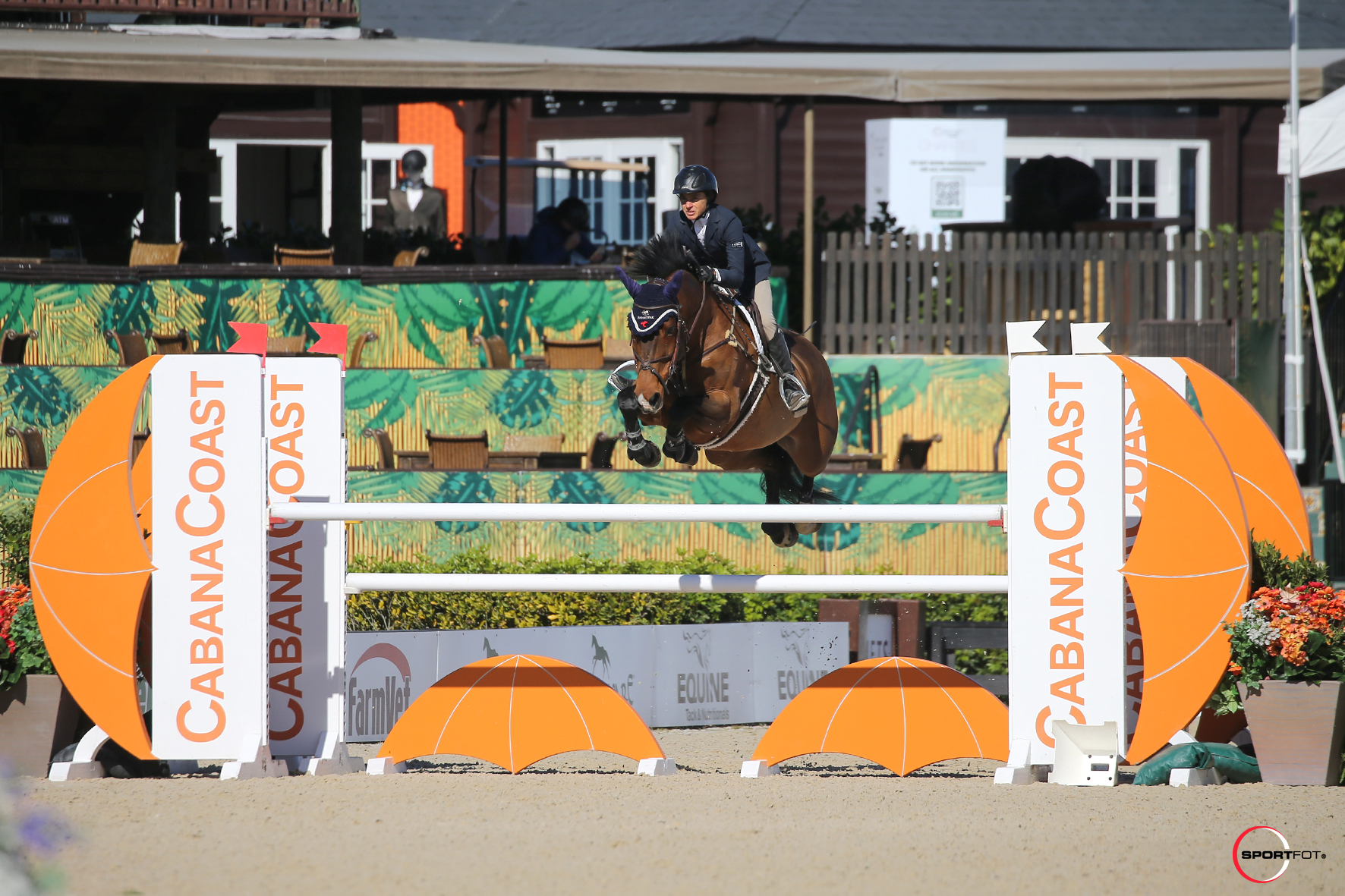 The 50-year-old rider from Neshanic Station, NJ, finished first overall in Section B of the California Split class aboard Out of Ireland, a 15-year-old Anglo European mare by Lougherne Connaught x Amiro M, owned by Laura Chapot and The Edge, stopping the timers in 26.978 seconds.
"Since he [Shooting Star] had to go first in the ring, I had to set my plan and stick with it and once he went, I figured the rest of them could pretty much follow what he did because fortunately, all my horses in this class have long strides. Once he set the pace and I knew it was possible, I knew how much I needed to press the others to do the same thing."
Chapot also finished second in Section A aboard Calafornia, a 14-year-old KWPN gelding by Ultimo x Lux, owned by Laura and Mary Chapot in a time of 27.280 seconds. She rounded out her incredible day with a second-place finish in Section B aboard Chandon Blue, a 16-year-old Oldenburg gelding by Chacco Blue x Landcapitol owned by Laura and Mary Chapot, finishing their jump-off in 27.773 seconds.
"I probably should retire and go home after this," she said with a smile, noting this as the first time she's ever finished in the top four spots in the same class. "We have a couple of older horses here who are just going to stick with their divisions, and I have a few younger horses just coming up. I don't have a real strong one for the grand prix classes right now, but we're hoping that maybe by the end of circuit, one of them might be able to jump into that."
Coverage continues on Thursday as CSI2* and CSI4* competition gets underway with the $6,000 Palm Beach Equine Clinic 1.40m Jumpers and $6,000 Bainbridge Companies 1.45m Jumpers on the Derby Field at Equestrian Village. We'll also shine the spotlight on the Pre-Green Hunter 3 & 4 Year Old division, taking place in Ring Six.
Final Results: $6,000 Bainbridge Companies 1.40m Jumpers Section A:
1. SHOOTING STAR: 2001 KWPN gelding by Phin Phin x Filexa
LAURA CHAPOT (USA), Laura and Mary Chapot: 0/0/26.825
2. CALAFORNIA: 2007 KWPN gelding by Ultimo x Lux
LAURA CHAPOT (USA), Laura and Mary Chapot: 0/0/27.280
3. NESPRESSO VAN'T LAEKHOF: 2013 BWP gelding by Cicero Z x F-nikita
ERYNN BALLARD (CAN), Ilan Ferder: 0/0/27.790
4. FILEMON: 2010 AES gelding by Clinton x Zomein
ENRIQUE GONZALEZ (MEX), Enrique Gonzalez: 0/0/30.158
5. MORRIS HORTA: 2012 stallion by Eldorado Van De Zeshoek x Irenice Horta
MARTIEN VAN DER HOEVEN (USA), Maarten Huygens: 0/0/30.692
6. SLIGO BALOU BOY: 2009 Irish Sport Horse gelding by Balou Du Rouet x Catiana
BEN MAHER (GBR), Michael Kearins: 0/0/31.217
Final Results: $6,000 Bainbridge Companies 1.40m Jumpers Section B
1. OUT OF IRELAND: 2006 Anglo European mare by Lougherne Connaught x Amiro M
LAURA CHAPOT (USA), The Edge and Laura Chapot: 0/0/26.978
2. CHANDON BLUE: 2005 Oldenburg gelding by Chacco Blue x Landcapitol
LAURA CHAPOT (USA), Laura and Mary Chapot: 0/0/27.773
3. FLASH: 2010 KWPN gelding by Bustique x Next Joey
ALEX MATZ (USA), 5 Star Partners: 0/0/28.195
4. SWEET TRICIA: 2009 KWPN mare by Berlin x Aetrichta
DARRAGH KENNY (IRL), SHL Farm: 0/0/30.307
5. OLIVIA Z: 2013 OS mare by Don DIarado x Q7
IVAN CHRISTIANSEN (ECU), Ivan Christiansen: 0/0/31.148
6. VICOMTE DE LA COUR: 2009 Selle Français stallion by Norway De La Lande x Joie De La Cour
MARK BLUMAN (COL), Over The Top Stables, LLC: 0/0/31.576