By Kate Pettersen and Sabrina Brashares for Jennifer Wood Media, Inc.
Olivia Chowdry (USA) and Chuck Berry 8, owned by Atlas Equine Holdings, LLC, began the day with a win in the $6,000 Palm Beach Equine Clinic 1.40m CSI2*. A field of 73 challenged the two-phase class, and there was no catching Chowdry and the 14-year-old Hanoverian gelding by Chacco Blue x Watzmann, as they distanced themselves from the field by over a second, finishing in a time of 27.33 seconds.
"I've been training with Katie Prudent for almost five years, and I thought we were planning to go in the ring and set up for tomorrow's qualifier," she said with a laugh. "I should probably know by now that if you're with Katie, you're in it to win it. My horse was really, really good. I've had him for three years now. He's naturally quite a quick horse. Usually where I suffer the next day is the rideability, but I think this seems to be a great time for him. We spent a lot of time working on the flat, got him nice and relaxed to get him ready, and he feels fantastic. I'm really excited for the rest of the week."
This year, Chowdry has a lot on her plate as she balances her show jumping career while completing her dual master's in social policy and impact investing at the University of Pennsylvania. Due to the COVID-19 pandemic, her courses have all been moved online, affording her the opportunity to stay in Wellington for the duration of the winter circuit.
"I feel really fortunate to get to be down here in Florida and to be able to do a bit of both. It absolutely would not happen without the team I have behind the scenes. Abigail McArdle had Chuck before me, so she knows him really well. If I can't be there to flat him, she's always willing to help me out."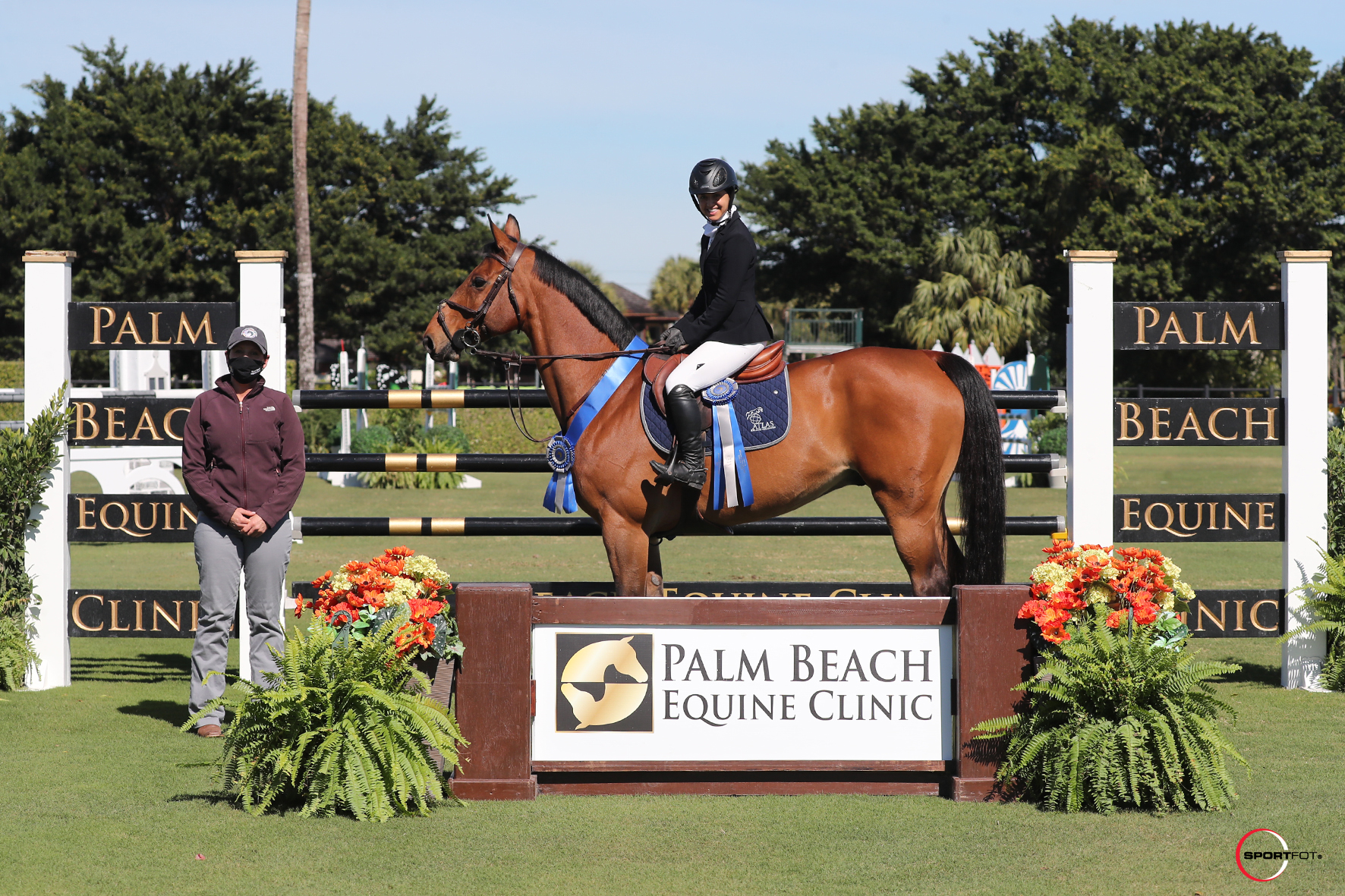 In terms of finding the balance, her outlook is driven by passion for all that she does.
"You have to love both," she said. "It's definitely quite a bit of work, and I feel very fortunate to get the opportunity to ride and study. I think your mindset changes a little bit; I have to be really present in both areas and the horses are a different mental stimulation. I think anytime you get to do something that is around animals is always very calming and therapeutic."
Just off the mark finishing second was Jessica Mendoza (GBR) with the 10-year-old Holsteiner gelding Casanova 499, an entry owned by Carly Day, crossing the finish line in 28.49 seconds. Third place honors went to Gavin Harley (IRL) aboard Corbawido PS, a nine-year-old PZHK gelding owned by Wolfstone Stables and Sales Inc., stopping the timers in 29.65 seconds.
Final Results $6,000 CSI2* Palm Beach Equine Clinic 1.40m Jumpers:
1. CHUCK BERRY 8: 2007 Hanoverian gelding by Chacco Blue x Watzmann
OLIVIA CHOWDRY (USA), Atlas Equine Holdings LLC: 0/0/27.33
2. CASANOVA 499: 2011 Holsteiner gelding by Clarimo x Wencke
JESSICA MENDOZA (GBR), Carly Day: 0/0/28.49
3. CORBAWIDO PS: 2012 PZHK gelding by Balou Du Reventon x Annette
GAVIN HARLEY (IRL), Wolfstone Stables and Sales Inc.: 0/0/29.65
4. STAKKATISA PS: 2012 Oldenburg mare by Stakkatol x Chaccisa
REBECCA CONWAY (USA), HBC Sport Horses: 0/0/29.75
5. BOUNTIFUL: 2011 KWPN mare by Ukato x Celena
DANI G WALDMAN (ISR), Waldman Horses BV: 0/0/31.24
6. FREDIE LEVA: 2010 KWPN gelding by Azteca Vdl x Oleva
STEPHANIE GALLUCCI (CAN), John Gallucci: 0/0/31.75
7. PIPPA BLUE: 2011 Hanoverian mare by Plot Blue x Soraya 236
ANNA DRYDEN (USA), Double Meadows Farm, LLC: 0/0/31.79
8. MIKADO VAN D'ABELENDREEF: 2012 BWP gelding by Eldorado VD Zeshoek
FILIP DE WANDEL (BEL), Five Way Farm, LLC: 0/0/31.86
9. STERREHOF'S BACCARAT: 2006 KWPN mare by Padinus x Lazura
JULIO DAVID VAINER (MEX), Julio David Vainer: 0/0/32.40
10. QUILIMBO: 2009 Holsteiner stallion by Quidam De Revel x Soda
SCHUYLER RILEY (USA), E2 Show Jumpers: 0/0/32.48
11. HABAB W: 2012 KWPN gelding by Nabab De Reve x Briolita
CASSIO RIVETTI (BRA), Neil Jones Equestrian, Inc: 0/0/32.49
12. DIAMONTE DARCO: 2005 GBSH mare by Unbelievable Darco x Unknown
LUCAS PORTER (USA), Sleepy P Ranch LLC: 0/0/32.69