By Kate Pettersen, Kimberlyn Beaudoin, and Sabrina Brashares for Jennifer Wood Media, Inc.
February 5, 2021 – Wellington, FL – Bliss Heers (USA) and Antidote De Mars owned by Bridgeside Farm, LLC, found their way to the top of the podium in the $50,000 Adequan® WEF Challenge Cup Round 4 CSI4* on the grass Derby Field at Equestrian Village on Friday, February 5, as part of the 2021 Winter Equestrian Festival (WEF).
As the Marshall & Sterling/Great American Insurance Group CSI4* week rolls on, Saturday's schedule features the $37,000 CaptiveOne Advisors 1.50m Classic on the Derby Field followed by the Great Charity Challenge, presented by Fidelity Investments® taking place in the International Arena at the Palm Beach International Equestrian Center (PBIEC) on Saturday night. The week's finale comes on Sunday with the $50,000 Palm Beach Equine Clinic 1.45m Grand Prix CSI2* followed by the $214,000 Marshall & Sterling/Great American Insurance Group Grand Prix CSI4*, both set to go on the Derby Field. Don't miss a minute of the action and catch all feature classes for free on the livestream.
A field of 68 contested the Adequan® WEF Challenge Cup Round 4, looking to punch their ticket into Sunday afternoon's $214,000 Marshall & Sterling/Great American Insurance Group Grand Prix CSI4*. With 16 jumping efforts in the first round, a total of 15 entries mastered the track set by Anderson Lima (BRA) to qualify for the jump-off, with two combinations opting not to return. In the subsequent round, Heers and the 11-year-old Selle Français stallion by Diamant de Semilly x Jarnac emerged victorious in a time of 38.98 seconds.
"Antidote is extremely fast," said Heers. "I don't worry too much about leaving out strides; I try to just get in a rhythm and where I have to make adjustments, I have to make adjustments. It's kind of the way the cookie crumbles on this field. I just do my best, focus on making good turns, and the rest is going to fall into place when you're going that fast."
The 34-year-old rider spoke fondly of her partner in the ring, singing his praises for being such a solid teammate. When asked what makes him so special, the answer was simple.
"Everything," she said with a giant smile across her face. "For me the most incredible part is his mind. He's scopey, talented, careful, and brave, but the best part is, he's just the kindest soul. He's very intelligent and never wants to put a foot wrong. I'm incredibly grateful for him."
The competition gave it a good effort to try to catch the day's leading lady, but it couldn't be done. Daniel Deusser (GER) came closest aboard the Stephex Stables entry Killer Queen VDM. He and the 11-year-old BWP mare by Eldorado Vd Zeshoek x Derly Chin De Muze stopped the clock at 39.23 seconds. Laura Kraut (USA) and Fleurette, owned by St. Bride's Farm, gave it a solid run as well, as she and the 12-year-old Selle Francais mare crossed the finish line in 39.55 seconds.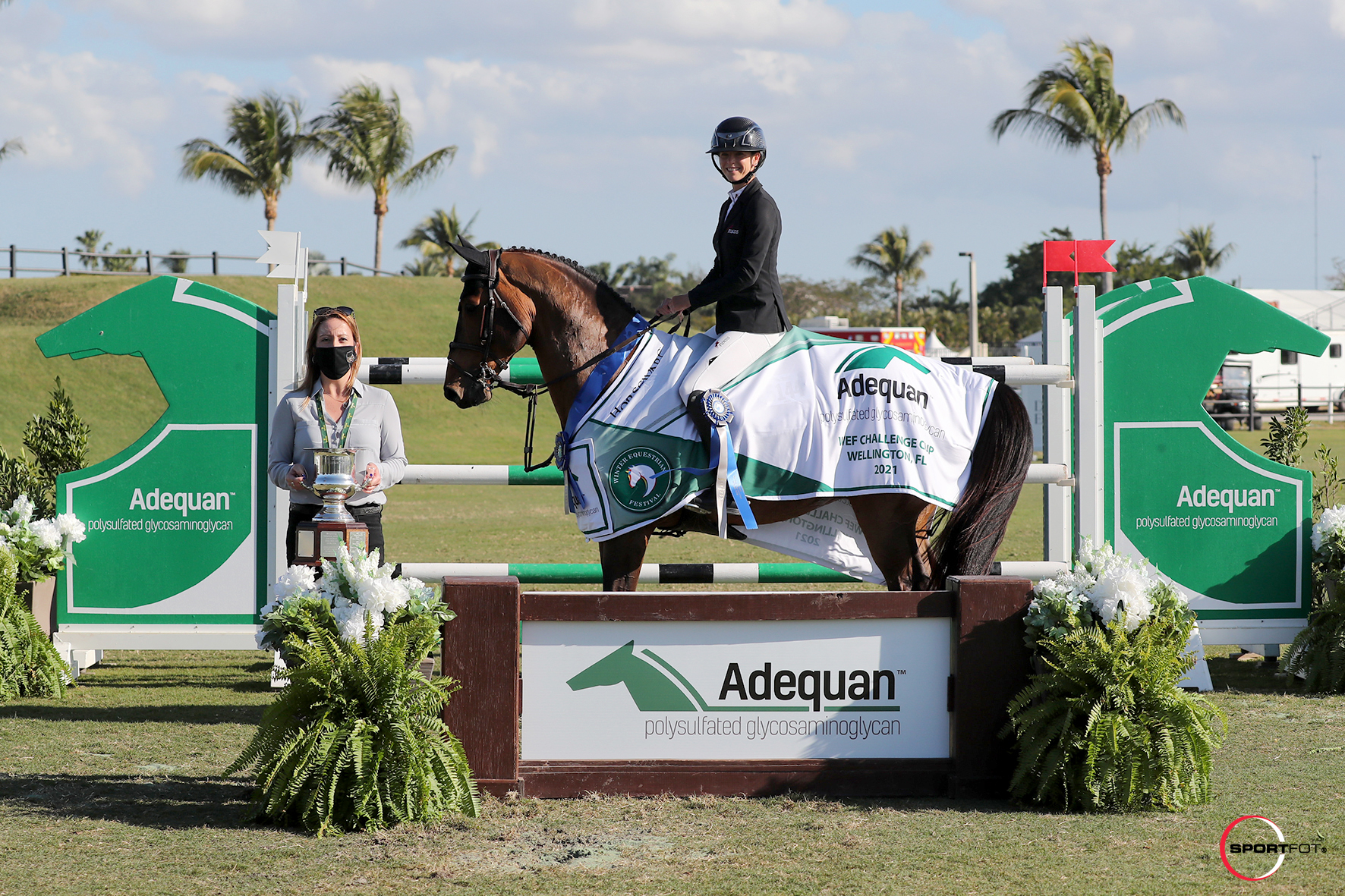 Heers has spent a large part of her career based across the pond in Europe. It's her third year competing at WEF, and Friday's win marked the first of her career during the winter circuit, making the victory even sweeter on home turf.
"It's definitely extra special and really exciting for me," she said. "To win anywhere is a big deal but to be home and to have the European crowd here, it's a great feeling."
On Saturday, many international riders will compete in the $37,000 CaptiveOne Advisors 1.50m Classic on the Derby Field as Lima continues to set technical and exciting tracks to test a talented field some of the world's top competitors. And, according to Friday's winner, he's doing a great job thus far.
"I thought the course designer did an amazing job," said Heers. "If you saw the number of four faulters across the field, it was a very good class. Most of the horses jumped very well and for a field that included some of the top 30 riders in the world, it was very impressive to see how well the course designer did. I couldn't imagine he was disappointed with the turnout based on the number of faults and how many clears he had."
Following the class, Heers also received the Barry Louise Lane Memorial Trophy, established in 2003, in loving memory of Barry by her family and friends.
Final Results: $50,000 Adequan® WEF Challenge Round 4 CSI4*
1. ANTIDOTE DE MARS: 2010 Selle Français stallion by Diamant de Semilly x Jarnac
BLISS HEERS (USA), Bridgeside Farms, LLC: 0/0/38.98
2. KILLER QUEEN VDM: 2010 BWP mare by Eldorado Vd Zeshoek x Derly Chin De Muze
DANIEL DEUSSER (GER), Stephex Stables: 0/0/39.23
3. FLEURETTE: 2009 Selle Francais mare by Verdi Tn x Concorde
LAURA KRAUT (USA), St. Bride's Farm: 0/0/39.55
4. LITTLE MAGIC D'ASSCHAUT: 2011 BWP gelding by Back Gammon x Inschallah II Van't Asschaut
HENRIK VON ECKERMANN (SWE), Camp PB B.V:0/0.40.26
5. PALOMA: 2006 Holsteiner mare by Canaletto S x Henzo de la Brasserie
LAUREN HOUGH (USA), Kathleen Kamine: 0/0/41.50
6. BALOUTINUE: 2010 Hanoverian gelding by Balou du Rouet x Landor S
ADAM PRUDENT (USA), Plain Bay Farm: 0/4/38.08
7. BENNYS LEGACY: 2008 Oldenburg gelding by Lupicor x Acordia
ADRIENNE STERNLICHT (USA), Starlight Farms, LLC: 0/4/39.39
8. DUBAI: 2008 KWPN gelding by Cardento 933 x Ozella
SAMUEL PAROT (CHI) Samuel Parot: 0/4/40.07
9. DON JUAN VAN DE DONKHOEVE: 2009 SBS stallion by Bamako de Muze x Heartbreaker
JESSICA SPRINGSTEEN (USA), Stone Hill Farm: 0/4/40.14
10. KOSS VAN HEISTE: 2009 Belgian Warmblood gelding by Breemeersen adorado x Contact vd heffinck
CONOR SWAIL (IRL), Dalco Ltd: 0/4/40.88
11. CONTAGIOUS: 2009 German Sport Horse gelding by Contagio x For Keeps
MCLAIN WARD (USA), Beechwood Stables LLC: 0/4/40.91
12. COSA NOSTRA: 2010 Oldenburg mare by Conthargos x Quintender
ALBERTO MICHAN (ISR), Alberto Michan: 0/4/43.11