Derby Friday saw a change of scenery this week for the $20,000 WEC Hunter Derby 3'6″ – 3'9″, the $15,000 WEC Hunter Derby 3′ Open and the $15,000 WEC Hunter Derby 3′ Non Pro. The classes took place in the spacious Hunter 1 ring where courses designed by Tucker William of Ocala, Florida, featured stunning natural obstacles. Each course included four high options and handy courses offered several opportunities for inside turns.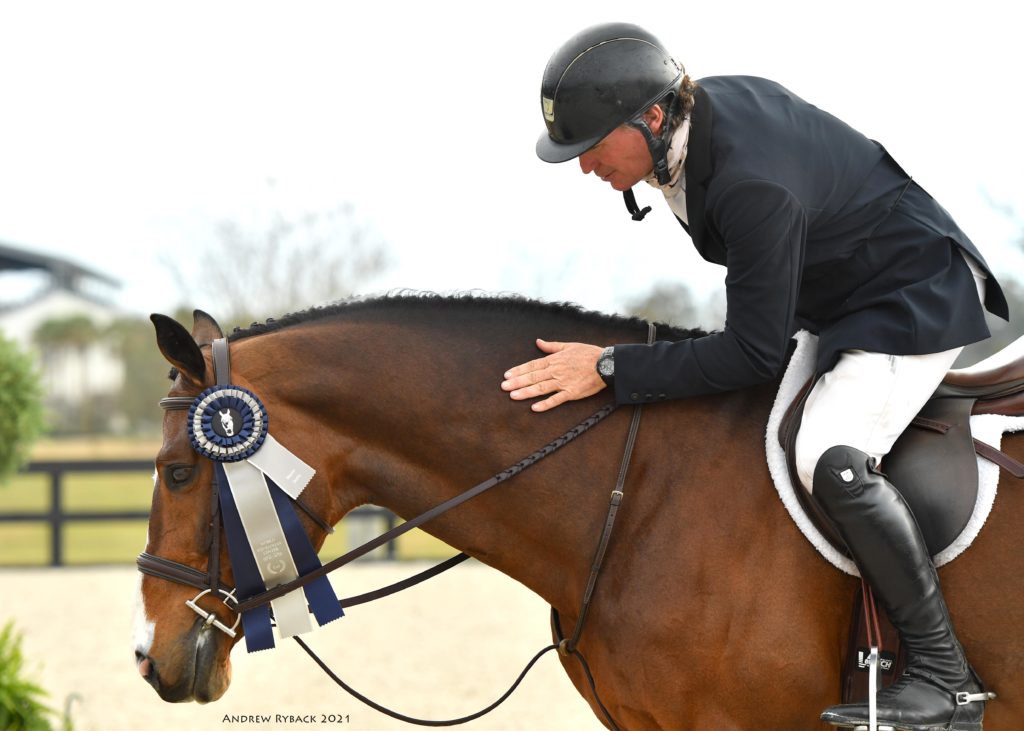 The $20,000 WEC Hunter Derby 3'6″-3'9″ took over the ring this afternoon as 20 entries tried their hand at the inviting derby course. Several entries scored into the high 80s, but just one managed a score in the 90s: David Jennings and Allison Ventura's Jordantinus (Air Jordan x O.B.O.S. Flower). The duo earned their victory today by delivering two stunning rounds.
Jennings and the 14-year-old Irish Sport Horse stallion took 1st place in the $10,000 USHJA International Hunter Derby at the Florida Horse Park in early January and were searching for another victory. The elegant pair laid down a stunning first round, taking all four high options for a score of 86. Jennings and the handsome bay gelding upped the ante in the handy round, effortlessly taking inside turns that no other entries attempted. Their efforts paid off as they were rewarded with a score of 93, totaling 179 for the win.
Jeffrey Ayers and his own Cartel took to the course early in the order. Ayers and the 10-year-old Warmblood gelding have consistently taken Champion titles in the Green 3'9″/High Performance Hunters during the World Equestrian Center — Ocala Winter Spectacular 2021, preparing them well for this afternoon's class. The pair set the standard right off the bat with a score of 89. They returned last in the order for the handy round, taking handy inside turns to fences 7 and 8, as well as all four high options. The duo earned a score of 88, bringing their overall score to 177 for second place.
Melissa Donnelly and Elizabeth Becker's Corlando 49 (Cartani x Olanda I) also found success in this afternoon's derby. Donnelly and the 15-year-old Holsteiner gelding earned 2nd place in the $20,000 WEC Hunter Derby 3'6″-3'9″ during Week 1 and returned for another attempt at the win. The pair found each distance easily in the first round, taking all four high options for a score of 85. They opted for the inside track to fences 7 and 8 in the handy round, earning a score of 89 for an overall total of 174, landing them in 3rd place.
Jennings stuck around after the class to chat with us about his win aboard Jordantinus, "He is a stallion who used to do some grand prix with his prior rider. He's a bit of a veteran when it comes to making nice turns and keeping a big stride. In the first round, he was a little on the fresh side because of the rain, but we got him a little quieter in between rounds and he came back in the handy round perfectly. We were the only entry to do a couple of the inside turns, so I think that helped us quite a bit."
Jennings added, "Full Circle Farm was based out of Wellington, Florida, for a long time, but I've been in Ocala for the past nine years. We just bought a piece of property and are building a farm here in Ocala, so I'm here for the winter and on the road for the summer."
$20,000 WEC Hunter Derby 3'6″ – 3'9″ Results
Jordantinus, David Jennings – 86 | 93 | 179
Cartel, Jeffrey Ayers – 89 | 88 | 177
Corlando 49, Melissa Donnelly – 85 | 89 | 174
Play Maker, Timothy Maddrix – 87 | 86 | 173
Envol De Riverland, Rowan Willis – 86.5 | 83 | 171.5
Levland, Christina Fisher – 84 | 85 | 169
Chabloma Z, Eric Thompson – 74.5 | 83 | 157.5
Cartograna, Audrey Muscari – 75 | 76 | 151
Hollywood, Karen Cudmore – 76 | 73 | 149
Light Dance, Melissa Donnelly – 76.5 | 49 | 125.5
Photos courtesy of Andrew Ryback Photography.