By Kate Pettersen, Kimberlyn Beaudoin, and Sabrina Brashares for Jennifer Wood Media, Inc.
Wilton Porter (USA) and Diamonte Darco, owned by Sleepy P Ranch, LLC, opened Friday's schedule with a win in the $37,000 Palm Beach Equine Clinic 1.45m Qualifier CSI2* on the Derby Field at Equestrian Village. A total of 74 entries came forward to challenge the work of Anderson Lima (BRA) which featured 13 obstacles in the first round and 8 efforts in the shortened jump-off track. Of the seven countries represented in the second round, it was the host nation United States that came out on top.
"I thought the course designer did a great job today," said Porter. "I think he had just the right number of clear with 13 and I thought it was a difficult course. My horse 'Bridget' is really experienced. She's 16 years old this year and she's been in our family for a long time, so she handled it well."
The 27-year-old spoke fondly of his partner, the talented mare by Unbelievable Darco x Kriska, with whom he won individual gold at the 2014 Adequan®/FEI North American Young Rider Championships.
"She's such a fighter," he said. "She doesn't have the most textbook technique but she's always fighting to jump the jumps clear and she gets the job done year after year."
Porter also echoed sentiments of top international riders Ben Maher (GBR) and Eric Lamaze (CAN) who found success on the turf during WEF 2 with veteran mounts, who benefit from additional opportunities this season to jump on the stellar footing at Equestrian Village.
"I think it's awesome," said Porter. "Especially for my mare but also for any horse. Having more opportunities to jump on the grass keeps them fresher throughout the season. Every time you come out here it's as if you're in a new venue. Normally her [Diamonte Darco] main classes are the shows on the grass and now that there are four weeks on the schedule, she can do a little bit more."
Just five hundredths of a second behind the class winner, 18-year-old Irish rider Max Wachman piloted the 12-year-old gelding Lazzaro Delle Schiave, owned by Coolmore Show Jumping, to a runner-up finish in 43.17 seconds. Rounding out the podium in third place was Anna Beth Athey (USA) aboard her own Nat King Cole, an 11-year-old Swedish Warmblood mare, stopping the clock in 43.87 seconds.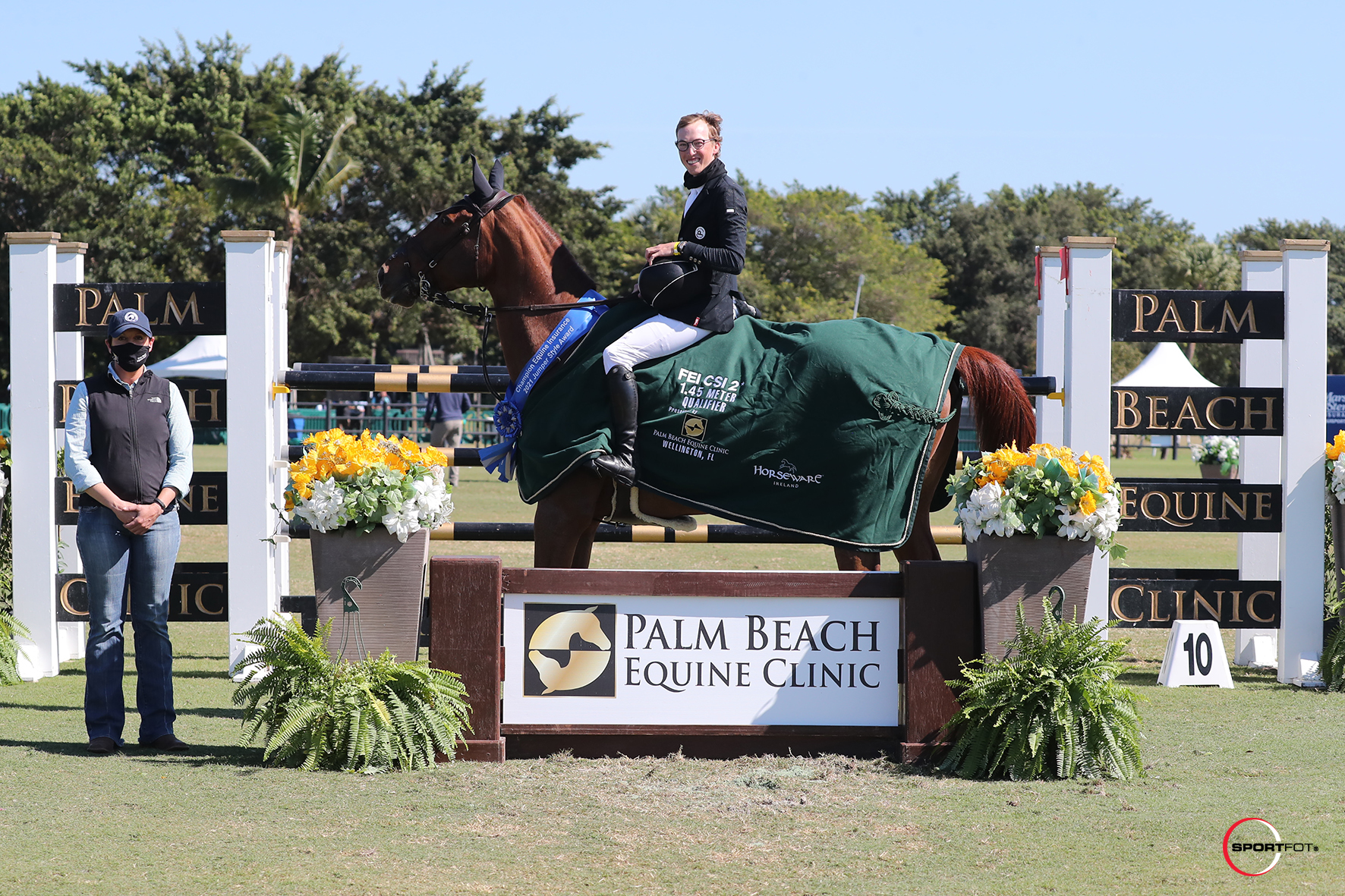 This season Porter is shifting his focus to a string of up-and-coming horses he's working to develop but is happy to have Bridget in the lineup to jump some of the CSI2* grand prix classes. He's also excited to be helping his brother Lucas, who has a string of horses for the higher level.
"It's a good dynamic," said Porter about working with his younger brother. "We're definitely teammates. He trained me today and I'll help him in the CSI4* qualifier. I think neither one of us could do it without the other."
Final Results: $37,000 Palm Beach Equine Clinic 1.45m Qualifier CSI2*
1. DIAMONTE DARCO: 2005 SHBGB mare by Unbelievable Darco x Kriska
WILTON PORTER (USA), Sleepy P Ranch, LLC: 0/0/43.12
2. LAZZARO DELLE SCHIAVE: 2009 SI gelding by Acodetto 2 x Georgia S
MAX WACHMAN (IRL), Coolmore Show Jumping: 0/0/43.17
3. NAT KING COLE: 2010 SWB gelding by Diamant De Revel x Bonny M
ANNA BETH ATHEY (USA), Anna Beth Athey: 0/0/43.87
4. JET BLUE: 2011 KWPN gelding by VDL Zirocco Blue x Cindoctro-d
CARLY ANTHONY (USA), Portfolio Horses, LLC: 0/0/44.72
5. GERDINIEKE: 2011 KWPN mare by Bacardi VDL x Cornieke
JOHN PEREZ (COL), Daniel Rihan Salum: 0/4/42.53
6. CASANOVA 499: 2011 Holsteiner gelding by Clarimo x Wencke
JESSICA MENDOZA (GBR), Carly Day: 0/4/42.54
7. FOOTLOOSE HX: 2010 KWPN mare by Bustique x Camillo Z
ALI WOLFF (USA), Claudia Harrison-Guess: 0/4/42.86
8. FAVORITA DE MUZE: 2011 SBS mare by Bamako De Muze x Hieperdepiep De Muze
LAUREN CROOKS (USA), Maud Christal: 0/4/43.74
9. MEADOW VALE CRUISE: 2011 gelding by S Creevagh Ferro Ex Siebe x Tullibards Pretty Young Thing
DIEGO PEREZ BILBAO (ESP), Wyndmont: 0/4/44.00
10. L'ARTISTE DE TOXANDRA: 2011 BWP gelding by Toulon x Donnatella Van De Zelm
IOLI MYTILINEOU (GRE), Elia Construction SA: 0/4/45.35
11. VATSON SITTE: 2005 SBS stallion by Cardento x Casa Sitte Z
KERRY MCCAHILL (USA), Kerry Anne, LLC: 0/4/45.42
12. BIBLOU DU PERRON: 2011 Selle Français gelding by Old Chap Tame x Jenny de la Cense*hn
STEVEN BLUMAN (ISR), Steven Bluman: 0/18/61.13