By Kate Pettersen and Sabrina Brashares for Jennifer Wood Media, Inc.
February 6, 2021 – Wellington, FL – Jessica Springsteen (USA) and Volage Du Val Henry, owned by Stone Hill Farm, flew to the top of the podium in the $37,000 CaptiveOne Advisors 1.50m Classic CSI4* on Saturday, February 6, held on the grass Derby Field at Equestrian Village, as international show jumping continues at the 2021 Winter Equestrian Festival (WEF).
Sunday's schedule features the $50,000 Palm Beach Equine Clinic 1.45m Grand Prix CSI2* followed by the $214,000 Marshall & Sterling/Great American Insurance Group Grand Prix CSI4*, both set to go on the Derby Field. All feature classes are available to stream for free using the livestream.
Anderson Lima (BRA) set a technical track for the field of 63 entries which featured 16 jumping efforts, narrowing the field down to 15 who qualified for the second round. Of the 14 electing to jump off, five nations were represented but once again, the host country prevailed. Springsteen and the 12-year-old Selle Français mare by Quidam de Revel x Cassini I, executed the shortened track without fault, finishing nearly a second ahead of the pack in 40.97 seconds.
"She's such a naturally fast horse," said Springsteen. "If I can just stay on that gallop that she likes, normally she's just naturally quicker than some of the other horses. I tried to keep it neat and she was so 'game,' so I was really happy with her. I've had her since she was eight years old, and she's just such a fighter. I can always call on her, and she always tries her hardest. She really fights for you, especially in these jump-offs. I think she enjoys it so I knew I could give it a go today."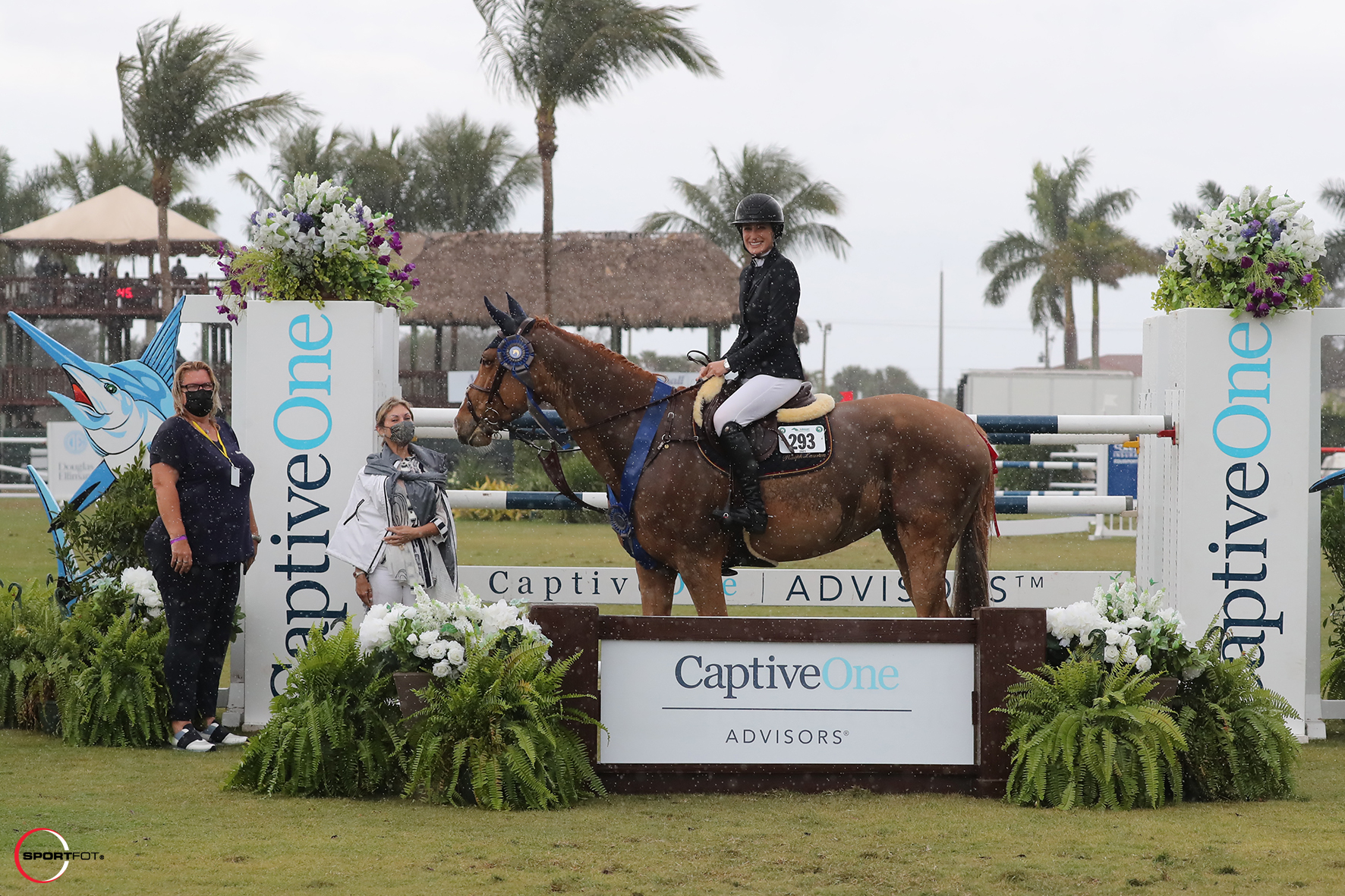 Sliding into second place was Canada's Mario Deslauriers aboard Bardolina 2, a 12-year-old Holsteiner mare by Clarimo x Landos, owned by the Wishing Well Farm, LLC. They also kept all the jumps in their cups, stopping the timers in 41.78 seconds. Rounding out the podium finishers was Lucas Porter (USA) and the 14-year-old Zangersheide gelding C Hunter for the Sleepy P Ranch, LLC, crossing the finish line with a clear effort in 41.94 seconds.
As the jump-off began, the skies opened with a downpour of rain, but the competitors seemed relatively unfazed as they gave it their best shot. The footing held up nicely, making for a very exciting finish.
"I thought they were going to postpone the class," said Springsteen. "I was waiting for them to say that we were going to have to go back to the barn, but we got lucky and I'm glad we got to finish this one. My horse loves the grass so I'm going to keep her on here for the rest of the season. I feel like she really shines out here [on the derby field]. I thought the course was difficult enough today, so I was thrilled with her."
Shortly after the class ended, the sun came out once again, a welcome view ahead of another fantastic day of show jumping coming up on Sunday.
Final Results: $37,000 CaptiveOne Advisors 1.50m Classic CSI4*
1. VOLAGE DU VAL HENRY: 2009 Selle Français mare by Quidam de Revel x Cassini I
JESSICA SPRINGSTEEN (USA), Stone Hill Farm: 0/0/40.97
2. BARDOLINA 2: 2009 Holsteiner mare by Clarimo x Landos
MARIO DESLAURIERS (CAN), Wishing Well Farm, LLC: 0/0/41.78
3. C HUNTER: 2007 Zangersheide stallion by Cassini II x Corland
LUCAS PORTER (USA), Sleepy P Ranch, LLC: 0/0/41.94
4. MIDNIGHT BLUE ASK: 2010 KWPN mare Mr Blue x Jojo Des Fontaines
CAMILA MAZZA DE BENEDICTO (BRA), Stutteri Ask A/S: 0/0/42.03
5. H5 CHAGANUS: 2008 Oldenburg gelding by Chacco-Blue x Carthago
EDUARDO MENEZES (BRA), H5 Stables: 0/0/42.76
6. HH AZUR: 2006 Belgian Sport Horse mare by Thunder van de Zuuthoeve x Sir Lui
MCLAIN WARD (USA), Double H Farm: 0/0/43.10
7. CHRISTOS: 2009 Holsteiner gelding by Cristo 5 x Linaro
BLISS HEERS (USA), Bridgeside Farms, LLC: 0/0/43.44
8. GRAND CRU VD JIJF EIKEN: 2006 Belgian Warmblood stallion by Contact van de Heffinck x Heartbreaker
VANESSA MANNIX (CAN), Vanessa Mannix: 0/0/47.74
9. BANDIT SAVOIE: 2011 Selle Français gelding by Qlassic Bois Margot x Falmera Savoie
ABDEL SAID (EGY), Abdel Said and AS Sport Horses: 0/4/41.39
10. THE DIAMANT ROSE Z: 2011 Zangersheide mare by Toulon x Diamant Z
ERYNN BALLARD (CAN), Ilan Ferder: 0/4/42.73
11. JAKARTA: 2009 BWP mare by Cicero Z Van Paemel x Dagana R
LAURA KRAUT (USA), St. Bride's Farm: 0/4/42.90
12. HOPE STREET: 2009 Holsteiner mare by Casall x Quick Nick I
LUCAS PORTER (USA), SPR Fund One: 0/4/46.85