By Kate Pettersen and Sabrina Brashares for Jennifer Wood Media, Inc.
Kicking off the day in fine form, Karen Polle (JPN) and her own 11-year-old gelding Jet Run captured the $50,000 Palm Beach Equine Clinic 1.45m Grand Prix CSI2* with a stellar double clear effort.
Anderson Lima's (BRA) artistry was put to the test once again with 16 jumping efforts featured in the first round of competition. There were 45 combinations in the starting field with a total of 15 qualifying to jump off over a shortened track that offered opportunities for tight turns and spots for a big gallop across the stunning grass field. The fastest of the day was Polle riding Jet Run (Chacco-Blue x Peisha), finishing in 37.52 seconds.
"I thought the course was pretty challenging, and it was a fair test," she said of the1.45m track. "I was a little bit surprised there were so many clear actually and a lot of fast riders in the jump-off, so I was definitely a bit nervous. My horse has a lot of ability, and he's very experienced so even though we're still a relatively new combination, I have a lot of faith in him, so I felt good going in. I stuck to my plan in the jump-off, but the last line ended up a lot shorter for me than I expected so I was lucky my horse was good there."
Of the seven nations represented in the second round, it was a second-place finish for Great Britain as Jessica Mendoza guided Casanova 499, a 10-year-old Holsteiner gelding by Clarimo x Wencke owned by Carly Day, to a double-clear effort, finishing just off the mark in 37.68 seconds. Representing the host nation, Sloane Coles (USA) rounded out the all-female podium with a third-place finish aboard De Vleut, a 13-year-old gelding by Vleut x Rolina owned by Avalon Partners BV, stopping the clock in 38.29 seconds.
Jet Run was previously campaigned by Spanish rider Sergio Alverez Moya and joined Polle's string just over a year ago. As the pair continues to get acquainted with each other, their consistent finishes throughout the past week and their win on Sunday has the rider's confidence trending in the right direction.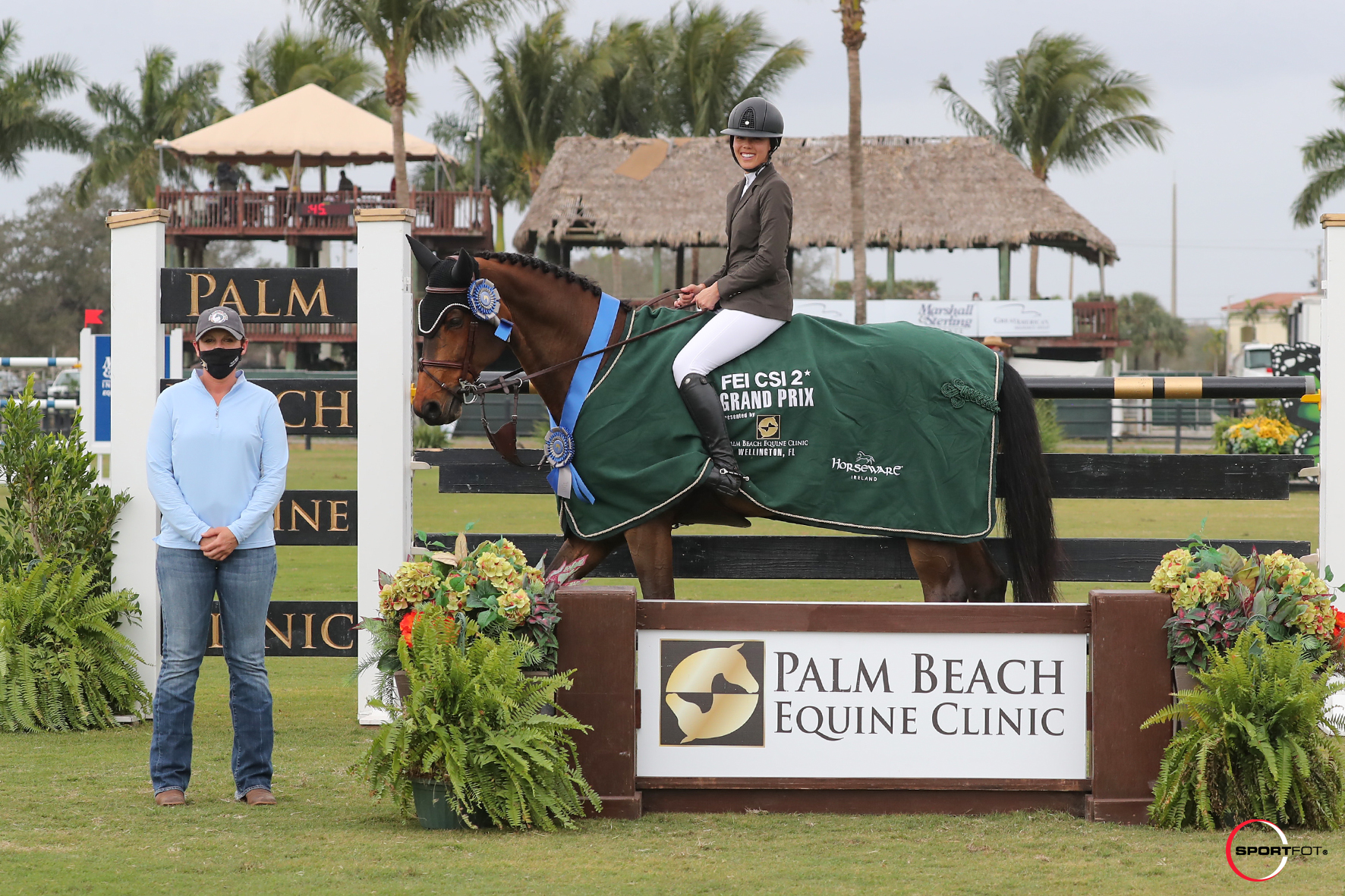 "My rounds in the qualifier and in the two rounds today, I really felt like I had the connection right with my horse and I felt like he was really listening. In the jump-off I felt like I could run but then get him back if I needed, so this is the most comfortable I've felt with him."
It has been a work in progress to get to this point, and Polle credits her recent success to finding the right bit after a series of trial and error.
"I've been playing around the past couple months with different bits," she said. "I jumped in a different one in the warm-up class the first day, switching it [to a Kimberwick] for the qualifier and that worked well so I used the same one again today. I needed to work on his flatwork as well. We've been spending a lot of time on that, so it's really nice to see it coming together."
They'll continue to campaign throughout the winter circuit at WEF and hope to keep riding the wave of their increased confidence and synergy.
Final Results: $50,000 Palm Beach Equine Clinic 1.45m Grand Prix CSI2*
1. JET RUN: 2010 Oldenburg gelding by Chacco-blue x Peisha
KAREN POLLE (JPN), Karen Polle: 0/0/37.52
2. CASANOVA 499: 2011 Holsteiner gelding by Clarimo x Wencke
JESSICA MENDOZA (GBR), Carly Day: 0/0/37.68
3. DE VLEUT: 2008 KWPN gelding by Vleut x Rolina
SLOANE COLES (USA), Avalon Partners BV: 0/0/38.29
4. TUPAC VAN DE VROMBAUTSHOEVE Z: 2010 Zangersheide gelding by Thunder Vd Zuuthoeve x Oma Vd Vrombautshoeve
KEVIN MEALIFF (IRL), Oakmont Stables, LLC: 0/0/39.09
5. SUPER CHILLED: 2008 Irish Sport Horse gelding by Gelvin Clover
JONATHAN CORRIGAN (IRL), Debra Wycoff: 0/0/39.72
6. BIBLOU DU PERRON: 2011 Selle Français gelding by Old Chap Tame x Jenny de la Cense*hn
STEVEN BLUMAN (ISR), Steven Bluman: 0/0/41.38
7. CANDESCO: 2012 Hanoverian gelding by Grey Top x Future
HAYLEY BARNHILL (USA), Alice Lawaetz: 0/0/41.73
8. SOUPER SHUTTLE: 2011 Hanovarian mare by Stakkato x Luise Marie
CHLOE REID (USA), Live Oak Plantation: 0/4/36.58
9. ZARINA DE VIDAU: 2011 CDE mare by Diamant de Semilly x Carina XXXVii Ch
GRACE DEBNEY (GBR), Temple Equestrian, LLC: 0/4/36.59
10. MENDINI DR: 2012 BWP mare by Hunters Scendix x Cleopatra Van Spalbeek
CONOR O'REGAN (IRL), Dynomite Ranch, LLC: 0/4/39.64
11. SCATO VAN DE MOLENBRUG Z: 2010 Zangersheide stallion by Scendix x Cleopatra
JENNIFER WAXMAN (USA), The Scato Group, LLC: 0/4/39.74
12. MARCIANO MVF: 2011 Zangersheide gelding by Stakkato x Leberoi H
HEATHER CARISTO-WILLIAMS (USA), Stephanie Bulger: 0/4/43.58