By Kate Pettersen and Sabrina Brashares for Jennifer Wood Media, Inc.
Hot off his grand prix win on Sunday during the fourth week of the 2021 Winter Equestrian Festival (WEF), Daniel Deusser (GER) jumped back into the winners circle in WEF 5, this time aboard Kiana Van Het Herdershof, owned by Stephex Stables, in the $37,000 Bainbridge 1.45m Classic CSI5* on Friday, February 12, in the International Arena at the Palm Beach International Equestrian Center (PBIEC).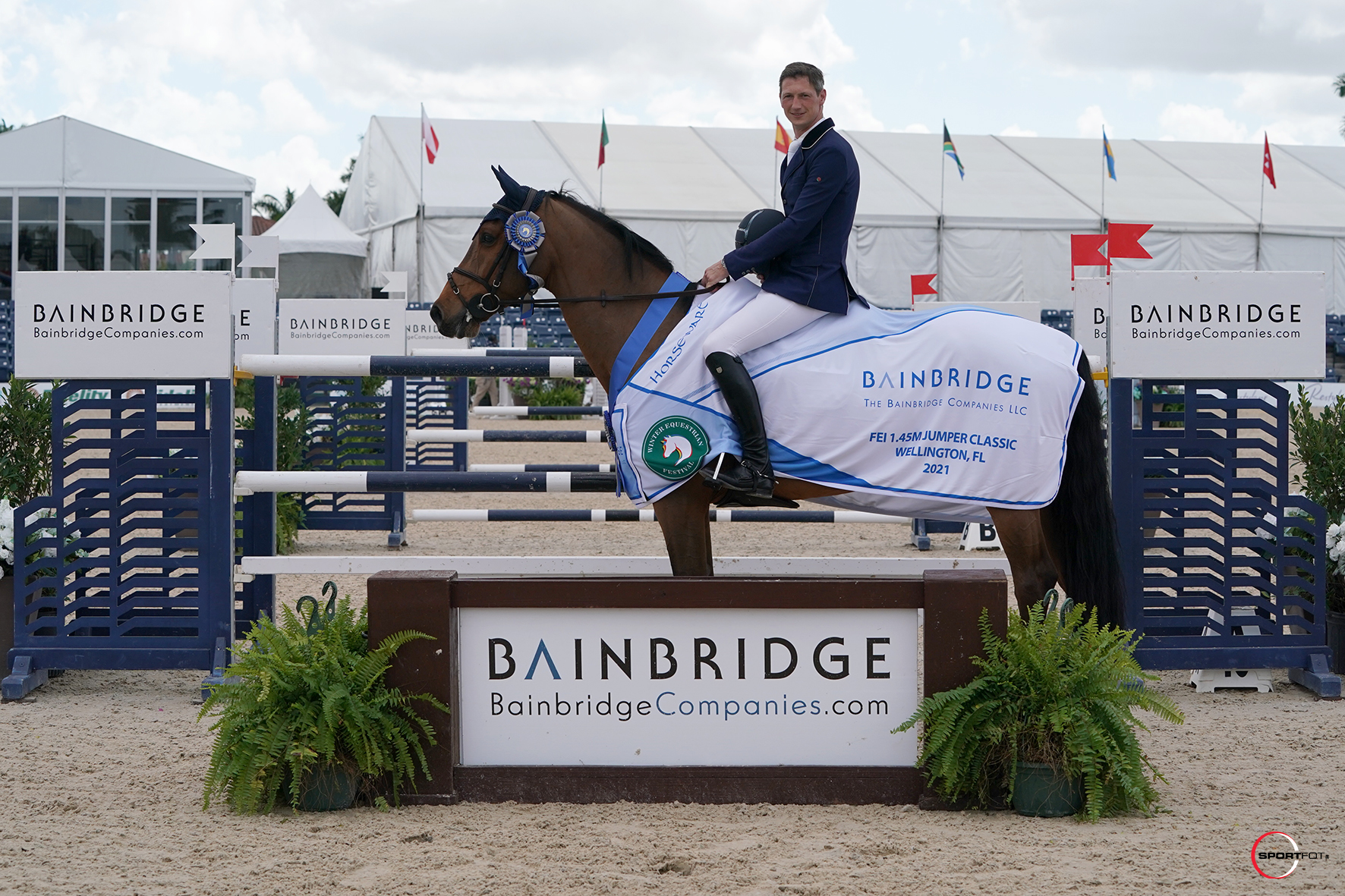 Competition is underway at WEF for the first CSI5* of the winter circuit, sponsored by Douglas Elliman Real Estate, with a concurrent CSI2* running as well, sponsored by Restylane. Up next it's an exciting Saturday night under the lights with the $401,000 Douglas Elliman Real Estate Grand Prix CSI5* in the International Arena followed by an action-packed Sunday lineup with the $73,000 CaptiveOne Advisors 1.50m Classic and the $50,000 Restylane Grand Prix CSI2*. Feature classes are available both live and on demand using the livestream.
The speed track on Friday set by Kelvin Bywater (GBR) challenged a total of 49 combinations and featured 14 jumping efforts. Deusser and the 11-year-old BWP mare by Toulon x Starlight VD Hemelseschoot gave it a good run, finishing with the fastest time of the day in 59.54 seconds.
"I had two horses and with the first one, the goal was to get a good ribbon," said Deusser. "Kiana Van Het Herdershof is naturally very fast and a little bit crazy. She's already won a few classes like this one, so with her, it was our plan to try to win the class."
Harrie Smolders (NED) and Une De L'Othian, a 13-year-old Selle Français mare by Conterno Grande x Cento owned by Evergate Stables, LLC, took home a red ribbon in the class, finishing second in 60.81 seconds. Representing Canada, Erynn Ballard piloted Ronja, a 10-year-old Swiss Warmblood mare by Conteur x Ranga owned by Ilan Ferder, to a third-place finish, stopping the timers in 61.86 seconds.
Deusser, who captured his last victory on the grass Derby Field at Equestrian Village aboard Killer Queen VDM, went on to say he thoroughly enjoys the chance to jump in the International Arena.
"It's a very great ring to ride in," he said. "It's big enough, there are really nice fences, the flowers, the decoration; it's a nice feeling to ride in the International Arena."
Deusser, currently ranked third in the world, has expressed his excitement to be back at WEF for the first time in four years and considers his competitors some of the best in the world. On Saturday night, he'll jump under the lights in the $401,000 Douglas Elliman Real Estate Grand Prix CSI5*, a class he's circled in the calendar as one he's hoping to win.
"I don't see a big difference in the level of competition here compared to Europe," he said. "We have top international riders here, and the level is exactly the same. I will ride Killer Queen Saturday night. She showed last week that she's in good shape and showed yesterday with a nice round in the WEF. She's jumped under the lights before so I'm quite comfortable about tomorrow."
Final Results: $37,000 Bainbridge1.45m Classic
1. KIANA VAN HET HERDERSHOF: 2010 BWP mare by Toulon x Starlight VD Hemelseschoot
DANIEL DEUSSER (GER), Stephex Stables: 0/59.54
2. UNE DE L'OTHAIN: 2008 Selle Français by Conterno Grande x Cento
HARRIE SMOLDERS (NED), Evergate Stables, LLC: 0/60.81
3. RONJA: 2011 ZVCH mare by Conteur x Ranga
ERYNN BALLARD (CAN), Ilan Ferder: 0/61.86
4. INDRA VAN DE OUDE HEIHOEF: 2008 Belgian Warmblood mare by Casantos x Action-Breaker
SHANE SWEETNAM (IRL), The Blue Buckle Group: 0/62.43
5. DONJO: 2008 KWPN gelding by Zirocco Blue VDL x Ahorn
HYDE MOFFAT (CAN), Ariel Grange: 0/63.11
6. VICTORIO 5: 2006 Hanoverian stallion by Uccello x Graf Top
ABIGAIL MCARDLE (USA), Victorio Equine Group, LLC: 0/64.43
7. VITAL CHANCE DE LA ROQUE: 2009 Selle Français gelding by Diamant De Semilly x Image Du Chateau II
CONOR SWAIL (IRL), Adeline Hecart and Conor Swail: 0/65.30
8. CORNER POCKET Z: 2012 Zangersheide gelding by Cornet Obolensky x La Belle
ERYNN BALLARD (CAN), The Z Group: 0/65.58
9. VIENNA: 2011 Hanovarian mare by Valentino x Leena J
TIFFANY FOSTER (CAN), Artisan Farms, LLC: 0.65.86
10. CASALLVANO: 2009 Holsteiner gelding by Casall x Silvana\
DANIEL DEUSSER (GER), Camilla Hamann and Philipp Widmayer: 0/67.50
11. ITALY HDH: 2013 KWPN gelding by Cream On Top x Elegance
BERTRAM ALLEN (IRL), Ballywalter Stables: 0/68.39
12. ORAFINA: 2012 KWPN mare by For Fashion x Corofina
KENT FARRINGTON (USA), KENT FARRINGTON, LLC: 0/70.02