More than 100 entries took over two rings for the Winter Spectacular Week 6 Derby Friday at the World Equestrian Center — Ocala Winter Spectacular. The highlight of the day was the $20,000 WEC Hunter Derby 3'6″-3'9″, which took place in the WEC Grand Arena this afternoon. The $15,000 WEC Derby 3′ Open and $15,000 WEC Derby 3′ Non Pro filled Hunter 1 throughout the morning and early afternoon. Competition was fierce in all three derbies with scores in each soaring into the 90s.
The stately Equestrian Hotel set the backdrop for the $20,000 WEC Hunter Derby 3'6″-3'9″ in the WEC Grand Arena this afternoon. The ring featured a lovely course designed by JP Godard that featured a myriad of natural obstacles including a log wall and a wagon wheel fence. Thirty-three entries contested the course, and it was Amanda Steege and Cheryl Olsten's Lafitte De Muze (Darco x Everlychin De La Pomme) who earned top honors with a pair of scores in the 90s.
Steege and Lafitte De Muze previously took 2nd place in the $20,000 WEC Hunter Derby 3'6″-3'9″ during Week 4 of the World Equestrian Center — Ocala Winter Spectacular and returned this afternoon hunting for the blue ribbon. Steege and the 9-year-old Belgian Warmblood gelding laid down a foot-perfect first round, taking all four high options for a score of 92. The pair returned last in the handy round, delivering a second stunning round, taking all four high options and handy inside turns to fences 4, 7 and 9. They were awarded a score of 93 for their performance, totaling 185 for 1st place.
Samantha Schaefer and Madeline Schaefer's In The Know (Arkansas x Cavelle) were hot on Steege's trail. Schaefer and the 11-year-old Warmblood gelding bested Steege and Lafitte De Muze during Week 4's $20,000 WEC Hunter Derby 3'6″-3'9″, taking 1st place by just two points. Schaefer and Steege went head to head again this afternoon as Schaefer and In The Know earned scores of 90 and 91, totaling 181 and sliding into 2nd place just 4 points behind Steege.
Morgan Ward and Bruce Green's Cypress (Quidam De Revel SF x Kassini) also found great success in this afternoon's class. Ward and the 14-year-old Dutch Warmblood gelding earned 3rd place in Week 2's $20,000 WEC Hunter Derby 3'6″-3'9″ and replicated their performance today, earning a pair of 88 scores for a total score of 176 and 3rd place.
Steege of Ashmeadow Farm in Califon, New Jersey, and Ocala, Florida took a moment to chat ringside about her win, "It was great, it's such a privilege and an honor to get to show in this ring. We've already done a few weeks at WEC this year, but this is my first week getting to compete in the Grand Arena. It's just magnificent, the jumps were beautiful and the competition was really stellar. Lafitte and I had a great time."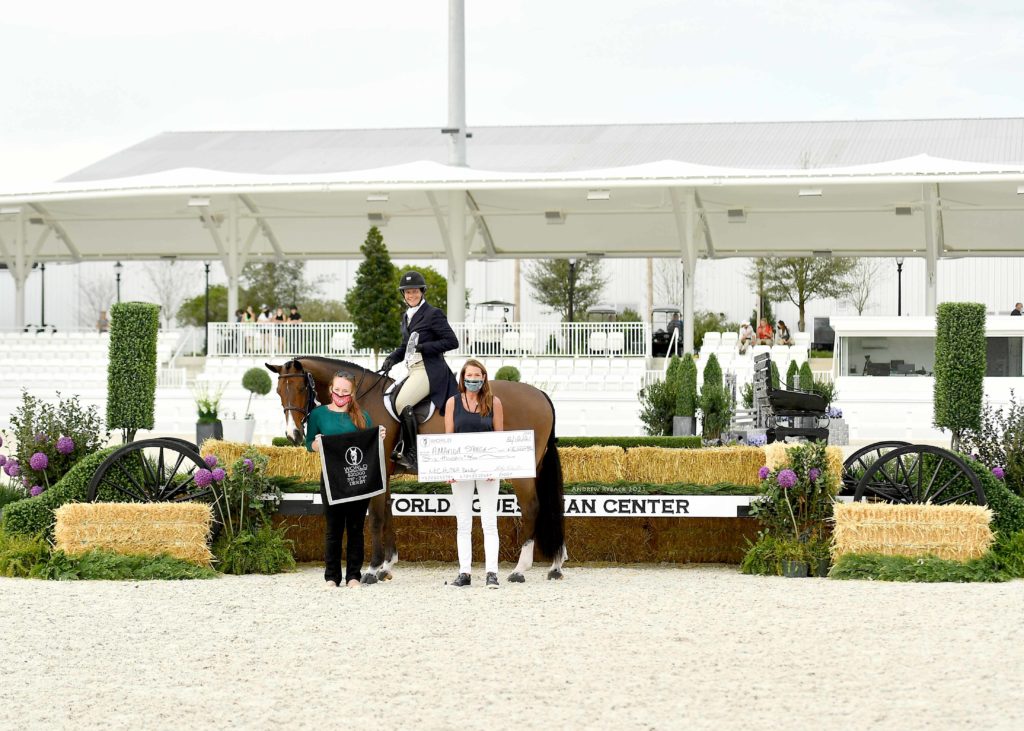 When asked about her plan in the handy round, Steege replied, "My plan in the handy round was to go as handy as I could while still being smooth. I was really impressed with my horse, he was so adjustable and rideable, particularly after jump 3 where there was a pretty tight rollback turn to the trot jump. He just turned on a dime and I had so much room. Overall, I was really happy with the horse and I can't wait to do it again. We'll show again Week 12 and possibly Week 9."
Steege explained why Lafitte De Muze is such a special horse, "Lafitte De Muze is 9 years old. He belongs to a client of mine, Cheryl Olsten. I flew to Germany and tried him as a 6-year-old, so this is our fourth year with him. Since we imported him, he's really been unstoppable and has won major events all over the country. I think, what is really notable about him, is that he does his work for charity. He is the first-ever Equine Ambassador for the Equus Foundation, meaning that all of his earnings are donated to the foundation. According to Equus Foundation, they are the only national charity in the United States 100% dedicated to ensuring the welfare of America's horses and fostering the horse-human bond. Equus Foundation's mission is to protect America's horses and strengthen the bond between horses and people. It makes it feel even more special when you win a big class because you know the money is going to help others."
She also added, "We have spent every winter in Ocala since 1998 and we are thrilled to have this venue in our backyard. I am also a Golden Ocala ambassador, so it's exciting to come here with everything finished and get to partake in the competition. I think that everybody should come and see WEC. It really is top-notch and everybody here is so happy to be here. The horses really love it here and I hope that everyone can come to support it."
$20,000 WEC Hunter Derby 3'6″-3'9″ Results
Lafitte De Muze, Amanda Steege – 93 | 92 | 185
In The Know, Samantha Schaefer – 90 | 91 | 181
Cypress, Morgan Ward – 88 | 88 | 176
Any Given Sunday, Aristea Santoro – 86 | 87 | 173
Levland, Christina Fisher – 86.5 | 86 | 172.5
Charisma, Natalie Jayne – 87 | 85 | 172
Calido's Son, Doug Boyd – 85 | 86 |171
Actender PS, Christopher Coberley – 82.5 | 87 | 169.5
Corlando 49, Melissa Donnelly – 84 | 84 | 168
Iwan, Madison Rauschenbach – 85.75 | 74 | 160.75
Photos courtesy of Andrew Ryback Photography.