The $20,000 Welcome Prix 1.45m brought an international field of riders to the Stadium at World Equestrian Center — Ocala with nine countries represented in the class. The course for the Welcome Prix 1.45m was designed by Joey Rycroft of Canada and featured a triple bar, a liverpool, a triple combination, a double combination and an option fence that offered a stone wall or a skinny vertical. Twelve entries managed clear first rounds and nine jumped double clear, but it was Brian Murphy and Light Speed Equestrian, LLC's Denison Park Combat that raced to the win with an impossibly fast jump-off.
Columbia's Fernando Cardenas and his own Calvados (Chellys Z x Serupgards Canasta) set the pace in the class, laying down double clear rounds at the top of the order. Cardenas and the 10-year-old Danish Warmblood gelding earned a 12th place finish in Week 1's $75,000 WEC Grand Prix 1.50m and were on their game for this afternoon's $20,000 Welcome Prix 1.45m. The duo jumped a clear first round in 74.063 seconds, well within the time allowed of 77 seconds. They advanced straight to the jump-off, opting to jump the wall and taking a tidy inside turn to the combination, crossing the timers with a second clear round at 38.001 seconds and setting the tone for the class.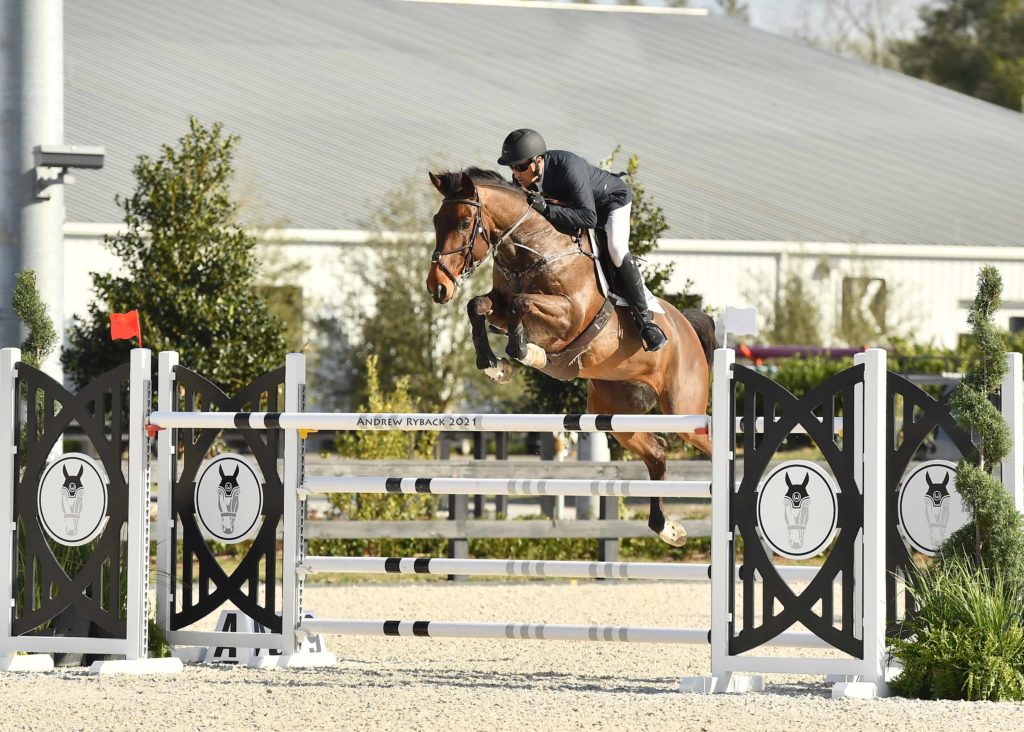 Cardenas and Calvados held the lead until he returned aboard his own Quincy Too (Quartz Adelheid Z x Pixie des Hayettes). Cardenas and the 11-year-old Zangersheide gelding nabbed 3rd place in Week 1's $75,000 WEC Grand Prix 1.50m, signaling that they would be tough competitors in this afternoon's class. The pair navigated a clear first round in 72.743 seconds before advancing to the jump-off. Cardenas mirrored his previous track and he and Quincy Too stopped the clock at 36.294, setting a new time to beat.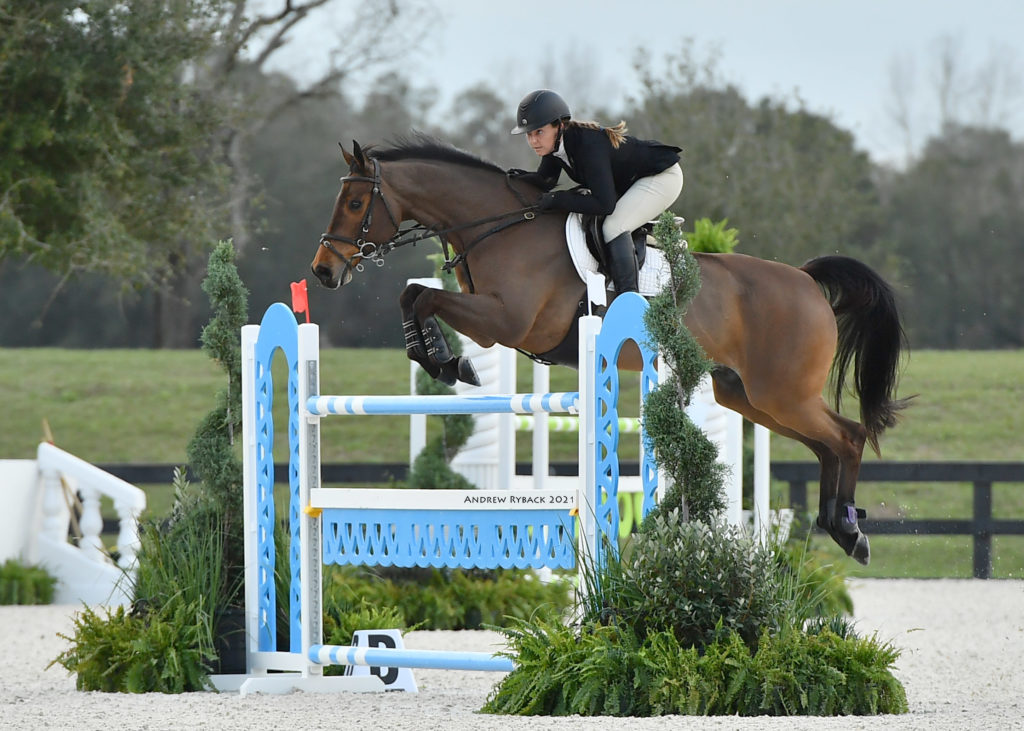 Bryn Sadler and Showcase 81, LLC's Cinven CR (Clearway x Raissa CR) took to the course shortly after Cardenas. Sadler and the 13-year-old Holsteiner gelding took 2nd place in last week's $20,000 Welcome Prix 1.45m and returned this afternoon in hopes of a win. They nailed the first round, leaving all rails up in 74.687 seconds and continued straight to the jump-off. Knowing the time they had to chase, Sadler and Cinven CR picked up pace across the short course, also taking the wall and the inside track to the combination, managing a clear jump-off in 35.789 seconds and moving into the lead.
One of the last entries to contest the course was Brian Murphy and Light Speed Equestrian, LLC's Denison Park Combat. Murphy and the 13-year-old Warmblood gelding have earned several top placings in welcome stakes and grand prix since September 2020 and were hunting for another top placing. The pair laid down one of the fastest first rounds in the class, jumping clear in 72.663 seconds. They advanced straight to the jump-off, opting for the same track as previous entries. Denison Park Combat was quick across the ground and the pair flew through the timers at an incredible 34.617 seconds, sliding comfortably into first place.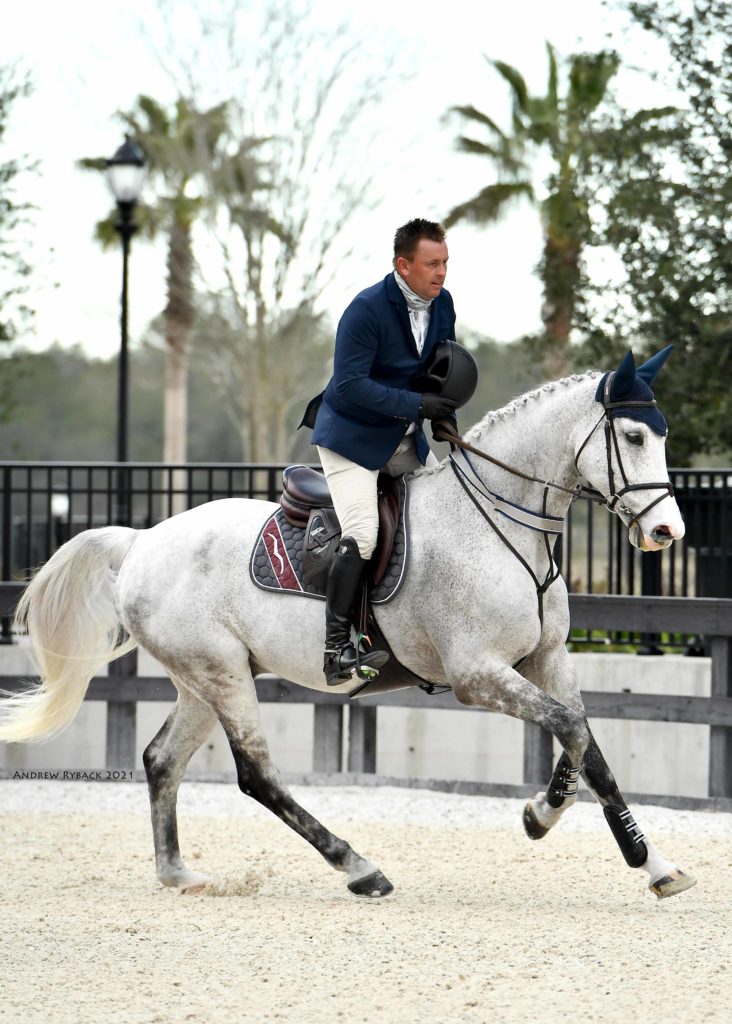 Murphy took a moment to chat ringside about his win, "This is only my sixth show with Denison Park Combat, I got him from Australia last summer. I have done a couple of welcome classes here on him, but nothing has been as successful as today."
When asked about his plan on course, Murphy commented, "I was worried about the wall at fence 4 because I haven't jumped a wall on this horse. Once I was clear in the first round, I figured that I should enjoy the moment in the jump-off. He's a very quick horse and if you stay out of his way he wants to always do the right thing."
Murphy also spoke about his business, Overlook Equestrian, "My wife, Sara Kozumplik Murphy, and I run Overlook Equestrian. We're six months out of the year here in Ocala and six months in Virginia. This is our fourth week at the show, so we plan to give the horses a little bit of a break after this week. I think we'll spend more time in Ocala this year. We're grateful to be here and grateful to still be showing with all of the struggles of COVID, especially at this world-class facility."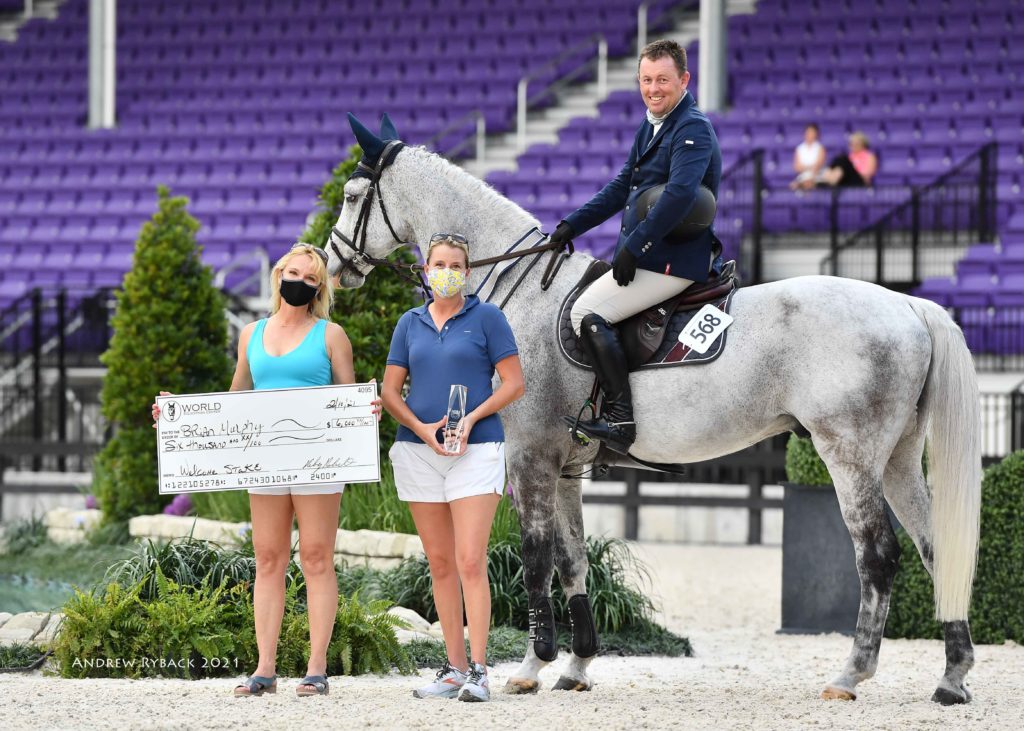 $20,000 Welcome Prix 1.45m Results
Denison Park Combat, Brian Murphy – 0 | 0 | 34.617
Cinven CR, Bryn Sadler – 0 | 0 | 35.789
Quincy Too, Fernando Cardenas – 0 | 0 | 36.294
Arpeggi, Brooke Kemper – 0 | 0 | 36.366
Calvados, Fernando Cardenas – 0 | 0 | 38.001
Super Chilled, Jonathan Corrigan – 0 | 0 | 38.274
Castana LS La Silla, Ramiro Quintana – 0 | 0 | 38.338
Valentine Car, Gonzalo Guevara – 0 | 0 | 38.383
Loughnavatta Indigo, Jonathan Corrigan – 0 | 0 | 43.081
Morris Horta, Martien Van Der Hoeven – 0 | 4 | 34.699
Photos courtesy of Andrew Ryback Photography.