Forty-one entries contested the course in the $15,000 WEC Derby 3′ Non Pro. The course was identical to that of the $15,000 WEC Derby 3′ Open with four high options and several opportunities for inside turns on the handy course. Like the professionals, several of the juniors and amateurs scored into the 90s, but it was Charles Casey and Alexa Kaas' Charismatic that topped the class.
Charles Casey and Alexa Kaas' Charismatic (Chap x Hauptstutbuch) took to the course near the end of the order in the first round. While the 10-year-old Hanoverian gelding is a newer mount for Casey, he is no stranger to the winner's circle and has won several derbies at World Equestrian Center in Wilmington, Ohio, with trainer Linda Radigan. This afternoon, Casey and the stylish chestnut gelding navigated a flawless first round, taking all four high options for a score of 89. They returned for the handy round, taking tidy inside turns to fences 2, 5 and 7 along with all four high options. The duo was awarded a handy round score of 92, totaling 181 to win the class.
Taylor Ahern and Carol Jardine's Qutio Van Het Panishof also laid down to impressive rounds this afternoon. The pair won the $2,500 Non Pro Hunter Derby 2'6″ last week and stepped up to the $15,000 WEC Derby 3′ Non Pro today. They earned scores of 86 and 89 for a total of 175 and a 2nd place finish.
Rounding out the top three placings were Devon Degen and Degenmoor Farm, Inc.'s Luminary (Sungulord Joter x Viola XXX). Degen and the 11-year-old Holsteiner gelding earned top placings in the Adult Amateur Hunters at WEF in early January and chose to try their hand at the $15,000 WEC Derby 3′ Non Pro today. The pair earned scores of 87 and 83 for an overall total of 170 and 3rd place.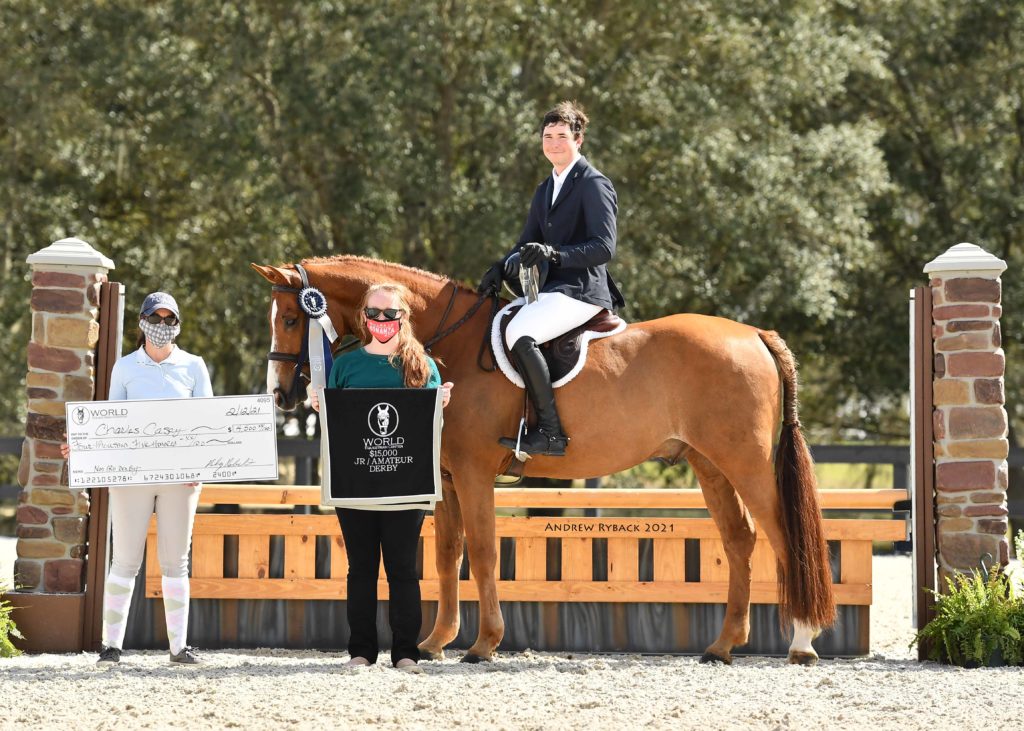 Casey took a moment to chat about his win aboard Charismatic, "Charismatic is owned by Alexa Kaas and I just started riding him about two months ago. Linda had ridden him in some of the bigger derbies and she handed him over to me to jump this stuff. I quite like him, I think he's great."
Casey commented on his plan in the handy round, "After watching the first few go in the handy I thought that I could be fairly conservative and still earn a pretty good score. I just tried to have a nice, smooth round."
Casey explained, "I'm 21 years old and I'm riding with Linda for the winter. I'm from Virginia. I just started doing the hunters about two months ago, so it's working out well, I guess! I'm really happy."
$15,000 WEC Derby 3′ Non Pro Results
Charismatic, Charles Casey – 89 | 92 | 181
Quito Van Het Panishof, Taylor Ahern – 86 | 89 | 175
Luminary, Devon Degen – 87 | 83 | 170
Lorenzo, Katelyn Rezac – 81 | 88 | 169
Cristallo's Carlchen P, Alivia Kohus – 80 | 80 | 160
Curuba, Amy Nolan – 74 | 81 | 155
Quetzal De Razel, Paige Nyren – 75 | 79 | 154
Vaillero, Nicole Lyvere – 72 | 78 | 150
MTM Fashion, Katelyn Coveney – 76 | 70 | 146
Skorekeeper, Ava Berman – 71.5 | 70 | 141.5
FEATURED AWARDS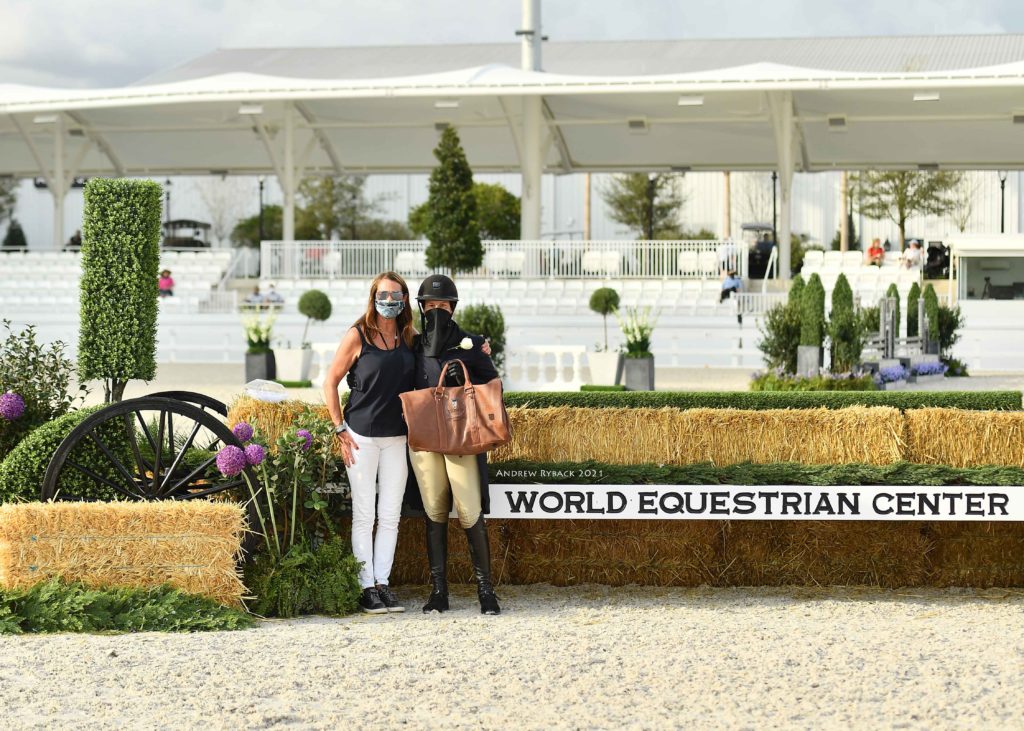 Before the start of the handy round in the $20,000 WEC Hunter Derby 3'6″-3'9″, the prestigious Style of Riding Award was presented to Amanda Steege for her classic style and her sportsmanship. The Style of Riding Award is generously donated by Bill Rube to be awarded to the rider who best displays the American Style of riding in the ring and sportsmanship outside of the competition arena. The recipient serves as a role model for preserving the integrity and tradition of equestrian sport. "This award is very special to me because the recipient of this award pays it forward both in and out of the show ring," says Rube. Steege received an elegant leather duffel bag and wore a white rose corsage on her lapel throughout the handy round to signify her achievement.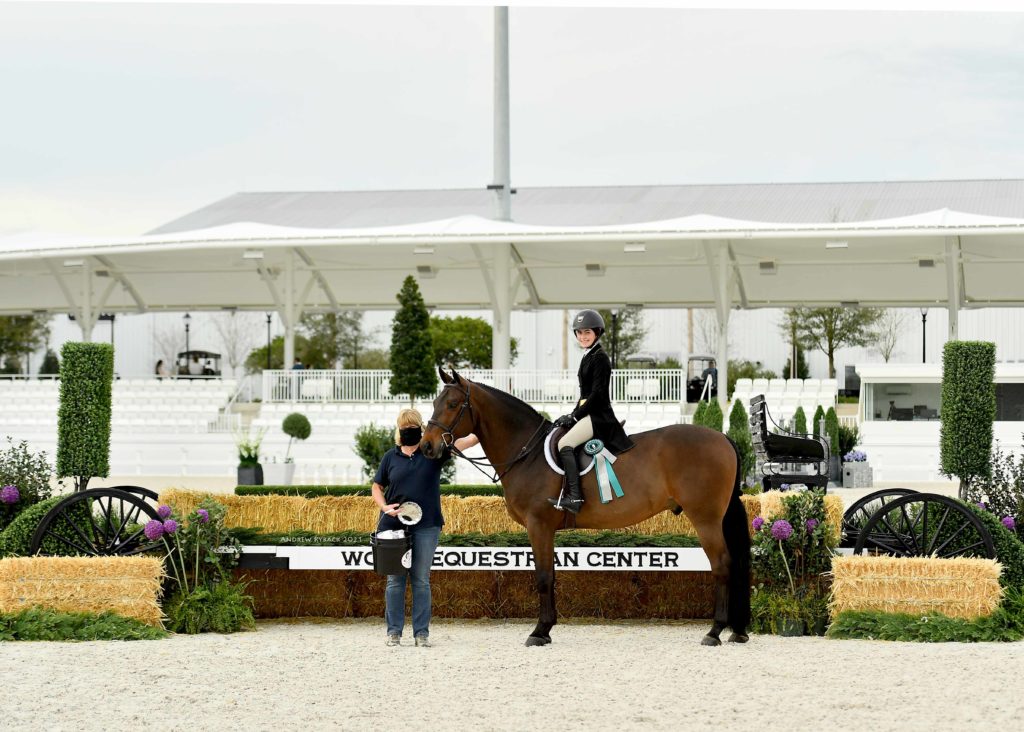 The Shapley's Champion Groom Award for the best turnout in the class was presented to Erica Mckeever, mother and groom for Baylee Mckeever and Salvatore who were the 12th place finishers in the $20,000 WEC Hunter Derby 3'6″-3'9″. Shapley's is a proud sponsor of the World Equestrian Center and is thrilled provide an award each week of the Winter Spectacular to the groom of the best turned out horse. Mckeever received a Shapley's Award Bucket for Salvatore's stunning turnout.
Photos courtesy of Andrew Ryback Photography.