By Jennifer Wood and Sabrina Brashares for Jennifer Wood Media, Inc.
The first five-star grand prix of the season was a treat for show-jumping fans as Shane Sweetnam (IRL) and Alejandro, owned by Sweet Oak, Spy Coast, & Seabrook LLC, sped to the win in the $401,000 Douglas Elliman Real Estate Grand Prix CSI5* on Saturday, February 13, at the 2021 Winter Equestrian Festival (WEF).
The fifth week of WEF at Palm Beach International Equestrian Center concludes on Sunday, February 14, with an action-packed Sunday lineup, including the $73,000 CaptiveOne Advisors 1.50m Classic and the $50,000 Restylane Grand Prix CSI2*. Feature classes are available both live and on demand using the livestream.
There were 40 entries in the grand prix competing over a course designed by Kelvin Bywater (GBR). Nine punched their ticket to a clear round and advanced to the jump-off. Riding first in the order in round one and the first to return were FEI World Equestrian Games™ Tryon 2018 (WEG) team gold medalists Devin Ryan (USA) and Eddie Blue.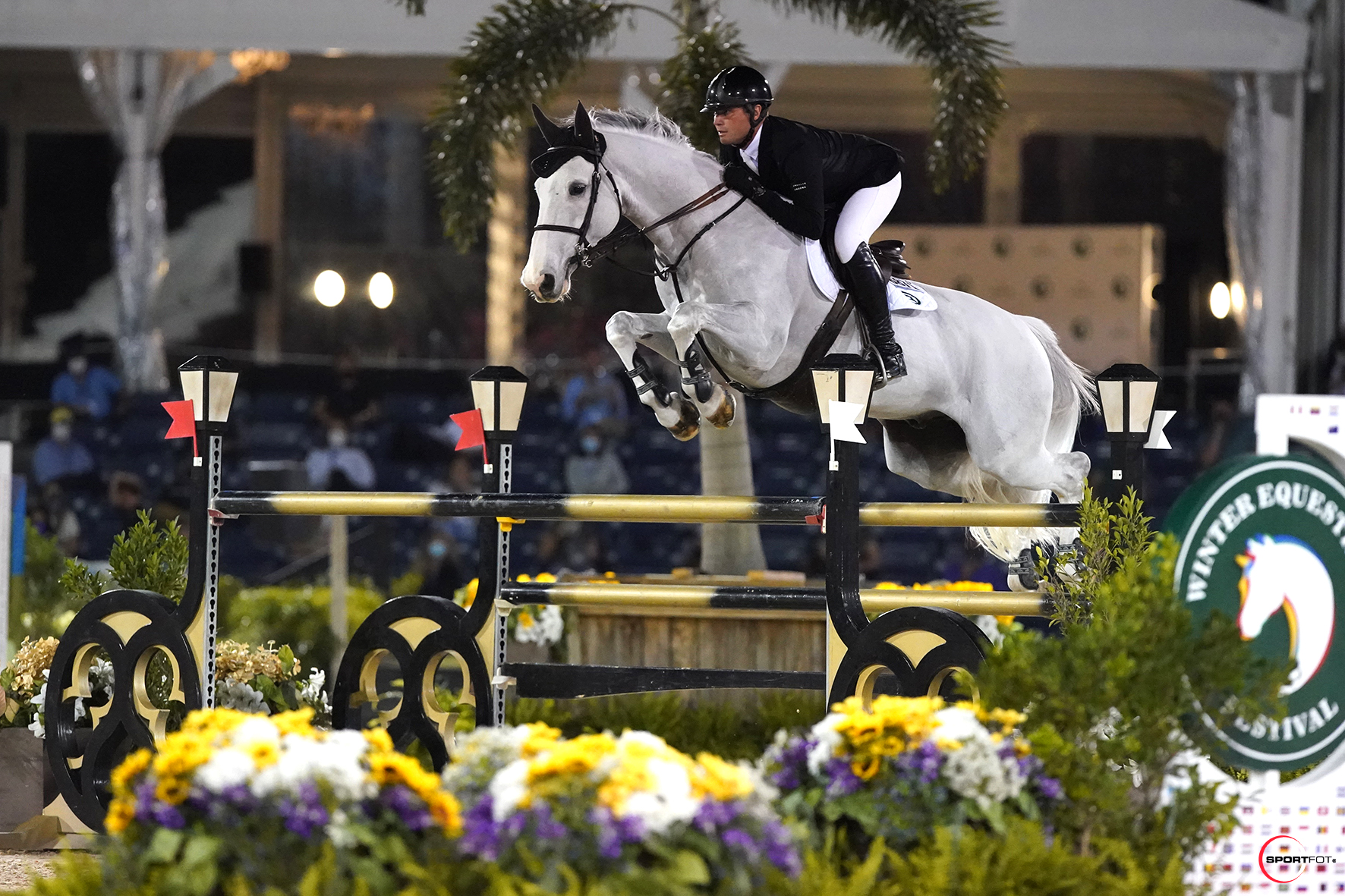 Ryan opened up Eddie Blue's large stride and covered the jump-off course in 38.74 seconds while leaving all of the jumps up.
"I felt he was really jumping tonight so I decided to give it a little bit of a shot," said Ryan of the 12-year-old 2009 KWPN gelding by VDL Zirocco Blue x Marlon owned by LL Show Jumpers LLC. "He has a massive stride, but he's not the quickest horse in the air. Shane's horse is a bit quicker across the ground, and Martin rode a better track than I did. I could've maybe left out a few strides in a couple places just by turning back a little tighter. I haven't really been in a jump-off in a while or on a consistent basis, and I think you get a little rusty at that level. I just wanted to put down a nice effort where they had to chase me a bit early on, and it seemed to work out decently."
The next five riders in the jump-off fell victim to one rail down but clearing the course in fine form was World Number Two Martin Fuchs (SUI) and his 2018 WEG individual silver medalist mount, Clooney 51, a 15-year-old Westphalian gelding by Cornet Obolensky x Ferragamo owned by Luigi Baleri. They brought the winning time down to 37.16 seconds but would have to wait for the final two entries in the ring to determine the outcome.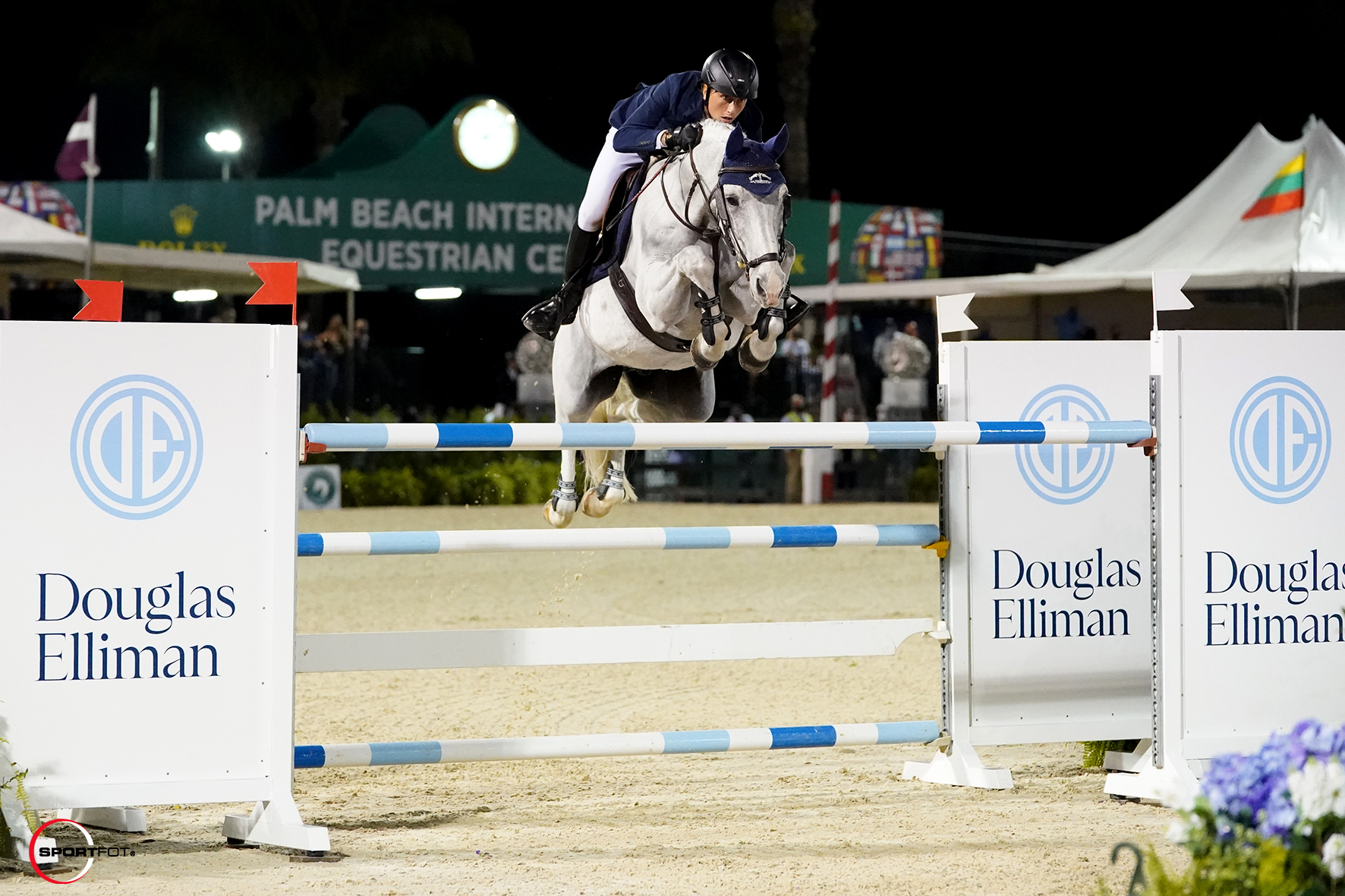 "I had an extra stride from the third to the fourth fence in the jump-off, which was the original one to two, and that's where I lost it against Shane, who rode a really nice jump-off," recalled Fuchs. "He didn't look like he took that much of a risk; he just let his horse canter and he beat us all today."
It was a solid outing for Clooney 51, who last competed in a five-star event when he won the Rolex Grand Prix in Geneva, Switzerland, in December of 2019. Since then, he only competed in a handful of two-star events in 2020 due to the cancellation of many events in Europe. WEF 5 was his first competition since November.
"When you have a year off of big showing and big classes, everything feels like new again," admitted Fuchs. "I was very nervous today with Clooney even though he has done it all. I wasn't sure how he would perform the first night out again, the first time in a big class, against the best horses in the world. It's really satisfying to see that everything is still in place and that for me as a rider, I still make the right choices and my horse still competes as he did 14 months ago."
U.S. Olympic team gold medalist Beezie Madden and Abigail Wexner's Garant followed Fuchs in the jump-off and put in a smooth clear round in 46.66 seconds to take fourth place.
As the last in the ring for the jump-off, Sweetnam knew exactly what he had to do, and pushing Alejandro for speed as he crossed the starting timers, he didn't let up through the long gallop to the final oxer on course. They landed clear in 37.03 seconds for victory.
"Obviously Clooney is one of the best horses in the world, and I watched Devin who rode at the start and saw his numbers, so I just thought about having a good rhythm from the start and I tried to do the same as Devin," said Sweetnam of his jump-off plan. "I have a very quick horse, and he's quick in the air. It was very close at the end, so you had to have a bit of luck to get there and it happened today."
Sweetnam started riding Alejandro, a 12-year-old Rheinländer gelding by Acorado's Ass x Contanga, two years ago.
"I got him when he was quite green and raw, and we have built a great relationship," shared Sweetnam. "[The break because of] COVID was good for him because it gave him time to chill out a bit, without traveling and doing bigger classes. Since then, he's really been on form and placed in the top three or four in every grand prix he has done.
"At the start of circuit, I blew the three-star under the lights," he continued. "I was too far off the last fence, so I was mad at myself. It wasn't really his fault, so I made up for it today and he made the difference."
Don Langdon, Managing Broker at Douglas Elliman Real Estate, said he was elated with how their competition has gone this week at WEF.
"This is our sixth year of sponsoring the CSI5* event, and every year is just more enjoyable than the last," he said. "I know in sports it's very challenging to get into a 'zone' at the right time and with all the challenges we've had this year, for the three of you to have a night like tonight, you must feel really good. I can tell you from a spectator's point of view, we were all so excited through the whole night. Number one, we were excited to be out, and number two, to watch the event with the way it started off with Devin and finished with Shane and Martin. You competed so well. I don't know if we give as much kudos of the athleticism of the three of you riders as we should, but I'm happy I was there."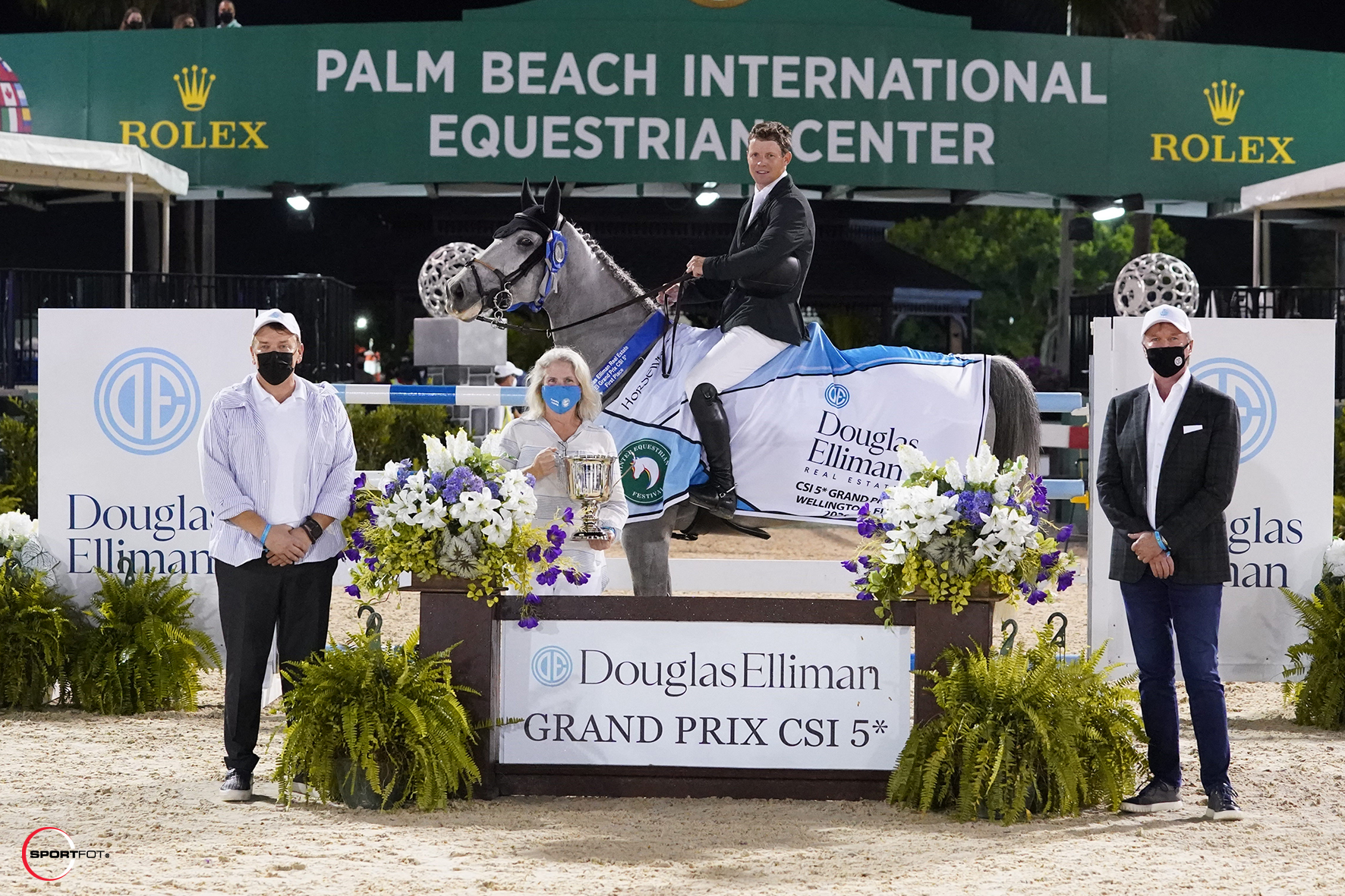 Concluding the night, Fuchs noted, "I also want to say thank you very much for [Douglas Elliman Real Estate's] support in sponsoring this amazing grand prix. For us riders, it's great that we get to come here to Florida and show at WEF. At home in Europe, there are only CSI2* classes and not really the level that we would like to compete at. For me, this is a great opportunity that I get to jump here and that we have so many generous CSI5* classes, so thank you from all the riders."
Final Results: $401,000 Douglas Elliman Real Estate Grand Prix CSI5*
1. ALEJANDRO: 2009 Rheinländer gelding by Acorado's Ass x Contanga
SHANE SWEETNAM (IRL), Seabrook, SpyCoast Farm and Sweet Oak Farm: 0/0/37.03
2. CLOONEY 51: 2006 Westphalian gelding by Cornet Obolensky x Ferragamo
MARTIN FUCHS (SUI), Luigi Baleri: 0/0/37.16
3. EDDIE BLUE: 2009 KWPN gelding by VDL Zirocco Blue x Marlon
DEVIN RYAN (USA), LL Show Jumpers LLC: 0/0/38.74
4. GARANT: 2011 KWPN gelding by Warrant x C'est La Vie
ELIZABETH MADDEN (USA), Abigail Wexner: 0/0/46.66
5. DON JUAN VAN DE DONKHOEVE: 2009 SBS stallion by Bamako de Muze x Heartbreaker
JESSICA SPRINGSTEEN (USA), Stone Hill Farm: 0/4/37.11
6. PACINO AMIRO: 2012: Irish Sport Horse mare by Pacino x Carnone Dancing Queen
BERTRAM ALLEN (IRL), Aiden McGregory: 0/4/37.18
7. BARDOLINA 2: 2009 Holsteiner mare by Clarimo x Landos
MARIO DESLAURIERS (CAN), Wishing Well Farm LLC: 0/4/37.61
8. HESTER: 2005 Belgian Warmblood gelding (Wandor van de Mispelaere x Palestro vd Begijnakker)
LUCY DESLAURIERS (USA), Lisa Deslauriers: 0/4/37.65
9. WINNING GOOD: 2009 NRPS gelding by Winningmood van de Arenberg x Sir Corland
EMILY MOFFITT (GBR), Poden Farms: 0/4/44.26
10. DIEU MERCI VAN T & L: 2009 SBS stallion by Toulon x Moräna
ERIC LAMAZE (CAN), Rein Family, LLC and Little Creek Investments Inc: 1/80.54
11. GIARDO: 2011 KWPN gelding by Indoctro x Jimtown
LAUREN HOUGH (USA), Harris Equestrian LLC: 1/80.84
12. EXPLOSION W: 2009 KWPN gelding by Chacco Blue x Baloubet du Rouet
BEN MAHER (GBR), Poden Farms: 4/75.01