By Kate Pettersen and Sabrina Brashares for Jennifer Wood Media, Inc.
It was the luck of the Irish on Sunday afternoon as Cian O'Connor piloted Careca LS Elite, owned by Ronnoco Jump Ltd, to a victory in the $50,000 Restylane Grand Prix CSI2*. The track set by Kelvin Bywater (GBR) narrowed the field from 44 to just seven combinations qualifying for the jump-off and the final class of WEF 5 proved to be another exciting one.
First to go in the starting order and first to return for the jump-off, O'Connor put forth a double clear effort aboard the 10-year-old SLS gelding by Carusso LS La Silla x Rebozo La Silla, to stop the clock in 45.65 seconds.
"He's a very intelligent horse with a wonderful canter," said O'Connor. "He has a super technique in front so you can really put him close to the jumps, and he has a great way of jumping. When he's fresh he's a little bit keen so he needs plenty of jumping, plenty of classes, and you can really feel there today in the jump-off he was really easy to ride. He can turn back short and he's catty at the jumps, so it really makes my job easy to go fast on him."
The last entry to go was the one to come closest as Rachel Cornacchia (CAN) and Valkyrie De Talma, owned by Eventyre Farms, flew across the course with a double clear effort. The 32-year-old rider from Calgary, Alberta, came up just short aboard the 12-year-old Selle Français mare by Diamant De Semilly x Reggae De Talma, finishing two-hundredths of a second off the mark in 45.67 seconds. It was Jennifer Waxman (USA) and Mecho Van't Kiezelhof, owned by the Triple S Group, that rounded out the podium with a double clear finish in 46.07 seconds.
O'Connor has had 'Careca' for the past year, speaking highly of his talent, noting that he is pleased with the gelding's development thus far.
"I saw him last year through a friend of mine Enda Carroll at Ashford Farm," said O'Connor. "We bought the horse and brought him on with some national grand prix classes in Ireland where he did well. There haven't been many shows because of the pandemic so it's really about building him up and using these classes to get used to him. He's been very good in all the national classes he's jumped so I decided to put him up to the CSI2* this week, and he coped really well."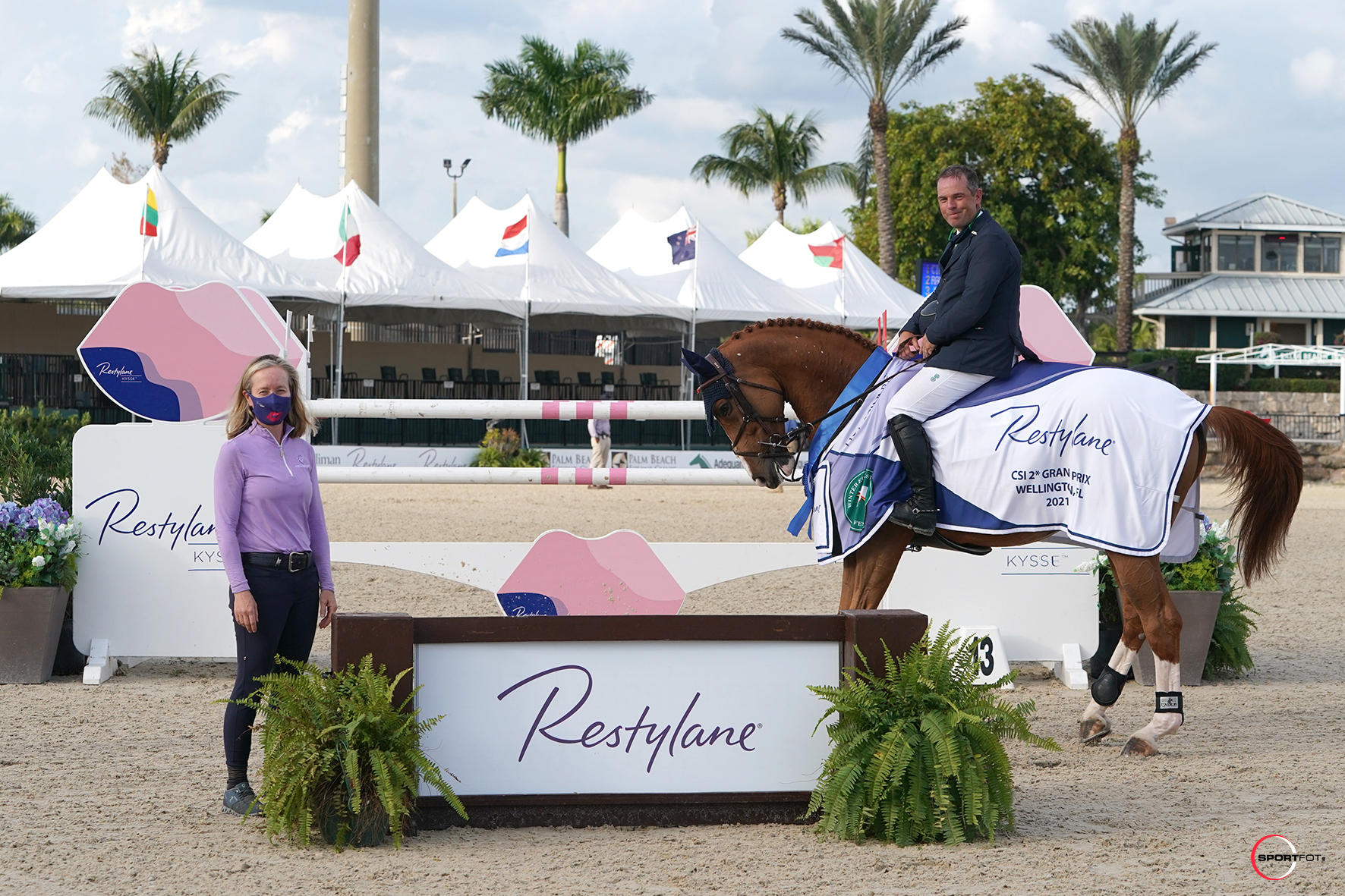 The Olympic individual bronze medalist who has represented Ireland in 15 international championships has a string of up-and-coming horses at WEF this season with a very specific goal in mind for the 2021 season.
"We look at the season with an overall goal and try to work backwards from that target," he said. "There's obviously a lot of uncertainty with the Olympic Games but that's still the main focus to work towards. We're working backwards from there in terms of classes and how we produce the horses. My main horse PSG Final is the one I'll be aiming at that. He's picked up a little injury at the moment, so he'll be out of action for about a month. I'm building up Cadiz and Kilkenny so I have 'Plan B' and 'Plan C' in place."
O'Connor will continue to campaign for the duration of WEF while also training students at the elite level, including Nicole Walker who represents Canada and up-and-coming riders Max and Tom Wachman, who have already had success in the early stages of circuit.
Final Results: $50,000 Restylane Grand Prix CSI2*
1. CARECA LS ELITE: 2011 SLS gelding by Carusso LS La Silla x Rebeca LS
CIAN O'CONNOR (IRL), Ronnoco Jump Ltd: 0/0/45.65
2. VALKYRIE DE TALMA: 2009 Selle Français mare by Diamant De Semilly x Reggae De Talma
RACHEL CORNACCHIA (CAN), Eventyre Farms: 0/0/45.67
3. MECHO VAN'T KIEZELHOF: 2012 BWP stallion by Cicero Z x Belle Van't Kiezelhof
JENNIFER WAXMAN (USA), Triple S Group: 0/0/46.07
4. FOOTLOOSE HX: 2010 KWPN mare by Bustique x Camillo Z
ALI WOLFF (USA), Claudia Harrison-Guess: 0/0/46.99
5. TEAM DE COQUERIE: 2007 Selle Francais gelding by Heartbreaker x Papillon Rogue
STEPHEN MOORE (IRL), Vlock Show Stables, LLC: 0/4/43.79
6. CASHEW CR: 2008 Holsteiner gelding by Cassini II x Quinar
ALEX MATZ (USA), Dorothy Matz: 0/4/44.88
7. MAESTRO VAN HET BINNENVELD: 2012 BWP stallion by Hunter's Scendix x Carmen Z Z
VICTORIA BIRDSALL (USA), Ilan Ferder: 0/8/47.33
8. CON COLEUR: 2009 Hanoverian gelding by Contendro I x Couleur Rubin
REBECCA CONWAY (USA), Blue Hill Farm, LLC: 1/77.08
9. VERDI O'MERVEILLES: 2009 Selle Français gelding by Verdi Tn x Quick Star
FABIO LEIVAS DA COSTA (BRA), Bonne Chance Farm LLC: 1/77.46
10. ELTON D'ACCEGLIO: 2011 SEIT mare by Calvaro x Jalapa De Volsin
FLO NORRIS (GBR), Cisca Norris: 1/78.54
11. CAROLLO: 2009 Mecklenburger gelding by Chacco Blue x Lee-Lou
JOHAN KACHELHOFFER (RSA), Anton Marano: 1/79.83
12. GOTICO DI CA' SAN GIORGIO: 2011 MIPAAF gelding by Diamant De Demilly x Fatti Bella
MARIA SCHAUB (USA), Evergate Stables, LLC: 1/80.18