By Kate Pettersen and Sabrina Brashares for Jennifer Wood Media, Inc.
Daniel Deusser (GER) felt the need for speed once again aboard Kiana Van Het Herdershof, owned by Stephex Stables, picking up a win in the $73,000 CaptiveOne Advisors 1.50m Classic for his second victory of the week on Sunday, February 14, in the International Arena to close out week five at the 2021 Winter Equestrian Festival (WEF) at the Palm Beach International Equestrian Center (PBIEC) in Wellington, FL.
The sixth week of WEF begins on February 17-21 with the first World Champion Hunter Rider competition and hunter riders will be featured in the International Arena all week, including the highlight WCHR/USHJA Peter Wetherill Palm Beach Hunter Spectacular on Saturday night. FEI jumpers will be back on the grass Derby Field at Equestrian Village and the feature classes will run on Sunday, February 21, including the $137,000 IDA Development Grand Prix CSI3* and the $25,000 Hèrmes Under 25 Grand Prix.
A total of 52 entries stepped into the ring over the 1.50m track set by Kelvin Bywater (GBR) with 12 qualifying for the jump-off. The pace was set by Brazil's Rodrigo Pessoa and Carlito's Way, an 11-year-old Holsteiner gelding by Casall x Lordanos owned by Lisa O'Sullivan. The pair were first to return and the first to post a double clear effort, finishing in 40.75 seconds.
Deusser was next to return with the same horse he captured the  $37,000 Bainbridge 1.45m Classic CSI5* with on Friday, and he was quick from start to finish once again. The dynamic duo crossed the finish line in an impressive 38.17 seconds, shaving more than two seconds off the leading time. And, his speedy time could not be beat, sending him right back onto the top of the podium.
"We've had her for a couple of years, and she's always been a speed horse," said Deusser of the 11-year-old BWP mare by Toulon x Starlight VD Hemelseschoot. "It's her nature. Today it was quite a big class for her compared to two days ago, but she paid good attention. I think she likes it here with the warm weather; she feels more comfortable. I was early to go in the jump-off, but I had a very good turn from fence one to two already and was quick around towards the end, so I didn't have to take any big risks at the end of the course. She did a really good job. She's naturally very careful and once again, she showed that she can win a lot of classes. She's a real trier, and I'm very lucky to have a mare like that."
Yuri Mansur (BRA) gave it an excellent effort aboard his own QH Alfons Santo Antonio, a 14-year-old gelding by Aromats x Fiorella, posting a fault-free round in a time of 40.19 seconds. Their performance ensured a second-place finish while Pessoa ended the day in third.
Deusser has been riding for Stephex Stables, the owner of Kiana van het Herdershof, since 2012 and has accumulated numerous wins throughout that time. With a solid string of horses, he has been able to compete all over the world, climbing the international rankings. His return to WEF has been a successful one thus far, something he credits in large part to the team behind him.
"We have a fantastic team," he said. "Our owner Stephan Conter really lets us form our own team and do our job. He always tries to get young horses and new horses that we can build up, and hopefully we're able to show them at the big level a few years later. We have a fantastic team with everyone, the grooms, the riders at home. We really stick together, and the last few years it has showed. The whole program is very well done."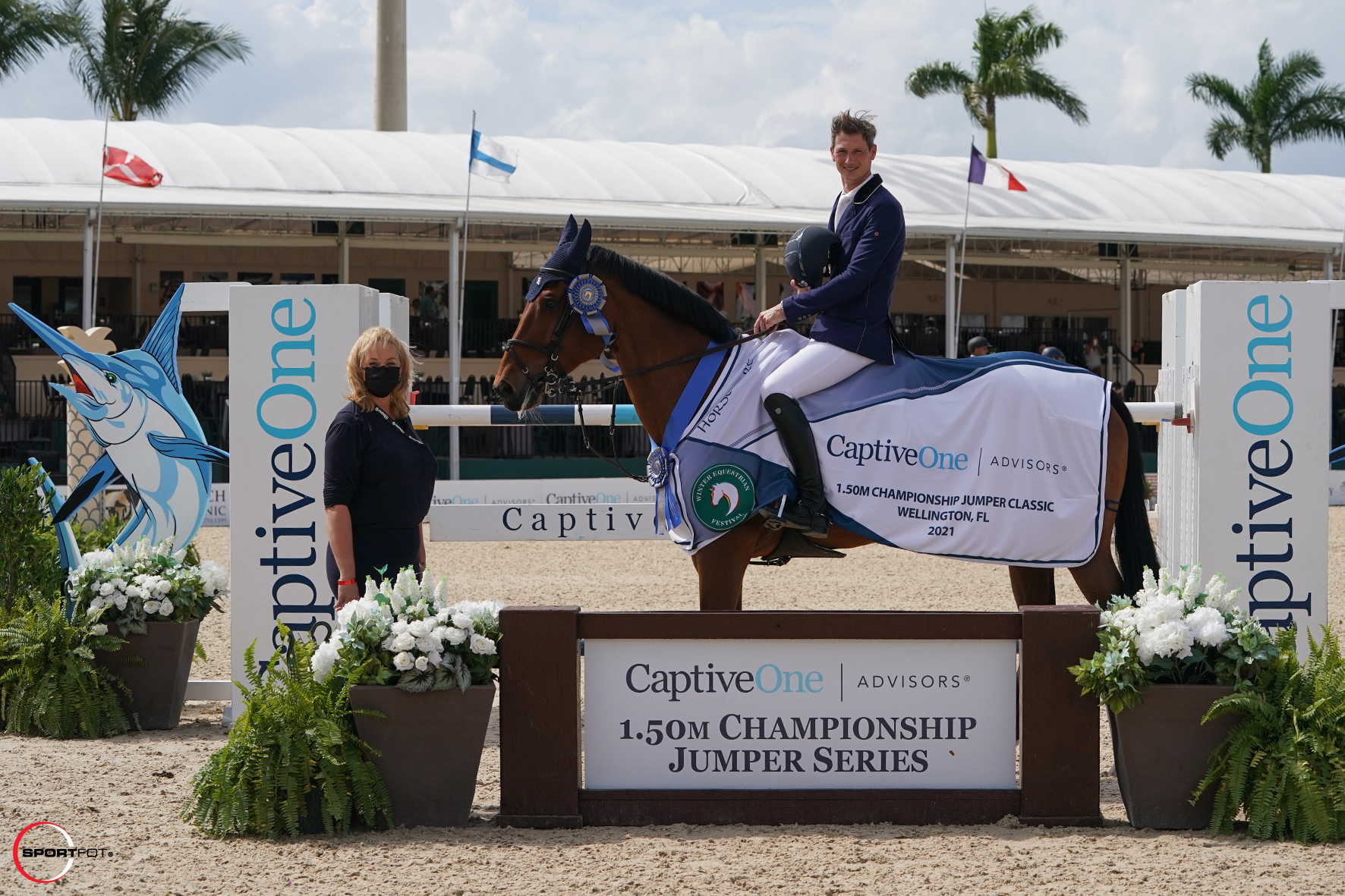 While Deusser has the full support of his Stephex Stables team with him on the road, this Valentine's Day was made extra special. The world number three had some familiar faces with him in Wellington as the wait is over and his wife Caroline and daughter Stella have joined him at WEF.
"It's really nice because I've been here for three weeks all by myself, and it's like a holiday compared to the weather in Belgium," he said. "Sunshine and nice temperatures instead of snow and cold at home. It's Stella's birthday tomorrow, she turns six, so it's a really nice little holiday for us."
Final Results: $73,000 CaptiveOne Advisors 1.50m Classic
1. KIANA VAN HET HERDERSHOF: 2010 BWP mare by Toulon x Starlight VD Hemelseschoot
DANIEL DEUSSER (GER), Stephex Stables: 0/0/38.17
2. QH ALFONS SANTO ANTONIO: 2007 ESH gelding by Aromats x Fiorella
YURI MANSUR (BRA), Yuri Mansur: 0/0/40.19
3. CARLITO'S WAY 6: 2010 Holsteiner gelding by Casall x Lordanos
RODRIGO PESSOA (BRA), Lisa O'Sullivan: 0/0/40.75
4. JUST A GAMBLE: 2009 BWP mare by Toulon x Corofino
ADRIENNE STERNLICHT (USA), Starlight Farms 1, LLC: 0/0/41.28
5. CHACCO KID: 2006 Oldenburg by Chacco Blue x Come On
ERIC LAMAZE (CAN), Chacco Kid Group: 0/4/38.12
6. BRIGHTON: 2006 KWPN gelding by Contendro II x Quick Star
TIFFANY FOSTER (CAN), Artisan Farms LLC: 0/4/39.41
7. VICTER FINN DH Z: 2008 BWP gelding by Va Vite x Stakkato
EUGENIO GARZA PEREZ (MEX), El Milagro: 0/4/39.61
8. VINCI DE BEAUFOUR: 2009 Selle Français gelding by Diamant de Semilly x Heartbreaker
DARRAGH KENNY (IRL), Devon MacNeil: 0/4/41.06
9. KASPER VAN HET HELLEHOF: 2010 BWP stallion by Emerald x Hadise Van Het Hellehof
MCLAIN WARD (USA), Poden Farms: 0/4/41.99
10. H5 ELVARO: 2009 KWPN stallion by Calvaro F.C. x Heartbreaker
EDUARDO MENEZES (BRA), H5 Sport Horses LLC: 0/8/42.00
11. GOLDWIN: 2012 BWP gelding by Emrald x Divine Idylle GTW De Tinmont
LAURA KRAUT (USA), Stars and Stripes: 0/10/60.62
12. CASALLVANO: 2009 Holsteiner gelding by Casall x Silvana
DANIEL DEUSSER (GER), Camilla Hamann and Philipp Widmayer: 0/WD