By Kate Pettersen, Summer Grace, and Sabrina Brashares for Jennifer Wood Media, Inc.
The first hunter champions of the World Champion Hunter Rider (WCHR) competition were awarded on Thursday, February 18, at the sixth week of the 2021 Winter Equestrian Festival (WEF). More than 20 championships were presented in the professional hunter divisions, with top finishers qualifying for Saturday night's $50,000 WCHR Peter Wetherill Palm Beach Hunter Spectacular, the highlight hunter event of the season. WEF 6 continues with WCHR and CSI3* competition through Sunday, February 21, 2021.
Highlights of WEF 6 include the $50,000 WCHR Peter Wetherill Palm Beach Hunter Spectacular on Saturday night, February 20, in the International Arena and the $137,000 IDA Development Grand Prix CSI3* taking place Sunday, February 21, on the Derby Field at Equestrian Village. Sunday competition on the Derby Field will also include the $25,000 Hermès Under 25 Grand Prix and the $25,000 CP National Grand Prix. Spectators can watch feature classes live and on demand for free using the livestream.
The High Performance Hunters, sponsored by Antarès Sellier France, came to an end in the E.R. Mische Grand Hunter Ring on Thursday morning. Scott Stewart, of Wellington, FL, piloted Gochman Sport Horses LLC's Catch Me to the championship.
Stewart and Catch Me, a 14-year-old Holsteiner gelding by Casiro I, took home a blue ribbon in every over fences class and were third in the under saddle to earn the tricolor ribbon. The reserve champion title went to Jennifer Hannan, of Wakefield, RI, and her own Olympic Fire. The pair earned two seconds and two eighth place ribbons in the division.
"We were not sure if he would ever get back to jumping again, especially at the four-foot height, but he feels better than ever," commented Stewart of the talented gelding who suffered an injury that kept him out of the show ring in 2020 until August. "We are just so happy to have him back showing again, and he has really been performing at his best."
Evan Coluccio, of Marshall, VA, claimed both champion and reserve in the High Performance Conformation Hunters. Coluccio rode The Lignelli Family's Philadelphia Story, a nine-year-old Warmblood gelding, to top honors with two firsts, a second, and a third place ribbon. Balmoral's Pritchard Hill earned reserve champion with a first, second, two thirds, and sixth place ribbons.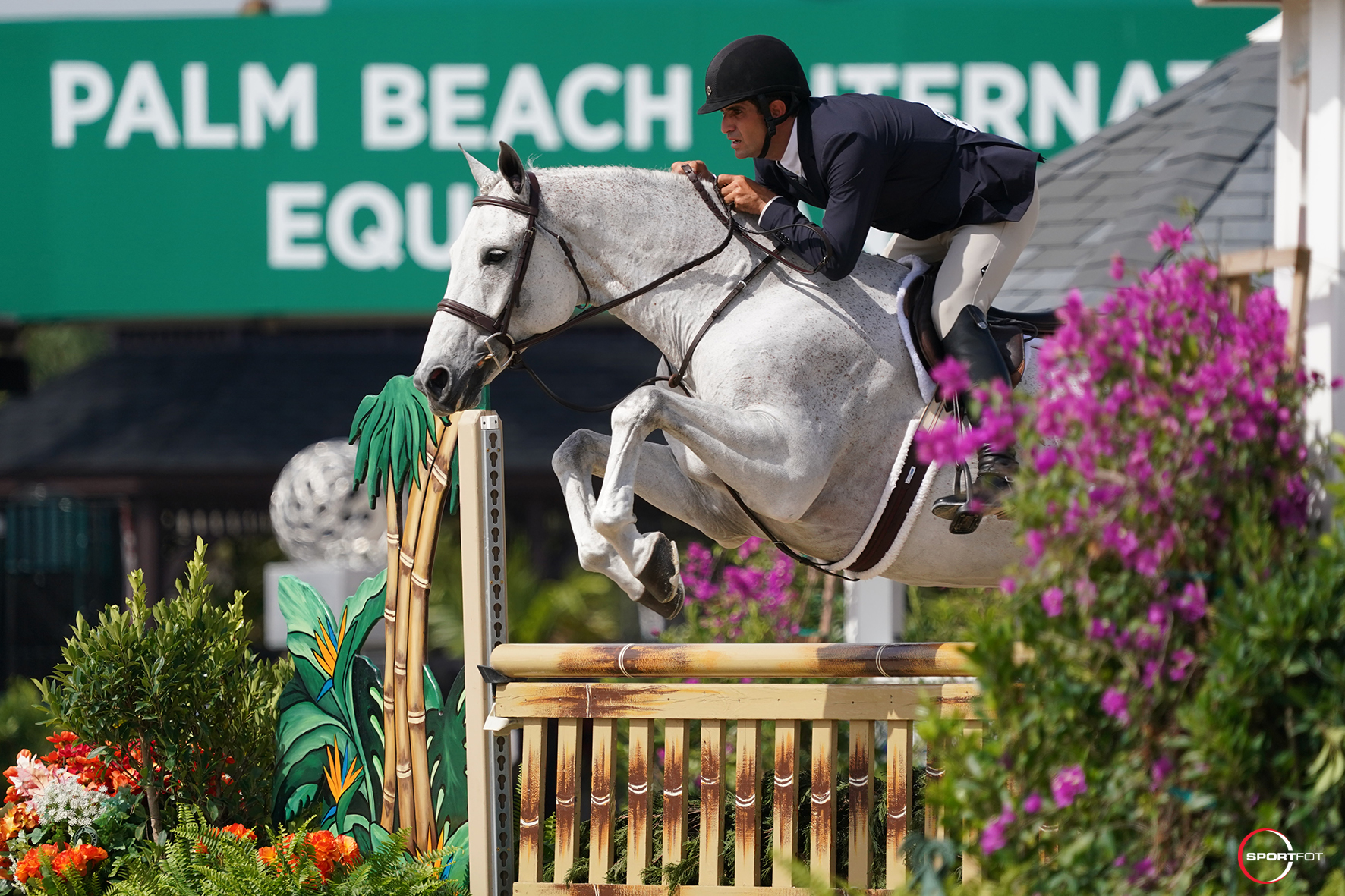 "I have actually never qualified for the night class, so my goal for this week was to just get one qualified," explained Coluccio. "As I was hacking I was thinking, 'Wow, I could be champion and reserve.How did this happen?' I'm really thankful for these horses and the owners, the Lignelli family and Balmoral, as well as my whole team who works endlessly to make this happen."
Thirty-three horse-and-rider combinations entered the Equine Tack & Nutritionals Green Hunter 3'6" division, which crowned two champions on Thursday. Jimmy Torano guided Isalou Inc.'s Laskano, a nine-year-old Westphalian gelding by Los Angeles, to champion for Section A. The duo won three firsts and a fifth place ribbon. Reserve champion for Section A went to Elizabeth Towell Boyd, of Camden, SC, aboard Gigi Manigault's Walk-Off after they received a second and two fifths.
"This is obviously an important week that we all gear up for," said Torano, of Wellington, FL. "My horse was wonderful. He won every over-fences class and won in the Green Conformation division as well. This horse wants to win every time out and doesn't want to let you down. I was glad his owner, Daryl Portela, was able to watch him and everything really fell into place nicely."
Section B champion of the Equine Tack & Nutritionals Green Hunter 3'6" was Laena Romond, of Brookfield, CT, and Catherine Cowie's Traveller, a 10-year-old Warmblood gelding. The pair earned a first, third, and fourth place ribbons. Scott Stewart and Rivers Edge's Theory received the reserve champion title after they earned second and eighth places.
"It felt great to compete with the best group of hunters and ride in the big ring this week," commented Romond. "We have had Traveller for several years. We bought him from Emil Spadone as a pre-green horse. His owner, Catherine Cowie, also shows him in the 3'3" Amateur-Owners, but she also works full time so she was not able to show this week. She asked me if I wanted to show him, and I jumped at the opportunity and it worked out!"
Scott Stewart rode Dr. Betsee Parker's Charlemagne to his third tricolor ribbon of the day in the Green Conformation Hunter division. Stewart and the seven-year-old Selle Francais gelding by Vigo Cece earned two firsts, a second, and a seventh place ribbon. Reserve champion was awarded to Jimmy Torano and Isalou Inc.'s Laskano after they earned a first, two thirds, and a seventh place.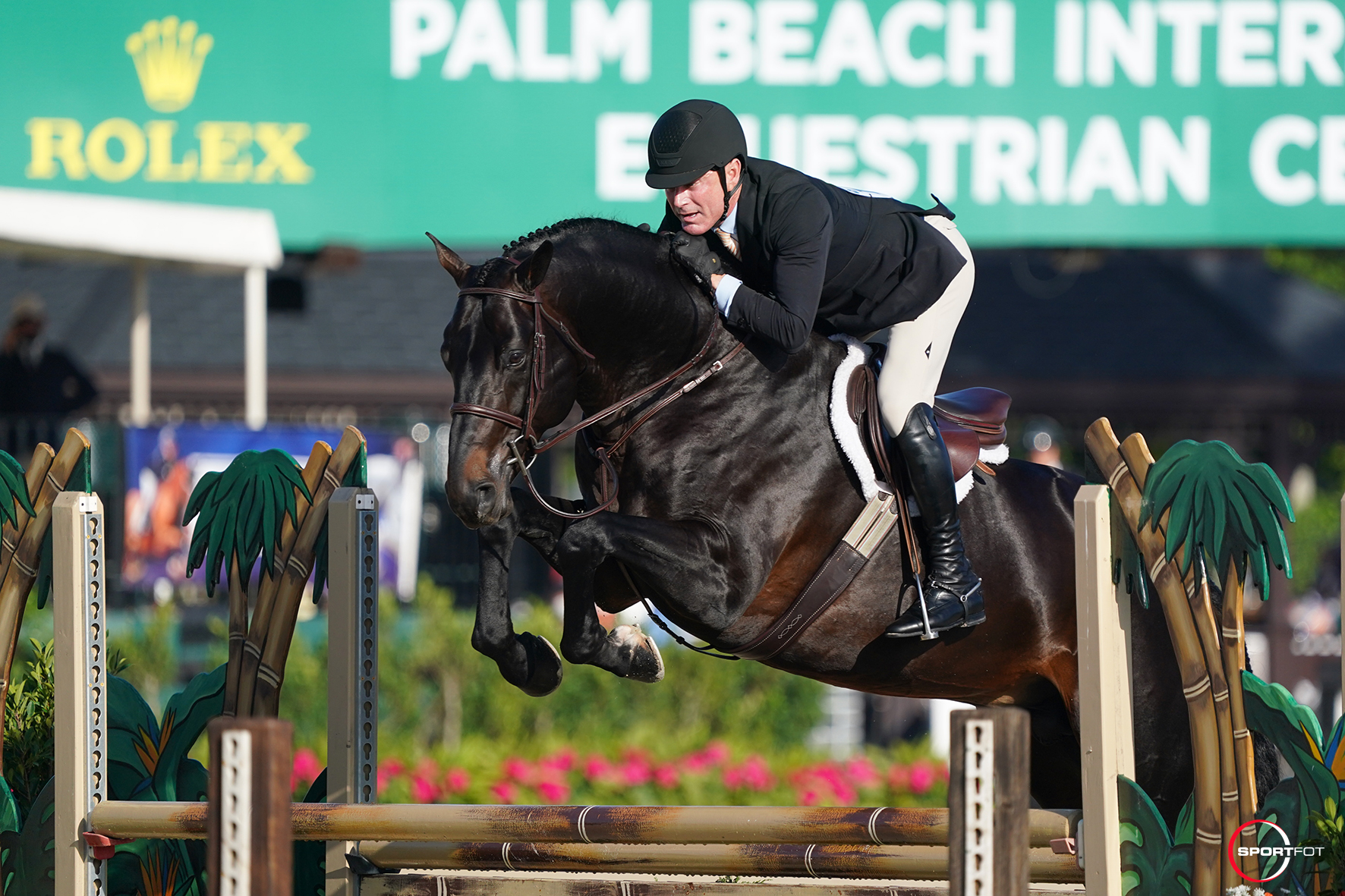 The Green Hunter 3'9" division, sponsored by Equine Tack & Nutritionals, wrapped up in the E.R. Mische Grand Hunter Ring with Scott Stewart earning his second championship of the day aboard Richard Prant's Love Note. Stewart piloted the eight-year-old Westphalian gelding by Kalaska De Semilly to a first, two seconds, and a third place finish. Reserve champion was earned by Maria Rasmussen, of Royal Palm Beach, FL, and Julianne Karol's Fedora. The pair received two firsts, a fourth, and an eighth place ribbon.
The final day of competition for the extremely competitive Performance Hunter 3'6" division wrapped up Thursday with four talented combinations receiving the champion and reserve ribbons. In an impressive feat against over 100 other entries, Geoffrey Hesslink claimed the two top titles aboard Trademark and Small Occasion respectively. Hesslink and Trademark, the nine-year-old gelding ridden for Shadowfax Equestrian LLC, earned the first place honors in three of the four division rounds for a total of 40 points. Hesslink and Shadowfax Equestrian LLC's 11-year-old Holsteiner mare, Small Occasion, then produced results earning two firsts, a second, and a fifth, which earned the pair the second tricolor ribbon.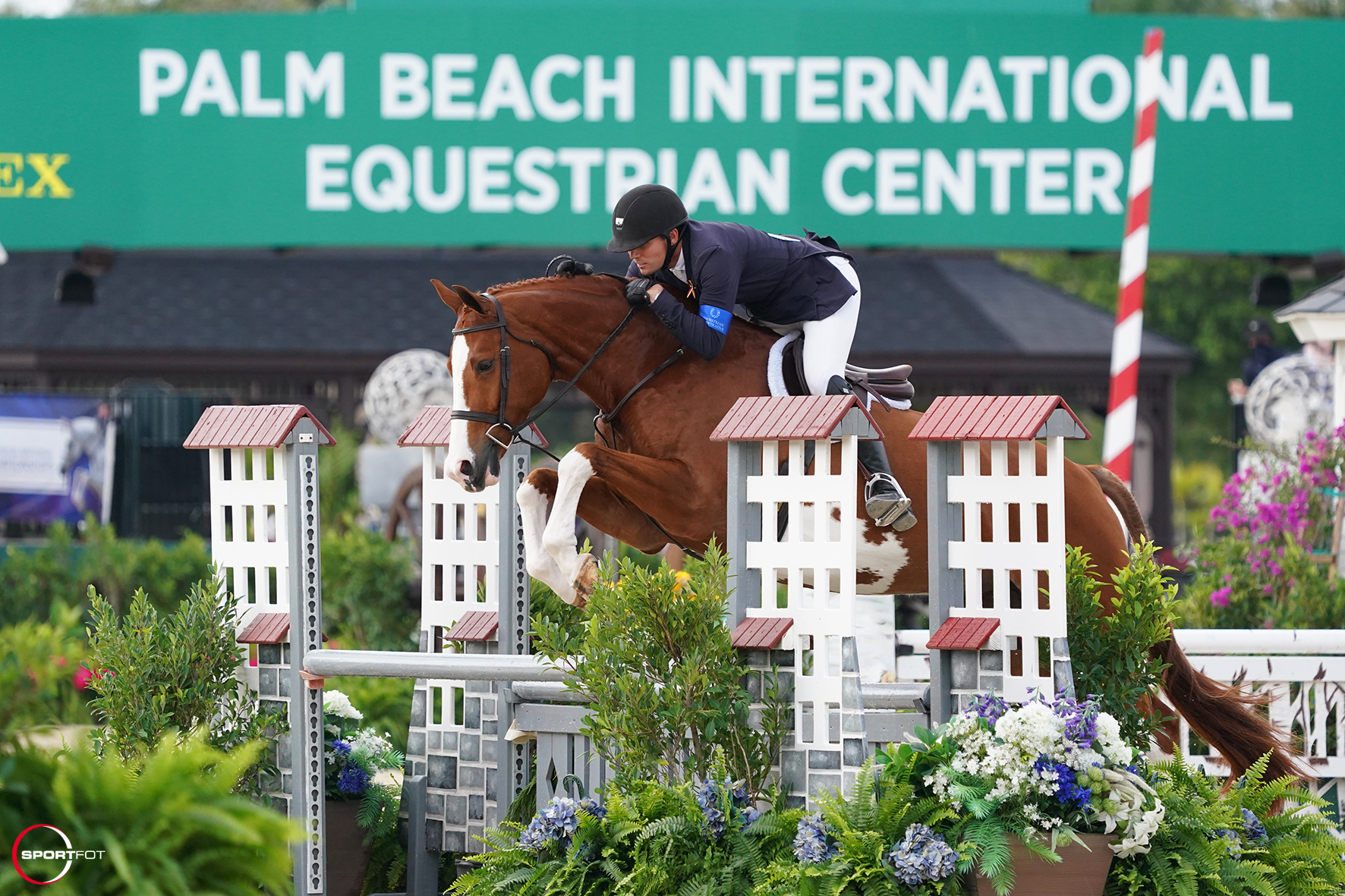 "Both of these horses thrive in important environments," Hesslink described. "The reason they are winners is because they know when it counts, and this week they have put 110 percent effort into each round. They have both scored above a 90 percent in every round they have done this week, which is an incredible way to step up to the plate. I couldn't be happier with them."
Hesslink's goal was to get each horse acclimated before junior rider Raina Swani took over the reins for Large Junior Hunter competition.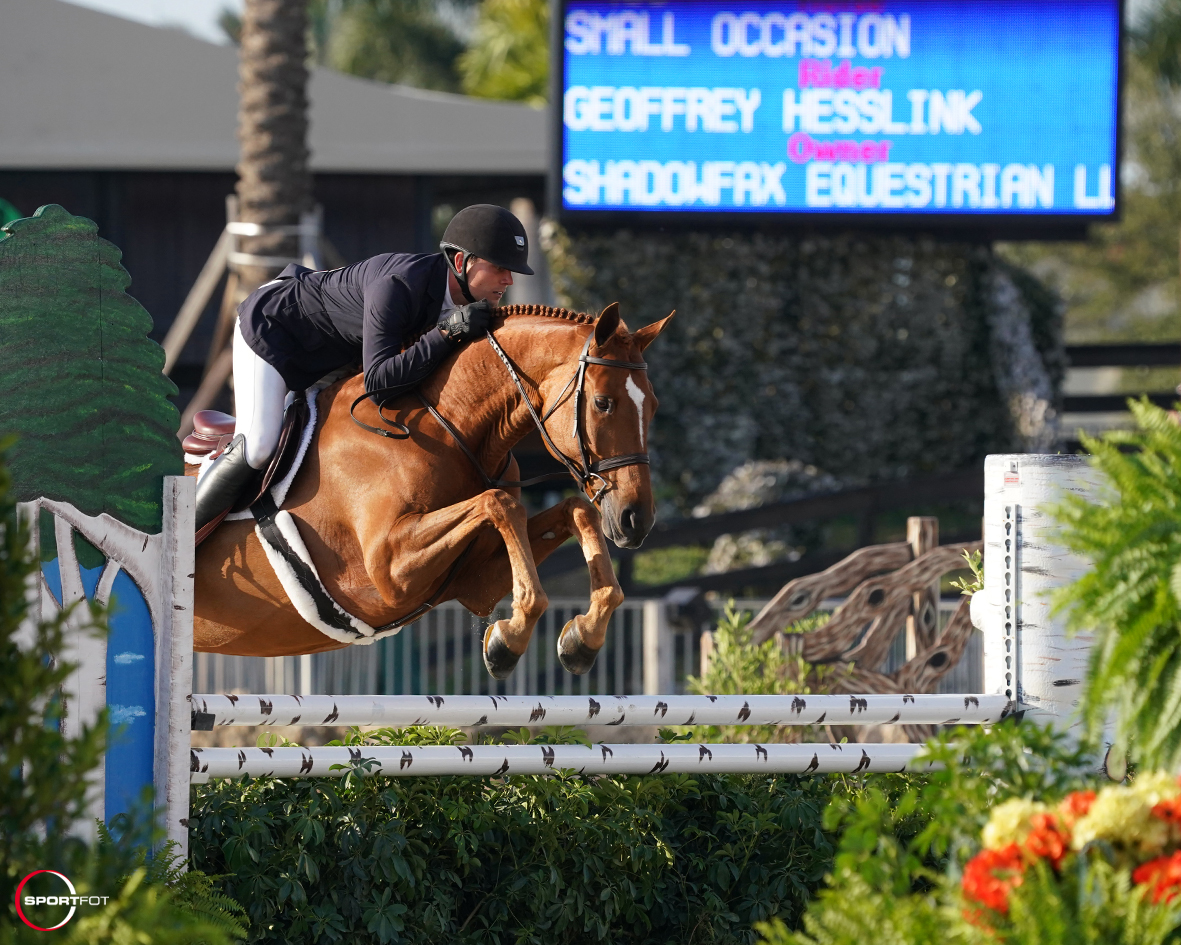 "They both did so well yesterday that I didn't feel too much pressure today," he added. "I knew they were in a good place mentally and comfortable in the ring, so my plan was just to go out there and have fun and it was a blast."
Young professional Victoria Colvin added another top ribbon to her collection as she and Aristocrat earned the reserve champion title alongside Maria Rasmussen and Worthy. Rasmussen and Sunset View Farm LLC's nine-year-old Holsteiner gelding pinned two seconds and a third while Colvin and the John and Stephanie Ingram, LLC-owned 12-year-old Oldenburg gelding picked up a first, a second, and a fifth.
After two days of competition, the Young Hunter 3'3" came to an end with Laura Bowery, of Bridgehampton, NY, and Halsted Horses LLC's Incognito winning the championship. The duo received two firsts, a third, and a sixth place ribbon. Wellington, FL, resident Tiffany Morrissey rode East Wind Farms, LLC's Phanomen V to reserve champion with first, second, and eighth place finishes.
"I saw the horse last year with Hannah Isop.he was showing him in the pre-greens and my sister, Jenn Bowery, bought the horse for her client, Drue Halsted," explained Bowery. "I've shown him four times, and he's been champion or reserve every time. He is a really special horse, and he is going to be a great amateur horse for his owner. Every time you go in the ring you know that he is going to try for you. I think he is a triple threat. He is a good mover, usually first, second, or third at the least, he is an amazing jumper, and then he's got the temperament. I think that is really hard to find."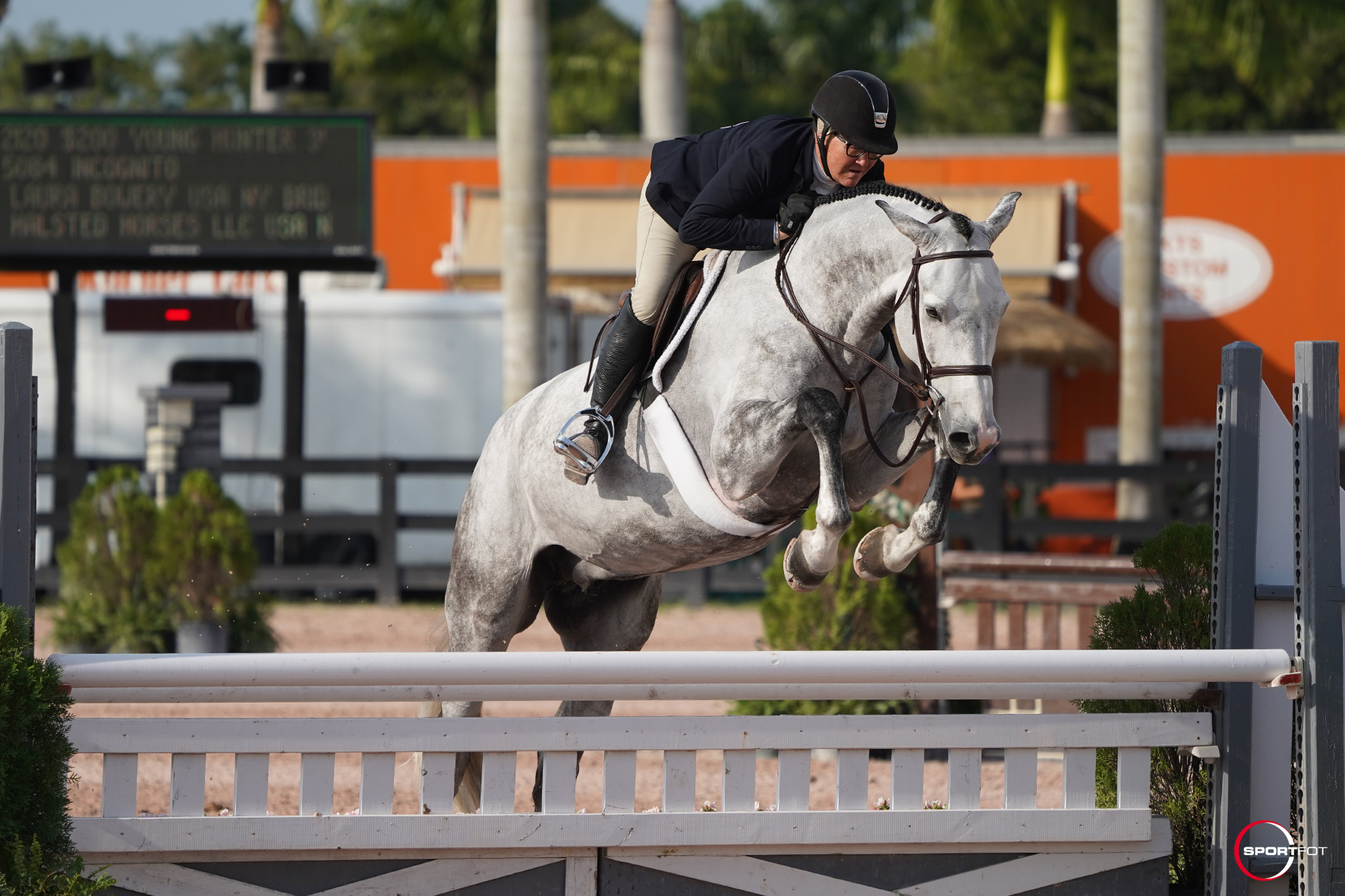 The Performance Hunter 3'3" division, sponsored by FarmVet wrapped up Thursday with a California split, awarding two combinations with the coveted tricolor ribbons. The section A champion title was awarded to Victoria Colvin, who picked up three first place ribbons with Brad Wolf's 10-year-old Holsteiner gelding Sebastian. The reserve champion in section A went to Wellington, FL's Sandra Ferrell and Stephanie Bulger's 11-year-old Hanoverian gelding Hemingway by earning a first, second, and two fourths in the competitive division.
"This horse is just super easy," said Colvin. "He did the National derbies with Tiffany Morrissey and now Brad [Wolf] is showing him in the amateurs and loves him. He has a spectacular jump and put in nice consistent rounds."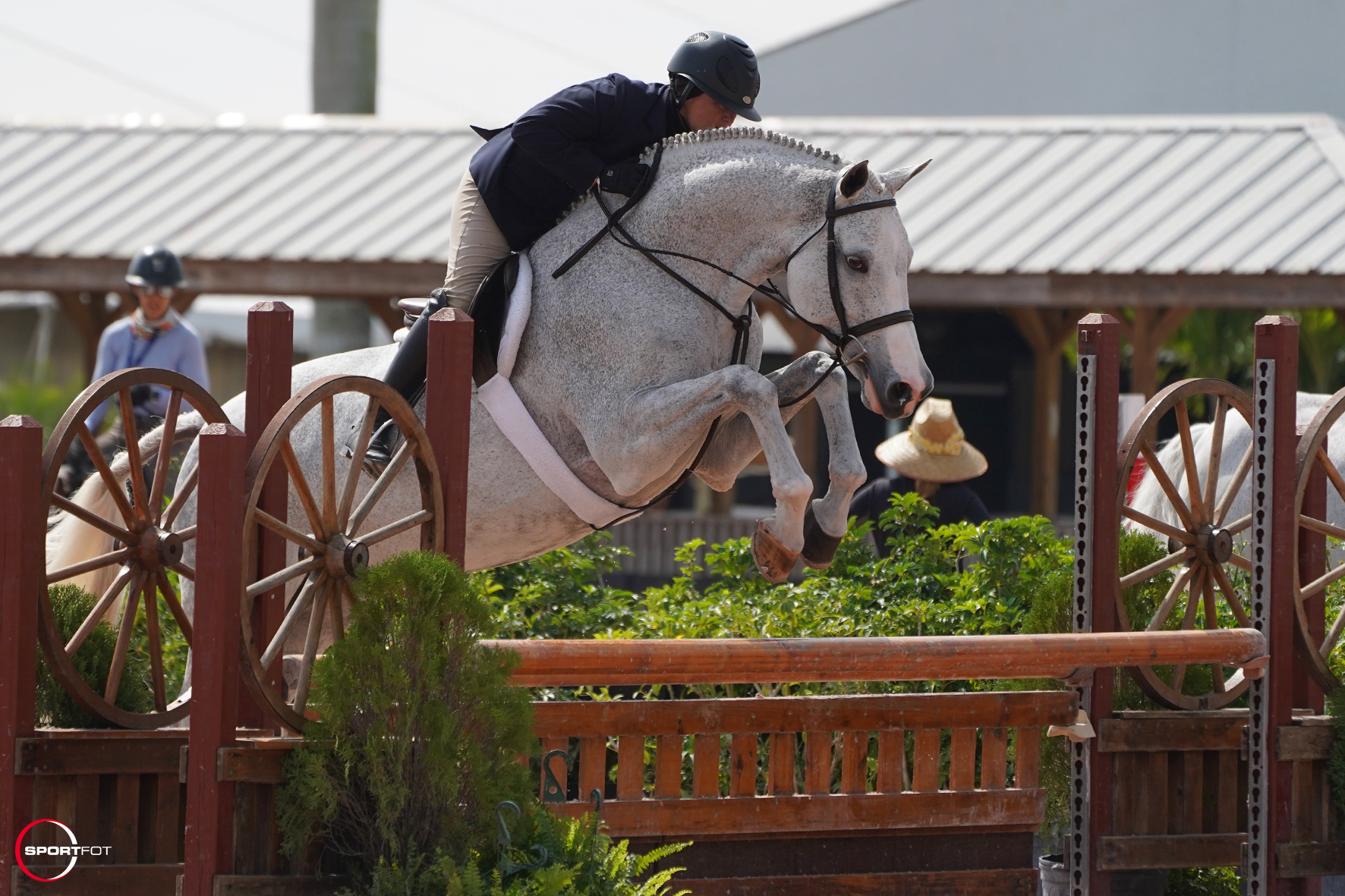 Samantha Schaefer of Westminster, MD, took the champion in Section B of the Performance Hunter 3'3" with Ava Berman's nine-year-old Hanoverian gelding Emilio. The duo pinned an efficient first, second, and third placings across the division. Professional Jennifer Bliss and Karen Leventhal-Zucker's seven-year-old Westphalian gelding earned the second reserve champion title with second, third, and sixth place ribbons awarded.
"We just purchased Emilio in November of last year to eventually be a junior hunter mount for his owner Ava, who currently competes him in the Children's Hunters," explained Schaefer. "He has a great presence and expression across the ground, and that is what really stuck out to me about him that I think gives him an edge."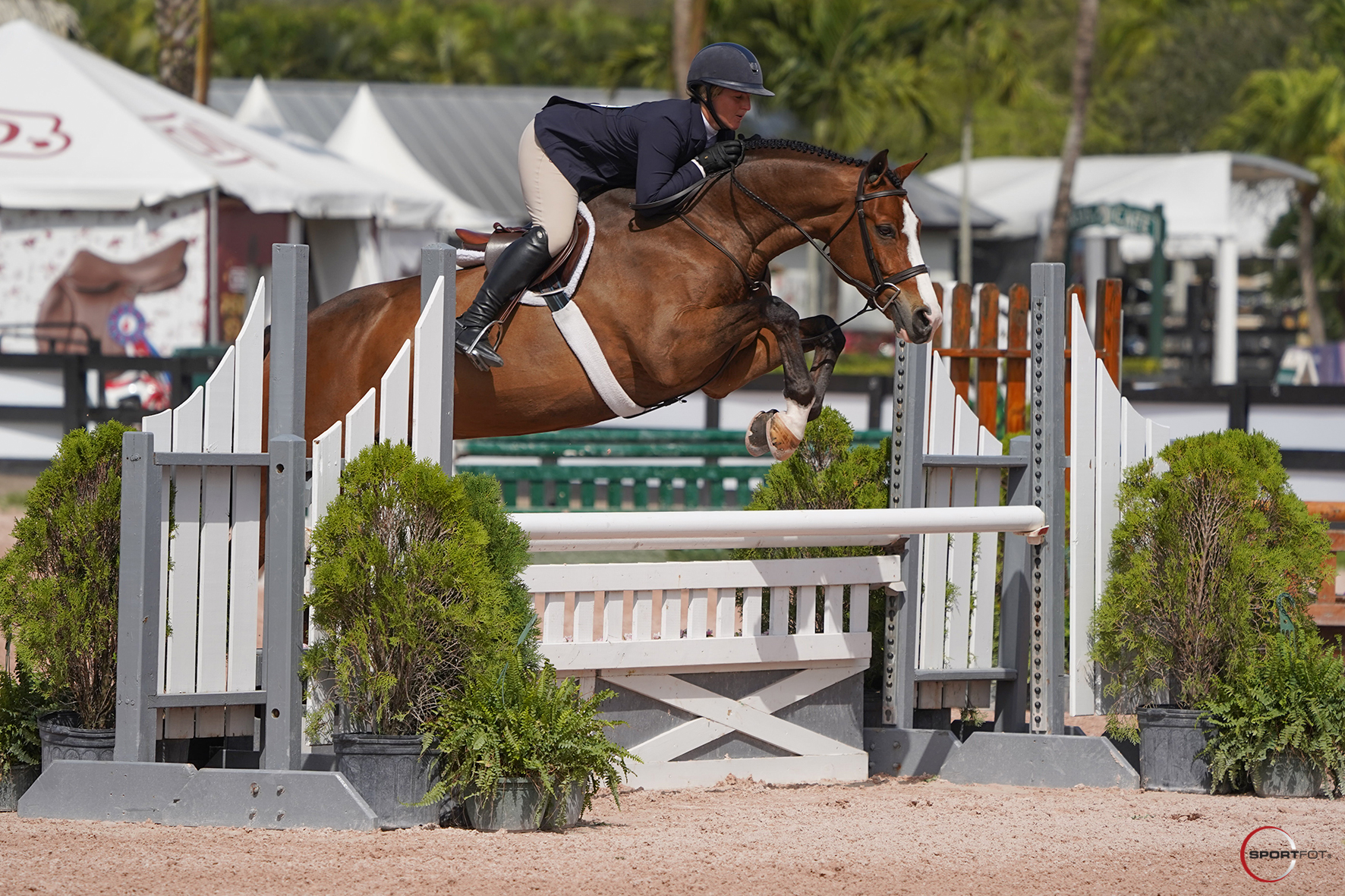 She continued, "His main goal is obviously to win with Ava in the Children's Hunters this weekend, but with that in mind, we wanted to give him a professional ride. To come out as the winner in a very competitive group of horses was definitely a plus."