By Kate Pettersen, Sabrina Brashares, and Summer Grace for Jennifer Wood Media, Inc.
A successful week at WEF continued for Gavin Harley (IRL) and Corbawido PS, owned by Wolfstone Stables and Sales Inc, as they flew to the top of the podium in the $37,000 CaptiveOne Advisors 1.50m Classic CSI3* on the grass Derby Field at Equestrian Village.
A starting field of 66 was narrowed down to 16 for the jump-off, which featured eight jumping obstacles set by Catsy Cruz (MEX). Harley and the nine-year-old Polish Warmblood gelding by Cornet's Balou x Widolan, stuck to their plan and it paid off, finishing with a double-clear effort in 39.44 seconds.
"He's quite inexperienced at this level," said Harley. "It's kind of his first proper test, and he just keeps proving to us how good he really is. I started riding him at the end of his seven-year-old year and had a great summer on him last year. We gave him a bit of a break and started back with him for the winter circuit, and it has started off well. My trainers on the ground were giving me strict instructions to stick to my numbers and my plan, and it worked out."
A regular contender at WEF, Jessica Springsteen (USA) piloted Hungry Heart, owned by Stone Hill Farm, to a quick double-clear just off the mark, as she and the nine-year-old Swedish Warmblood gelding by Baltimore 1178 x Loucaibo took second place in 39.72 sesconds.
First to return in the second round, Daniel Deusser (GER) and Calisto Blue, owned by Stephex Stables, galloped effortlessly across the track to set the pace for the rest of the field, with a fault-free round in 39.99 seconds. He and the 14-year-old Oldenburg gelding by Chacco Blue x Con Air held the lead until the final few horses, ultimately landing them in third position.
Earlier in the week, Harley and Corbawido PS jumped to a second-place finish in the $1,000 Bainbridge Companies 1.40m Jumpers CSI3*. The 26-year-old rider also finished sixth in the Adequan® WEF Challenge Cup on Friday with Very Chic Du Tillard.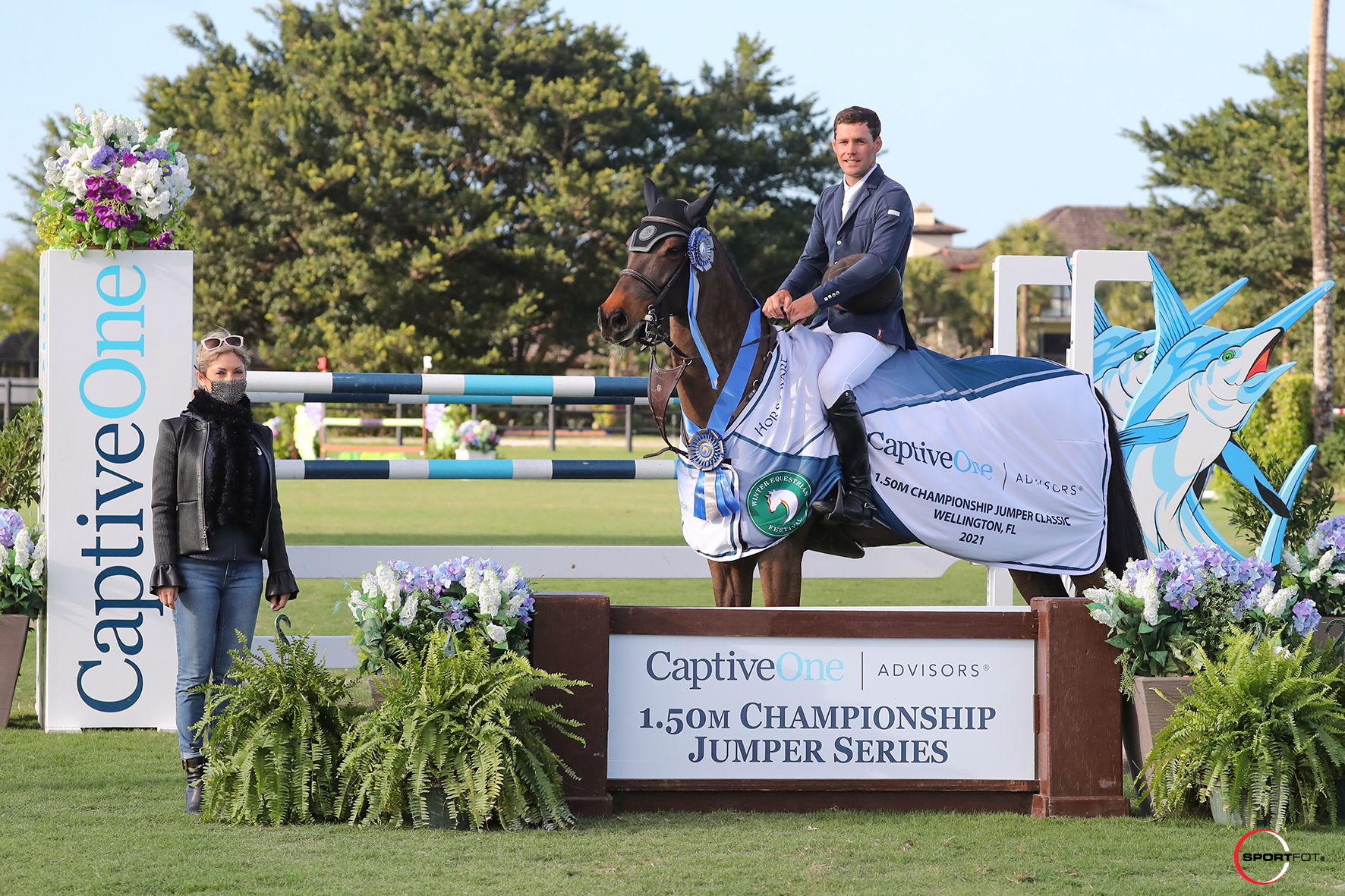 Gavin Harley (IRL) and Corbawido PS with Olga Hartsock of CaptiveOne Advisors in their winning presentation for the $37,000 CaptiveOne Advisors 1.50m Classic CSI3*. © Sportfot
Harley, who was all smiles after the victory, will give Corbawido PS a much-deserved break next week after a pair of solid outings on the turf.
"He's a funny, funny character, and he's a fighter," he said. "He always wants to fight for you. It was a good experience to have him in here and other than the first day, today was his only class this week so we gave it a shot. He's only nine so we don't want to overdo it. He'll have a little break now, and we'll probably gear him back up again for something similar to this class next."
To open the day on the Derby Field, Tanner Korotkin (USA) and Deauville S, owned by Castlewood Farm Inc, captured the Hermès Under 25 Welcome speed class. Korotkin and the 15-year-old Holsteiner gelding by Diamant De Semilly x Lux Z topped the starting field of 66 entries, posting a time of 60.46 seconds.
Final Results: $37,000 CaptiveOne Advisors 1.50m Classic CSI3*:
1. CORBAWIDO PS: 2012 PZHK gelding by Cornet's Balou x Widolan
GAVIN HARLEY (IRL), Wolfstone Stables and Sales Inc: 0/0/39.44
2. HUNGRY HEART: 2012 SWB gelding by Baltimore 1178 x Loucaibo
JESSICA SPRINGSTEEN (USA), Stone Hill Farm: 0/0/39.72
3. CALISTO BLUE: 2007 Oldenburg gelding by Chacco Blue x Con Air
DANIEL DEUSSER (GER), Stephex Stables: 0/0/39.99
4. CATOKI'S SON Z: 2009 Zangersheide gelding by Catoki x Aldo du Reverdy
ERYNN BALLARD (CAN), Ilan Ferder: 0/0/40.64
5. MADIBA AG Z: 2012 Zangersheide gelding by Mylord Carthago*hn x Corland
SHANE SWEETNAM (IRL), Shane Sweetnam, Spy Coast Farm and Paul Tracy: 0/0/41.84
6. LINCOURT GINO: 2003 Irish Sport Horse gelding by Gino III x Graf Magna
ALEJANDRO KAROLYI (VEN), Monica Carrera: 0/0/45.11
7. INDRA VAN DE OUDE HEIHOEF: 2008 Belgian Warmblood mare by Casantos x Action-Breaker
SHANE SWEETNAM (IRL), The Blue Buckle Group: 0/4/38.27
8. LIGHTHOUSE GIRL: 2010 Westphalian gelding by Light On x Rockwell
SPENCER SMITH (USA), Michael Wittschier: 0/4/39.62
9. BELO HORIZANTE: 2008 Holsteiner gelding by Baloubet du Rouet x Clearway
DARRAGH KENNY (IRL), Oakland Ventures, LLC: 0/4/40.55
10. VITTORIO 12: 2011 Hannovarian gelding by Van Helsing x Carismo
CAPT. BRIAN COURNANE (IRL), Capt. Brian Cournane and Glenbeigh Farm, LLC: 0/4/42.21
11. F ONE USA: 2010 KWPN stallion by Toulon x Beat Me
EMILY MOFFIT (GBR), Poden Farms: 0/4/42.56
12. L'ARTISTE DE TOXANDRA: 2011 BWP gelding by Toulon x Donnatella Van De Zelm
IOLI MYTILINEOU (GRE), Elia Construction SA: 0/4/42.81