By Kate Pettersen, Sabrina Brashares, and Summer Grace for Jennifer Wood Media, Inc.
The penultimate day of World Champion Hunter Rider (WCHR) week at the 2021 Winter Equestrian Festival launched competition in the International Arena with the stakes round for the Large Junior Hunter 3'6" 15 and Under division. "Hunter week" competition has featured top professional, junior, and amateur hunter riders taking center stage in the International Arena at the Palm Beach International Equestrian Center. Champions of many divisions throughout the week then qualify to compete in the pinnacle event, the $50,000 WCHR Peter Wetherill Palm Beach Hunter Spectacular.
After earning a total of 20.5 points, Kat Fuqua of Atlanta, GA, and her own Grand Remo were awarded the tricolor ribbon in the Large Junior Hunter  3'6" 15 and Under division. She and the nine-year-old Dutch Warmblood gelding picked up two first place ribbons as well as a sixth for the total leading points.
"This is probably my favorite horse that I have right now," said Fuqua. "I have really been working on getting more confident in my riding with him because he rides differently than some of my other horses and has a bigger stride, but this week went so much better than it did for us last year so that is very exciting and I am looking forward to tonight."
Reserve champion honors in the debut class of the day were awarded to Raina Swani of Ponte Vedra Beach, FL, and Trademark. Swani and the Shadowfax Equestrian LLC's nine-year-old Hanoverian gelding entry claimed the runner-up position with three second place ribbons and a total of 18 division points.
Immediately following the Large Junior Hunter 3'6" 15 and Under division, the 15 entries in the Small Junior Hunter 3'6" 15 and Under division were invited to contest the course set in the International Arena. Ultimately, Ella Bikoff added one more first place to her standings with Everwonder to produce the most points and take home the champion title. She piloted the Bikoff Equestrian LLC's nine-year-old Oldenburg gelding to a total of 18 points after earning a first, third, and two fourth places. With 17 points, Alexa Elle Lignelli and The Lignelli Family's 12-year-old Warmblood gelding Guggenheim secured the reserve champion after being awarded a first, second, and fifth.
Of her mount, Bikoff said, "Everwonder is still a young, green horse, and this is the first season that I have been able to show him almost completely independently. Usually my trainer, Scott Stewart, rides him in the Performance Hunters, so we are a new pairing."
She continued, "This will be my first night class and the first time I've qualified for this event, so I am extremely excited and looking forward to my continued journey with him."
Thirty-three horse-and-rider combinations entered the Large Junior Hunter 3'6" 16-17, which was held in a California split format that crowned two champions. Augusta Iwasaki, of Calabasas, CA, and Small Social, owned by Iwasaki and Reilly, were awarded the Section A championship ribbon. The duo took home two firsts and two second place ribbons. Iwasaki and the coming 11-year-old Oldenburg gelding by Lordanos also received the Grand Junior Hunter Championship honors. Reserve champion for Section A went to Isha Swani, of Ponte Vedra Beach, FL, and Shadowfax Equestrian LLC's Unprecedented with a first, two thirds, and an eighth place ribbon.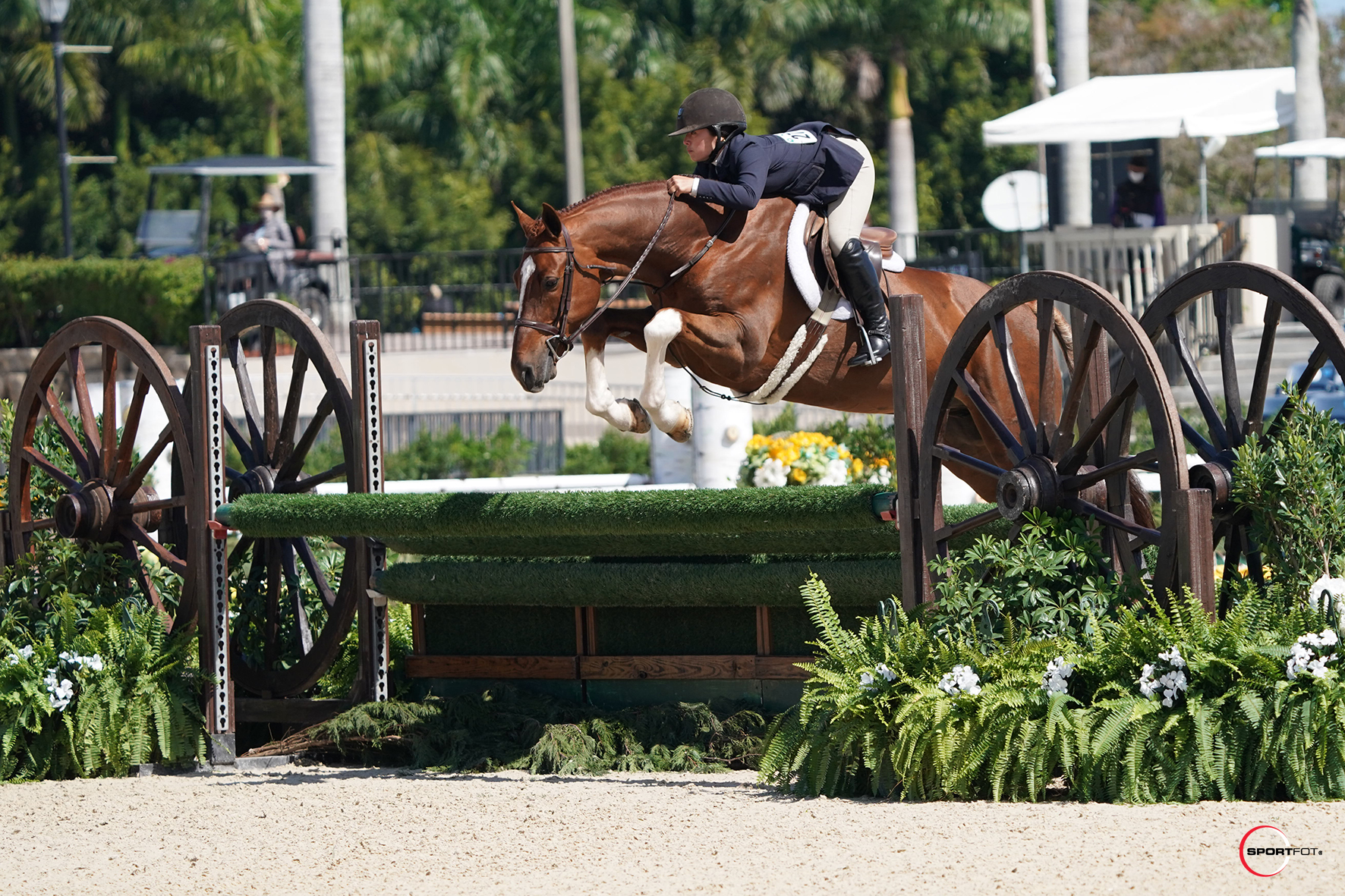 "The first time I showed him was in December at Thermal, and he was awesome," said Iwasaki, who went into her fifth Hunter Spectacular class on Saturday night. "He was so consistent this week which is really important, especially when there are only three jumping classes. He really stepped up this week. I look forward to trying to get into the night class every year. It's so fun and special for the hunters."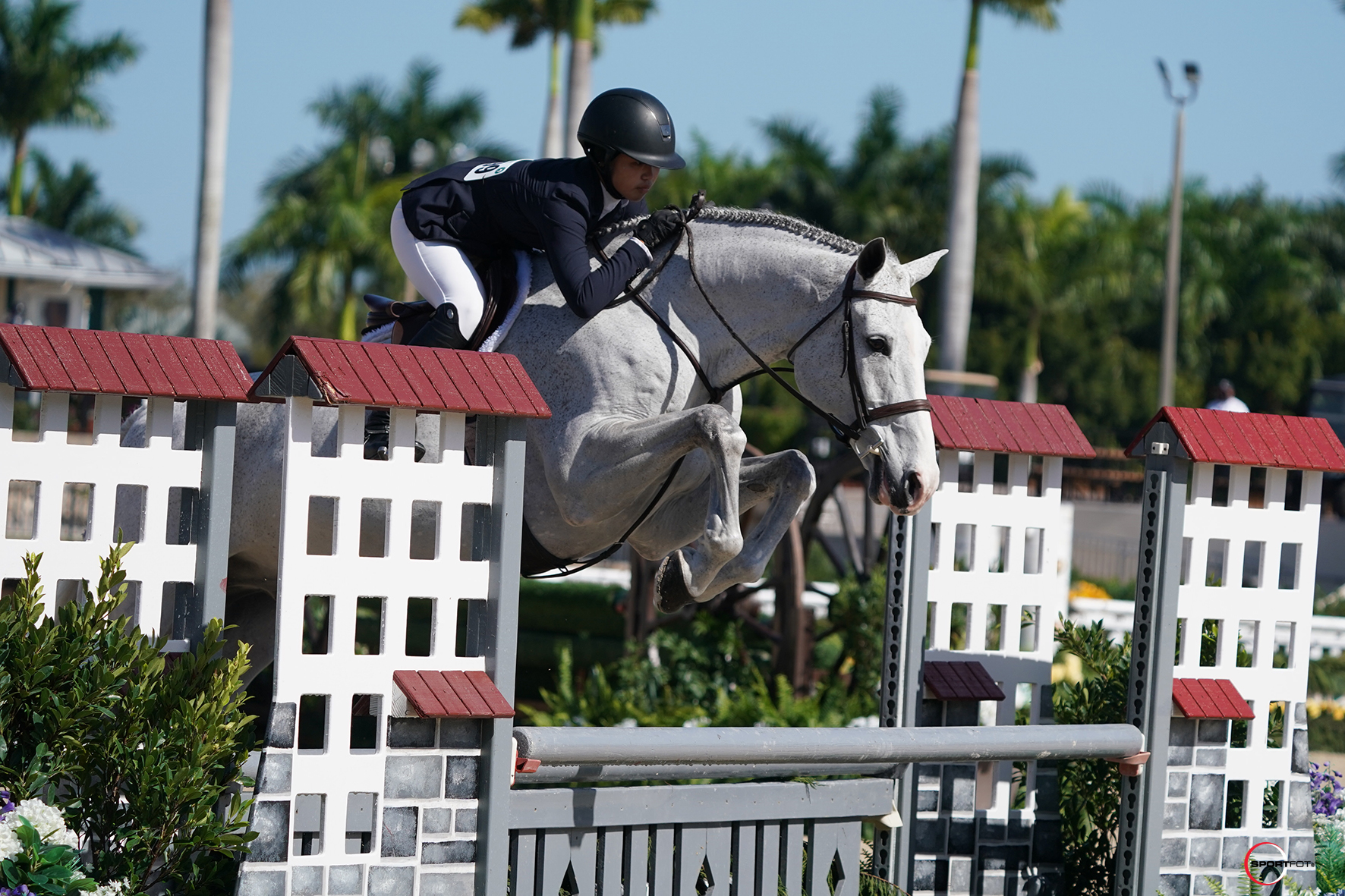 Gochman Sport Horses LLC's Catch Me earned his second championship of the week, this time with Mimi Gochman in the irons. Gochman, of New York, NY, guided the 14-year-old Holsteiner gelding by Casiro I to the Section B tricolor with two firsts and a second place finish. Swani also picked up reserve champion for Section B with Shadowfax Equestrian LLC's Curo. Swani and Curo received a first, as well as fourth, fifth, and seventh place ribbons.
"My mom has won everything on Catch Me, or 'Snoopy,' that she possibly could, and I think she wanted to see one of her kids show him," commented Gochman. "I think it is interesting for her to watch someone else ride him since she knows him so well, and they are such a good team. It's a great experience to get to ride a world-class horse like him and try to match Scott [Stewart] and my mom! I love how hunter week is so competitive. People come from all over, we get to go in the big ring, and hunters finally get a spotlight. It is just so grand, and Snoopy really rises to every occasion. To be champion and be able to hold it together was an honor."
The final class to go in the International Arena before the $50,000 WCHR Peter Wetherill Palm Beach Hunter Spectacular was the Small Junior Hunter 3'6" 16-17 division. Grace Debney, of Hampden, MA, rode Temple Equestrian LLC's Quimby to top honors and qualified the pair for Debney's first Hunter Spectacular class. Debney and Quimby earned a score of 91 to win the stake class as well as a first and two second place ribbons. Mimi Gochman piloted Rivers Edge's Sandstone to the reserve champion title. Gochman and Sandstone received a first and third in the division.
"I'm especially excited to do the night class on Quimby because I'm so confident on him," said Debney of the 10 Holsteiner gelding by Q Verdi. "He is actually my equitation horse, and we decided that he was going to play hunter this week since it's hunter week! I've had him for a little over two years, and we imported him as a seven-year-old. We both stepped into the equitation for the first time together, and I think that really made our partnership strong."
Longtime partners Kelly Tropin of New Canaan, CT, and Chablis added another champion victory to their collection as the pair topped the leaderboard in the Amateur-Owner Hunter 3'6" 18-35 division on Saturday morning. She and the 13-year-old Wurttemburger gelding owned by Libertas Farm LLC produced two winning rounds as well as a fifth place performance out of 28 entries to complete the division with a total of 21 points.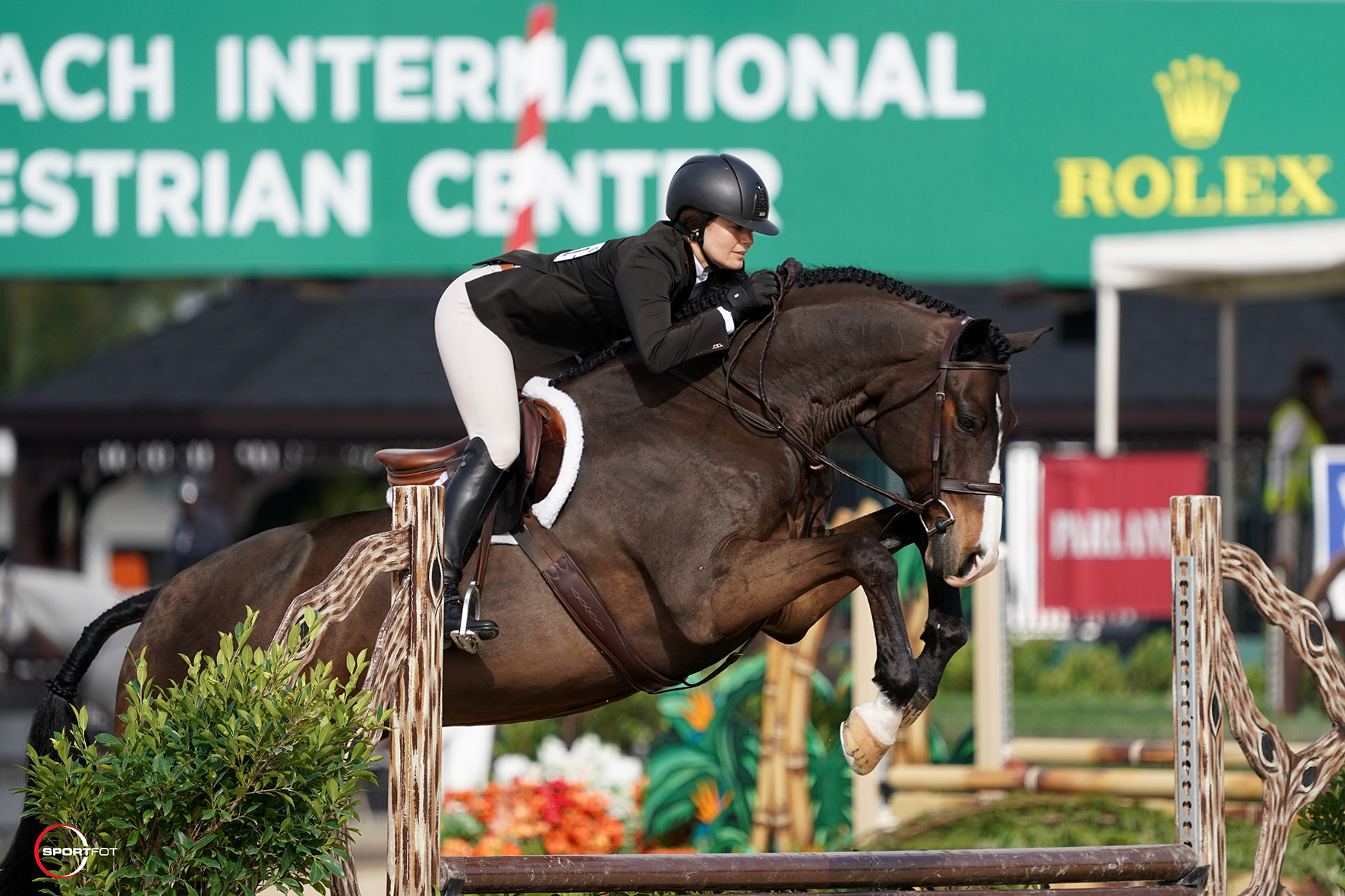 "Chablis and I have been partners for seven seasons now so I know him like the back of my hand," Tropin explained. "He is a truly fantastic horse because he is brave, brilliant, and knows when the competition is important. I am so grateful to have the horse that I do and to be able to compete, and I think because of COVID we all appreciate these moments more so than ever before. To have the ability to do what I love at this time in the world is very special."
Stephanie Danhakl and her own 10-year-old Dutch Warmblood gelding Brightside were named the reserve champions on a total of 18 points with pinnings of a first and two thirds.
The second division to take place in the E.R. Mische Grand Hunter Ring on Saturday was the Amateur-Owner Hunter 3'6"36 and Over, sponsored by Hunt Ltd. John Ingram rode Koala, owned by John and Stephanie Ingram, LLC, to the tricolor ribbon after they earned a high score of 86 in the stake class. Ingram, of Nashville, TN, and the 13-year-old Swedish Warmblood gelding by Carmague also picked up a first and seventh in the division. Ellen Toon, of South Salem, NY, and JT Farm's Gabriel earned reserve champion with a first, second, fourth, and sixth place ribbon.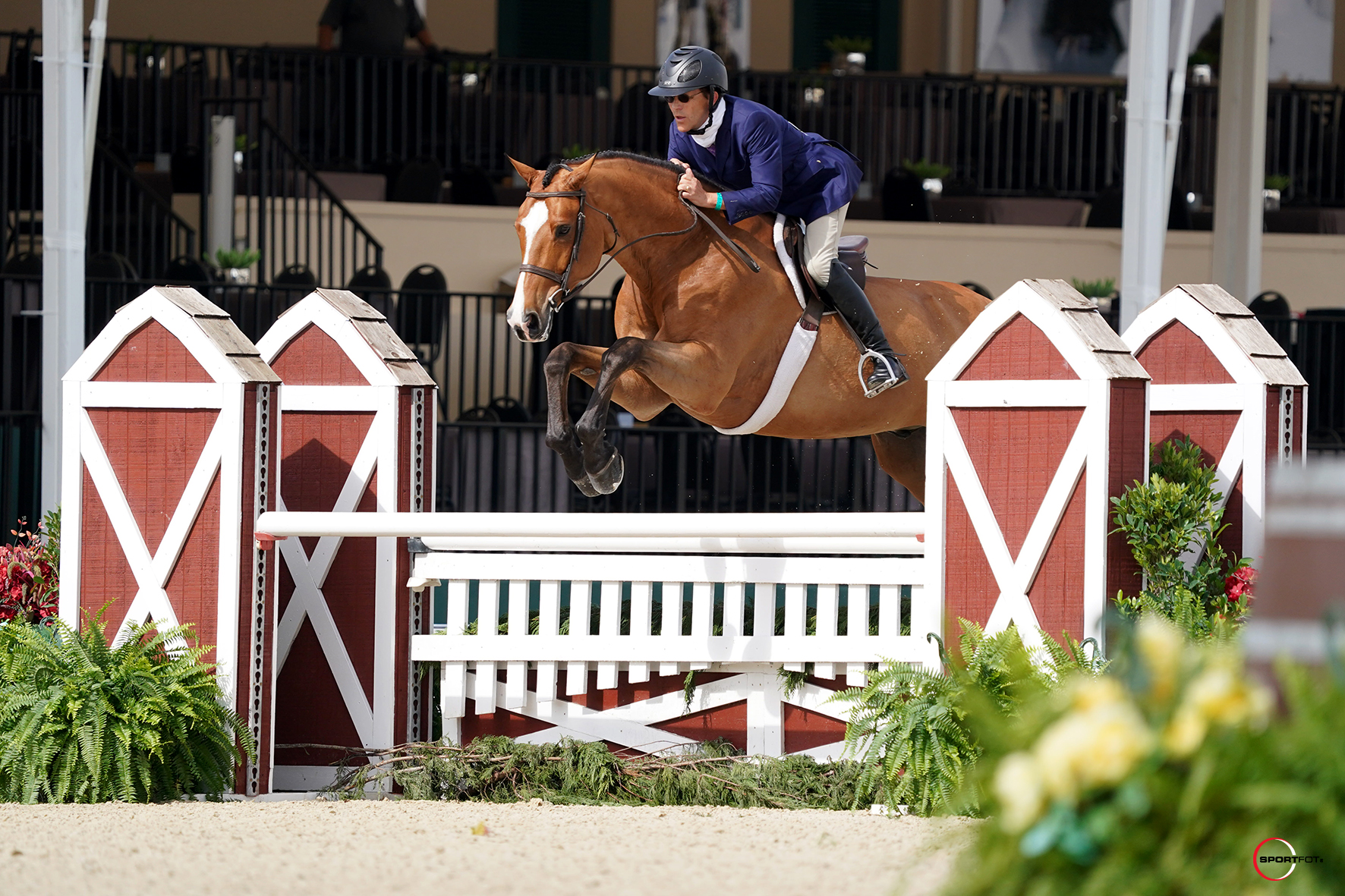 "We have had Koala for a couple years, but he was just coming back from an injury and this was only his second show back," explained Ingram. "There is no better week to be champion of a hunter division than week six, so I feel gratified and appreciative of our whole team. There are so many good horses and riders so to come out on top, especially week six, is very special."