Forty-seven entries took to the Stadium for the $15,000 WEC Derby 3′ Non Pro. Countless entries scored into the high 80s, but it Heather Wingate's Monogram (Silvio) that topped the class with Addy Wingate aboard. The 12-year-old Oldenburg gelding typically shows in the Pre Adult Hunters with Heather Wingate, but Addy Wingate had the ride today in the $15,000 WEC Derby 3′ Non Pro. The pair opted for all four high options in the first round, earning a score of 89. They returned in the handy round taking inside turns to fences 2, 3, 5, 6 and 9, along with all four high options, for a score of 88, bringing their overall total to 177 for 1st place.
Just behind Wingate and Monogram were Luke Rinehart and Taylor Johnson's Cavalli. Rinehart and the 16-year-old Hanoverian gelding often take top ribbons in the Children's Hunter and Children's Equitation, preparing them well for this afternoon's class. The pair navigated two flawless rounds for a pair of 88 scores, totaling 176 for 2nd place.
Steven Saumell and his own Crismas also found two impressive rounds in the $15,000 WEC Derby 3′ Non Pro. Saumell and the 11-year-old Hanoverian gelding compete often in the Amateur Owner Hunters and were well-schooled for this afternoon's class. The duo earned scores of 91 and 83, totaling 174 for 3rd place.
After the class, Wingate chatted about her win aboard Monogram, "He was amazing. He's a great horse. Every distance came up perfectly and he was fantastic. In the handy round, I planned to take all of the possible inside turns. He turned really well and landed on all of his leads. It was just a great ride."
When asked about Monogram, Wingate replied, "He is actually my mom's Pre Adult horse. He's always perfect and super sweet. You can make a mistake and he doesn't care at all. He's really a great horse."
$15,000 WEC Derby 3′ Non Pro Results
Monogram, Addy Wingate – 89 | 88 | 177
Cavalli, Luke Rinehart – 88 | 88 | 176
Crismas, Steven Saumell – 91 | 83 | 174
Undercover, Christopher Coberley – 88.5 | 82 | 170.5
Condor, Wyette Felton – 87 | 81 | 168
McDreamy, Kelly Fleming – 83 | 84 | 167
Quetzal de Razel, Paige Nyren – 88 | 79 | 167
Tropicool, Chelsea Koerper – 85.5 | 80 | 165.5
G.P. Burdell, Isabel Harbour – 85 | 78 | 163
Caitano, Julia Wiggins – 83 | 76 | 159
FEATURED AWARDS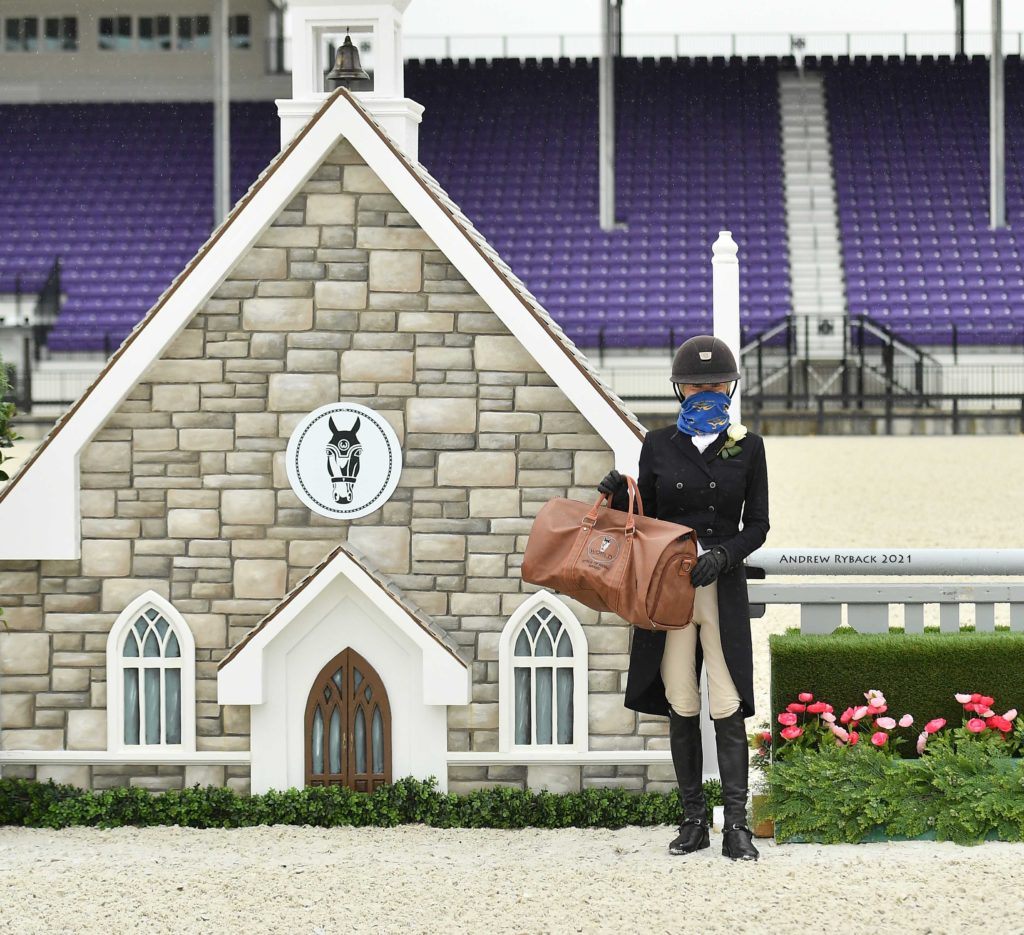 Before the start of the handy round in the $15,000 WEC Derby 3′ Non Pro, the prestigious Style of Riding Award was presented to Paige Beisel for her classic style and her sportsmanship. The Style of Riding Award is generously donated by Bill Rube to be awarded to the rider who best displays the American Style of riding in the ring and sportsmanship outside of the competition arena. The recipient serves as a role model for preserving the integrity and tradition of equestrian sport. "This award is very special to me because the recipient of this award pays it forward both in and out of the show ring," says Rube. Beisel received an elegant leather duffel bag and wore a white rose corsage on her lapel throughout the handy round to signify her achievement.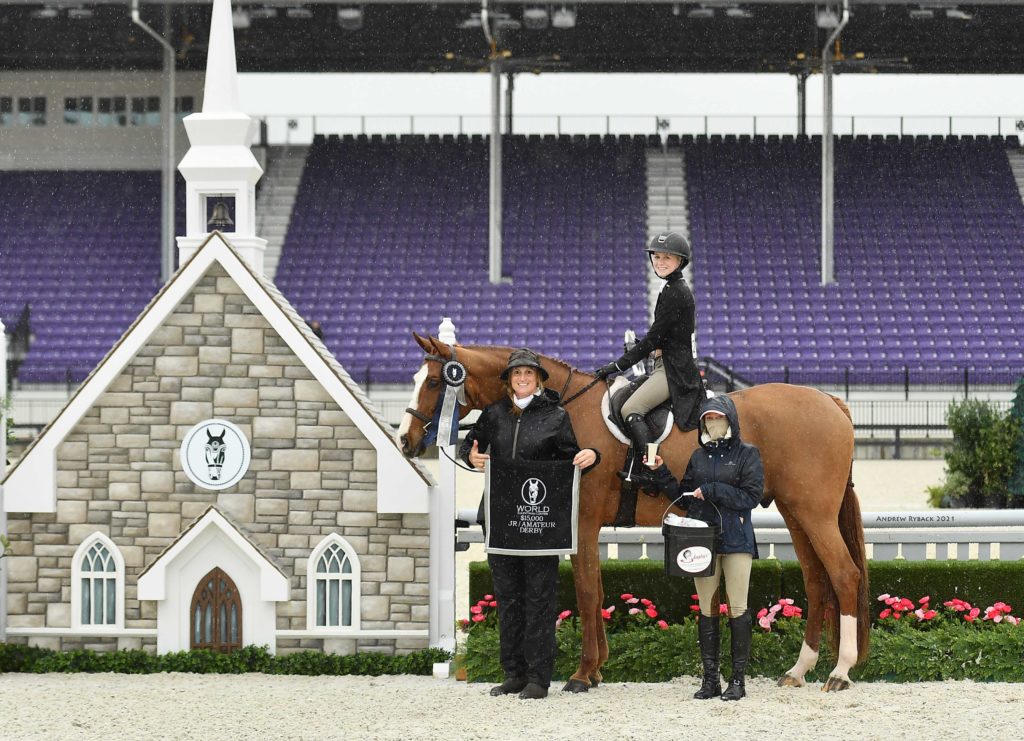 The Shapley's Champion Groom Award for the best turnout in the class was presented to Gerardo, groom of 1st place finisher in the $15,000 WEC Derby 3′ Non Pro, Monogram. Shapley's is a proud sponsor of the World Equestrian Center and is thrilled provide an award each week of the Winter Spectacular to the groom of the best turned out horse. Gerardo received a Shapley's Award Bucket for Monogram's stunning turnout.
Photos courtesy of Andrew Ryback Photography.