By Kate Pettersen, Kimberlyn Beaudoin, and Sabrina Brashares for Jennifer Wood Media, Inc.
Opening the final day of week six at the 2021 Winter Equestrian Festival (WEF), it was Bertram Allen (IRL) and Castlefield Vegas, owned by Martin Egan, taking the top spot in the 137,000 IDA Development Grand Prix CSI3* held on the grass Derby Field at Equestrian Village, on Sunday, February 21.
WEF 7 brings CSI5* competition, along with a concurrent CSI2*, back to the International Arena at PBIEC on February 24-28 sponsored by Lugano Diamonds with weekly highlights including: the $37,000 Douglas Elliman Real Estate 1.45m CSI5* on Wednesday, Thursday's $73,000 Adequan® WEF Challenge Cup Round 7, the $37,000 Bainbridge Companies 1.45m Classic CSI5* and $37,000 Griffis Residential 1.45m Qualifier CSI2* on Friday, the $401,000 Lugano Diamonds Grand Prix CSI5* as part of "Saturday Night Lights," and the $73,000 CaptiveOne Advisors 1.50m Classic CSI5* and $50,000 Griffis Residential Grand Prix CSI2* on Sunday.
Hunters will be featured on the grass Derby Field at Equestrian Village on Friday, February 26, in the $10,000 USHJA National Hunter Derby, with the professional section presented by Restylane and a junior/amateur section. Spectators can watch feature classes live and on demand for free using the livestream.
In the first round of Sunday's grand prix, the final line on course featured a triple combination [vertical, oxer, vertical] followed by five strides down to the IDA Developments oxer, the final jump on course. This combination of jumps proved to be one of the most difficult sections of the track designed by Catsy Cruz (MEX). A starting field of 45 combinations challenged the course, with 18 qualifying to return for the jump-off.
Fresh off their victory in the Adequan® WEF Challenge Cup on Friday, Allen and the 11-year-old Irish Sport Horse gelding by Cassino x Lux Z did it again, putting forth a blistering double-clear effort to stop the clock in 37.10 seconds.
"I knew I just had to give it everything I had," said the 26-year-old rider. "I didn't watch Nayel's round, but I was talking to a few people and they said it was very fast and my guy is naturally fast, so my plan was to just be as fast as I could be without doing anything crazy. It all came up great. Friday was the biggest class he's [Castlefield Vegas] jumped so far, and he won that, so I was delighted. Today I was interested to see how he would go along with that. He jumped great, and I had a good feeling."
Less than three-tenths of a second off the leader, Egypt's Nayel Nassar rode Igor Van De Wittemoere owned by Evergate Stables, LLC, to a second-place finish. Nassar and the 13-year-old gelding by Cooper VD Heffinck x Orlando 96, also posted a double-clear round in 37.39 seconds. The pair has been together for about a year now so their success on Sunday comes as a very exciting step in the right direction.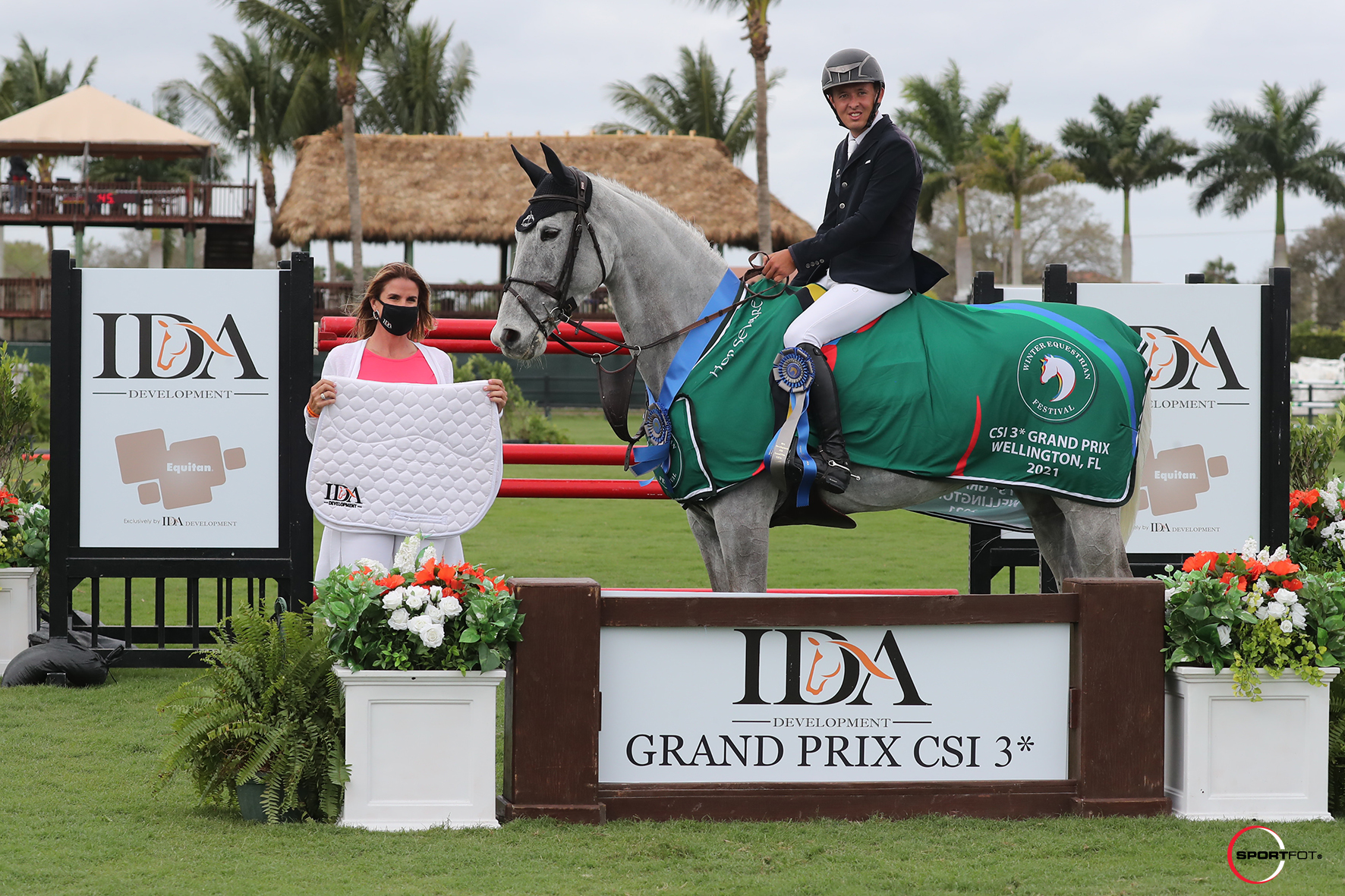 "It has been a bit of a process trying to get him going the way I would like him to," said the 30-year-old rider. "He has a ton of energy and so much blood, and sometimes he tends to rush the jumps a bit. We've been messing around with bridles and doing a lot of flatwork just to try to get him to switch a few gears, and I was so pleased with him today. He jumped the first round spectacularly and came back to jump the jump-off even better. I thought we had it won, but this guy [Bertram] is pretty darn fast. We are so happy with the result and just very pleased with how he's coming along."
Rounding out the top three it was Paul O'Shea (IRL) and Skara Glen's Chancelloress, owned by Skara Glen Stables, leaving all the jumps in their cups in a time of 38.35 seconds. O'Shea and the 12-year-old Dutch Warmblood mare by Chacco Blue x Balou du Rouet had a successful week overall, after also finishing third in Friday's qualifier.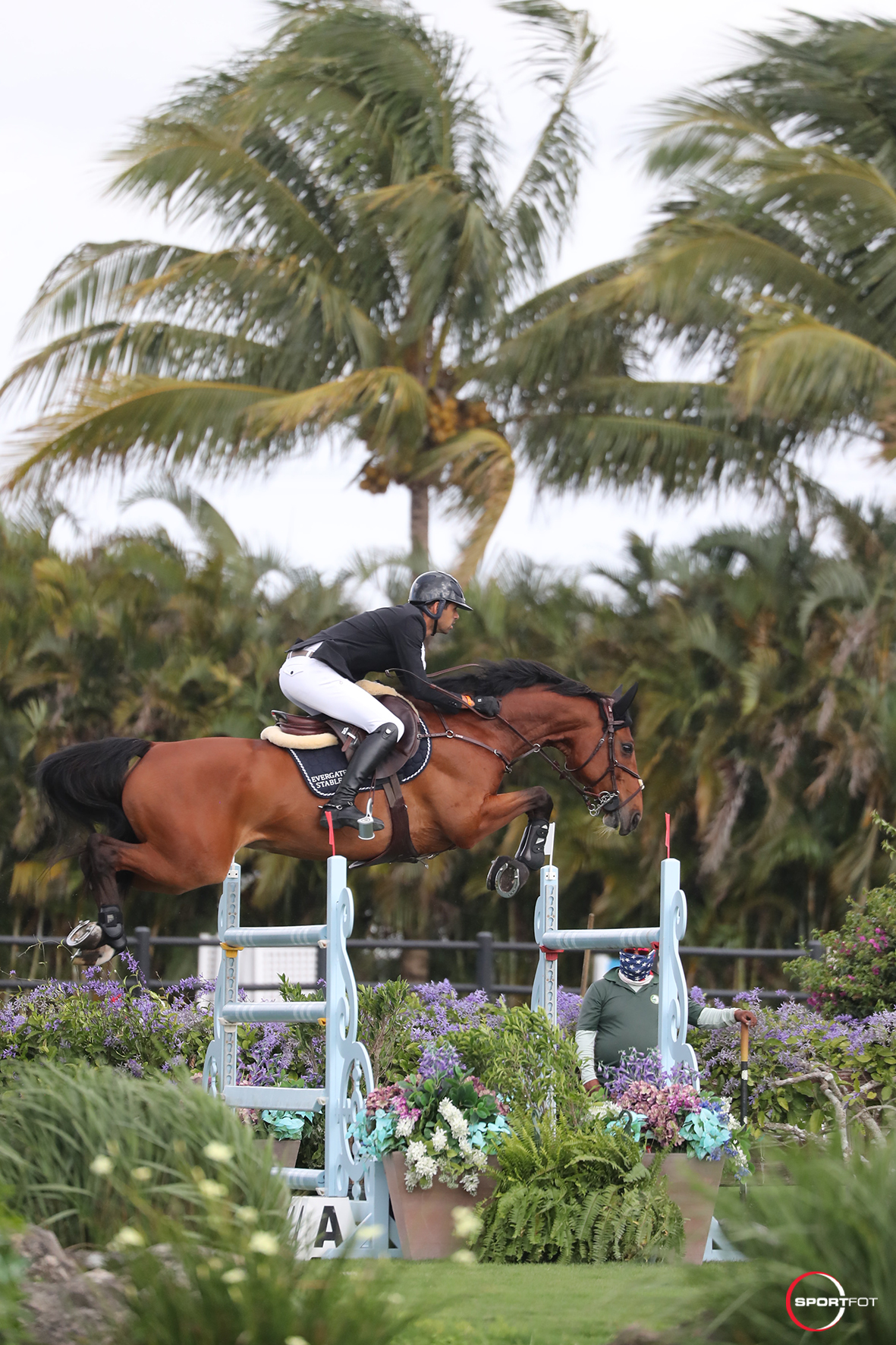 "I thought it was a great course," said O'Shea, who is ranked 40th in the world. "I was very happy with my mare. She was good the other day too, so I think we went as quick as we could. I'm very happy with her, and at least another Irishman won! Bertram's horse is co-owned by a very good friend of mine, so it's great to see them going so well."
Allen, who sits 46th in the world rankings, echoed the praise of other international competitors of the quality of the turf, after racking up three wins to date with Castlefield Vegas on the grass Derby Field during the 2021 WEF.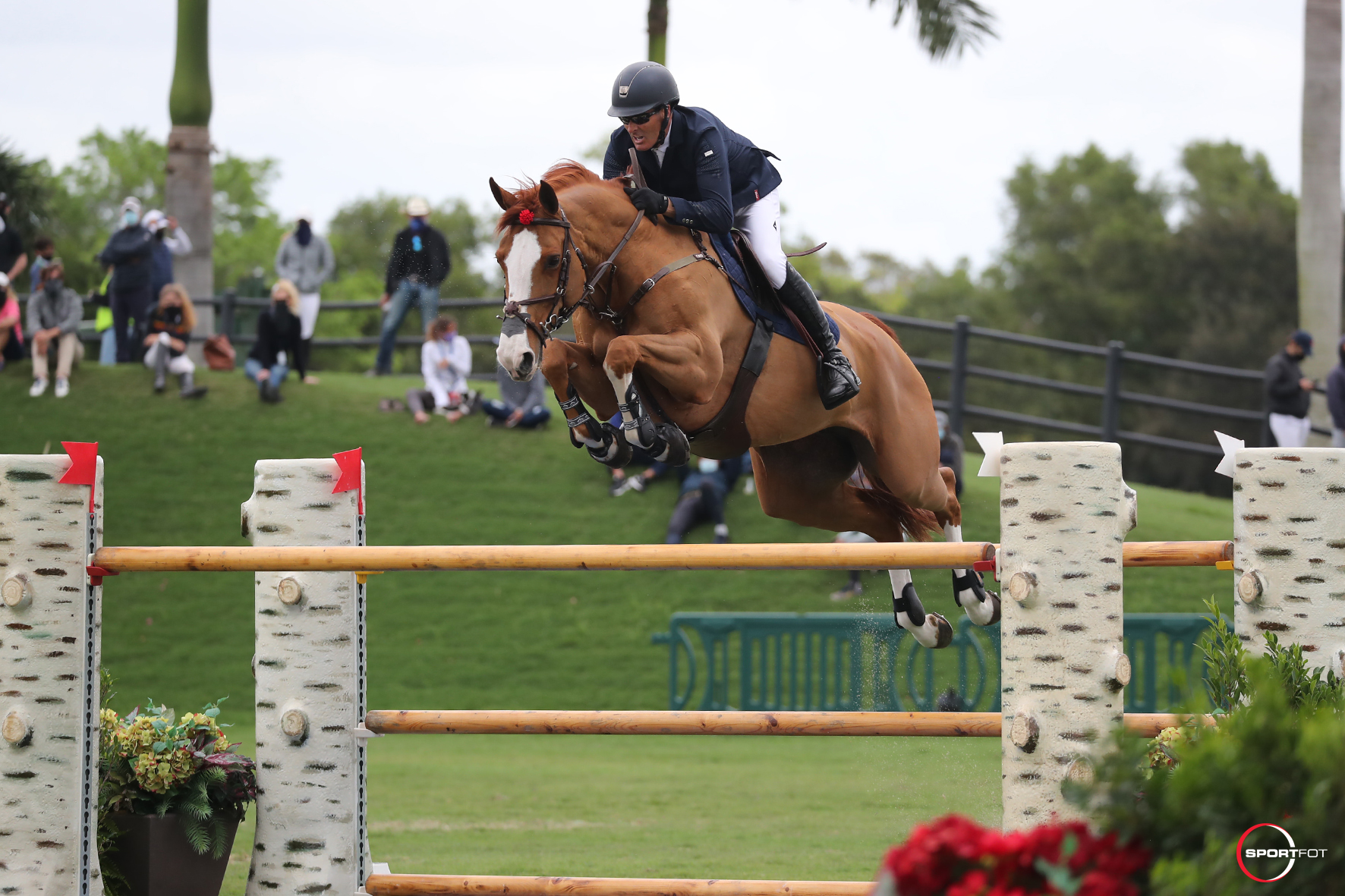 "Everyone is delighted to be able to jump on the grass," he said with a smile. "There is so much space and everyone loves jumping out here, so it's nice."
Final Results: $137,000 IDA Development Grand Prix CSI3*
1. CASTLEFIELD VEGAS: 2010 ISH gelding by Cassino x Lux Z
BERTRAM ALLEN (IRL), Martin Egan: 0/0/37.10
2. IGOR VAN DE WITTEMOERE: 2008 Belgian Warmblood gelding by Cooper VD Heffinck x Orlando 96
NAYEL NASSAR (EGY), Evergate Stables, LLC: 0/0/37.39
3. SKARA GLEN'S CHANCELLORESS: 2009 KWPN mare by Chacco Blue x Balou du Rouet
PAUL O'SHEA (IRL), Skara Glen Stables: 0/0/38.35
4. LEGACY: 2010 Zangersheide mare by Chippendale Z x Bon Ami
DANIEL COYLE (IRL), Ariel Grange: 0/0/38.45
5. URHELIA LUTTERBACH: 2008 Selle Français mare by Helios De La Cour Ii x Emilion
DARRAGH KENNY (IRL), Kerry McCahill: 0/0/38.70
6. CHIC HIN D HYRENCOURT: 2008 SBS gelding by Taran de la Pomme x Elanville
BEEZIE MADDEN (USA), Abigail Wexner: 0/0/40.33
7. FREAKY LIEFHEBBER: 2010 Dutch Warmblood by Darco x Litho x
JACQUELINE STEFFENS (CAN) Jacqueline Steffens: 0/0/40.72
8. QU ALFONS SANTO ANTONIO: 2007 ESH gelding by Aromats x False Pass
YURI MANSUR (BRA), Yuri Mansur: 0/0/41.51
9. SKYHORSE: 2007 Belgian Warmblood gelding by Calvaro x Quidam de Revel
LILLIE KEENAN (USA), Chansonette Farm LLC: 0/0/42.70
10. H5 JUST THE MUSIC: 2009 BWP gelding by Tornedo FCS x Quidam de Revel
CARLOS HANK GUERREIRO (MEX), H5 Stables: 0/0/43.06
11. GK COCO CHANEL: 2008 Holsteiner gelding by Clarimo x Lerano 2
CONOR SWAIL (IRL), Vanessa Mannix: 0/4/38.32
12. JEFF TEN HALVEN: 2009 BWP gelding by Toulon x Cassis Z
MICHAEL DUFFY (IRL), HMF Equestrian: 0/4/39.39