By Kate Pettersen, Kimberlyn Beaudoin, and Sabrina Brashares for Jennifer Wood Media, Inc.
The final day of World Champion Hunter Rider (WCHR) week at the 2021 Winter Equestrian Festival invited top amateur and junior hunter riders into the International Arena at PBIEC. Meghan Knapic and Better In Blue claimed the top prize in the $5,000 Peggy Cone Memorial WCHR Adult Hunter Classic to end their week on a high note. Both Rylynn Conway aboard Perseus YC and Caroline Tinsley on Kingsland Bay took home blue ribbons in the $5,000 WCHR Junior Hunter 3'3" Classic.
Sixty-four horse-and-rider combinations took to the track in the morning's $5,000 Peggy Cone Memorial WCHR Adult Hunter Classic. Ultimately, young amateur Meghan Knapic piloted Better in Blue to the top position with an overall score of 174 points.
Knapic, of Smithtown, NY, teamed up with the 11-year-old Hanoverian gelding for the first time on Friday morning, and the pair had a successful weekend in the Adult Amateur Hunter Younger division before securing the win in the classic. Despite being an unfamiliar pair, she and the First Blue LLC- owned entry held the lead in both the first round and the handy phase with scores of 86 and 88 points.
"The past several days have been the first experience I have had riding this horse," she explained. "I wasn't even supposed to come down this weekend, but one of our meets at school was cancelled, so I called my trainer [Jenna Weinfurt] and just asked if she had something I could lease for the weekend. It was all very last minute, and I was hoping just to have some good rounds but definitely did not expect this!"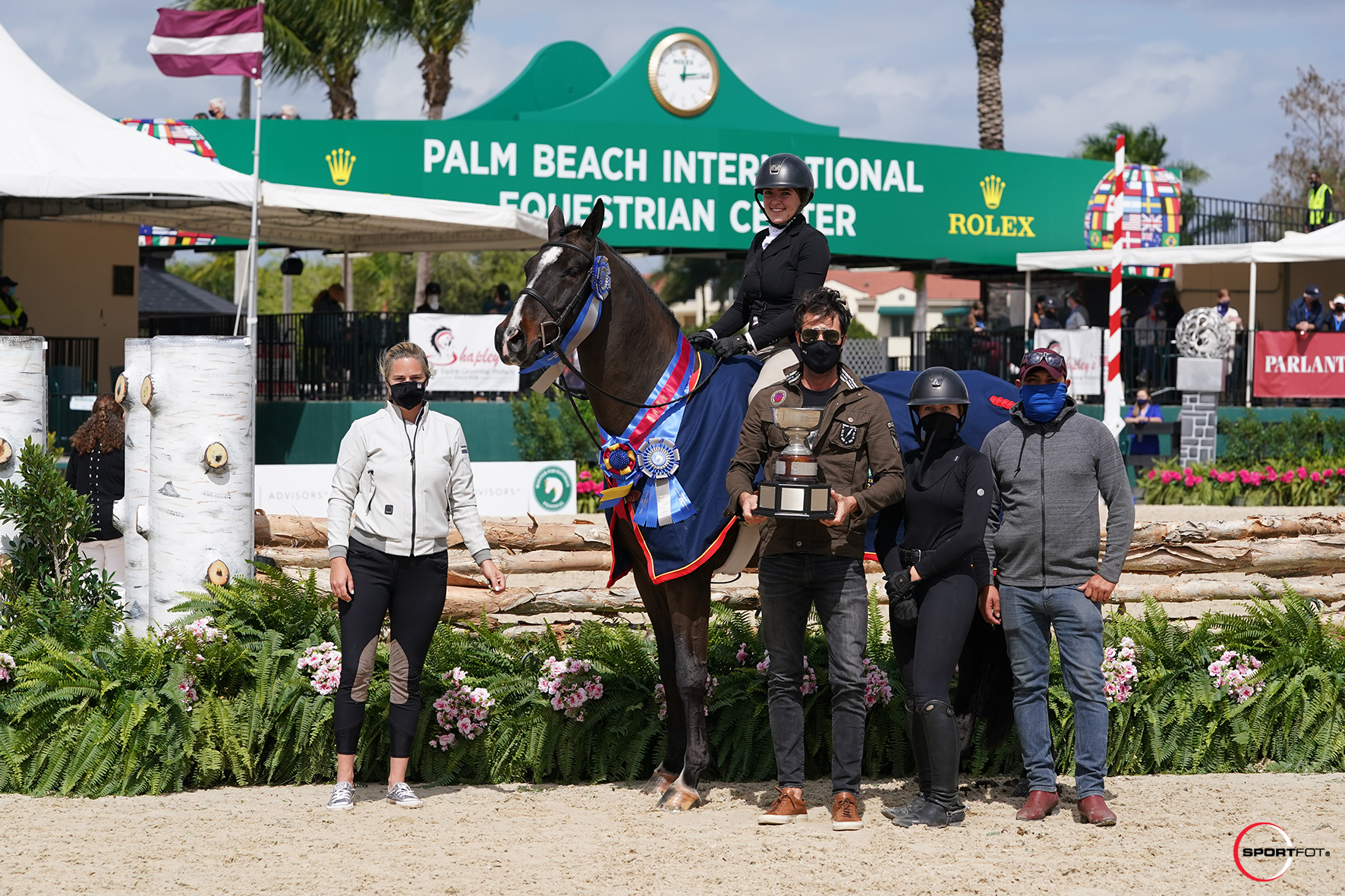 Knapic attributes some of her success with a new mount to the fact that she is currently part of the Auburn University equestrian team where she is often tasked with riding unfamiliar horses.
"When I have shows with our team, I am almost always on a horse I haven't previously ridden and only get to have four practice jumps to figure it out," she said. "Because of that I feel like I am pretty comfortable with riding many different types of horses, and I just treated this weekend the same way I would a show with my team."
Knapic was not the only one in a new setting as she added that Better in Blue has never previously shown in the United States.
"This was the first time he has ever seen any of these rings or even shown on U.S. soil because he was only imported a couple months ago," she detailed. "He is a total professional, and he is so nice that I think anyone could get on and go win with him."
Jeanine Cash of Winthrop, MA, earned the second place title with Savannah Sugar's Boccaccio on a total score of 168.75 points, while California resident Samantha Sommers picked up third with Iwasaki & Reilly's Seaside.
The final hunter class to go in the International Arena WCHR week was the $5,000 WCHR Junior Hunter 3'3" Classic which was held in a California split format and awarded two winners. Sixty-seven competitive junior riders competed over the first track and the top 24 were called back for a second round. In the end, Rylynn Conway piloted Perseus YC to the Section A championship and Caroline Tinsley and Kingsland Bay took top honors in Section B.
Conway, of Fair Haven, NJ, continued her winning streak this week when she rode Mountain King Ranch LLC's Perseus YC to a first round score of 83 followed by a second round high score of 87, for an overall score of 170.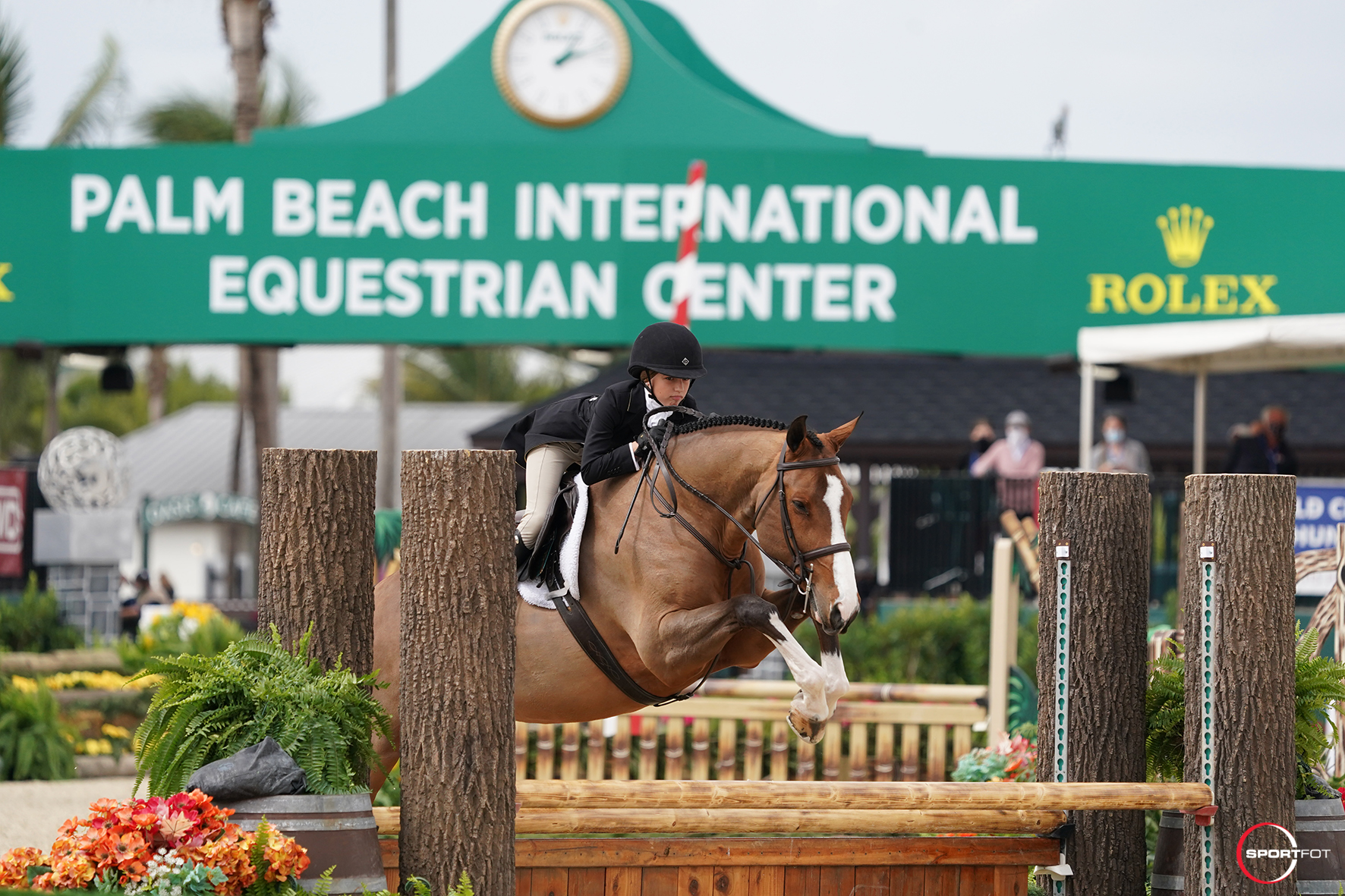 "I thought my first round was really good, and he felt perfect throughout the whole course," explained Conway. "He really kept a consistent pace the whole way around. My plan for the second round was to get a forward canter right away, and all the jumps came up really well."
Conway and the 12-year-old Hanoverian gelding by Paparazzo are no strangers to the winner's circle and were also champion in the Junior Hunter 3'3" 15 and Under division on Friday.
"I feel amazing, especially because this is my first time at WEF," said Conway. "My horse was great, and I'm excited for the rest of the season with him."
Tinsley, of Sudbury, MA, and Mary Le Blanc's Kingsland Bay were crowned Section B winners with a first round score of 82 and a second round score of 86, for an overall score of 168. Although Tinsley and the 10-year-old Oldenburg gelding are a new partnership, they are off to a very successful start.
"I only showed him once before this week," commented Tinsley. "His owner, Mary, was really generous to let me ride him, and he was great all week and super consistent. He jumped so well today and held it together despite the rain and time of day.
"Since the second round was so much later and it started to rain, I just wanted to keep it smooth and keep him relaxed," continued Tinsley. "Although he carried me a little bit more the second round, I thought it was still nice. I was able to stay consistent, keep the jumps slow, and get him to jump nice in the air."
Second place honors in Section A went to Mia Chimenti, of Far Hills, NJ, aboard Chase Hollow Equestrian Parners, LLC's Balito with an overall score of 167.5. Third place for Section A was awarded to Erica Felder, of Durham, NC, and West Hill's Resonate after they earned a total score of 158.5. Barrington Hills, IL, resident Elianna Kirson guided Ashland Farm's Candor to a second place finish in Section B with a total score of 160. Section B third place was Riley Hogan, of Warrenton, VA, and Asta Torokvei's Hendrik with an overall score of 157.5.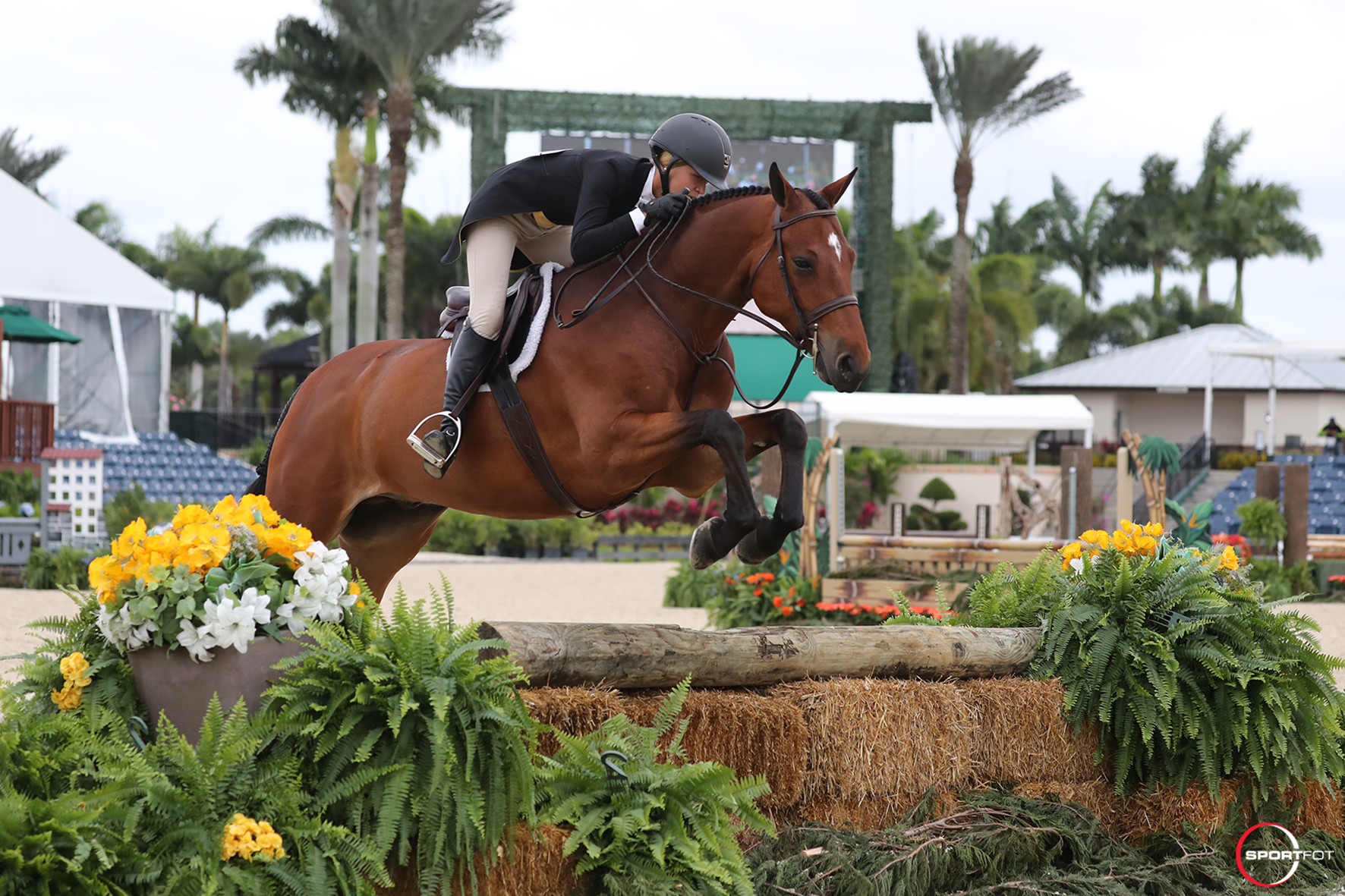 Several other hunter classics offering prize money took place on Sunday, including the $2,500 NAL Florida Children's Hunter 14 and Under Classic and the $2,500 NAL Florida Children's Hunter 15-17. Pony riders were also offered classic rounds with the $2,500 Florida Large Pony Hunter Classic, the $2,500 Florida Medium Pony Hunter Classic, the $2,500 Florida Small Pony Hunter Classic, the $2,500 Florida Large Children's Pony Hunter Classic, and the $2,500 Florida Small/Medium Children's Pony Hunter Classic.
Those winners include:
Horse, Rider
Round 1 Score, Round 2 Score, Overall Score
$2,500 NAL Florida Children's Hunter 14 and Under Classic
Emilio, Ava Berman
86.5, 84.5, 171
$2,500 NAL Florida Children's Hunter 15-17
Cayento Z, Grace Rahaim
85, 83, 168
$2,500 Florida Large Pony Hunter Classic
Eastside, Lauren Gee
82, 82, 164
$2,500 Florida Medium Pony Hunter Classic
On Your Mark, Olivia Sweetnam
85, 88, 173
$2,500 Florida Small Pony Hunter Classic
Armani, Olivia Sweetnam
88, 84.5, 172.5
$2,500 Florida Large Children's Pony Hunter Classic
Prestige, Ava Barnes
87, 86, 173
$2,500 Florida Small/Medium Children's Pony Hunter Classic
Wildwynn Sinatra, Terri Gunderman
85.5, 82, 167.5