By Kate Pettersen, Kimberlyn Beaudoin, and Sabrina Brashares for Jennifer Wood Media, Inc.
It was Sam Walker (CAN) and Marbill Hill Farm's Coralissa who jumped to the top of the leaderboard after 63 horse-and-rider combinations took to the Derby Field in the $25,000 Hermès Under 25 Grand Prix on Sunday afternoon, with nine pairs returning to the jump-off round set by designer Catsy Cruz (MEX).
Walker and the 2010 Holsteiner mare by Com Air were one of two combinations to put in two fault-free rounds, finishing the short course in 43.89 seconds. "This past year with the pandemic, I pretty much took a full year off from competition," said Walker. "To come back out here and do so well today, to feel her still in her prime, it really means a lot to me."
Walker stuck to his plan from start to finish and was thrilled with the pay-off. "My first round went according to plan," he explained. "Every line I had walked in in the course walk and observed when watching the rest of the class, I stuck to the plan all the way around. My horse was really good today and jumped fantastically. The first round set us up very nicely for the jump-off. Going into the jump-off, my horse is super-fast but has a shorter step, and I took that into account. I stuck to my plan and just went for it."
Walker and the mare have a lengthy partnership, and their resume includes the 2019 team gold and individual silver medals at the Adequan®/FEI North American Youth Championships. "I've had this mare since she was seven years old," he said. "We've had a really great, successful partnership thus far. She has had multiple FEI wins so far. She's a special horse, and I'm thrilled with the day's outcome."
Walker concluded with thoughts about the U25 Series and his hopes for its future. "It's fantastic having a series like this for the U25 riders to compete in," noted the 18-year-old rider. "It's a crucial step in bringing junior riders up the ranks and also a great opportunity for riders who maybe didn't get the chance to jump in the juniors or go to young riders. It's a great alternative for that. As far as the competitiveness, it's an extremely competitive division, and I think that we will only see numbers grow in the years to come because it's also a lot of fun."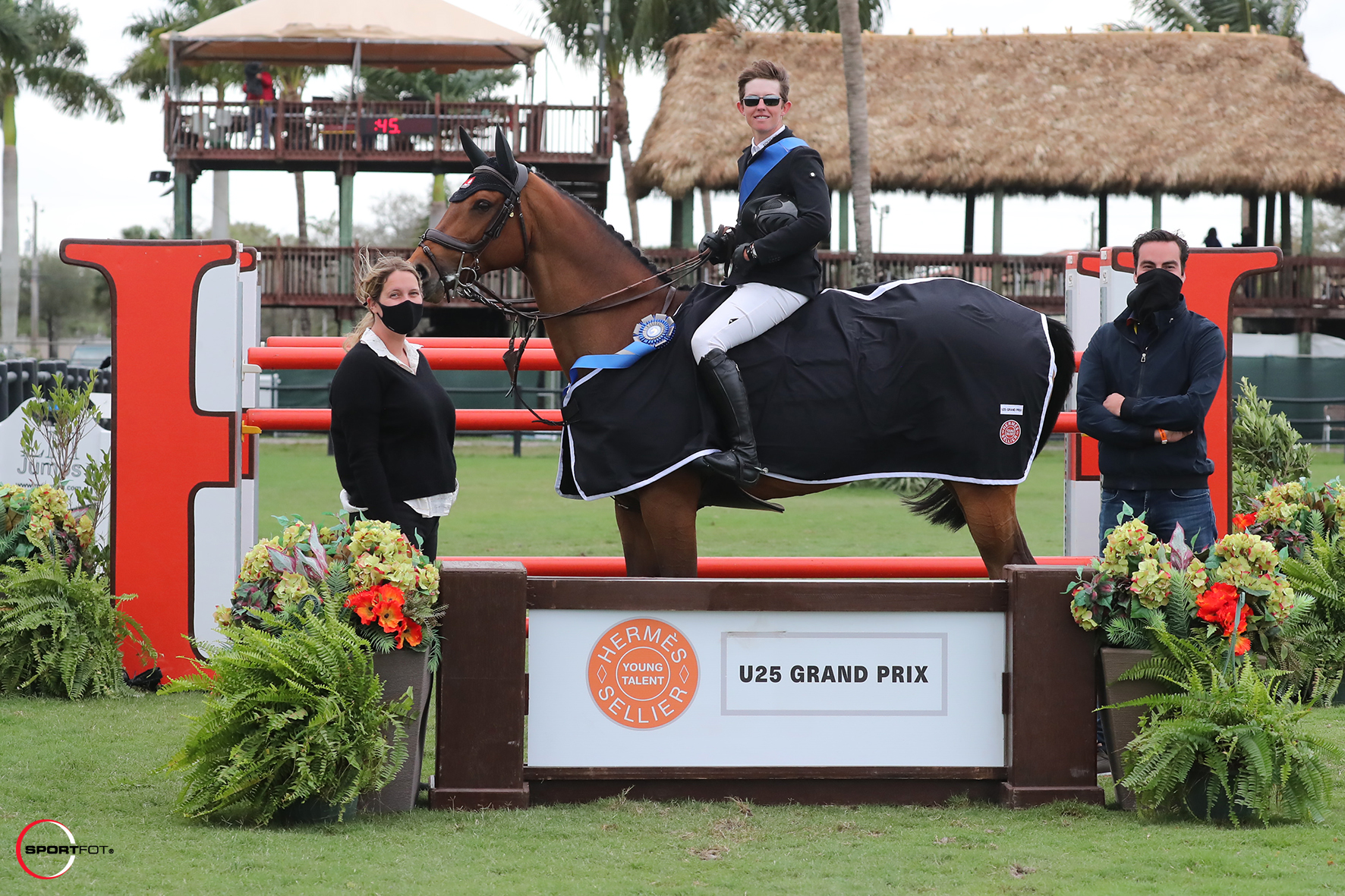 Second place in the $25,000 Hermès U25 Grand Prix went to Violet Lindemann Barnett (USA) and Lindemann Barnett Sporthorses' 2010 Selle Français mare by Allegreto, Alanine de Vains, who made it through the jump-off timers in 46.85 seconds. Third place went to Ashley Vogel (USA) and her own Bellissimo Z, a 2009 Zangersheide mare by Bamako de Muze, who ended on four faults and in 42.58 seconds.
Final Results: $25,000 Hermès Under 25 Grand Prix
1. CORALISSA: 2010 Holsteiner mare by Com Air x O-Coralissa
SAM WALKER (CAN), Marbill Hill Farm: 0/0/43.89
2. ALANINE DE VAINS: 2010 Sel Francais mare by Allegreto x Mutine de Vains
VIOLET LINDEMANN BARNETT (USA), Lindemann Barnett Sporthorses:0/0/46.85
3. BELLISSIMO Z: 2009 Zangersheide mare by Bamako de Muze x C'est Elle Z
ASHLEY VOGEL (USA), Ashley Vogel: 0/4/42.58
4. CELINA BH: 2010 Holsteiner mare by Canstakko x K-Carrera
MIMI GOCHMAN (USA), Gochman Sporthorses, LLC: 0/4/42.68
5. EMORKUS RE: 2009 KWPN gelding by Quasimodo VD Molendreey x Worka R
RANSOME ROMBAUER (USA), Ransome Rombauer: 0/4/43.53
6. BOHEME DE LA ROQUE: 2011 Sel Francais mare by Kannan x Medine D'Amaury
GRACE DEBNEY (GBR), Temple Equestrian, LLC: 0/8/41.05
7. VALMONT DE VIZY: 2009 Sel Francais gelding by Zandor x Lliona de Vizy
KELLY ARANI (USA), Marigot Bay Farm, LLC: 0/8/46.46
8. DELIA B: 2008 KWPN mare by Cantos x Omelia H
DOMINIC GIBBS (USA), Mountain King Ranch, LLC: 0/8/56.12
9. FANTAST VAN HET VINCKENHOF: 2010 KWPN gelding by Cicero Z Van Paemel x Temilione
KRISTEN BERIAN (USA), Coral C Stables, LLC: 0/4/46.38
10. J'ADORE FLAMENCO: 2012 Sel Francais gelding by Je T'aime Flamenco x Conafino Z
MARIA BRUGAL (DOM), Maria Brugal: 1/80.28
11. FAIR PLAY: 2012 Westphalian mare by For Pleasure x Concetta
DELANEY FLYNN (USA), Maarten Huygens: 1/81.60
12. ELEGANCE DE PESSEL: 2009 KWPN mare by Diarado x Oludine S
SKYLER FIELDS (USA), Skyler Fields: 1/82.48