By Kate Pettersen, Kimberlyn Beaudoin, and Sabrina Brashares for Jennifer Wood Media, Inc.
Competition concluded on the Derby Field at PBIEC on Sunday, February 21, after Ireland's Paul O'Shea claimed victory in the $25,000 CP National Grand Prix aboard Eye Candy Jumpers' Squirt Gun.
With 35 riders testing the first track, the jump-off only welcomed back two combinations to navigate the day's final course. O'Shea and the 2011 Oldenburg gelding by Diarado ended the afternoon as the only pair to go double clear in a time of 39.526 seconds. "The time was tight in the first round," explained O'Shea, "and the faster you go, the more likely you are to make a mistake which is why there weren't so many clear today. Squirt Gun is very experienced and he's a naturally quick horse, the same as Juan's mare, so that was their natural advantage, but it was certainly a tough, competitive track."
He continued, "When we got to the jump-off, the plan was to go a little quick, to the point where if we did have a small mistake, we could still catch up to Juan without taking too much of a risk. I was lucky that I got to watch Juan go first, and my plan was to take the inside turn and be able to catch up."
O'Shea also noted the gelding's cheeky character and his fondness for the grass field, on which he won a grand prix over the summer as well. He said, "Squirt Gun is a real character. As I was going into the ring he actually decided he didn't really want to go in, and he ran over all of the farrier's equipment. He really has a mind of his own. Overall, he's a pleasure to ride, so powerful and brave, and wants to do the right thing. We won a grand prix here on the field in the summer, and so he has proven that he really enjoys the field, too."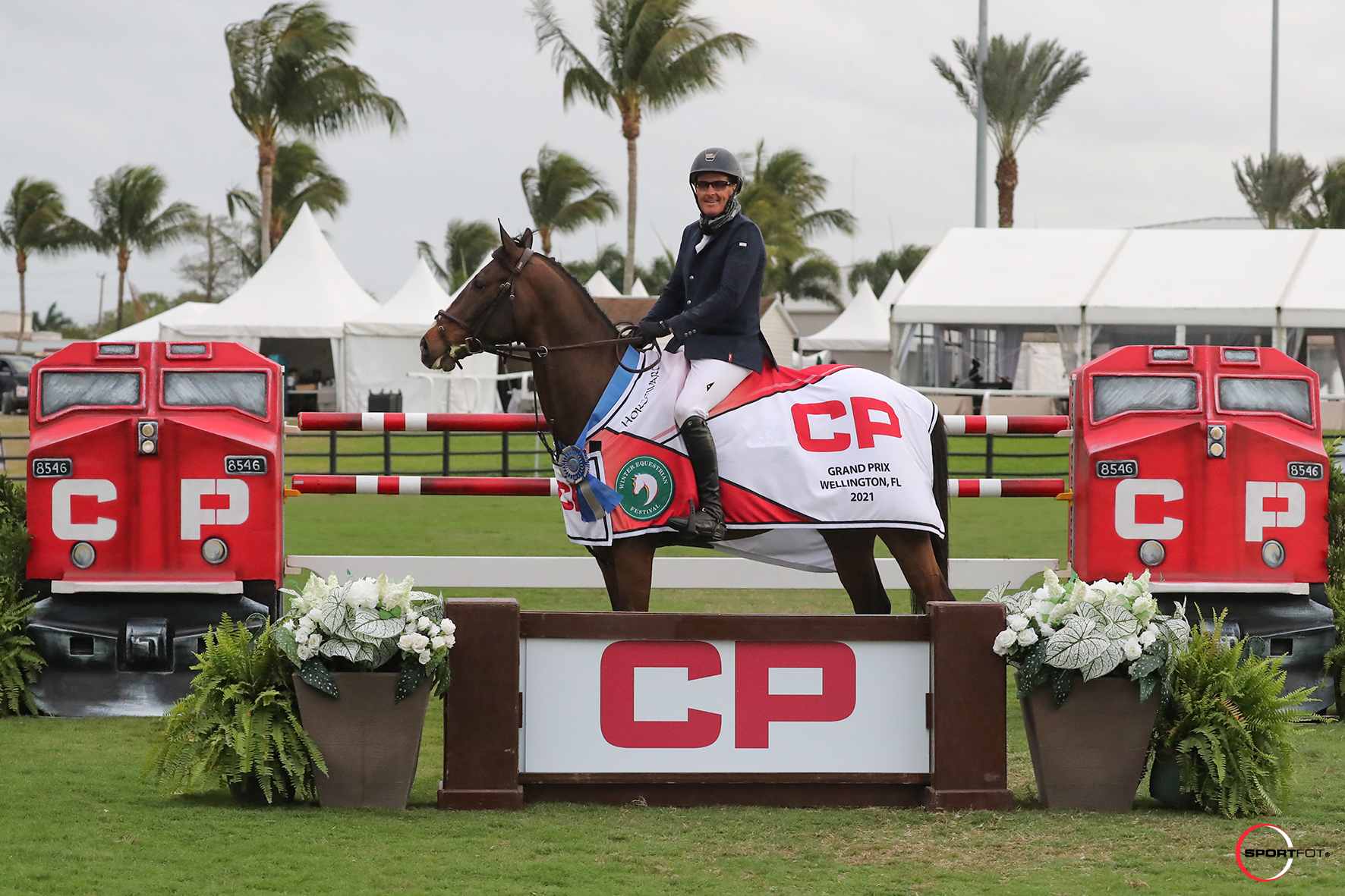 Second place in the $25,000 CP National Grand Prix went to Juan Manuel Gallego (COL) and Havana de la Lande, a 2007 Belgian Warmblood mare by Nabab de Reve owned by Elise Uribe, who crossed through timers in 38.484 seconds, but with four faults. Third place was awarded to the USA's Alex Matz riding Flash, a 2010 KWPN gelding by Numero Uno owned by 5 Star Partners, who ended their day in the first round with four faults in 82.777 seconds.
Final Results: $25,000 CP National Grand Prix
1. SQUIRT GUN: 2011 Oldenburg gelding by Diarado x Sarastra Star
PAUL O'SHEA (IRL), Eye Candy Jumpers: 0/0/39.526
2. HAVANA DE LA LANDE: 2007 Belgian Warmblood mare by Nabab de Reve x Di Luvva de la Lande
JUAN MANUEL GALLEGO (COL), Elisa Uribe: 0/4/38.484
3. FLASH: 2010 KWPN gelding by Numero Uno x Adri-Sinal
ALEX MATZ (USA), 5 Star Partners: 4/82.777
4. GELVERA: 2011 KWPN mare by Quality Time x Wunderful Vera
NICHOLAS DELLO JOIO (USA), Hi Hopes Farm, LLC: 4/84.728
5. COLLIN: 2007 KWPN Gelding by Colandro x Oberlina
LUIZ FRANCISCO DE AZEVEDO (BRA), Santa Cecilia Stables: 5/86.378
6. COCO CHANEL M: 2012 Rheinlander mare by Cristallo II x Pepper Ann
RYAN GENN (USA), James Lovett: 5/86.523
7. CANCUN: 2012 Oldenburg gelding by Chacco Blue x Granitura
PEDRO ANDRES GIL (COL), Pedro Andres Gil: 5/90.477
8. BLIXTEN: 2008 Warmblood gelding by Mezcaleno x Juliet
GIGI MOYNIHAN (USA), Christy Johnson: 6/87.467
9. CHUCK 27: 2007 Hanoverian gelding by Cassus x Ravenna
HILARY MCNERNEY (USA), Hilary McNerney: 6/87.637
10. CAT NINJA: 2008 KWPN mare by Zirocco Blue x Wyrusa H
JACQUELINE STEFFENS (CAN), Eye Candy Jumpers: 6/87.788
11. FOREVER BLUE: 2010 KWPN mare by Unknown x Unknown
SIMON ARANGO ARANGO (COL), Simon Arango Arango: 7/88.552
12. DIARADO'S FLYING DUTCHMAN: 2010 Oldenburg gelding by Diarado x Elfenland
LAURA CHAPOT (USA), Laura and Mary Chapot: 9/ 86.241