BY Kate Pettersen and Sabrina Brashares for Jennifer Wood Media, Inc.
Wellington, FL – February 25, 2021 – Daniel Deusser (GER) continued his winning ways at the Winter Equestrian Festival (WEF), this time aboard Scuderia 1918 Tobago Z, owned by Stephex and Scuderia 1918, taking top spot in the $73,000 Adequan® WEF Challenge Cup Round 7 held in the International Arena on Thursday, February 25, at the Palm Beach International Equestrian Center (PBIEC).
Week 7 of WEF runs from February 24-28 and features exciting CSI5* competition sponsored by Lugano Diamonds, along with a concurrent CSI2*. Friday's schedule is highlighted by the $37,000 Bainbridge Companies 1.45m Classic CSI5* and $37,000 Griffis Residential 1.45m Qualifier CSI2*. Saturday night all eyes will be on the $401,000 Lugano Diamonds Grand Prix CSI5* as part of "Saturday Night Lights," followed by the $73,000 CaptiveOne Advisors 1.50m Classic CSI5* and $50,000 Griffis Residential Grand Prix CSI2* taking place on Sunday.
Hunter competition features the $10,000 USHJA National Hunter Derby taking place on the grass Derby Field at Equestrian Village on Friday, February 26, with the professional section presented by Restylane and a junior/amateur section. Spectators can watch feature classes live and on demand for free using the livestream.
Deusser, who already has already picked up three wins during the 2021 WEF winter circuit including the CSI4* grand prix during WEF 4, piloted his veteran partner Scuderia 1918 Tobago Z, a 13-year-old Zangersheide stallion by Tangelo Vd Zuuthoeve x Mr Blue, to a double-clear finish. The pair executed the track with precision, leaving out a stride for an efficient turn between fences one and two, as well as one less stride down to the delicate Lugano Diamonds double combination, which proved to be a difficult test in the jump-off round. Deusser and 'Tobi,' who arrived in Wellington less than a week ago, stopped the clock in 39.15 seconds to take the victory by a margin of nearly one second.
"We have been a team for many, many years," said Deusser. "There is a reason why he's been my number one horse. I know him well, and he knows exactly what to do in the ring. On Sunday, I jumped a couple of jumps because he hasn't shown in two months and I thought he might be a little rusty and stiff. I started yesterday in the 1.40m competition just to see how he was in the ring but even yesterday, straight away, it was a different feeling. He knows that it counts in the ring. That's why I entered him today, and you couldn't really see that he'd had a two-month break. In the end, he shows he's a bit cleverer than most of the other horses I ride."
Brazil's Eduardo Menezes captured second place with H5 Elvaro for H5 Sport Horses, LLC. Menezes and the 12-year-old Dutch Warmblood stallion by Calvaro F.C. x Heartbreaker, set the pace for the class as the first to return for the second round, jumping double clear in 40.12 seconds.
Wednesday's 1.45m CSI5* winner McLain Ward (USA) jumped his Longines FEI Jumping World Cup™ Final winning partner HH Azur, owned by Double H Farm and Francois Mathy, to a third-place finish. Ward and the 15-year-old Belgian Sport Horse mare by Thunder van de Zuuthoeve x Sir Lui put forth a double-clear effort in 40.58 seconds.
Deusser, who sits third in the world rankings, continues to produce clear rounds each week at WEF. The latest member of his string of horses to join him in Wellington is one he's found a great deal of success with including a third-place finish with the German team at FEI Nations Cup™ Final in Barcelona and a fourth-place finish at the FEI World Cup Final™ in 2019.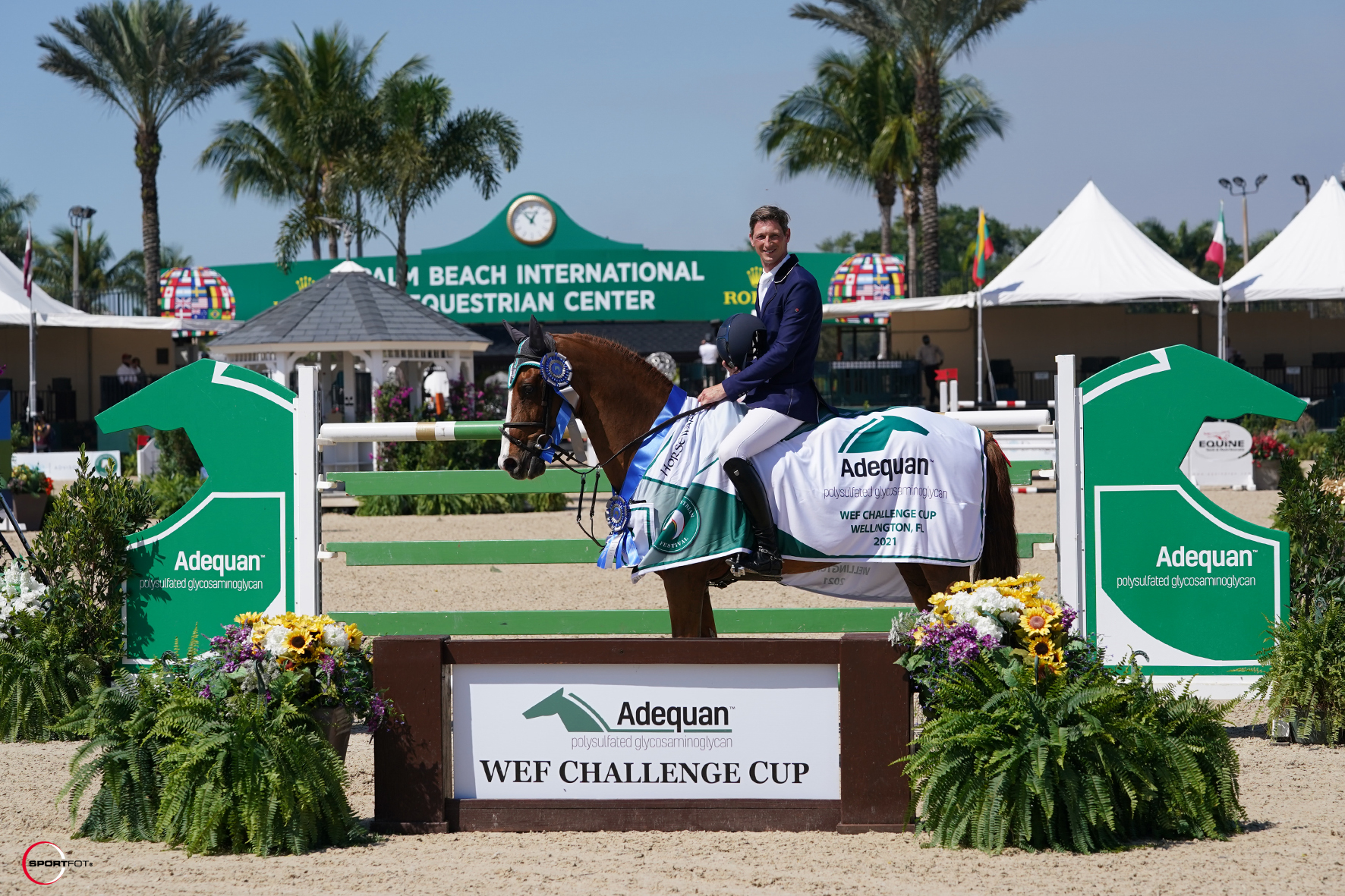 "If you watch me a little bit in the warmup, he [Scuderia 1918 Tobago Z] looks like he's really quiet," said Deusser of the talented stallion. "He looks like he doesn't have much blood and doesn't want to run that much in the ring, but I think that's just one of his strengths. He saves his energy for the exact moment he needs it, and I think we've figured that out over the last couple of years. It counts the 60 seconds in the ring, not the 10 minutes in the warmup."
Thursday's victory ensures Deusser will have a spot to jump on Saturday night in the $401,000 Lugano Diamonds Grand Prix CSI5* and while the pair looked to be in top form during their return to international competition, the 40-year-old rider has elected to give his top horse a bit of extra rest and let a developing talent give it another shot.
"We always want to win," he said. "We go into the ring to jump clear rounds and to win at the end, but sometimes you have to prepare the horses a little bit, which means you have to pick your classes. To go fast every time is almost impossible with the horses. My plan this week was to jump Tobago yesterday and today, and I'll ride Killer Queen VDM in the grand prix. She was a little bit nervous under the lights two weeks ago so I thought I would jump her in a few smaller classes just to help relax her a little bit and then she'll jump on Saturday night."
To open the day, Enrique Gonzalez (MEX) and Filemon, an 11-year-old Dutch Warmblood gelding owned by E2 Stables, bested a field of 31 entries to finish first in the $6,000 Griffis Residential 1.45m CSI2*.
Final Results: $73,000 Adequan® WEF Challenge Cup Round 7
1. SCUDERIA 1918 TOBAGO Z: 2008 Zangersheide stallion by Tangelo Vd Zuuthoeve x Mr Blue
DANIEL DEUSSER (GER), Stephex and Scuderia 1918: 0/0/39.15
2. H5 ELVARO: 2009 KWPN stallion by Calvaro F.C. x Heartbreaker
EDUARDO MENEZES (BRA), H5 Sport Horses LLC: 0/0/40.12
3. HH AZUR: 2006 Belgian Sport Horse mare by Thunder van de Zuuthoeve x Sir Lui
MCLAIN WARD (USA), Double H Farm & Francois Mathy: 0/0/40.58
4. CORNETTO K: 2006 Hanoverian gelding by Cornet Obolensky x Calido
ALEXANDRA THORNTON (GBR), Dunwalke, LLC: 0/0/45.87
5. MONACO: 2009 Holsteiner gelding by Cassini II x Ulla II
HARRIE SMOLDERS (NED), Evergate Stables, LLC: 0/4/39.82
6. BULL RUN'S PRINCE OF PEACE: 2009 Holsteiner gelding by Cardenio x Contender
KRISTEN VANDERVEEN (USA), Bull Run Jumpers Six LLC: 0/4/40.05
7. VDL CARTELLO: 2007 Holsteiner stallion by Carani x Lord
LORCAN GALLAGHER (IRL), Heathman Farm, LLC: 0/4/40.80
8. GIARDO: 2011 KWPN gelding by Indoctro x Jimtown
LAUREN HOUGH (USA), Harris Equestrian, LLC: 0/4/40.97
9. ROBIN DE PONTHUAL: 2005 Selle Francais gelding by Elf D'or x Calypso D'Herbiers*Ecolit
SCHUYLER RILEY (USA), Katherine Gallagher: 0/4/43.10
10. GARANT: 2011 KWPN gelding by Warrant x C'est La Vie
ELIZABETH MADDEN (USA), Abigail Wexner: 0/4/49.63
11. HESTER: 2005 Belgian Warmblood gelding (Wandor van de Mispelaere x Palestro vd Begijnakker)
LUCY DESLAURIERS (USA), Lisa Deslauriers: 0/WD
11. BARDOLINA 2: 2009 Holsteiner mare by Clarimo x Landos
MARIO DESLAURIERS (CAN), Wishing Well Farm, LLC: 0/WD