Forty entries took to the Stadium for the $15,000 WEC Derby 3′ Non Pro. Christopher Coberley notched another win in the class, this time aboard David Glefke's Undercover (Untouched x Tosca). Coberley and Undercover have earned several ribbons in the $15,000 WEC Derby 3′ Non Pro throughout the World Equestrian Center — Ocala Winter Spectacular 2021 but had yet to secure the win until today. Coberley and the 8-year-old Westphalian gelding navigated a stunning first round, taking all four high options for a score of 90. The pair returned for the handy round, taking a left hand rollback turn to fence 1 and an inside turn to the trot fence for a second score of 88.5. This brought their overall total to 178.5 for a 1st place finish.
Christopher Coberley also earned a top placing aboard Havens Schatt's Actender PS (Action Breaker x Conpila). Coberley and the 8-year-old Oldenburg gelding earned 1st place during Week 5 and 2nd place during Week 3 in the $15,000 WEC Derby 3′ Non Pro and were impressive again today. The pair earned scores of 87.5 and 87 for a total score of 174.5 and 3rd place.
Luke Rinehart and Taylor Johnson's Cavalli also eared a top spot in this afternoon's derby. Rinehart and the 16-year-old Hanoverian gelding took 2nd place in last week's $15,000 WEC Derby 3′ Non Pro and returned this afternoon in hopes of another top placing. The duo earned scores of 86 and 89, totaling 175 for 2nd place.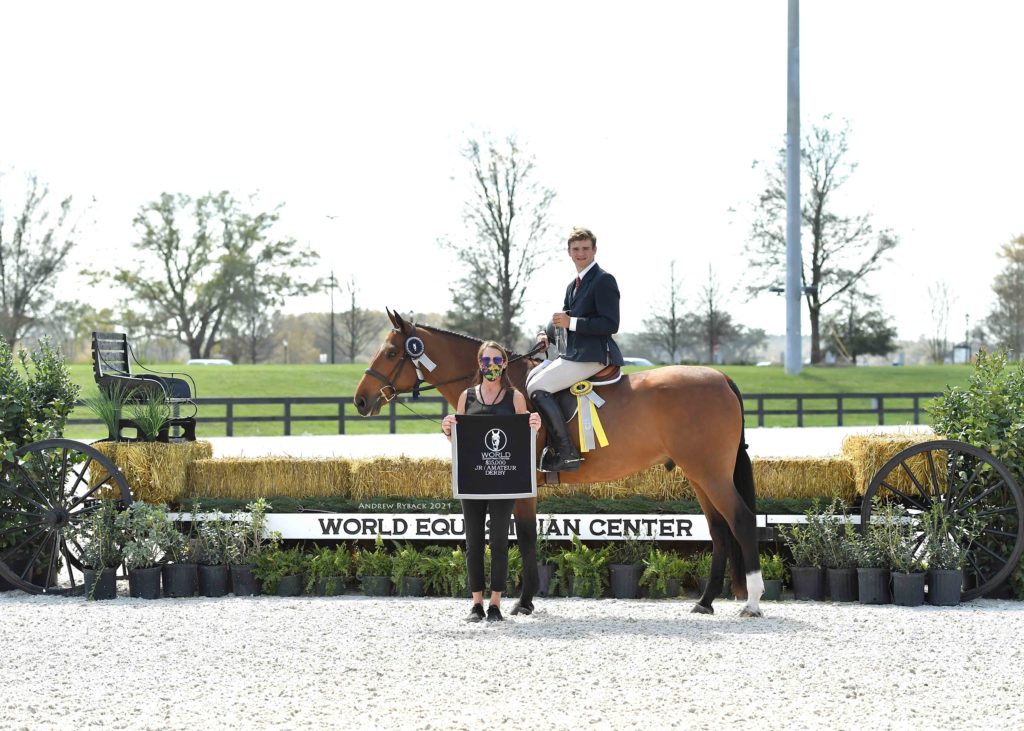 Coberley took a moment to chat about his win aboard Undercover, "I thought he went really well and listened to everything I asked him to do. He definitely showed off today. My plan in the handy was to do the inside turn to the trot fence and the left lead rollback to the first fence. He was great."
Coberley commented on Undercover, "David Glefke owns him and has allowed me to show him. I've shown him in the Junior Hunters this circuit and he has taken Champion or Reserve Champion each week, so he has had a successful winter, so far."
$15,000 WEC Derby 3′ Non Pro Results
Undercover, Christopher Coberley – 90 | 88.5 | 178.5
Cavalli, Luke Rinehart – 86 | 89 | 175
Actender PS, Christopher Coberley – 87.5 | 87 | 174.5
Lost Art, Isabel Harbour – 80.5 | 90 | 170.5
Farcolle, Mckenzie Clayton – 85 | 83.5 | 168.5
Idalgo, Elizabath Phillips – 82 | 86 | 168
Attila, Charlotte Black – 80 | 87 | 167
Quetzel de Razel, Paige Nyren – 81 | 85 | 166
Fitz, Isabel Harbour – 88 | 74 | 162
Condor, Robin Felton – 81.5 | 76 | 157.5
FEATURED AWARDS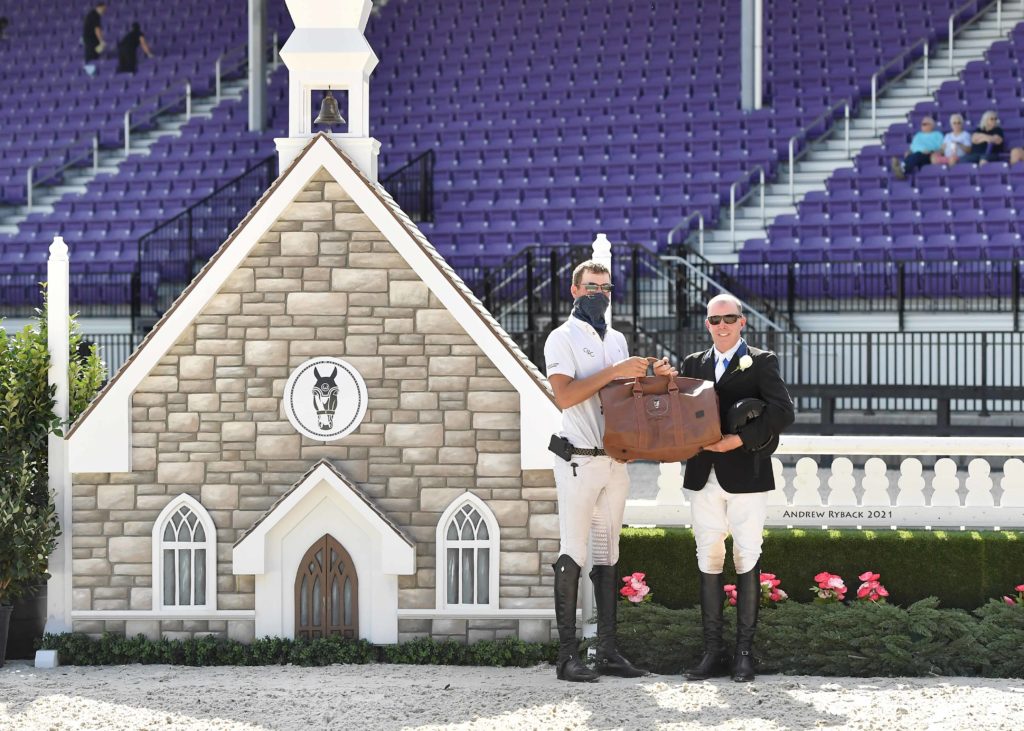 Before the start of the handy round in the $20,000 WEC Hunter Derby 3'6″-3'9″, the prestigious Style of Riding Award was presented to Doug Boyd for his classic style and his sportsmanship. The Style of Riding Award is generously donated by Bill Rube to be awarded to the rider who best displays the American Style of riding in the ring and sportsmanship outside of the competition arena. The recipient serves as a role model for preserving the integrity and tradition of equestrian sport. "This award is very special to me because the recipient of this award pays it forward both in and out of the show ring," says Rube. Boyd received an elegant leather duffel bag and wore a white rose corsage on his lapel throughout the handy round to signify his achievement.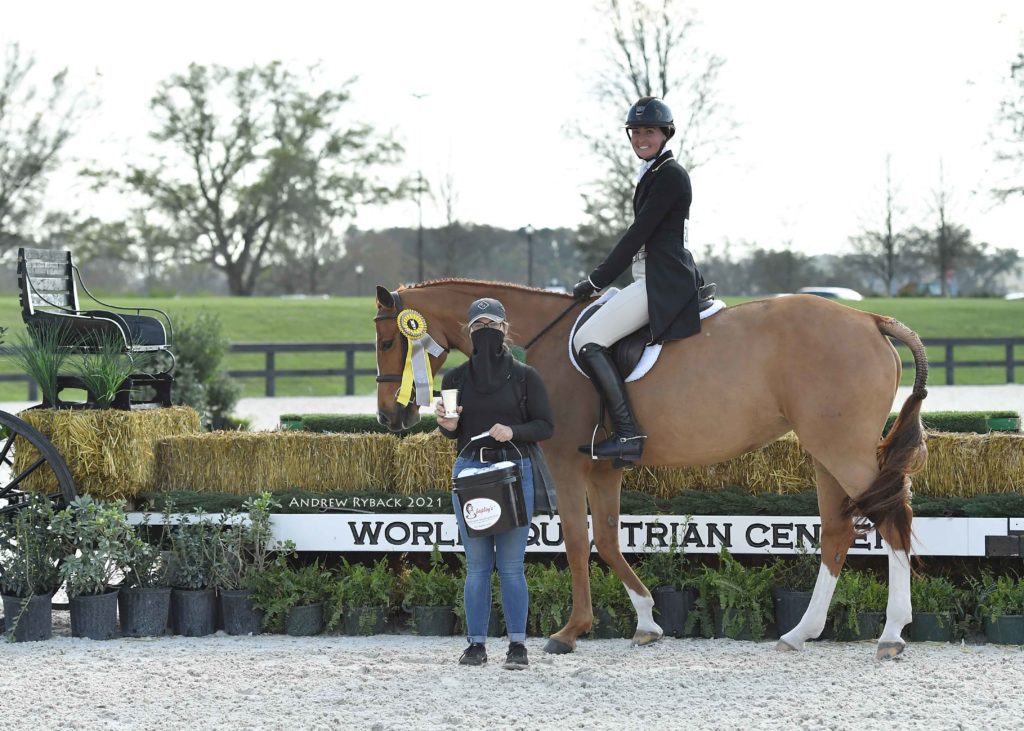 The Shapley's Champion Groom Award for the best turnout in the class was presented to the groom of 3rd place finisher in the $20,000 WEC Hunter Derby 3'6″-3'9″, Ruby Tuesday. Shapley's is a proud sponsor of the World Equestrian Center and is thrilled provide an award each week of the Winter Spectacular to the groom of the best turned out horse. Ruby Tuesday's groom received a Shapley's Award Bucket for the mare's stunning turnout.
Photos courtesy of Andrew Ryback Photography.