By Jennifer Wood and Sabrina Brashares for Jennifer Wood Media, Inc.
Wellington, FL – February 26, 2021 – Daniel Deusser (GER) delivered his second five-star win in two days on Friday, February 26, in the $37,000 Bainbridge Companies 1.45m Classic CSI5* with Kiana van het Herdershof, owned by Stephex Stables, at the 2021 Winter Equestrian Festival (WEF).
Week 7 of WEF runs from February 24-28 and features exciting CSI5* competition sponsored by Lugano Diamonds, along with a concurrent CSI2*. On Saturday night all eyes will be on the $401,000 Lugano Diamonds Grand Prix CSI5* as part of "Saturday Night Lights," followed by the $73,000 CaptiveOne Advisors 1.50m Classic CSI5* and $50,000 Griffis Residential Grand Prix CSI2* taking place on Sunday. Spectators can watch feature classes live and on demand for free using the livestream.
There were 56 entries in the 1.45m speed class, jumping over a course designed by Anthony D'Ambrosio (USA) and Andy Christiansen (ECU). There were 21 clear rounds. Starting out the class as the first to go was McLain Ward (USA) on Catoki, a 12-year-old Holsteiner gelding by Catoki x Cartello B owned by Ward, Marilla van Beuren, and Bob Russell. They sped around clear in 59.44 seconds, which would hold up for second place.
Deusser and Kiana van het Herdershof went just two trips later, putting in a blazing fast time of 59.12 seconds that would hold up through the entire class for victory.
"I watched McLain a little bit and knew he had a very fast horse as well, so I tried to do the turns a little bit tighter and it worked out," admitted Deusser. "If you wanted to win today you really had to try.
Third place went to Kristen VanderVeen (USA) and Bull Run's Faustino de Tili. Vanderveen and the 16-year-old Belgian Warmblood stallion by Berlin x Darco owned by Bull Run Jumpers Five LLC were clear in 59.64 seconds.
Deusser and Kiana van het Herdershof have already won two 1.50m classes at WEF this year.
"She is naturally a very fast horse," he said of the 11-year-old BWP mare by Toulon x Starlight VD Hemelseschoot. "She is one that wins and that I use more for speed classes, and I have to say she was pretty consistent here. It's not easy on a horse if you ask too many times to go fast because sometimes they know a little bit already which direction you have to go, and faults can happen that way. But already two weeks ago she did a fantastic job here and then again today; it's quite unbelievable."
Deusser termed Kiana as a "very nervous horse," which helps with more speed in the ring, but that she does tend to be quieter at home.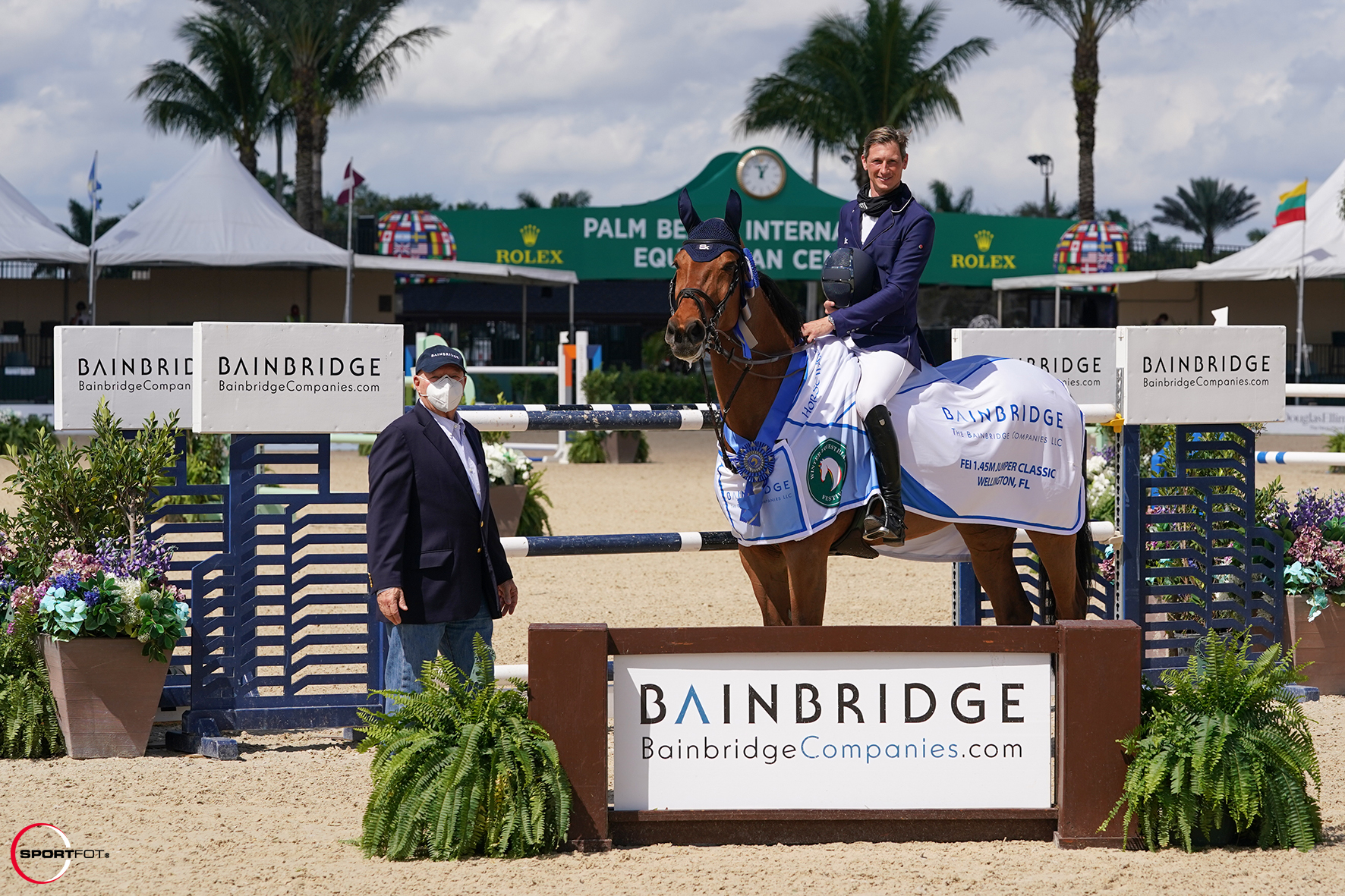 "She knows what is the show and what is home, but the excitement at the show is also her strength," he said. "In the end that's why she wants to fight in the ring. She wants to be careful in the ring, and that's why she's also fast. In that class even if you have a fast horse and you want to win, as a rider it's not enough to just want to win. You need to have a competitive, fast horse, otherwise you can't win a class like that."
Final Results: $37,000 Bainbridge Companies 1.45m Classic CSI5*
1. KIANA VAN HET HERDERSHOF: 2010 BWP mare by Toulon x Starlight VD Hemelseschoot
DANIEL DEUSSER (GER), Stephex Stables: 0/59.12
2. CATOKI: 2009 Holsteiner gelding by Catoki x Cartello B
MCLAIN WARD (USA), Marilla van Beuren, Bob Russell & McLain Ward: 0/59.44
3. BULL RUN'S FAUSTINO DE TILI: 2005 Belgian Warmblood stallion by Berlin x Darco
KRISTEN VANDERVEEN (USA), Bull Run Jumpers Five LLC: 0/59.64
4. UNE DE L'OTHAIN: 2008 Selle Français by Conterno Grande x Cento
HARRIE SMOLDERS (NED), Evergate Stables LLC: 0/60.33
5. OAKS REDWOOD: 2005 Warmblood gelding by ASB Conquistador x Verdi
NAYEL NASSAR (EGY), Evergate Stable LLC: 0/61.68
6. RMF CHACCO TOP: 2009 Hanoverian stallion by Chacco Blue x Graf Top
MICHAEL DUFFY (IRL), Rushy Marsh Farm LLC: 0/62.56
7. ADELITA: 2011 SSW mare by Candillo 3 x Acord II
LILLIE KEENAN (USA), Helen Signe Ostby:0/63.05
8. BALOUTINUE: 2010 Hanoverian gelding by Balou du Rouet x 8 Landor S
ADAM PRUDENT (USA), Plain Bay Farm: 0/63.88
9. GERDINIEKE: 2011 KWPN mare by Bacardi VDL x Cornieke
JOHN PEREZ (COL), Daniel Rihan Salum: 0/65.47
10. UNIVERS DU VINNEBUS: 2008 Selle Français stallion by Luccianno x Grenat de Graz
ZOE CONTER (BEL), Stephex Stables: 0/66.32
11. H5 SUNSHINE: 2006 Belgian Warmblood gelding by Diamant de Semilly x Hardi
CARLOS HANK GUERREIRO (MEX), H5 Sport Horses, LLC: 0/66.73
12. BALLYHEERIN BAY STAR: 2011 Irish Sport Horse gelding by Fanad West Air Jordan C x Drossan
DANIEL COYLE (IRL), Ariel Grange: 0/68.04