Clear, blue, sunny skies set the perfect backdrop for a day of hunter action as Derby Friday took over the World Equestrian Center Stadium again this week. More than 80 competed in the $20,000 WEC Hunter Derby 3'6″-3'9″, $15,000 WEC Derby 3′ Open and $15,000 WEC Derby 3′ Non Pro, contesting elegant courses with beautifully decorated natural obstacles. Each class saw fierce competition with countless scores ranging into the 90s.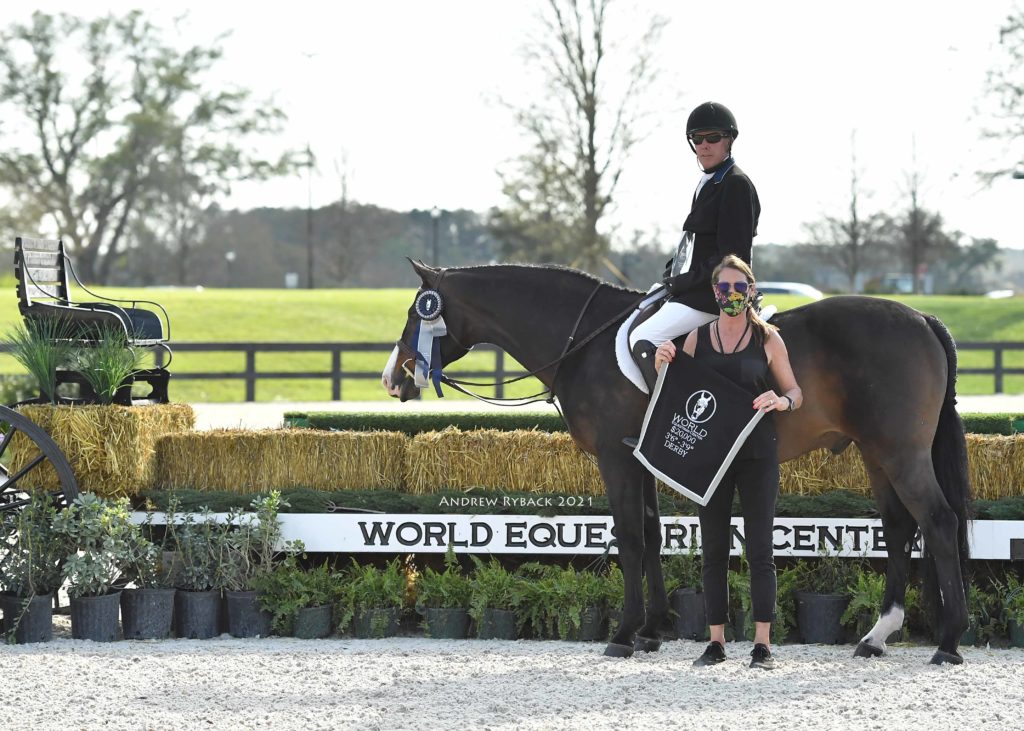 The $20,000 WEC Hunter Derby 3'6″-3'9″ saw 16 entries vying for the win, but none could best Doug Boyd and Mimi Rothman's Calido's Son (Calido I x Pusteblume). Boyd and the 16-year-old Holsteiner gelding have been on a winning streak, earning the Champion title each week that they have entered the Performance Hunter 3'6″ during the World Equestrian Center — Ocala Winter Spectacular 2021. This afternoon, Boyd and Calido's Son brought their A-game, delivering a near flawless first round for a score of 89. The duo returned for the handy round, taking inside turns to fences 5, 7 and 9 and earning a score of 92, totaling 181 to top the class.
Samantha Schaefer and Madeline Schaefer's In The Know (Arkansas x Cavelle) also found two impressive rounds in this afternoon's class. Schaefer and the 11-year-old Warmblood gelding have taken two blue ribbons in the $20,000 WEC Hunter Derby 3'6″-3'9″ and were searching for another today. The duo earned scores of 93 and 86.5 for a total score of 179.5 and 2nd place.
Rounding out the top three placings were Hunter Holloway and Hays Investment Corp.'s Ruby Tuesday (Icarus "Any Given Sunday" x Manna "S&L Sobeit"). Holloway and the 10-year-old Oldenburg mare earned 9th place in Week 4's $20,000 WEC Hunter Derby 3'6″-3'9″ and laid down two more stunning rounds today. The pair earned scores of 86 and 85, totaling 171 for 3rd place.
Boyd took a moment to chat ringside about his win aboard Calido's Son, "I was thrilled with him today, he's a once-in-a-lifetime horse. He gives it his all every time. The course was great. It's a lot of fun being here at WEC and this ring is a nice ring to ride in. It's a test of patience because it can get you going a little more than you need to go."
When asked about his plan in the handy round, Boyd replied, "There was really only one option approaching fence 7 to be different than the others, but he was going so well that I thought we should take the inside route that wasn't quite as handy, and it worked out really well."
Boyd commented on his special mount, "He's 16 years old, this year, and his sire is Calido I. He has won everything from ribbons at Derby Finals to National Championships. He is the first horse that I've ever trained that wants to win every time. He's always on his game."
$20,000 WEC Hunter Derby 3'6″-3'9″ Results
Calido's Son, Doug Boyd – 89 | 92 | 181
In The Know, Samantha Schaefer – 93 | 86.5 | 179.5
Ruby Tuesday, Hunter Holloway – 86 | 85 | 171
Levland, Christina Fisher – 80 | 90 | 170
More Optimistic, Claudia Billups – 79 | 88 | 167
Ava, Kathryn Jarriel – 78 | 87 | 165
Larrico, Patrick Miller – 87 | 75 | 162
Caspari, Jennifer Tate – 73 | 83 | 156
Quinito, Abigail Arnold – 72 | 78 | 150
Like Always, Josh Dolan – 94 | 50 | 144
Photos courtesy of Andrew Ryback Photography.