Feature class action for Week 8 of the World Equestrian Center — Ocala Winter Spectacular 2021 kicked off with the $20,000 Welcome Prix 1.45m. The field consisted of 27 entries with eight countries represented over a technical track designed by two-time Olympic course designer Leopoldo Palacios. The course featured 16 jumping efforts winding through the WEC Grand Arena including three double combinations, a triple bar and a faux-stone wall. The women dominated, claiming the top five placings and jumping the only double clear rounds, and it was Molly Ashe Cawley aboard Louisburg Farm's Berdien (Bustique x Queen Z) that topped the class by more than two seconds in the jump-off.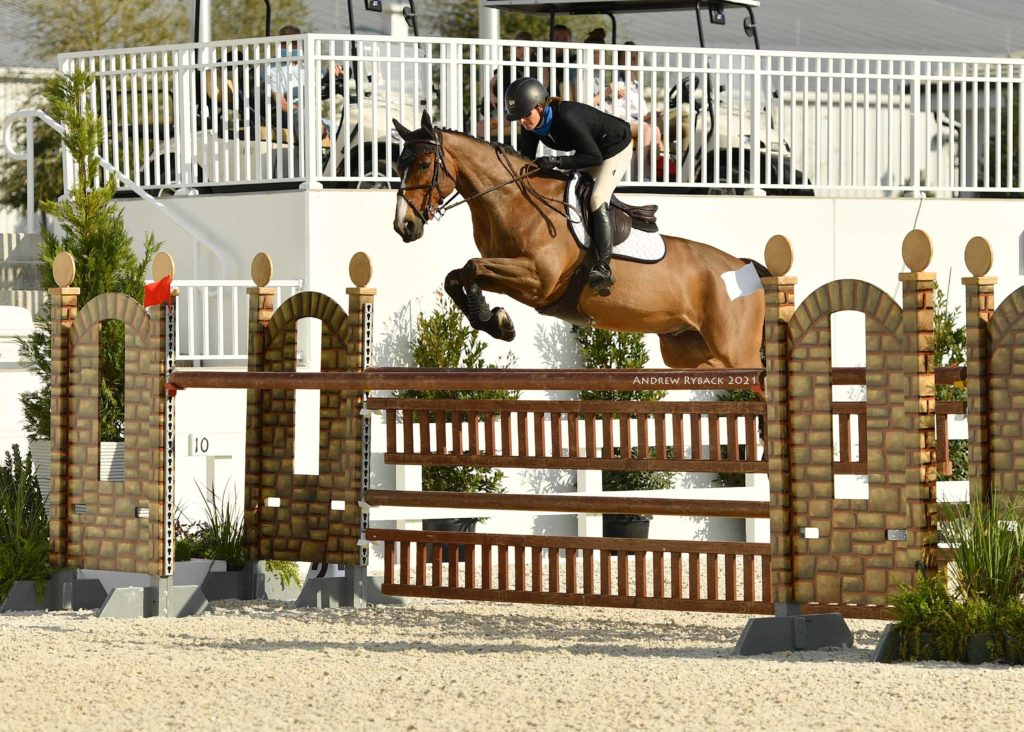 First to jump double clear were Camille Maddrix and M&M Sporthorses' Jack Straw (Quatro De Riverland x Jonquille D'Elle). Maddrix and the 10-year-old Selle Francais gelding earned 11th place in last week's $20,000 Welcome Prix 1.45m with just one time fault keeping them out of the jump-off, and the pair returned to the WEC Grand Arena this afternoon hunting for a chance at the win. They navigated a clear first round in 86.922 seconds, well within the time allowed of 89 seconds, then advanced straight to the jump-off. The duo kept their forward pace and found an inside approach to fence 13, stopping the clock with a second clear round at 41.725 seconds and setting the pace for the remainder of the entries.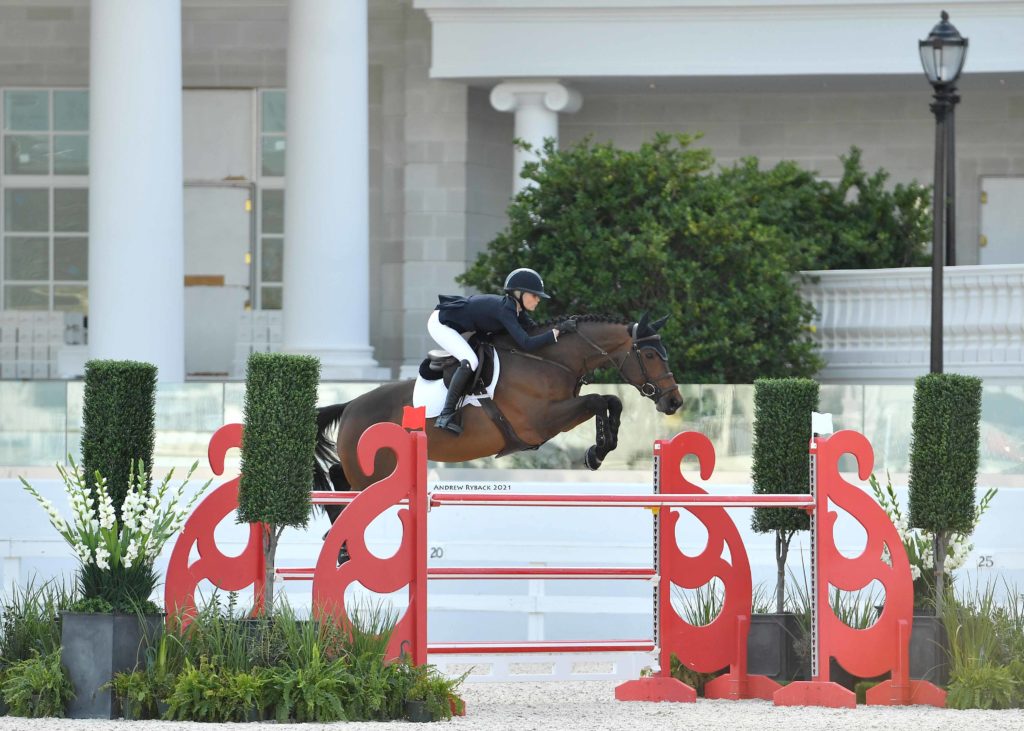 Maddrix and Jack Straw held the lead in the class until Grace Debney and Temple Equestrian LLC's Zarina De Vidau (Diamant De Semilly x Carina XXXVII CH) took to the course. At just 16 years old, Debney has already begun her FEI career, earning 9th place in her first CSI2* class with Zarina De Vidau in early February. This afternoon, Debney and her 9-year-old Spanish Sport Horse mare were on from, easily finding a clear first round in a quick 83.336 seconds. The pair continued straight to the jump-off, also opting for the inside track to fence 13. They crossed the timers with all rails up at 39.215 seconds, moving into the lead.
Next in the ring were Molly Ashe Cawley and Louisburg Farm's Berdien (Bustique x Queen Z). Ashe Cawley and the 10-year-old Zangersheide mare nabbed 2nd place in the $75,000 WEC Grand Prix during Week 6 of the World Equestrian Center — Ocala Winter Spectacular 2021 and brought their A-game again this afternoon. The pair managed the fastest clear first round of the class in 80.693 seconds, signaling that they would be strong competitors on the short course. Ashe Cawley and Berdien advanced straight to the jump-off, picking up even more pace and taking the inside approach to fence 13. The duo flew across the final oxer and through the timers with a second clear round in an incredible 37.021 seconds, ultimately taking the win.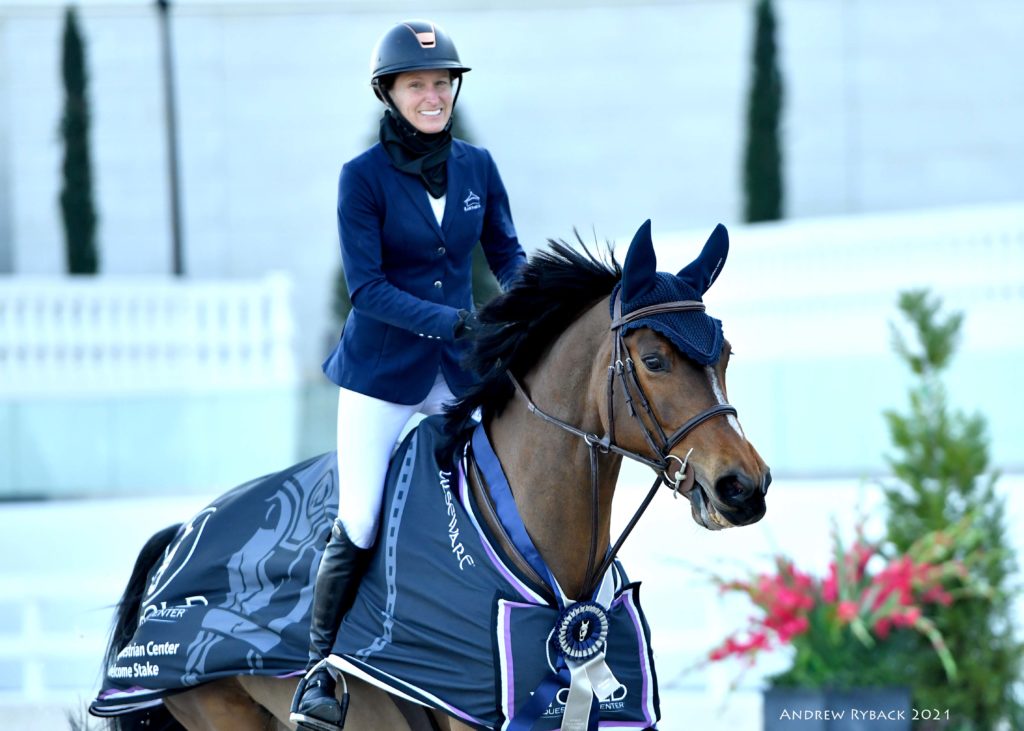 After the class, Ashe Cawley of Louisburg Farm in Wellington, Florida, and Dover, Massachusetts, chatted about her win aboard Berdien, "Today was Berdien's first time in the WEC Grand Arena. We came to WEC a couple of weeks ago, but the class was in the Stadium that week. She felt a little like she was holding herself in the beginning of the class today, but she's one of those horses that will kick in if you just go for it. She's a great competitor, so that was why we went so fast in the jump-off. That tends to be where she is 100% solid."
When asked about her plan in the jump-off, Ashe Cawley replied, "Originally when I walked the track, I was just going to go neat and smooth at about 50% power. When she felt shy at the beginning of the first round, though, I thought I'd better give it a go so that she is solid for the grand prix on Saturday night under the lights. She was great, she's always so quick in the turns. The second you think, 'Turn,' she's turning!"
Ashe Cawley commented on her mount, Berdien, "I got her when she was just turning 7 and she's 10 years old, this year. She's been an amazing horse since we got her, she's been a winner all the way up through the ranks. She was a little sick last year and didn't get to compete in Florida, but she picked up right where she left off in the summer. She just keeps aiming to win."
She also added, "It's always fun, the competition drives me. I love being in the ring and competing. This facility is beyond incredible, so it's fun to escape Wellington and get up here and experience this beautiful facility."
$20,000 Welcome Prix 1.45m Results
Berdien, Molly Ashe Cawley – 0 | 0 | 37.021
Zarina De Vidau, Grace Debney – 0 | 0 | 39.215
Jack Straw, Camille Maddrix – 0 | 0 | 41.725
Crack Elle Chavannaise, Tiffany Hammack – 0 | 0 | 41.950
Julieta, Christine McCrea – 0 | 0 | 42.934
Jasmijn, Jonathan McCrea – 0 | 4 | 37.744
Meadow Vale Cruise, Diego Biboa – 0 | 4 | 41.370
Superwoman DK Z, Jonathan McCrea – 0 | 4 | 41.762
Cinven CR, Bryn Sadler – 0 | 4 | 42.200
Lord Lucio, Rodrigo Pessoa – 1 | 89.913
Photos courtesy of Andrew Ryback Photography.