The $15,000 WEC Derby 3′ Open saw a highly competitive field of 25 entries the the scores of the top three placings remaining in the 90s throughout the class. Samantha Schaefer and her own Checkmate (Cassini II x Cornancer) earned top honors laying down two foot-perfect rounds. Schaefer and the 10-year-old Dutch Warmblood gelding earned a 6th place finish in Week 4's $15,000 WEC Derby 3′ Open and returned this morning on the hunt for the win. The pair started off strong in the first round, taking all four high options with style for a score of 95. They returned for the handy round, rolling back perfectly in stride off of the right lead to the first fence, then taking an inside turn to the trot fence. Schaefer and Checkmate were rewarded with a second score of 95, totaling 190 for the win.
Timothy Maddrix and Missy Nolen's Cypress were just behind Schaefer and Checkmate. Maddrix and the 10-year-old Warmblood gelding earned 4th place in Week 6's $15,000 WEC Derby 3′ Open and delivered another flawless performance this morning. The duo found two stunning rounds for a pair of 94 scores, totaling 188 for second place.
Kate Conover and Take 3 LLC's Point Blank (Cascari x Hallig VI) rounded out the top three placings in this morning's derby. Conover and the 10-year-old Holsteiner gelding have taken ribbons in several $15,000 WEC Derby 3′ Open classes throughout the season and earned scores of 93 and 92 today, totaling 190 for the yellow ribbon.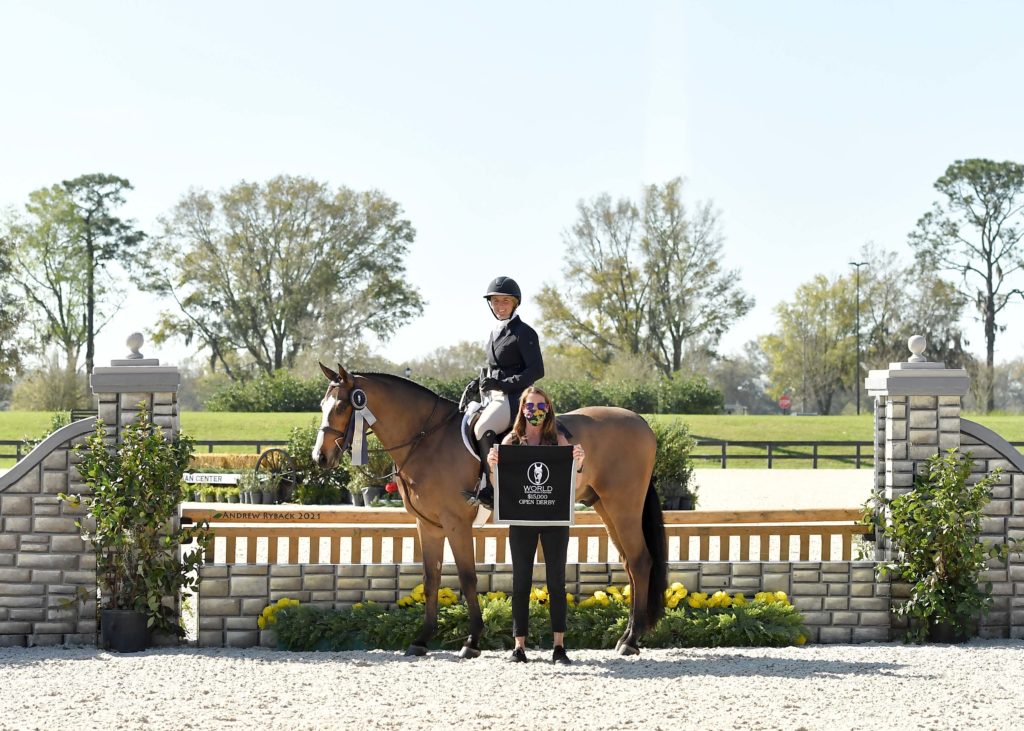 Schaefer of Shadow Ridge Farm in Ocala, Florida, took a moment to chat ringside about her win aboard Checkmate, "He had a week off last week, and this was actually his only class this week. I thought he was a touch fresh in the first round, but he jumped really sharp. I thought he was really good in the second round. He's a special horse. He has a crest-y neck and a big blaze, and when he jumps it's really impressive. His flashy aspects definitely get him some bonus points."
She also said of Checkmate, "He is a horse that I typically show in the 3'6″ Greens. We've had him for a few years, now, and have just been developing him. My sister has shown him in the 3'3″ Amateurs for about a year, too. He's a funny horse and I don't ride him a lot at home because we tend to argue. Kate Conover rides him every day during the week and prepares him really well. That program seems to work, so we've been sticking to that. He loves to show and he's a really good competitor. Kate is a big part of his winning strategy."
$15,000 WEC Derby 3′ Open Results
Checkmate, Samantha Schaefer – 95 | 95 | 190
Cypress, Timothy Maddrix – 94 | 94 | 188
Point Blank, Kate Conover – 93 | 92 | 185
Justified, Kathleen Caya – 89 | 90 | 179
Inspiration, Clair Kellner – 91 | 86.5 | 177.5
MTM Self Made, Amanda Steege – 88 | 89 | 177
Hula Hoop, Jeannie Savegnago – 84.25 | 88 | 172.25
PS Copy That, Jennifer Jones – 83 | 86 | 169
Legolas, Jessica Borton – 82 | 81 | 163
Slate, Abby Strohmeyer – 81.5 | 76 | 157.5
Photos courtesy of Andrew Ryback Photography.