By Jennifer Wood and Sabrina Brashares for Jennifer Wood Media, Inc.
Ten clear rounds went for speed out of the original 73 entries in the $37,000 Griffis Residential 1.45m Qualifier CSI2* in the International Arena. As each horse went in the ring, the leading time kept dropping, but it was Charlie Jayne (USA) and his own Amice Z who recorded the fastest clear round in the jump-off in 35.55 seconds.
"That was probably, I'm going to have to say, the fastest jump-off I've ever done with him," revealed Jayne. "This being the two-star level and him doing bigger stuff lately, I felt confident that I could test it out today. I did the leave out one to two. The winner did eight [strides] on the rollback, and I challenged him there. I thought the one place I could do [faster] is if I could gallop over to the double [combination], and he came up waiting and tried his butt off for me there. After he tried so hard there, I did eight where some people did seven and hoped for a better rollback, and it worked out. I said, 'Let's do this' to the last [jump], and he answered the call beautifully. He was right there for me."
Second place went to Lacey Gilbertson (USA) and Viti de Longa, owned by Seahorse LLC. Gilbertson and the 12-year-old Selle Français mare by Contendro I x Galoubet A were close behind in 36.37 seconds.
Just one more tenth of a second slower and slotting into third place were Olivia Chowdry (USA) and Atlas Equine Holding LLC's Chuck Berry 8. The 14-year-old Hanoverian gelding by Chacco Blue x Watzmann finished in 36.46 seconds.
This is Jayne's fourth season with "Mouse," a horse that he has ridden to top finishes in FEI competition such as the American Gold Cup and the President's Cup Grand Prix at Washington International Horse Show in 2020.
The talented mount can transition from two-star up to five-star competition easily, and it turns out that after a few years as a hunter, he has the scope for a top FEI horse.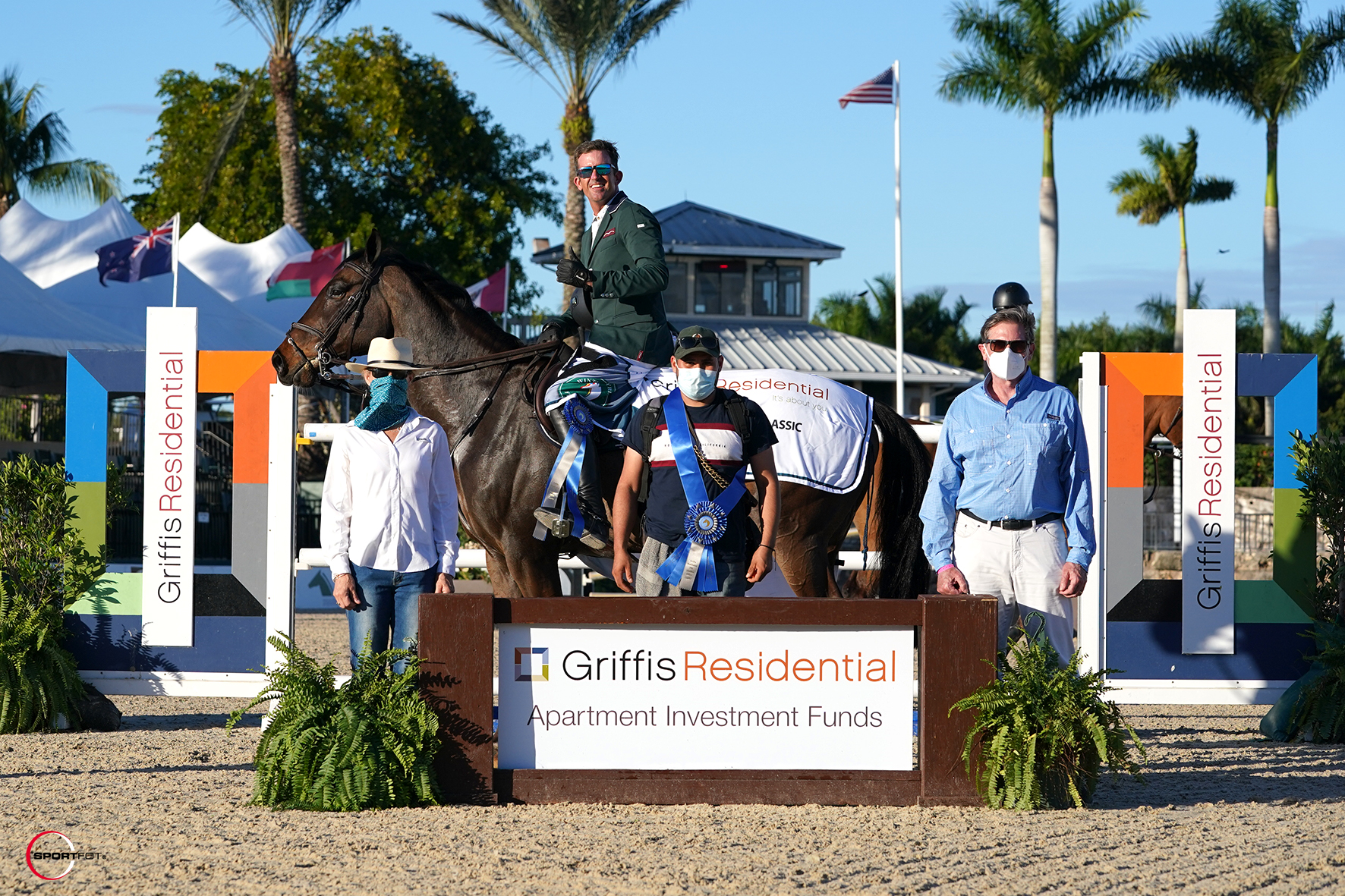 "When I purchased him, he was just stepping up into two-star FEI classes with Andrew Welles," said Jayne of the 14-year-old Zangersheide gelding by Air Jordan Z x Odermus R. "Compared to a lot of other grand prix horses, he likes to carry his head way lower, like a hunter. He actually did the three-foot hunters in Virginia for three years, from when he was seven up until the beginning of his 10-year-old year. Then he went over to the jumper ring.
"His strong suit is that he's extremely careful," he continued. "He's been a great horse for me to try and pick and choose two-star up into the five-star level classes and count that if I ride him correctly, we are going to be clear or only have one down. At home, he loves going on trails and he's a happy camper."
Since Amice Z is "better the more he shows," and this is only his second week competing this year, Jayne plans to compete him in Sunday's $50,000 Griffis Residential Grand Prix CSI2*, and since he is qualified for next week's CSIO as an individual, he will ride Amice Z and Claire du Lune, his nine-year-old mare that won the $6,000 Griffis Residential 1.40m Jumpers on Wednesday.
Final Results: $37,000 Griffis Residential 1.45m Qualifier CSI2*
1. AMICE Z: 2007 Zangersheide gelding by Air Jordan Z x Odermus R
CHARLIE JAYNE (USA), Charlie Jayne: 0/0/35.55
2. VITI DE LONGA: 2009 Selle Français mare by Contendro I x Galoubet A
LACEY GILBERTSON (USA), Seabrook LLC: 0/0/36.37
3. CHUCK BERRY 8: 2007 Hanoverian gelding by Chacco Blue x Watzmann
OLIVIA CHOWDRY (USA), Atlas Equine Holdings LLC: 0/0/36.46
4. CAT NINJA: 2008 KWPN mare by VDL Zirocco Blue x Corland
JACQUELINE STEFFENS (CAN), Eye Candy Jumpers: 0/0/36.70
5. BILLY DORITO: 2010 Anglo European Studbook gelding by Billy Mexico x Vechta
STEPHEN MOORE (IRL), Vlock Show Stables LLC: 0/0/36.83
6. TIPSY DU TERRAL: 2007 Selle Français mare by Toulon x Quat'Sous
EMILY MOFFITT (GBR), Poden Farms: 0/0/37.28
7. MALLE BABBE VAN'T KIEVELD: 2012 BWP mare by Emerald x Orlando
DAVID ARCAND (CAN), Les Productions Yapasdemots: 0/0/37.86
8. GOTICO DI CA' SAN GIORGIO: 2011 Italian Sport Horse gelding by Diamant de Semilly
MARIA SCHAUB (USA), Evergate Stables LLC: 0/4/37.15
9. J'ADORE VAN HET KLINKHOF: 2009 BWP mare by Thunder vd Zuuthoeve x Alcatraz
RODRIGO LAMBRE (BRA), Rodrigo Lambre: 0/4/38.17
10. AMERICAN: 2010 Italian Sport Horse mare by Baedeker x Locato
LUIS LARRAZABAL (VEN), San Francisco Stables LLC: 0/4/39.06
11. DONJO: 2008 KWPN gelding by Zirocco Blue VDL x Ahorn
HYDE MOFFAT (CAN), Ariel Grange: 1/71.08
12. HILTON VAN DE BREEPOEL: 2007 BWP gelding by Contact van de Heffinck x Opium
BRITTNI RAFLOWITZ (ISR), ESI Showjumpers Inc.: 1/71.13