The WEC Grand Arena hosted exciting featured jumper action Saturday night with more than 60 horse and rider combinations contesting courses designed by two-time Olympic course designer, Leopoldo Palacios of Venezuela.
The $75,000 WEC Grand Prix 1.50m under the lights included a field of 29 entries representing eight countries. Riders included Olympic medalists and World Games competitors, making for fierce competition. Entries faced a technical track that included a triple combination, double combination, triple bar, liverpool vertical and faux stone wall. The jump-off saw a head-to-head battle for the win, but it was Aaron Vale of Thinkslikeahorse in Williston, Florida who notched his fourth $75,000 WEC Grand Prix 1.50m win of the season, taking the blue ribbon aboard Sleepy P Ranch LLC's Major (Carmargue x Pinot).
Vale and Major were one of just eight entries to jump a clear first round and return for the short course. Vale and the 13-year-old Danish Warmblood gelding topped the $75,000 WEC Grand Prix 1.50m during Week 4 of the World Equestrian Center — Ocala Winter Spectacular and returned to the WEC Grand Arena tonight to chase another win. The pair brought their A-game, with a clear first round in 85.321 seconds, well within the time allowed of 88 seconds, securing a spot in the jump-off.
Molly Ashe Cawley and Louisburg Farm's Berdien (Bustique x Queen Z) also earned a return in the jump-off. Ashe Cawley and the 10-year-old Zangersheide mare earned 1st place in this week's $20,000 Welcome Prix 1.45m and were on a roll again tonight. The duo managed the fastest first round of the class, leaving all rails up in 80.417 seconds, signaling that they would be strong competitors on the short course.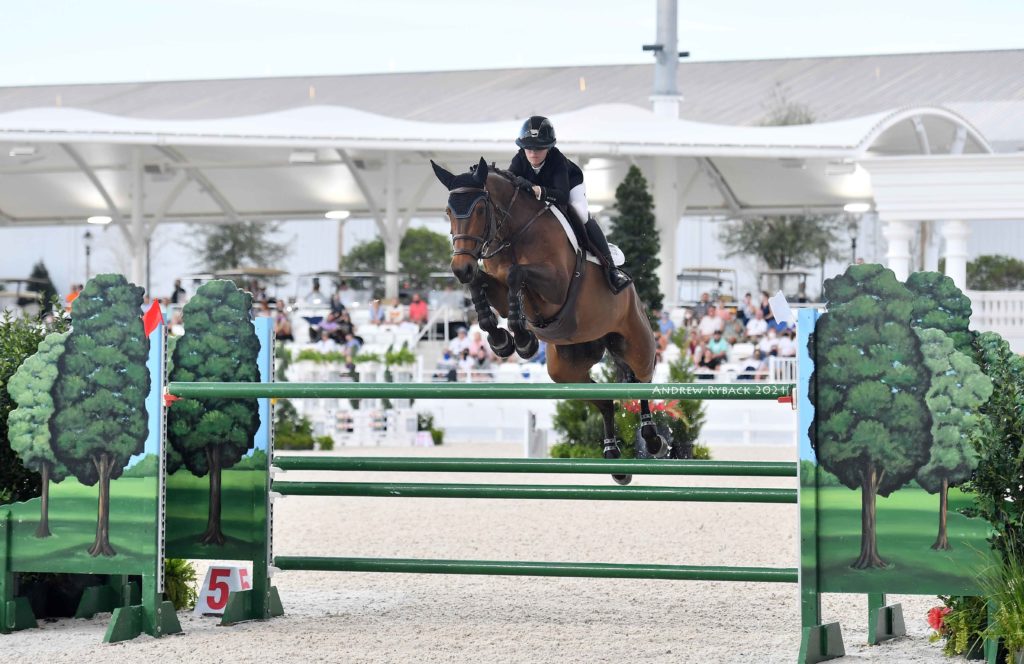 Grace Debney and Temple Equestrian LLC's Zarina De Vidau (Diamant De Semilly x Carina XXXVII CH) snagged a return on the short course early in the order. Debney and the 9-year-old Spanish Sport Horse mare finished in 2nd place, just behind Ashe Cawley and Berdien, in this week's $20,000 Welcome Prix 1.45m and were determined to deliver another top performance tonight. The pair found a clear first round in 82.604 seconds, gaining another chance at the win.
The course was adjusted and eight entries returned for the jump-off. First to contest the short course were Debney and Zarina De Vidau. The pair set the bar high, taking all available inside turns and holding a quick pace throughout the course. They stopped the clock at 45.040 seconds with all rails up, upping the ante for the remaining entries.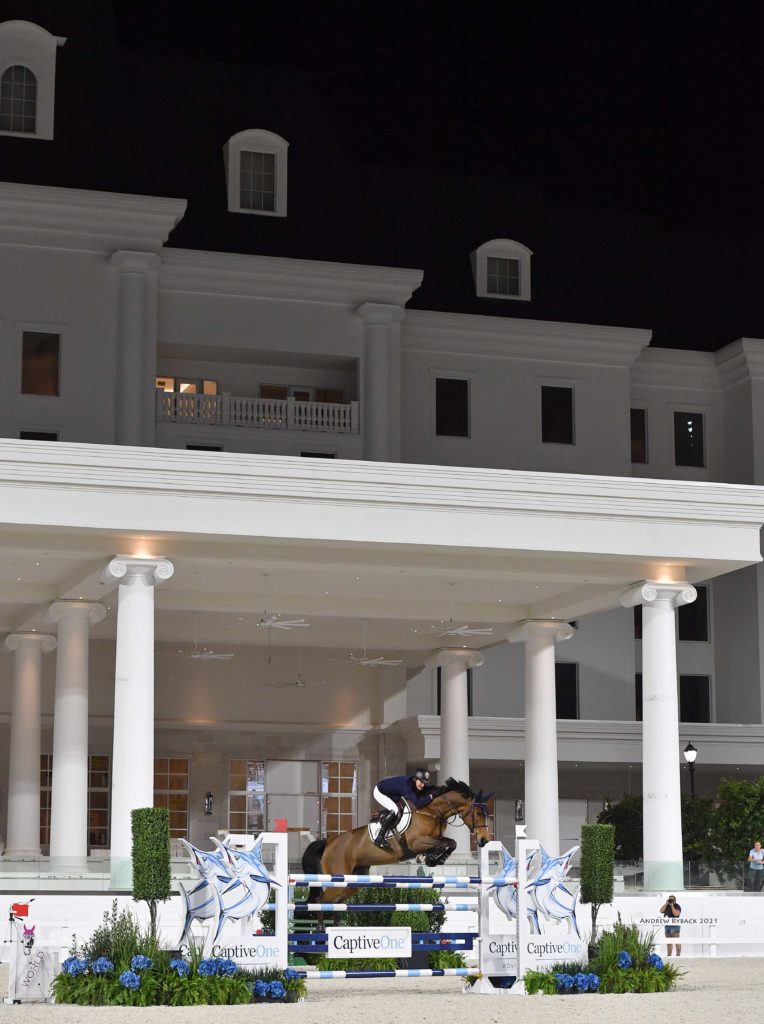 Debney and Zarina De Vida held the lead until Ashe Cawley and Berdien took to the course. The pair held nothing back, knowing the time they needed to beat. Ashe Cawley shaved crucial seconds off of their time with tidy rollback turns to fences 15 and 8, and topped it off with a full-throttle gallop to the final fence. The duo flew through the timers at 41.531 seconds, moving into the lead.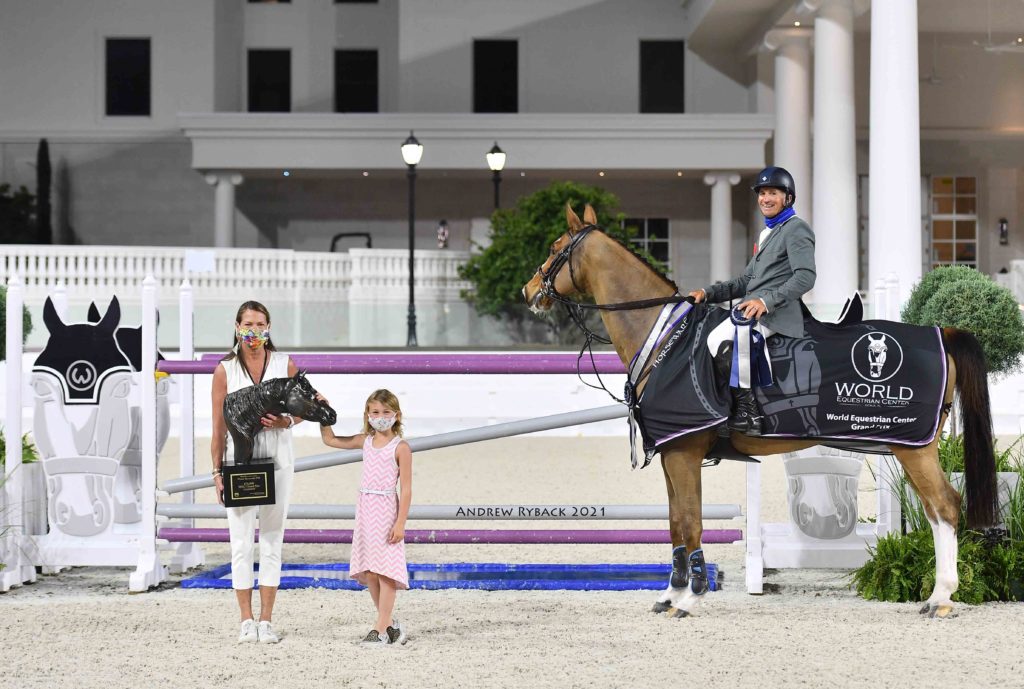 Last in the order were Vale and Major. Ashe Cawley and Berdien still sat atop the leaderboard, but Vale and Major were not going out without a fight. The pair mirrored Ashe Cawley's track, staying snug to the rollback fences and galloping at every opportunity. The crowd roared as Vale surged toward the final fence, encouraging him to kick on. He and the scopey bay gelding launched over the final fence and raced through the timers at 41.122 seconds. Vale turned to the scoreboard to check his time and threw his fist in the air, celebrating his and Major's win.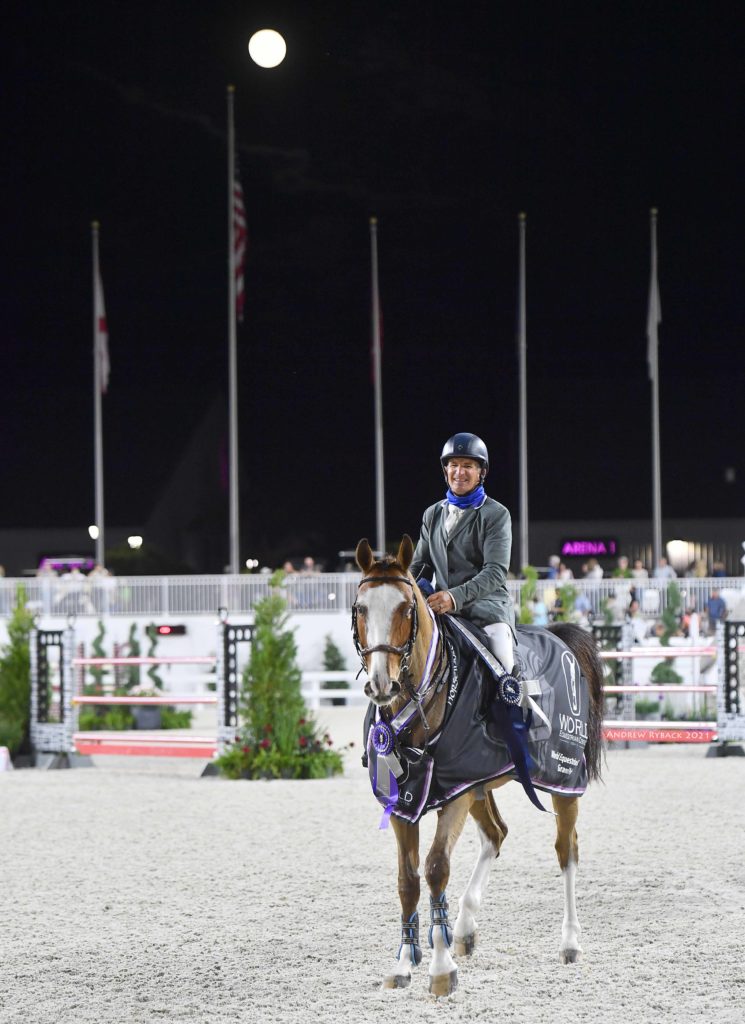 Vale took time to chat about his fourth $75,000 WEC Grand Prix 1.50m win of the season, "I thought the first round was quite difficult. There was a tall skinny vertical heading to the triple combination with the horizontal-striped rails. Those poles are very difficult as a single fence, let alone a triple combination. However, Major jumped it well."
When asked about his plan in the jump-off, Vale replied, "Watching the first couple go in the jump-off, the times were fast, but not crazy fast. I didn't get to watch Molly go, but I heard that her time was four seconds faster than Grace, so I knew it was a really fast time to get. Going in last, I knew there was a big gap between the current 1st and 2nd placings, so I didn't want to do anything too risky to jeopardize a top placing. I caught the first few jumps pretty well, then rolled back to the oxer really quickly. I probably went way faster to B and C of the combination than I should have, but he moved his feet out of the way and jumped it clear. I turned back pretty tight to the next fence, then ran to the last fence. I didn't have a great sense of the time, so I didn't know where I was going to end up. When I saw the scoreboard flash up 'Rank 1', I was pumped. I didn't know until then that I had won. The crowd was happy, and so was I!"
He also added, "These evening classes under the lights have been great, and the combination of that and the crowd makes for an unbelievable atmosphere. A lot of locals are coming out to watch the grand prix. The crowd is even staying to watch the victory gallop; they were cheering as loudly during the victory gallop as they were for the jump-off. It's nice to see non-equestrians becoming fans of equestrian sports. It really makes the classes fun."
Vale also earned 7th place aboard Empire Show Stables' Boreale De Talma (Quick Star x Reggae De Talma), "She's a little less experienced and just got a little too wound up in the jump-off, but overall, she was great."
$75,000 WEC Grand Prix 1.50m Results
Major, Aaron Vale – 0 | 0 | 41.122
Berdien, Molly Ashe Cawley – 0 | 0 | 41.531
Zarina De Vidau, Grace Debney – 0 | 0 | 45.040
Vdl Bravo S, Hunter Holloway – 0 | 0 | 46.153
Crack Elle Chavannaise, Tiffany Hammack – 0 | 0 | 46.587
Clever Van De Helle, Kyle Dewar – 0 | 0 | 46.611
Boreale De Talma, Aaron Vale – 0 | 12 | 48.172
Meadow Vale Cruise, Diego Perez Bilbao – 0 | 16 | 62.189
Donner, Peter Leone – 1 | 88.268
Downtown's Main Event, Shannon Sullivan – 4 | 81.588
Photos courtesy of Andrew Ryback Photography.