By Kate Pettersen and Sabrina Brashares for Jennifer Wood Media, Inc.
A total of 44 competitors gave it their best shot over the handywork of Andy Christiansen (ECU) and Anthony D'Ambrosio (USA) in the $50,000 Griffis Residential Grand Prix CSI2* as just eight combinations left all the fences up for a ticket to the jump-off. In the second round, Andrew Bourns (IRL) and his own Darquito proved to be the best over the shortened course, finishing double clear in a time of 38.58 seconds.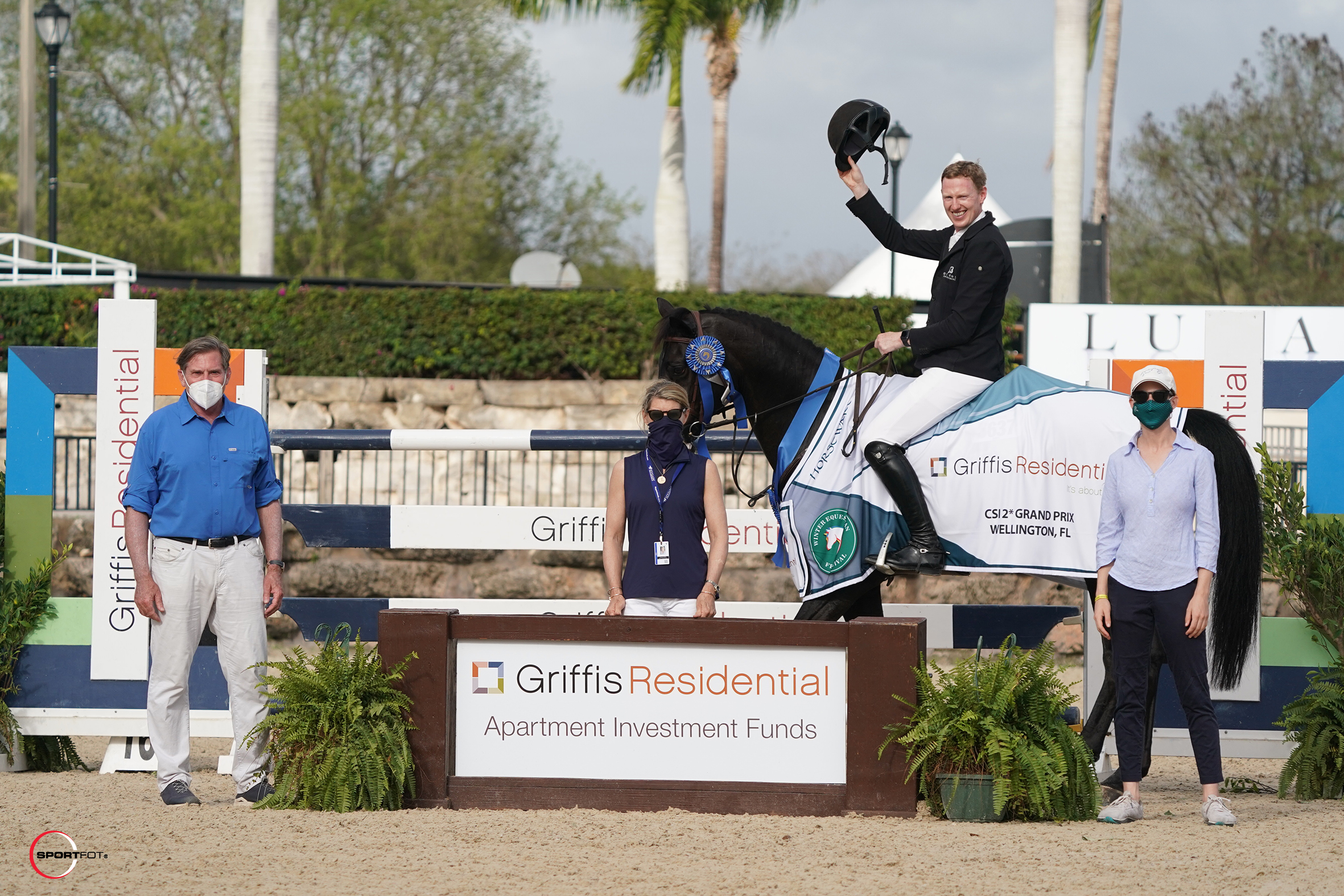 Bourns knows his 10-year-old Hanoverian gelding by D'inzeo 6 x Contefino 2 quite well, having bought him with his parents Richard and Deirdre Bourns in Germany as a seven-year-old.
"My plan was to win it and I knew with the girls coming behind me, I had to really move it," said Bourns of his winning round. "Emily Moffitt, Abigail McArdle, and a few of those other riders, I knew they weren't going to give it to me easy. Chris Kappler helps me a lot. He's my full-time trainer and Michael Blake, the Irish Chef d'Equipe, helped me with the jump-off as well. It takes a whole team to come together. I was so happy with my horse today."
The aforementioned female contingent of Moffitt (GBR) and McArdle (USA) were as solid as expected, finishing in second and third respectively. Moffitt and Tipsy Du Terral, a 14-year-old Selle Français mare by Toulon x Quat'sous owned by Poden Farms, were just one tenth of a second off the lead, finishing in 38.68 seconds. Not far behind that, McArdle and Victorio 5, a 15-year-old Hanoverian stallion by Uccello x Graf Top owned by Victorio Equine Group, LLC, also put forth a double-clear effort in 38.75 seconds.
The victory marks the first at the international level and the first grand prix win for Darquito or 'Dar Dar' as he's affectionately referred to in the barn. It's been a steady climb from the beginning of their partnership with a full team effort from the Bourns Sport Horses team.
"My dad produced him in Europe with his riders first for a year," said Bourns. "In 2019, I went over to Europe and jumped a few smaller classes, and last year he had a few nice results up to CSI3* level and had some placings in ranking classes. He's a fabulous horse and probably a barn favorite actually. It's more for his personality than anything else. He was just right from the beginning, one of those horses we couldn't leave behind. From the very first moment, it was love at first sight with this horse."
When it comes to getting ready for the ring, like their riders, some horses prefer routine. Darquito is most definitely one of those horses.
"He's very, very easy to prepare but you have to do it correct, and it has to be done the same every time," said Bourns with a laugh. "He's very fanatical about that. We just make sure he's not too fresh and make sure he's feeling well and that's it, but it has to be done correct. He likes his routine, and he likes his people. It's almost more important that he has the right people around him than anything else."
Final Results: $50,000 Griffis Residential Grand Prix CSI2*
1. DARQUITO: 2011 Hanovarian gelding by D'inzeo 6 x Contefino 2
ANDREW BOURNS (IRL), Andrew Bourns: 0/0/38.58
2. TIPSY DU TERRAL: 2007 Selle Français mare by Toulon x Quat'sous
EMILY MOFFITT (GBR), Poden Farms: 0/0/38.68
3. VICTORIO 5: 2006 Hanoverian stallion by Uccello x Graf Top
ABIGAIL MCARDLE (USA), Victorio Equine Group LLC: 0/0/38.75
4. VALENTINO TUILIERE: 2009 Selle Français gelding by Diamant De Semilly x Silvio
EVE JOBS (USA), Eve Jobs: 0/0/39.36
5. BALOTELLI 5: 2010 Hanoverian gelding by Balou du Rouet x Contendro I
MATTHEW BODDY (GBR), Purple Road, LLC: 0/0/40.95
6. CHUCK BERRY 8: 2007 Hanoverian gelding by Chacco Blue x Watzmann
OLIVIA CHOWDRY (USA), Atlas Equine Holdings LLC: 0/4/36.92
7. DIAMONTE DARCO: 2005 SHBGB mare by Unbelievable Darco x Kriska
LUCAS PORTER (USA), Sleepy P Ranch LLC: 0/4/39.18
8. CHATOU 7: 2009 Oldenburg gelding by Chacco Blue x Toulon
NICOLETTE HIRT (USA), Iron Horse Equestrian: 21/62.32
9. CON COLEUR: 2009 Hanoverian gelding by Contendro I x Couleur Rubin
REBECCA CONWAY (USA), Blue Hill Farm, LLC: 1/75.15
10. CHANDON BLUE: 2005 Oldenburg gelding by Chacco Blue x Landcapitol
LAURA CHAPOT (USA), Mary Chapot: 4/69.58
11. AMERICAN: 2010 Italian Sport Horse mare by Baedeker x Locato
LUIS LARRAZABAL (VEN), San Francisco Stables LLC: 4/71.30
12. KIRSCHWASSER SCF: 2010 Belgian Warmblood stallion by Amaretto d'Arco x Nebab de Reve
FREDDIE VAZQUEZ (PUR), G6 Holdings: 4/71.42