By Jennifer Wood and Sabrina Brashares for Jennifer Wood Media, Inc.
Wellington, FL – March 3, 2021 – Scoring a morning win on Thursday, March 4, in the $37,000 Adequan® WEF Challenge Cup Round 8 were Emily Moffitt (GBR) and Poden Farms' Tipsy du Terral during CSIO4* week at the 2021 Winter Equestrian Festival (WEF) at the Palm Beach International Equestrian Center (PBIEC).
WEF 8 sponsored by Premier Equestrian, continues through March 7 and features the $150,000 Nations Cup, presented by Premier Equestrian on Friday, March 5, the $50,000 CaptiveOne Advisors 1.50m National Grand Prix and $37,000 Hermès Under 25 Semi-Final Grand Prix under the lights on Saturday, March 6, and the $214,000 Grand Prix CSIO4*, presented by JTWG, Inc., on Sunday, February 7. All feature classes will be available live and on-demand on the livestream.
Over a course designed by Steve Stephens (USA) and Nick Granat (USA), 56 entries went for speed in a one-round format. There were 26 clear rounds, but the fastest of them all was Emily Moffitt and Tipsy du Terral, who were able to conquer the 13 numbered obstacles on the track in 63.82 seconds.
Moffitt went 37th in the original order and beat the then-winning time of 64.34 seconds set by Darragh Kenny (IRL) and Devon MacNeil's Vinci de Beaufour a 12-year-old Selle Français gelding by Diamant de Semilly x Heartbreaker, who would finish in second place.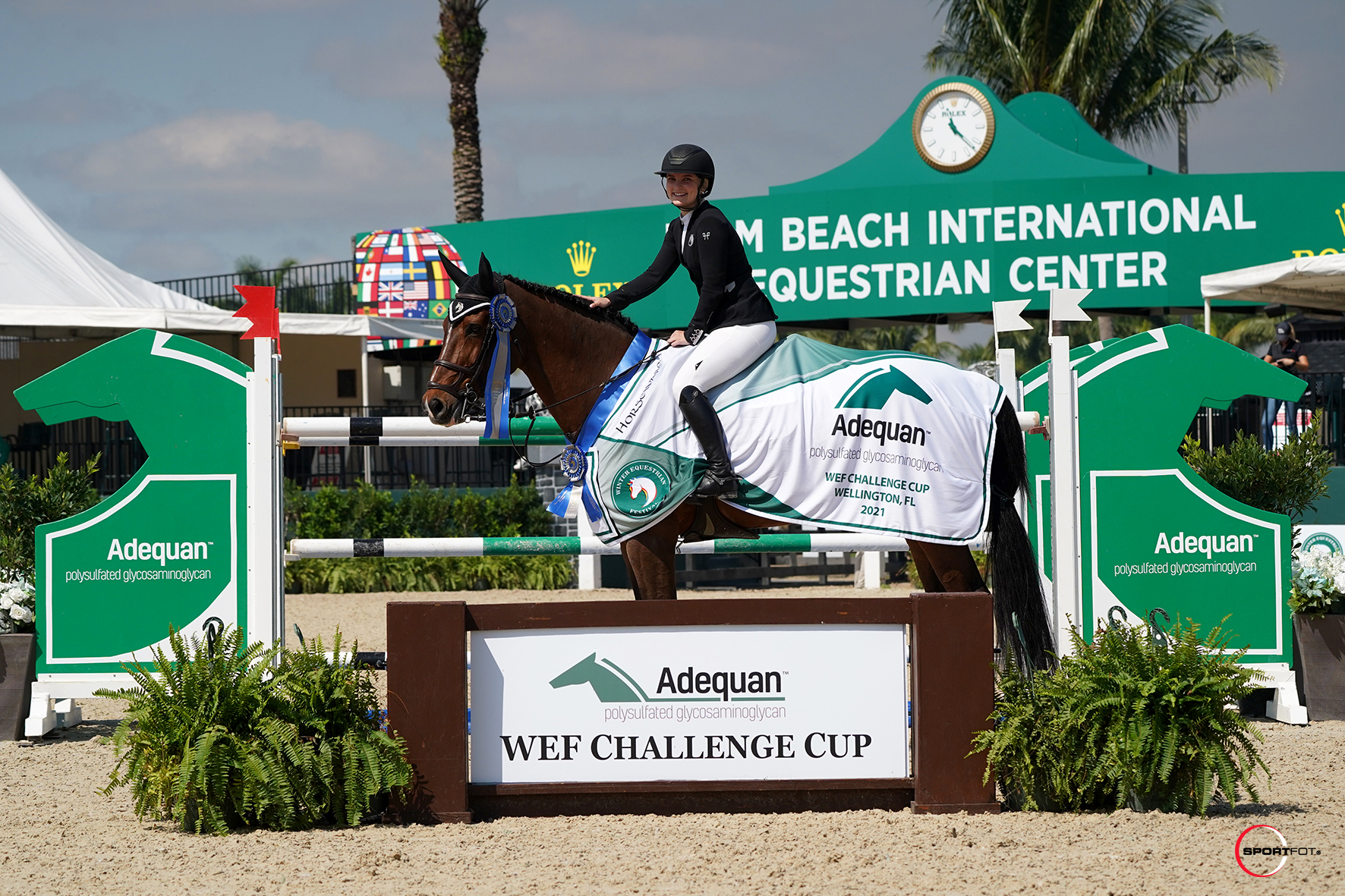 "I watched Darragh go into the lead, and I said to my friend, 'Wow that was spectacular. That's how we gotta do it!'" said Moffitt. "And then I didn't really think about it again. I had my plan, and you know [my trainer] Ben [Maher] always says we have our plan and if we win, we win, great, and if not, we gave it a good shot, so it paid off today."
Third place went to Adam Prudent (USA) and Baloutinue, an 11-year-old Hanoverian gelding by Balou du Rouet x Landor S owned by Plain Bay Farm. They were two seconds behind in 66.31 seconds.
Moffitt has been riding Tipsy du Terral for more than three years. "I have always had a very great connection with her," said Moffitt of the 14-year-old Selle Français mare by Toulon x Quat'Sous. "I love when they're strong and they pull, but she still allows you to really ride her so it's the best of both for me. We have always since the beginning had a great partnership, and she tries her heart out for me every single time she goes in the ring.
"Another great quality that Tipsy has is she's not one that you have to pull back together or have a training round after going fast," described Moffitt, who will ride Tipsy du Terral in Sunday's $214,000 Grand Prix CSIO4*, presented by JTWG, Inc. "She actually gains more confidence from it, which is great to be able to go in and try to win every single class."
Final Results: $37,000 Adequan® WEF Challenge Cup Round 8
1. TIPSY DU TERRAL: 2007 Selle Français mare by Toulon x Quat'Sous
EMILY MOFFITT (GBR), Poden Farms: 0/63.82
2. VINCI DE BEAUFOUR: 2009 Selle Français gelding by Diamant de Semilly x Heartbreaker
DARRAGH KENNY (IRL), Devon MacNeil: 0/64.34
3. BALOUTINUE: 2010 Hanoverian gelding by Balou du Rouet x Landor S
ADAM PRUDENT (USA), Plain Bay Farm: 0/66.31
4. CHIC HIN D HYRENCOURT: 2008 SBS gelding by Taran de la Pomme x Elanville
BEEZIE MADDEN (USA), Abigail Wexner: 0/66.85
5. BULL RUN'S PRINCE OF PEACE: 2009 Holsteiner gelding by Cardenio x Contender
KRISTEN VANDERVEEN (USA), Bull Run Jumpers Six LLC: 0/67.18
6. KINO: 2008 Holsteiner gelding by Lord Z x Chambertin 3
KAREN POLLE (JPN), Kinoshita Group: 0/67.38
7. PRESENCE: 2008 Holsteiner stallion by Contendro II x Ulibra
MARIA COSTA (USA), Ravello Farms, LLC: 0/67.45
8. DICAS: 2009 Rheinlander gelding by Diarado x Cassini I
MARGIE ENGLE (USA), Storm Ridge Capital LLC, Show Horses, Garber & Gladewinds Partners LLC: 0/67.58
9. ACUERO: 2010 Hanoverian gelding by Acorado x Citoka
ALONSO VALDEZ PRADO (PER), Alonso Valdez Prado: 0/68.15
10. UBILUC: 2012 Mecklenburg stallion by Ubiko x Lucian
DANIEL BLUMAN (ISR), Over The Top Stables LLC: 0/68.22
11. CASANOVA 499: 2011 Holsteiner gelding by Clarimo x Wencke
JESSICA MENDOZA (GBR), Carly Day: 0/68.55
12 BINGO DU PARC: 2011 Selle Français gelding by Mylord Carthago *HN x Diamant de Semilly
HARRIE SMOLDERS (NED), COPERNICUS STABLES, LLC: 0/69.18