By Kate Pettersen and Jennifer Wood for Jennifer Wood Media, Inc.
As the week eight CSIO4* gets underway at the Winter Equestrian Festival (WEF), it was Adrienne Sternlicht (USA) and Lafayette Van Overis, owned by Starlight Farms 1, LLC, who scored a victory in the $5,000 Premier Equestrian Welcome Stake CSIO4* daytime class on Wednesday, March 3, at the Palm Beach International Equestrian Center (PBIEC).
WEF 8 sponsored by Premier Equestrian, continues through March 7 and features the $150,000 Nations Cup, presented by Premier Equestrian on Friday, March 5, the $50,000 CaptiveOne Advisors 1.50m National Grand Prix and $37,000 Hermès Under 25 Semi-Final Grand Prix under the lights on Saturday, March 6, and the $214,000 Grand Prix CSIO4*, presented by JTWG, Inc., on Sunday, February 7. All feature classes will be available live and on-demand on the livestream.
A total of 65 combinations challenged the 1.40m track set by Steve Stephens (USA) and Nick Granat (USA), which featured 13 jumping efforts in a speed format. Sternlicht and the 10-year-old Belgian Warmblood gelding by Kashmir Van Schuttershof x Tauber van het Kapelhof, made swift work of the course, with a double-clear effort in 58.54 seconds. The pair has only been together for five months, but the partnership is progressing well.
"Lafyette is a very competitive horse," said Sternlicht. "Bertram Allen won a ton on him before, so I think immediately when you have a horse like that, you feel a bit of pressure for it to go well right off the bat. It has been a little bit up and down; he's quite a different ride. Bertram has quite a different riding style than I do but I have to give credit to him; he has helped me within the past week, and everything seemed very easy today, so I was happy."
It was an all-female podium as Jessica Mendoza (GBR) and Windsor Farms' Dublin, a 14-year-old German Sport Horse gelding by Cobra x Calido, stopped the clock just behind the American rider in 58.75 seconds. © McDermott (USA) and Entano, a 12-year-old Dutch Warmblood gelding by Namelus R x Numero Uno, owned by Over The Top Stables, LLC, took home third place in a time of 58.78 seconds.
Sternlicht's plan heading into the ring was just to jump a smooth round and rely on her horse's natural speed to do the rest.
"By nature, myself and my coach McLain Ward are real planners," said Sternlicht. "Bertram told me the less I counted [strides], the better. It's definitely an adjustment but everything came up really nicely today, and we're all scratching our heads because it seemed very easy."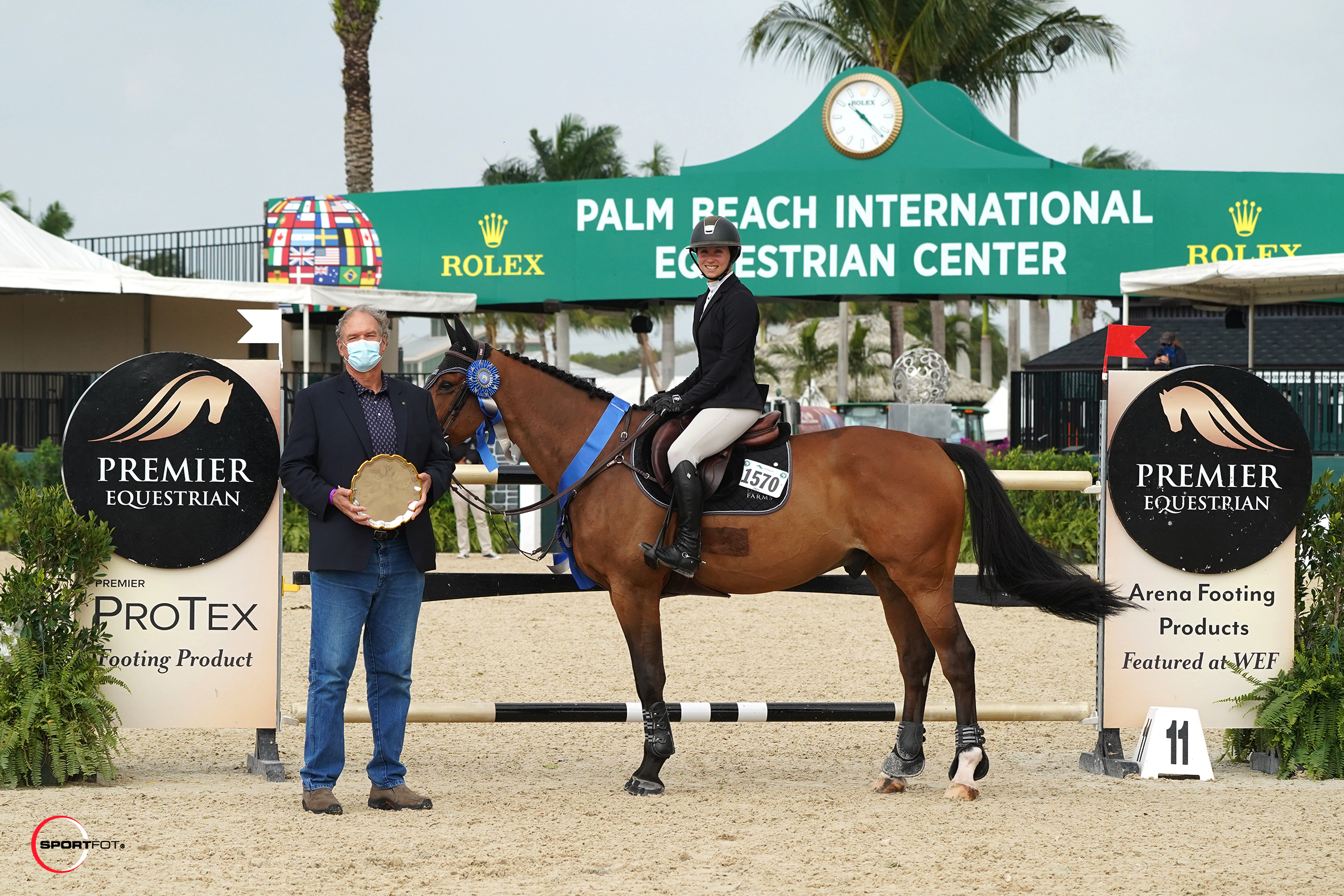 Sternlicht, who made her Nations Cup debut for the United States in Xalapa, Mexico, in 2017, is looking forward to watching her fellow American riders when they jump on Friday night under the lights in the International Arena in the $150,000 Nations Cup.
"I think that competing on a CSIO team is very prestigious and an honor," she said. "Because we're at a home venue for the United States and you have so many of your peers here, the experience of riding amongst your peers and the feeling that you have the whole Wellington community behind you is a special feeling. I'm excited to watch the team."
Full Results: $5,000 Premier Equestrian Welcome Stake CSIO4*
1. LAFAYETTE VAN OVERIS: 2011 BWP gelding by Kashmir Van Schuttershof x Tauber An Het Kapelhof
ADRIENNE STERNLICHT (USA), Starlight Farms 1, LLC: 0/58.54
2. DUBLIN: 2007 Deusches Reitpferd gelding by Cobra x Calido
JESSICA MENDOZA (GBR), Windsor Farms: 0/58.75
3. ENTANO: 2009 KWPN gelding by Namelus R x Numero Uno
MEGAN MCDERMOTT (USA), Over the Top Stables LLC: 0/58.78
4. GERDINIEKE: 2011 KWPN mare by Bacardi VDL x Cornieke
JOHN PEREZ (COL), Daniel Rihan Salum: 0/59.84
5. ELDORADO V: 2009 KWPN gelding by Z x Epilot
CAMILA MAZZA DE BENEDICTO (BRA), Yuri Mansur: 0/59.86
6. I&H BOOGY WOOGY: 2006 gelding by Faldo x Ginus
ABIGAIL MCARDLE (USA): Samuel Parot Jr: 0/60.42
7. ABSOLUTE DU MIO: 2010 gelding by Mylord Carthago*hn x Cylverado D'inxent
ALESSANDRA VOLPI (USA), Alessandra Volpi: 0/61.02
8. AL CAPONE: 2006 Deutsches Sportferd stallion by Candillo 3 x Argentinus
ANDRES AZCARRAGA (MEX), Jaime Azcarraga & Family: 0/61.53
9. LINCOURT GINO: 2003 Irish Sport Horse gelding by Gino III x Graf Magna
ALEJANDRO KAROLYI (VEN), Monica Carrera: 0/61.83
10. TREVITA: 2012 Hanovarian stallion by Graf Top x Stakkato
LIUBOV KOCHETOVA (RUS), Liubov Kochetova: 0/66.29
11. FIFTY SHADES: 2008 Westphalian gelding by Call Me Number One x Sheltana
ANDREA TORRES GUERREIRO (COL), Andrea Torres Guerreiro:
12. MIKE WAZOWSKI: 2012 Hanovarian stallion by Balou Du Reventon x Centadel
NICOLAS PIZARRO (MEX), Nicolas Pizarro & Alberto Lavalle: 0/69.61