Thirty-eight entries contested the course in the $15,000 WEC Derby 3′ Non Pro, but it was Addison McQuaker and her own Golden Ticket (Stakkato Gold) that earned the top spot. McQuaker and the 5-year-old Oldenburg gelding took the Champion title in last week's Junior Hunter 3'3″ 15 and under division and were well-schooled for this afternoon's class. The pair was breathtaking, earning a score of 91, the highest score of the first round. In the handy round, 13-year-old McQuaker piloted Golden Ticket seamlessly through all inside turns, earning a second score of 92 for a total score of 183, topping the class.
Christopher Coberley had another successful ride aboard Havens Schatt's Actender PS (Action Breaker x Conpila) this afternoon. Coberley and the 8-year-old Oldenburg gelding have taken several top placings in the $15,000 WEC Derby 3′ Non Pro throughout the winter, including 1st place during Week 5. This afternoon, the pair were on their game, earning scores of 90 and 91, totaling 181 for 2nd place.
Isabel Harbour and IMH Equine, LLC's Fitz (Numero Uno x Kootje) also demonstrated two beautiful rounds in the $15,000 WEC Derby 3′ Non Pro. Harbour and the 13-year-old Dutch Warmblood gelding topped the class during Week 4 of the World Equestrian Center – Ocala Winter Spectacular and took to the course this afternoon in search of another win. The pair earned scores of 85 and 86, totaling 171 for 3rd place.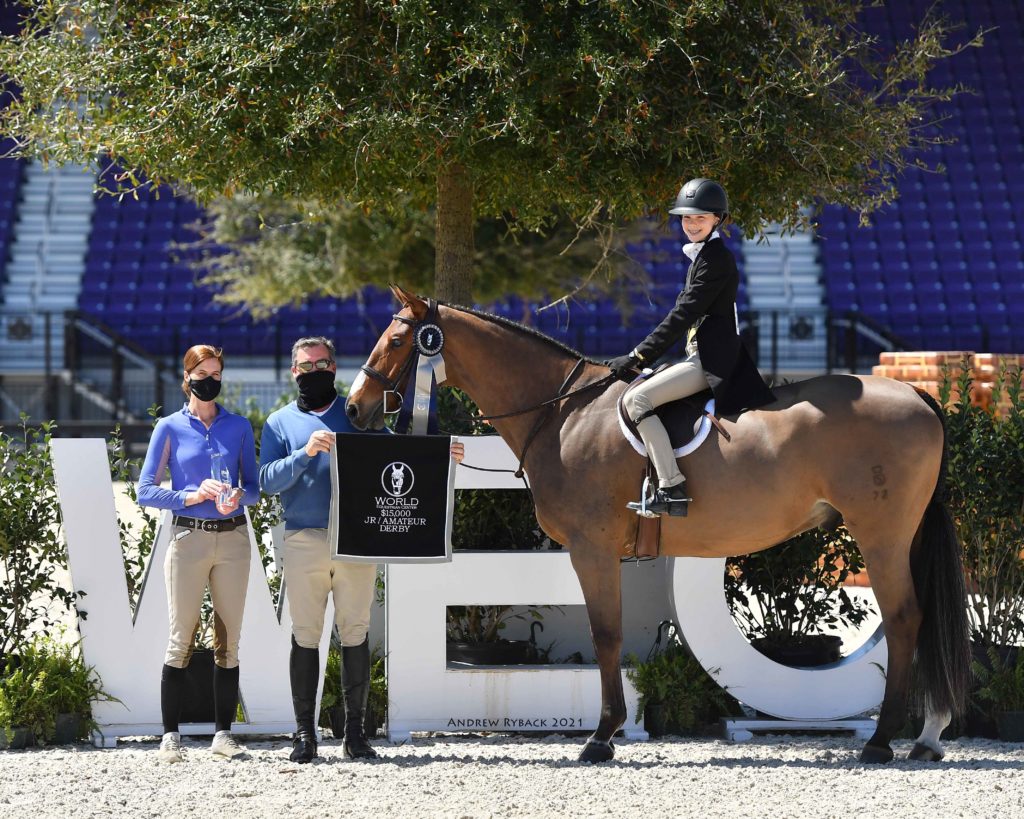 McQuaker, who trains with Mac McQuaker of Gryphon Farms in Ontario, Canada, took a moment to chat after the awards presentation, "Golden Ticket was really good today. He's really young, so we didn't want to be too aggressive. We stayed slow and steady. We practiced the final inside turn and it worked out well."
When asked about Golden Ticket's personality, McQuaker replied, "He's really sweet and funny. He really likes treats, his favorites are donuts and bananas. He has a birthday coming up on March 12th!"
$15,000 WEC Derby 3′ Non Pro Results
Golden Ticket, Addison McQuaker – 91 | 92 | 183
Actender PS, Christopher Coberley – 90 | 91 | 181
Fitz, Isabel Harbour – 85 | 86 | 171
Dreamland, Addison Reed – 86 | 84.5 | 170.5
Armani Code, Mackensie Bowels – 82 | 88 | 170
My Way, Stacey Vertullo – 80 | 80 | 160
Freedom G, Addison Reed – 78 | 81 | 159
Undercover, Christopher Coberley – 84.5 | 72 | 156
Refferty, Sophia Strickler – 84 | 64 | 148
Scirocco, Mckenna Nagy – 76 | 71 | 147
FEATURED AWARDS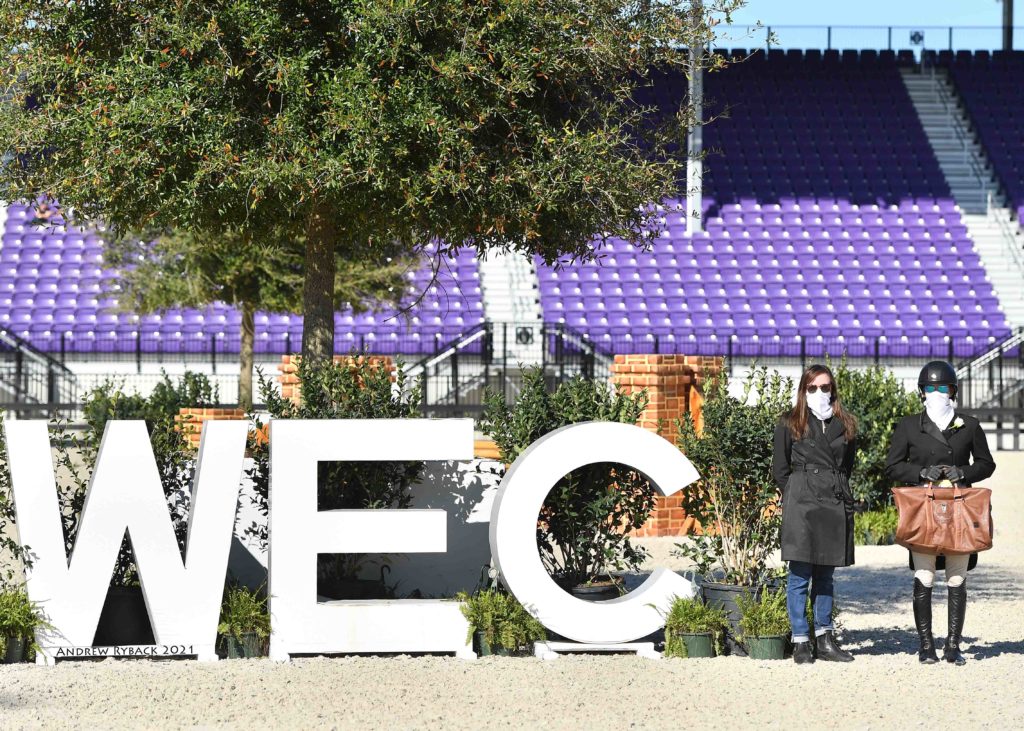 Before the start of the handy round in the $15,000 WEC Derby 3′ Open, the prestigious Style of Riding Award was presented to Brooke Kemper for her classic style and her sportsmanship. The Style of Riding Award is generously donated by Bill Rube to be awarded to the rider who best displays the American Style of riding in the ring and sportsmanship outside of the competition arena. The recipient serves as a role model for preserving the integrity and tradition of equestrian sport. "This award is very special to me because the recipient of this award pays it forward both in and out of the show ring," says Rube. Kemper received an elegant leather duffel bag and wore a white rose corsage on her lapel throughout the handy round to signify her achievement.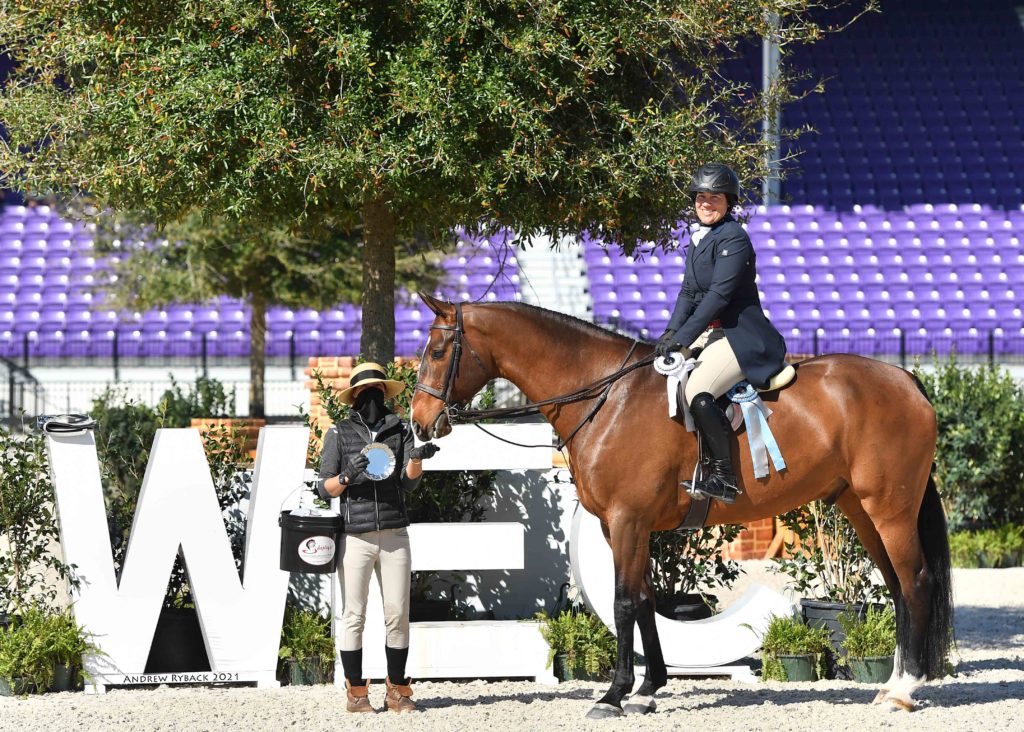 The Shapley's Champion Groom Award for the best turnout in the class was presented to the groom of 4th place finisher in the $15,000 WEC Derby 3′ Open, Hamilton (Numero Uno x Upper Class). Shapley's is a proud sponsor of the World Equestrian Center and is thrilled provide an award each week of the Winter Spectacular to the groom of the best turned out horse. Hamilton's groom received a Shapley's Award Bucket for the gelding's stunning turnout.
Photos courtesy of Andrew Ryback Photography.