By Kate Pettersen and Sabrina Brashares for Jennifer Wood Media, Inc.
Wellington, FL – March 5, 2021 – The hometown squad stepped up to shine under the lights during the week eight CSIO4* as the team from the United States of America claimed victory in the $150,000 Nations Cup CSIO4*, presented by Premier Equestrian in the International Arena on Friday, March 5, at the Winter Equestrian Festival (WEF).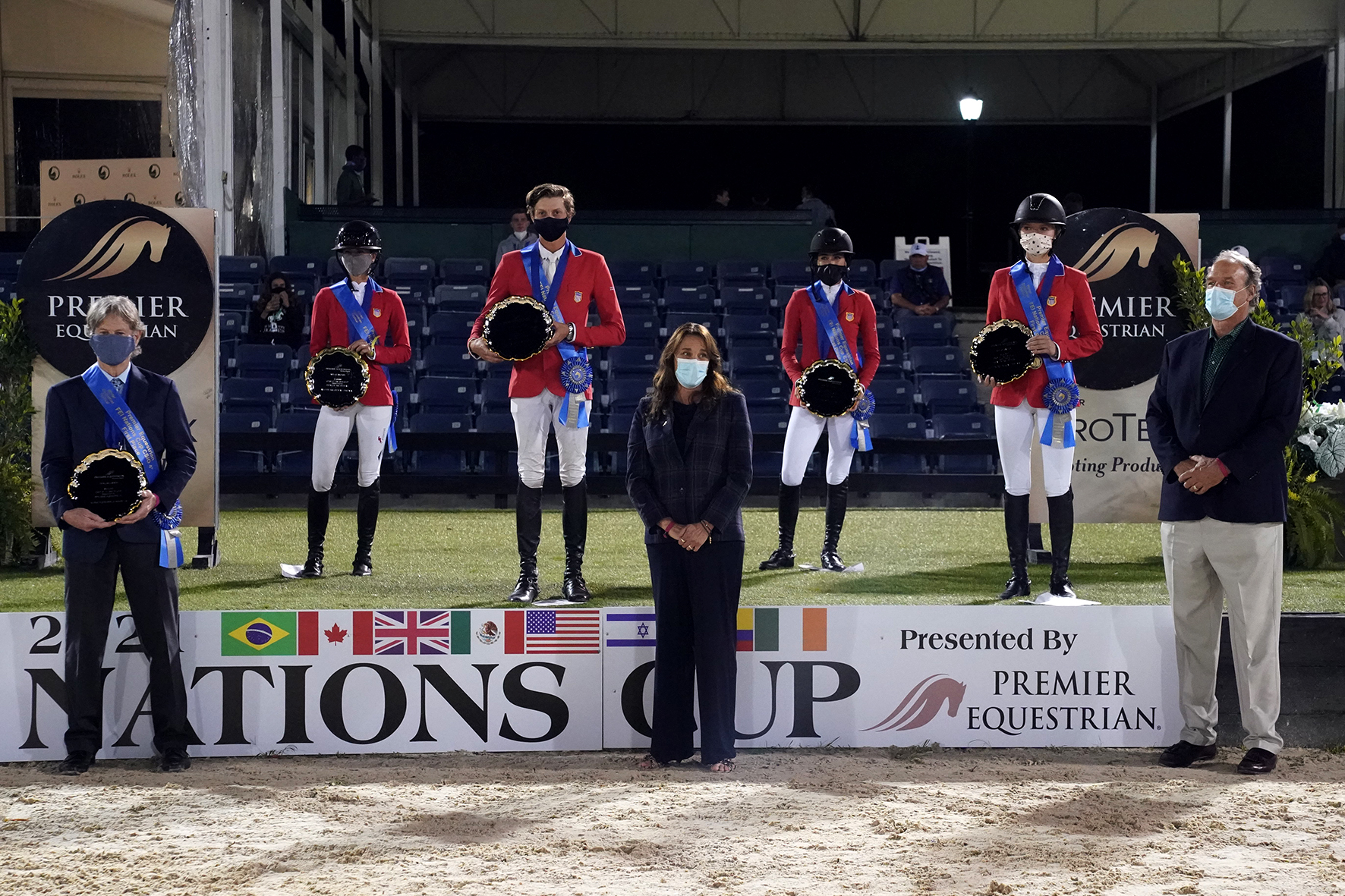 WEF 8 sponsored by Premier Equestrian, continues through March 7 and features the $50,000 CaptiveOne Advisors 1.50m National Grand Prix Saturday afternoon and $37,000 Hermès Under 25 Semi-Final Grand Prix under the lights on Saturday, March 6, and the $214,000 Grand Prix CSIO4*, presented by JTWG, Inc., on Sunday, February 7. All feature classes will be available live and on-demand on the livestream.
In an adjusted format, the opening round was held at 4:30 pm EST while the second round was held under the lights in the International Arena getting underway at 7:30 pm EST, with both phases over a course designed by Steve Stephens (USA) and Nick Granat (USA). After the first round, each team dropped their highest score, with all eight teams from the opening phase qualifying to return for the second round under the lights.
Ireland held the lead after the first round of competition as all four team members, Shane Sweetnam, Bertram Allen, Michael Duffy, and Cian O'Connor, jumped fault-free rounds. The home team United States came in just behind the Irish, carrying one fault total while Israel returned in third position, on a four-fault score.
In the second round, the NetJets U.S. Jumping Team consisting of Lillie Keenan aboard Fasther, Brian Moggre with Balou De Reventon, Bliss Heers on Antidote De Mars, and Jessica Springsteen riding Don Juan Van Donkhoeve, coached by Chef d'Équipe Robert Ridland, jumped into the lead carrying a score of zero down the home stretch.
First to return for the U.S. squad in the second round was 24-year-old Lillie Keenan who jumped clear in the opening round. Keenan and Fasther, an 11-year-old Dutch Warmblood gelding by Vigo D'Arsouilles x Blister owned by Chansonette Farm LLC, finished on just four faults in the second round, a score that would eventually be dropped for the team.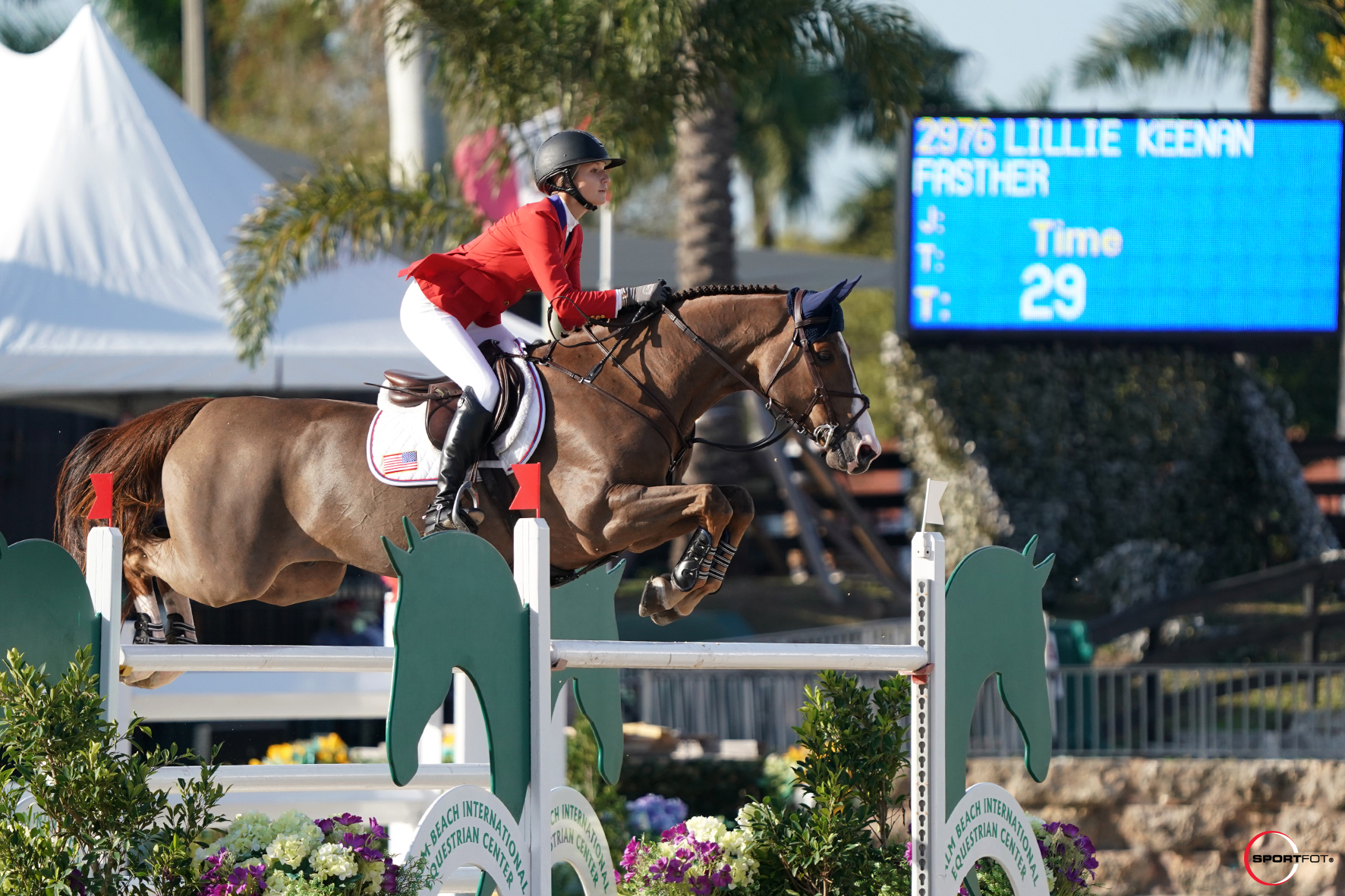 "Every time that I get to jump for Team USA, it's my favorite competition," said Keenan "It's something we all look forward to every year. It's the aim, right? We plan out the year, and the high point is the chance that we get to jump for Team USA. To be able to bring home a win on home soil is thrilling. It's what we set out to do; we had a plan. I had fantastic teammates, our Chef d'Equipe, our manager Lizzie Chesson; they do an unparalleled job, and we are ridiculously lucky. We're grateful to rise to the occasion. We're a very young team and each of us have something that's a first. For my horse, it's the first time he's ever jumped a Nations Cup. I have jumped them with other horses, but never with him. It's really telling for the future of Team USA. We have a really young team, but we are a force to be reckoned with."
In his second career Nations Cup, Brian Moggre piloted Balou De Reventon, a 15-year-old Oldenburg stallion by Cornet Obolensky x Georgia, owned by Ann C. Thompson, to a four-fault effort in the first phase of competition. The 19-year-old rider returned in the second round to improve on that score with a clear effort.
"This week is actually my fourth week showing the horse," said Moggre. "Every week we're just getting to know each other better. He's amazing. He has more experience in this atmosphere than I do, so it's nice to rely on him for that. I just really wanted to use this as an opportunity to get to know this horse in this format. Hopefully we will continue to be put on teams like this. I'm just really grateful for the horse. Ann Thompson who owns him is incredible. It's been a really great time getting to know him."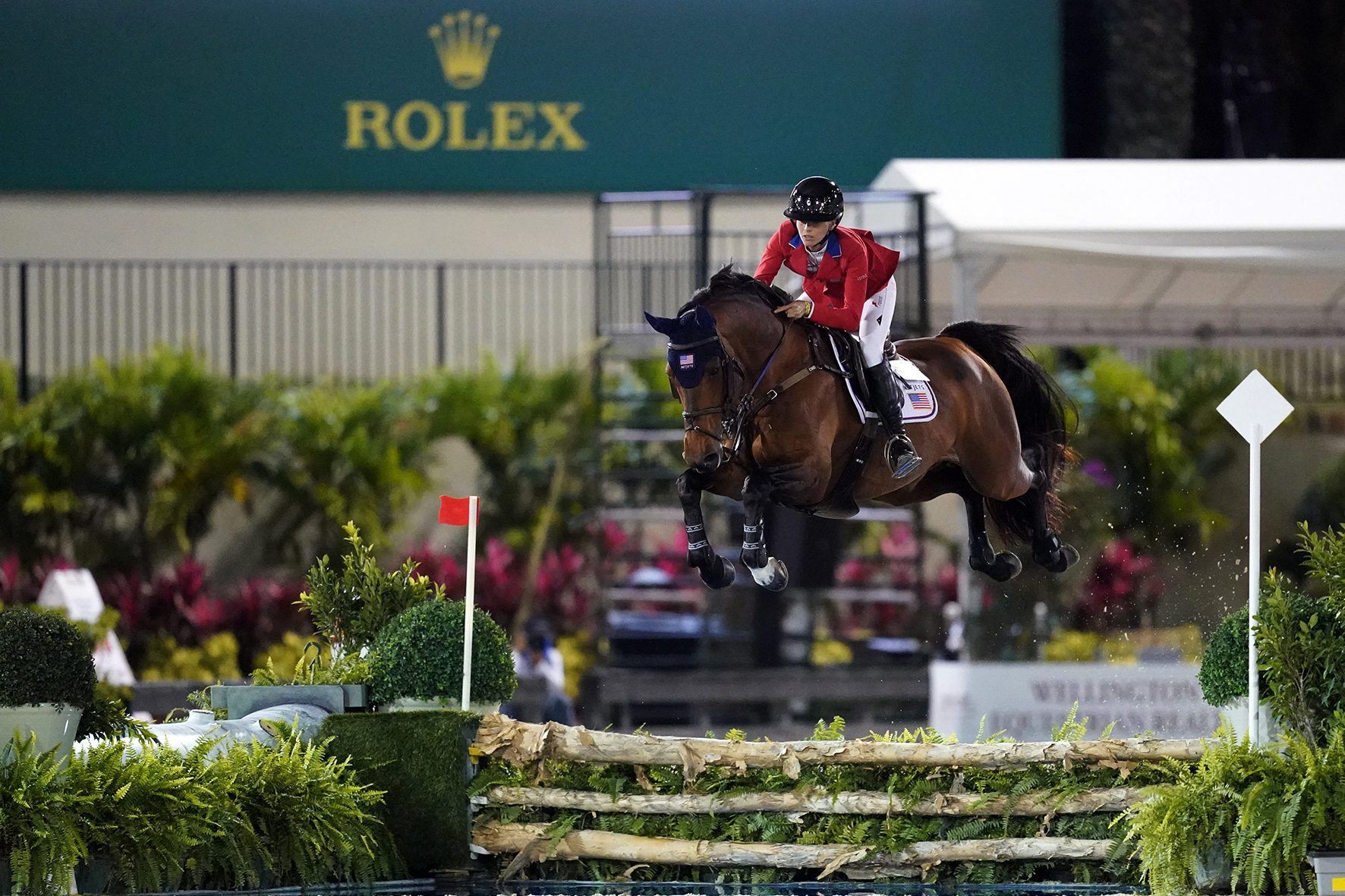 Making her debut for the American team, Bliss Heers and her mount Antidote De Mars, an 11-year-old Selle Francais stallion by Diamant De Semilly x Tilda De Mars owned by Bridgeside Farms LLC, were stellar. The 33-year-old rider from Las Vegas, NV, and her talented partner put forth a double clear effort, the only U.S. pair to jump totally fault free.
"I feel incredibly blessed," said Heers. "My teammates are incredible, and I'm happy for the opportunity. My horse is incredible. I know going in, whatever I ask, he does, and he tries his heart out. After the first round, it was exciting to say the least. Then to go into the second round under the lights and have to repeat the same thing, it doesn't seem like much but then again, scores start coming in and I relied on him. He feels the pressure and always rises to the occasion. I can count on him every time."
Second last to go in the second-round order was USA's Jessica Springsteen and Don Juan van de Donkhoeve, a 15-year-old Belgian Warmblood stallion by Bamako De Muze x Diva Vd Donkhoeve owned by Stone Hill Farm. The 29-year-old rider and her partner finished with just one time fault in the opening round and brought the hometown crowd to their feet, sealing the deal for the American contingent jumping clear in the final round.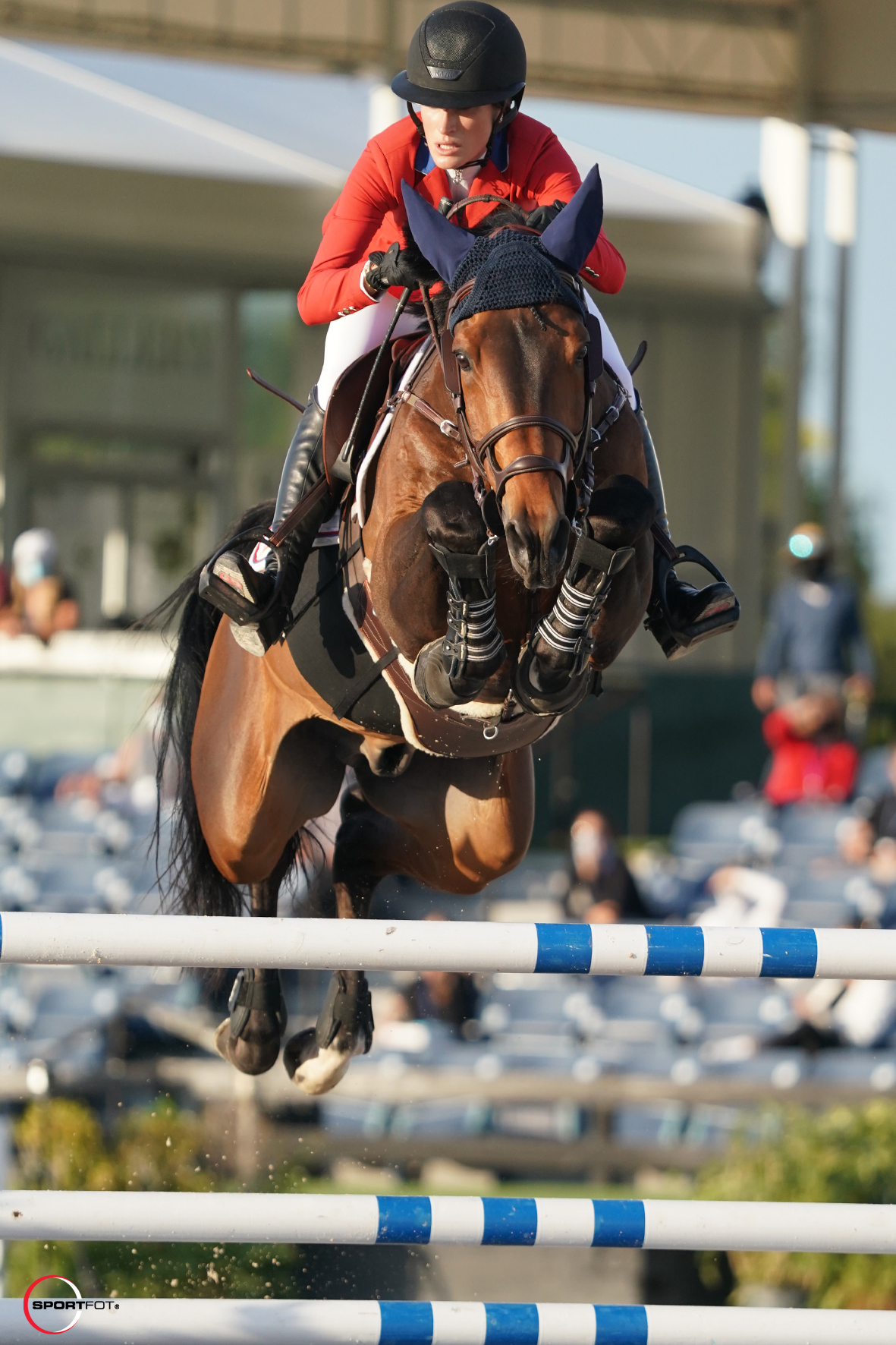 "I think you always feel more pressure when you're representing your country," said Springsteen. "It was the first Nations Cup in a long time, and we all were so excited this whole week. It was a really fun team."
The win marked the ninth in the 20 years of the Nations Cup at WEF for the United States show jumping team, including their third consecutive victory.
"We knew coming in that we had a very young team," said Chef d'Équipe Robert Ridland. "When your second and third riders in the order combined have one Nations Cup, it's not much experience in the heart of the order. It was really nice and exciting. We were up against some real teams. When we saw the Irish starters, on paper that's a really solid, veteran team. I couldn't be more excited."
The Irish Team of Shane Sweetnam (0,0), Bertram Allen (0,4), Michael Duffy (0,4), and Cian O'Connor (0,0) held on for a second place finish on a total of four faults.
Rounding out the podium in third place was Team Brazil with Rodrigo Lambre (16,8), Luiz Francisco De Azevedo (0,0), Yuri Mansur (8,5), and Rodrigo Pessoa (0,1) with a score of 14 faults total.
In addition to Heers, Sweetnam, O'Connor, and De Azevedo, an additional two riders had double clear rounds including Ashlee Bond (ISR), and Amy Millar (CAN).
The format was new to all riders with the first round held in the daylight while the second, in the traditional Nations Cup setting at WEF, under the lights.
"It can give you time to overthink everything," said Springsteen of the adjusted format. "I had a time fault in the first round, so I saw where I could make up a little bit of time. It was nice. I've never done this Nations Cup here before, so I was super excited. It was a great night."
For Moggre, the extra experience of jumping on a Nations Cup team is one the young rider relishes. He spoke highly of the handiwork of Steve Stephens, course designer, and enjoyed the new format.
"I think the course really asked a lot of the right questions for this type of class, and I think that's important," said Moggre. "It was really interesting how the first round went during the day and the second round went at night because that's a change of atmosphere. Some horses struggle with that and some horses strive with it. I think that it was a really interesting way to do the Nations Cup this year, but as the first one we had, I think it was a great experience. I myself had a great time, and I think I can speak on behalf of my teammates."
Rounding out the Nations Cup team results were Israel in fourth, Canada in fifth, Great Britain placed sixth, Colombia was seventh, and Mexico finished eighth.
Following the class, the Denis Quinlan Perpetual Memorial Trophy was presented to the winning Nations Cup team. In the inaugural year of the award, it is given in his memory and recognizing his support in bringing the Nations Cup event to Wellington in 2002 and for his extraordinary support of equestrian sport.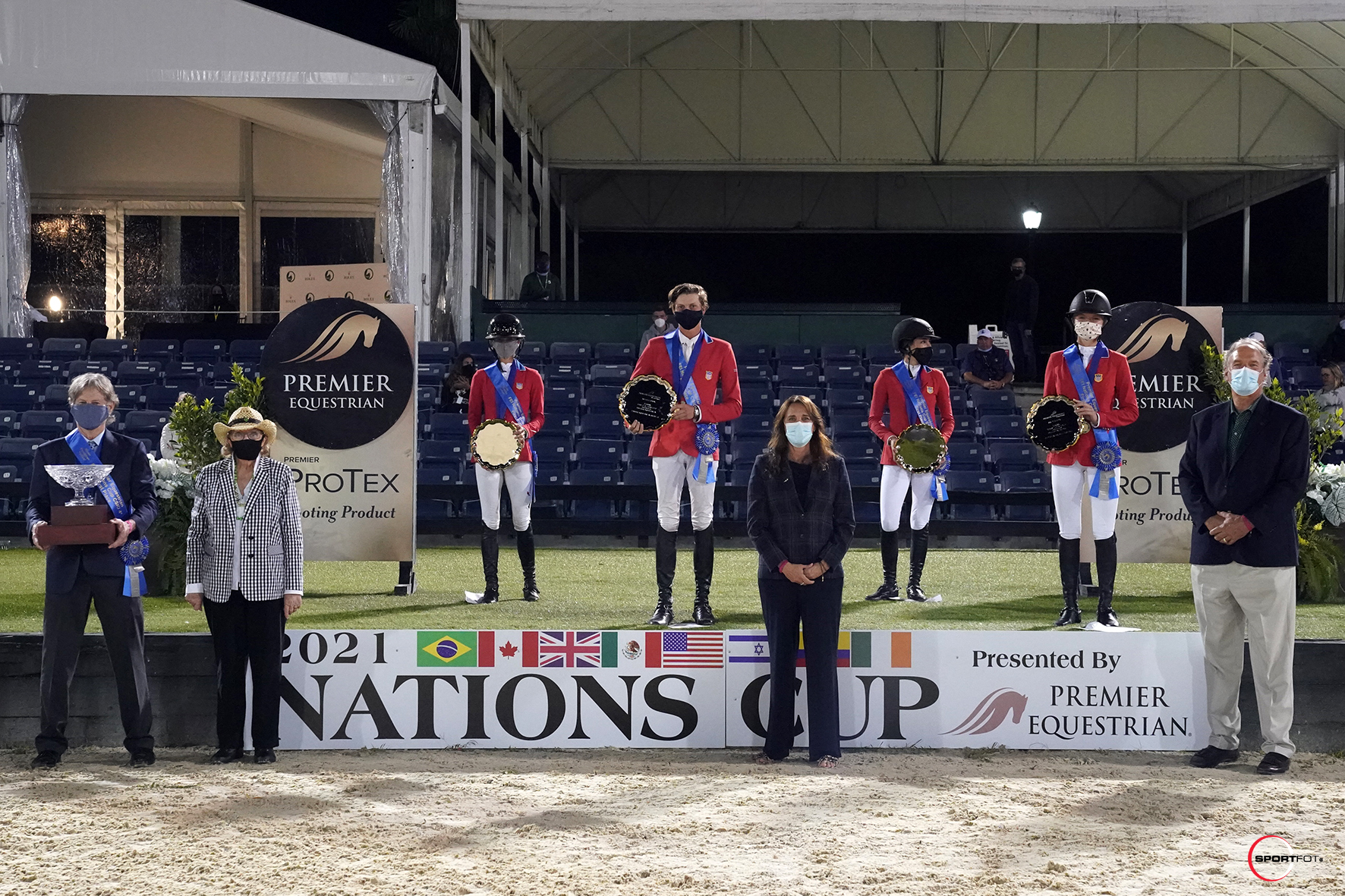 Final Results: $150,000 Nations Cup CSIO4* presented by Premier Equestrian