By Jennifer Wood, Kate Pettersen and Summer Grace for Jennifer Wood Media, Inc.
Victory in the $37,000 Douglas Elliman Real Estate 1.45m Classic CSIO4* went to Abdel Said (EGY) and his own Arpege du Ru.
There were 29 entries and 12 clear rounds in the morning class, and they were all going for speed over a course designed by Steve Stephens (USA) and Nick Granat (USA). The early leader was Daniel Deusser (GER) and Stephex Stables' Calisto Blue, who set a time of 60.66 seconds that would hold up for third place. Near the end of the class, Andrew Bourns (IRL) and Darquito broke the 60-second barrier to finish in second place on 59.69 seconds.
However, it was Said and Arpege du Ru who couldn't be beat, finishing the course in a speedy 57.98 seconds for the win.
Said has ridden Arpege du Ru for three years, having received a phone call from his Global Champions League teammate Marlon Zanotelli about a horse he had for sale that he thought would make a good junior jumper.
"The feeling was so good that I bought her," said Said of the 11-year-old Selle Français mare by Apache d'Adriers x Quat'sous. "She was amazing to me. She's so competitive; she's so intelligent. She's really quick with her legs. She's so fast. If you watched her round, there was nowhere you really have to chase her. If you're neat with your turns and the jumps stay up, she normally wins."
Said won the Bainbridge Companies 1.40m CSI3* at WEF 2 with Bandit Savoie, but felt that Arpege du Ru was due for a win.
"I don't always like to use the phrase 'unlucky,' because I always think I can do better, but somehow with her, we've been a bit unlucky," he said with a smile. "She's been jumping great. Every little touch she'd make, the jump would fall.
"I'm just happy for her today and my team," he continued. "It's nice to win in the main ring here and good for the motivation of everybody and morale. It was a nice win."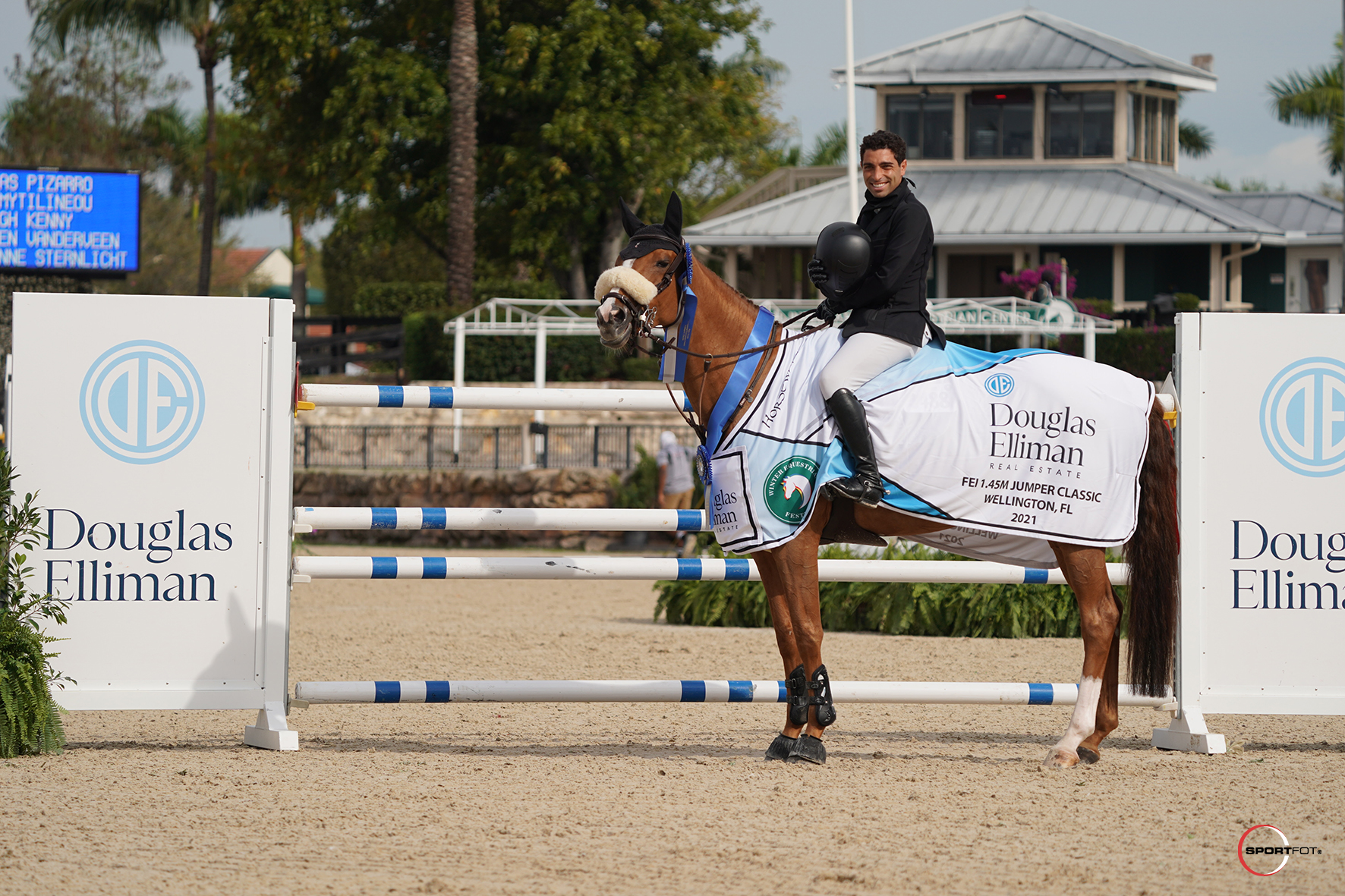 Said, who runs a training, dealing, and sport stable outside Antwerp, Belgium, made "an impulsive decision" to come to WEF this winter.
"It was the only place that was open, the only place that was showing," he noted. "The people are nice, there are regulations and everyone is following them, and we can show. Honestly, you don't feel it, but at the same time, the rules are strict. For me, it's the best place to be by far."
Said hopes to compete in next week's five-star at WEF 9 and is considering his options for staying in the United States to compete beyond the WEF circuit.
Final Results: $37,000 Douglas Elliman Real Estate 1.45m Classic CSIO4*
1. ARPEGE DU RU: 2010 Selle Français mare by Apache D'Adriers x Quat'sous
ABDEL SAID (EGY), Abdel Said: 0/57.98
2. DARQUITO: 2011 Hanoverian gelding by D'inzeo 6 x Contefino 2
ANDREW BOURNS (IRL), Andrew Bourns: 0/59.69
3. CALISTO BLUE: 2007 Oldenburg gelding by Chacco Blue x Con Air
DANIEL DEUSSER (GER), Stephex Stables: 0/60.66
4. CALYPSO DES MATIS: 2012 Selle Français gelding by Padock du Plessis*HN
EDUARDO MENEZES (BRA), Eduardo Menezes: 0/61.25
5. GERDINIEKE: 2011 KWPN mare by Bacardi VDL x Cornieke
JOHN PEREZ (COL), Daniel Rihan Salum: 0/61.85
6. AL CAPONE: 2006 Deutsches Sportferd stallion by Candillo 3 x Argentinus
ANDRES AZCARRAGA (MEX), Jaime Azcarraga & Family: 0/64.07
7. LINCOURT GINO: 2003 Irish Sport Horse gelding by Gino III x Graf Magna
ALEJANDRO KAROLYI (VEN), Monica Carrera: 0/64.26
8. QUINTIN: 2010 KWPN gelding by Quaprice Z x Emilion
HYDE MOFFATT (CAN), Ariel Grange: 0/64.61
9. H5 JEMOUSIN: 2009 BWP gelding by Vivaldi du Seigneur x Lipton
CARLOS HANK GUERREIRO (MEX), H5 Stables: 0/65.24
10. EXTRA DES SEQUOIAS: 2010 SBS gelding by Thunder van de Zuuthoeve x Saccor
CARLOS RAMIREZ (COL), Carlos Ramirez: 0/66.46
11. MIKE WAZOWSKI: 2012 Hanovarian stallion by Balou Du Reventon x Centadel
NICOLAS PIZARRO (MEX), Nicolas Pizarro & Alberto Lavalle: 0/70.29
12. L'ARTISTE DE TOXANDRA: 2011 BWP gelding by Toulon x Donnatella Van De Zelm
IOLI MYTILINEOU (GRE), Elia Construction SA: 0/70.83