Sixteen entries contested the 1.40m track for the $7,500 Futures Prix, with five jumping double clear, but none could best Izzy Beisel and David Beisel's Ammeretto (Numero Uno x Ranna), who set a pace early on in the class that proved unbeatable.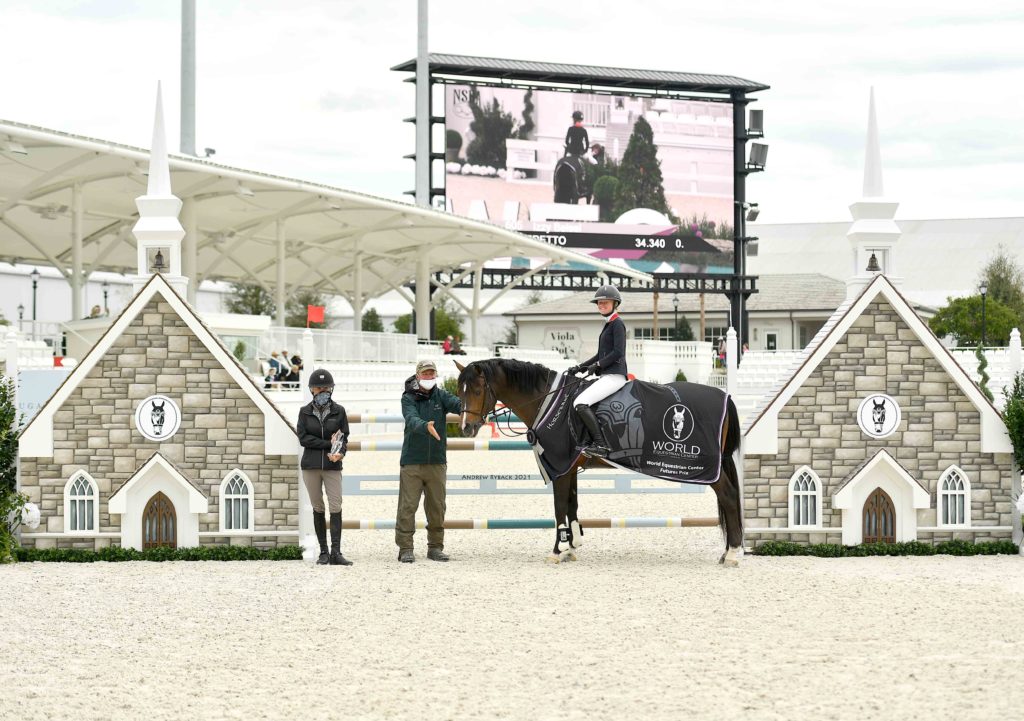 Izzy Beisel and the 15-year-old Dutch Warmblood stallion have been strong competitors in the futures prix classes over the past two weeks, earning 2nd and 5th place, and were determined to win this afternoon. The pair took to the course near the top of the order, jumping a clear first round in 73.655 seconds, well under the time allowed of 77 seconds. They continued straight to the jump-off, choosing a challenging inside approach to fence 15 that shaved crucial seconds off of their time. Beisel and Ammeretto galloped through the timers at 34.340 seconds with all rails up, moving to the top of the leaderboard and ultimately winning the class.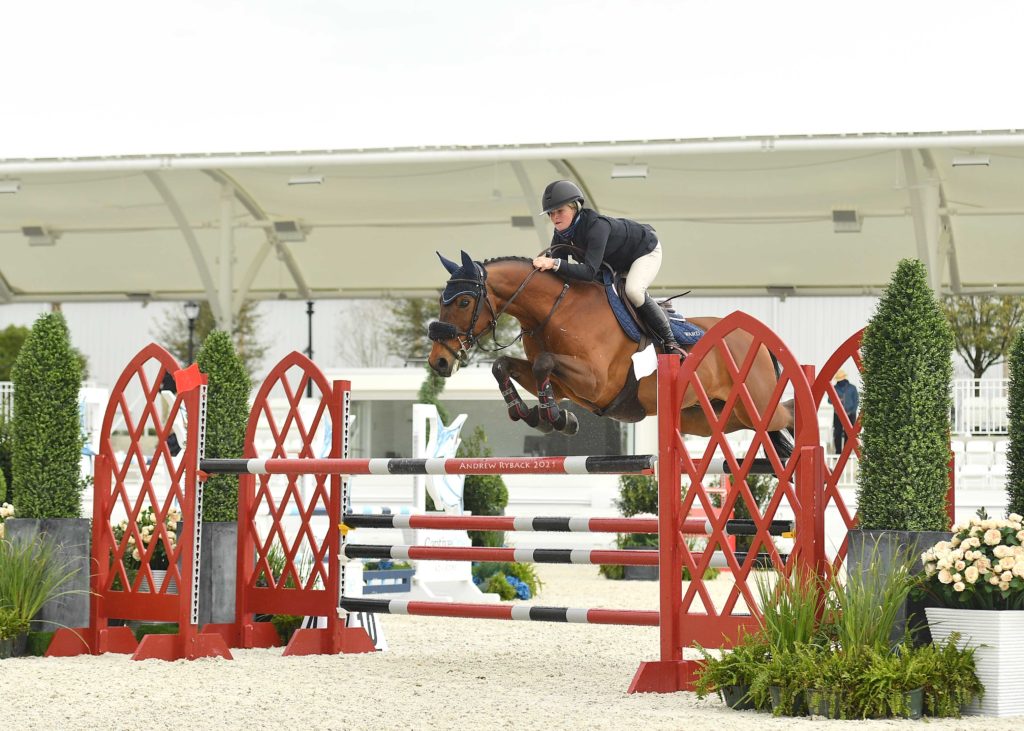 While Beisel and Ameretto took the blue ribbon by two seconds, the remaining four double clear entries saw a tight race for their ribbons. Morgan Ward and Jenni Hebel's Levin (Cappucino x Sussi) laid down an impressive round late in the order. The 9-year-old Belgian Warmblood gelding has taken several top placings in the 1.10-1.15m jumpers with Paige Hamilton throughout the World Equestrian Center – Ocala Winter Spectacular, and Ward had the ride today. The duo managed one of the fastest first rounds of the class in 71.568 seconds before advancing straight to the jump-off. They mirrored Beisel's inside track and kept a forward pace throughout the course, stopping the clock at 36.334 seconds for 2nd place.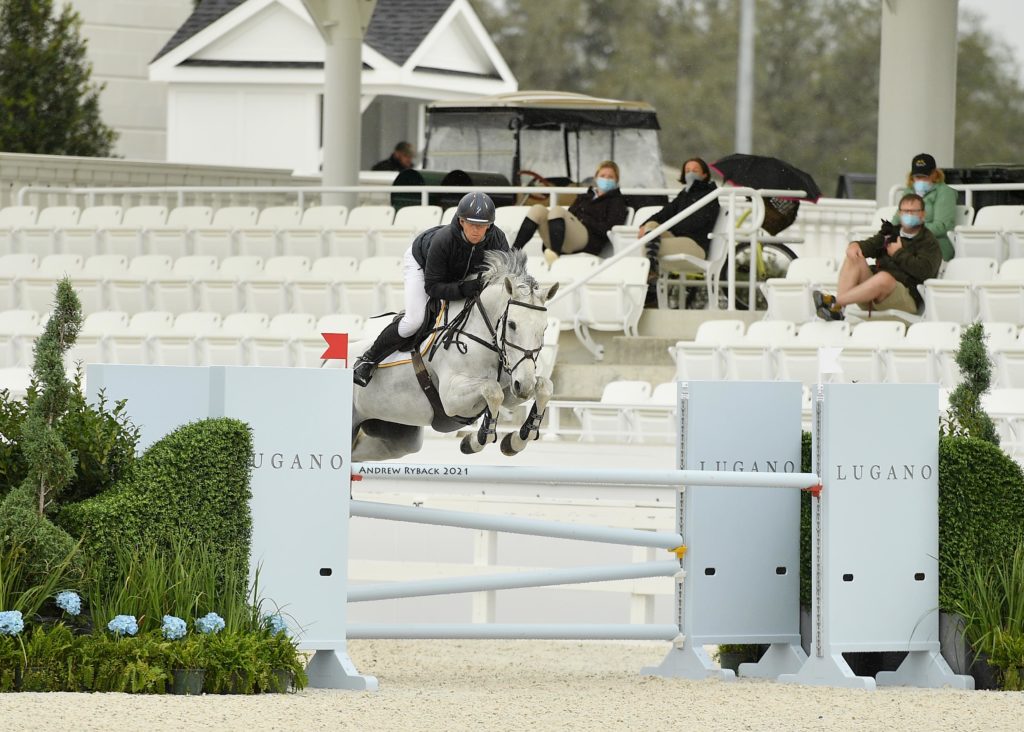 Rounding out the top three finishers were David Cameron and Wellington Grey Goose. The duo earned 5th place in this week's $10,000 1.40m Jumper Classic at World Equestrian Center, preparing them well for this morning's class. Cameron and Wellington Grey Goose were also quick in the first round, jumping clear in 71.908 seconds. They continued straight to the jump-off, choosing to stay out to fence 15. Their pace across the ground made up for the longer track as the pair crossed the timers at 36.460 seconds, landing them in 3rd place.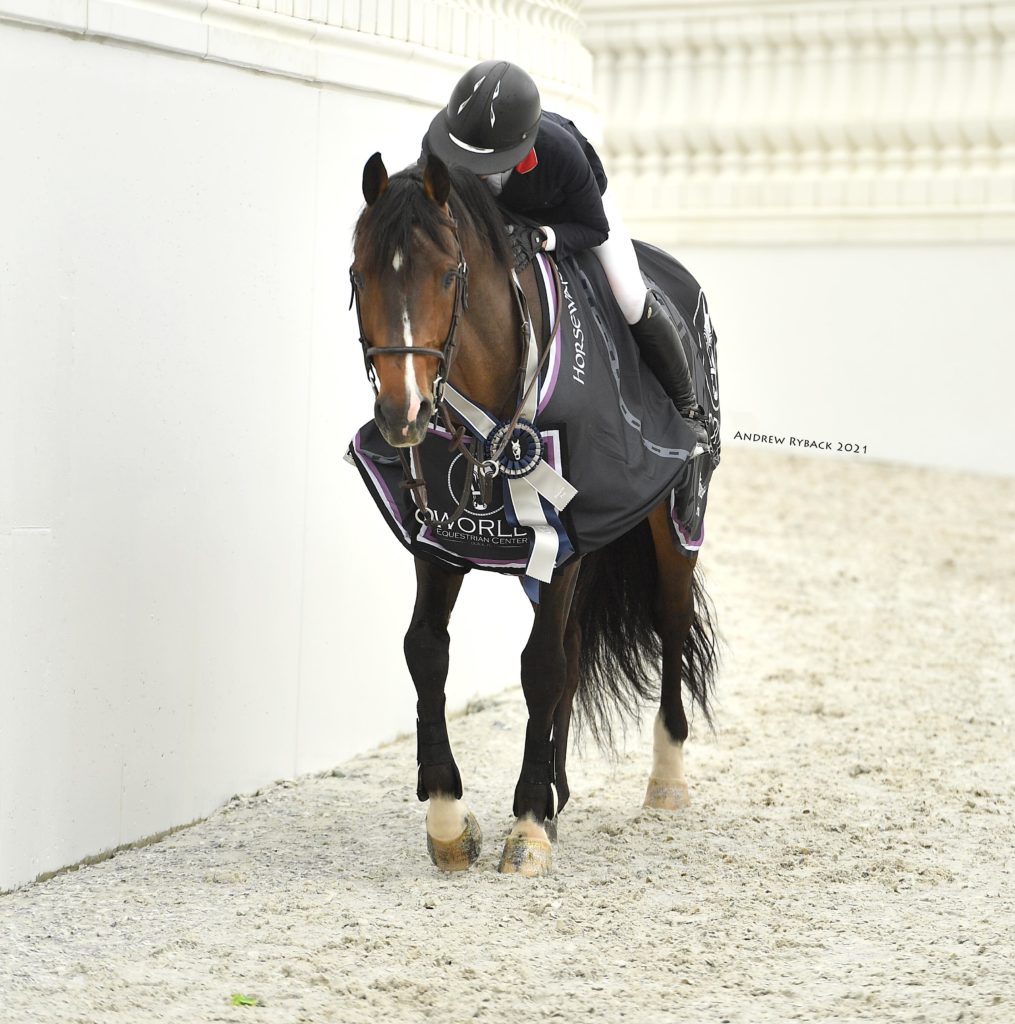 Beisel took a moment to chat about her win and her plan on the short course, "Ammeretto was great today. It was funny because, when we were walking the course, my dad told me that he would likely be cantering on the wrong lead and bucking heading to the first fence in the jump-off, and, sure enough, he was. He ended up deciding to canter on the right lead, which was nice. He's a smart horse, he knows which way he might be turning after a jump, so he ducked right after the first fence. I saw the distance right away to 14, then we went inside to 15. We didn't want to have the skinny down, because we had it down last week. We planned for one, five, and seven strides through the combination and to the final two fences, but we ended up doing six strides to the last fence. He was really good."
She also commented on Ammeretto's signature accessory, "I want to add that Ammeretto got a fresh coat of silver and gold Twinkle Toes on his hooves today, which is always good luck!"
$7,500 Futures Prix Results
Ammeretto, Izzy Beisel – 0 | 0 | 34.340
Levin, Morgan Ward – 0 | 0 | 36.334
Wellington Grey Goose, David Cameron – 0 | 0 | 36.460
Ghana FS Z, Tiffany Hammack – 0 | 0 | 37.776
Daxibus Normandy, Candice King – 0 | 0 | 38.806
Clash Heldenlaan Z, Kieley McQuaker – 0 | 4 | 35.006
Caillou VL, Manuel Torres – 0 | 4 | 36.137
Casanova DVE, Allen Nabors – 0 | 4 | 37.014
Leena M, Paige Cade – 0 | 4 | 37.889
Metro Lass, Patricio Rodriguez – 0 | 8 | 35.958
Photos courtesy of Andrew Ryback Photography.