By Kate Pettersen and Sabrina Brashares for Jennifer Wood Media, Inc.
Wellington, FL – March 7, 2021 – Success at the 2021 Winter Equestrian Festival (WEF) continued for Daniel Deusser (GER) as he and Scuderia 1918 Tobago Z, owned by Stephex and Scuderia 1918, put forth a brilliant double-clear effort to be crowned champion of the $214,000 Grand Prix CSIO4*, presented by JTWG, Inc. on Sunday, March 7, in the International Arena at the Palm Beach International Equestrian Center (PBIEC).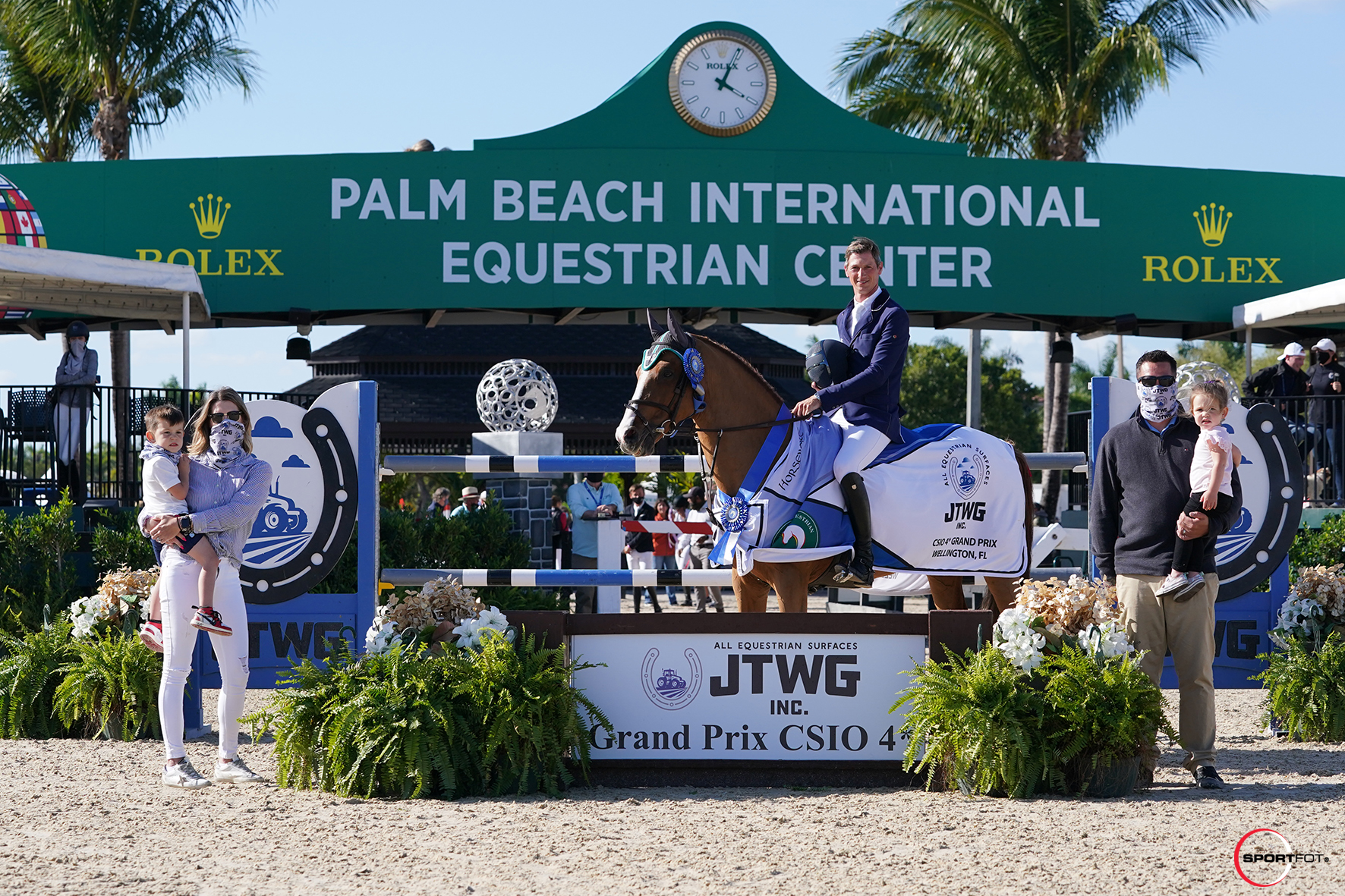 WEF 9 brings CSI5* competition, along with a concurrent CSI2*, back to the International Arena at PBIEC on March 10-14 sponsored by Fidelity Investments® with weekly highlights including: the $37,000 Douglas Elliman Real Estate 1.45m CSI5* on Wednesday, Thursday's $73,000 Adequan® WEF Challenge Cup Round 9, the $37,000 Bainbridge Companies 1.45m Classic CSI5*and $50,000 Wellington Equestrian Realty Grand Prix CSI2* on Saturday, the $401,000 Fidelity Investments® Grand Prix CSI5* as part of "Saturday Night Lights," and the $73,000 CaptiveOne Advisors 1.50m Classic CSI5* and on Sunday. All feature classes will be available live and on-demand on the livestream.
A total of 50 entries including six of the top 12 riders in the world, challenged the opening round track set by Steve Stephens (USA) and Nick Granat (USA), with eight pairs qualifying to return for the jump-off. Sixth to contest the subsequent round, Deusser and the 13-year-old Zangersheide stallion by Tangelo Vd Zuuthoeve x Mr Blue executed the track flawlessly, shaving nearly a second off the leading time to finish in 36.45 seconds.
"To be honest, I only saw Andre [Thieme] on the way to the last jump," said Deusser of the combination holding the lead before he entered the ring. "I didn't really get to see what kind of strides he did everywhere. I had already put together my plan. I know he is very good in short turns to the vertical like [jump] number three. I think maybe there I left one out and had a good turn to the double too, and he was pretty smooth down the straight lines, so I think I had quite a good jump-off."
The aforementioned Andre Thieme (GER) and Chakaria, owned by Pferdemanagement and Marketing, held on to second position with their double-clear effort. Thieme and the 11-year-old German Sport Horse mare stopped the timers in 37.49 seconds.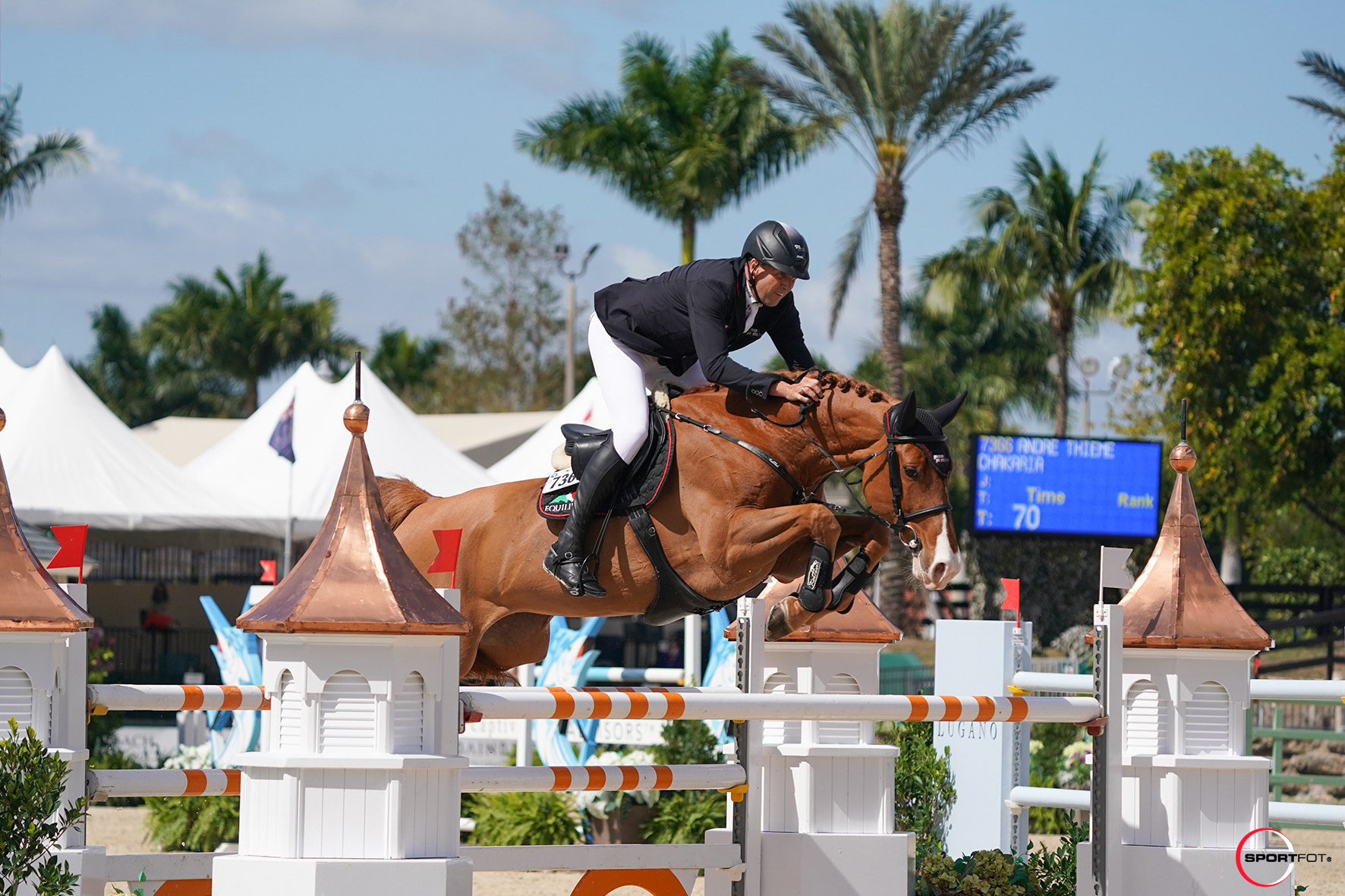 "This is my number one horse, and I took my time with her the last few years because I realized pretty early on what I had with her," said Thieme. "She's pretty special in every way and now slowly we've been working on going faster. My problem with her was that she was always a bit too cranky in the turns but now I've had very good results over the last year, and she's getting quicker and quicker. Today I thought maybe it would be enough, then realized to the last jump I had to do one more [stride] and of course someone like Daniel uses that chance right away. I'm a little bit disappointed with myself, but I'm very happy with my horse.
A fairly new partnership continued to develop successfully as 23-year-old Teddy Vlock (ISR) and Amsterdam 27, owned by Vlock Show Stables, LLC, completed the jump-off track leaving all the jumps in their cups in 37.91 seconds. Vlock, who only acquired the 11-year-old Holsteiner gelding by Catoki x Acord II in January, was thrilled with their third-place finish.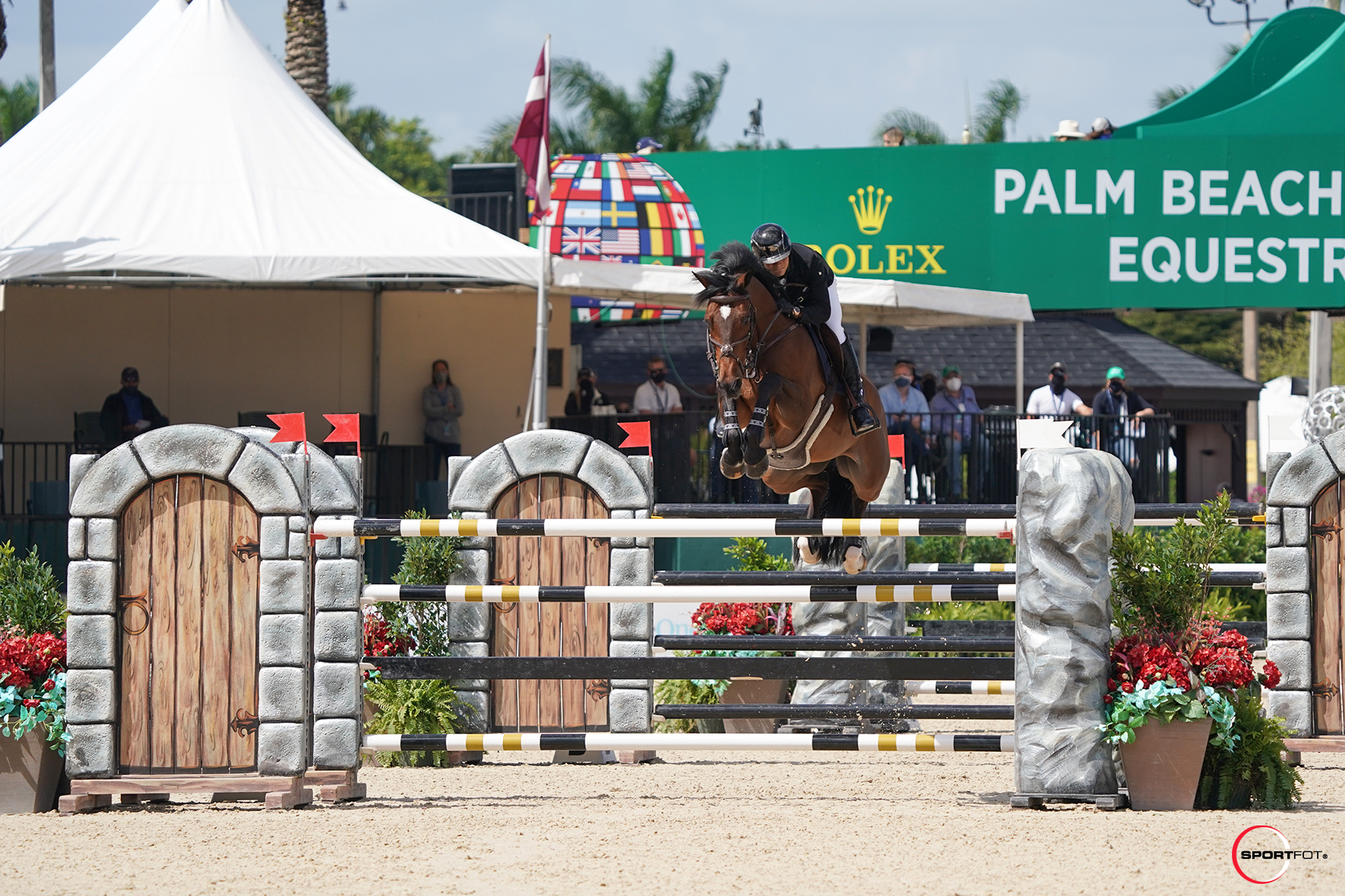 "I couldn't possibly be more excited," said Vlock with a big smile. "He is an amazing horse, and I've only ridden him in about four shows now. Every time I get him in [the ring], I learn something new about him and it's a very good partnership so I'm ecstatic."
Speaking of what he has learned of his new mount, Vlock said, "Today I think I understood more. I'm fortunate to have other horses I've had longer partnerships with that are the same caliber as him, but they go a little bit different. I have learned what place to put him in and how to ride the horse to give him the best chance of jumping clear. As a less experienced rider than these guys [Deusser and Thieme], it takes me a little bit longer to figure it out. I'm so happy with everything today."
Deusser continues to rack up wins at WEF and is happy to have his top partner with him in Wellington, Florida. He and the talented stallion 'Tobi' won the Adequan® WEF Challenge Cup during WEF 7, less than a week after the horse arrived on American soil.
"I've been spoiled already," said Deusser. "He had a bit of time off last year and came back end of season last year which was already not a perfect time because of COVID, but to be honest every competition he went to he came back with good results. He did his last competition in December and has had basically two months off. I think he even enjoyed the time without me at home.
"He's been my number one horse for a long time," continued Deusser, "and he knows exactly when he has to show up. In the warmup ring he's pretty quiet, but he comes in the ring and he knows what to do."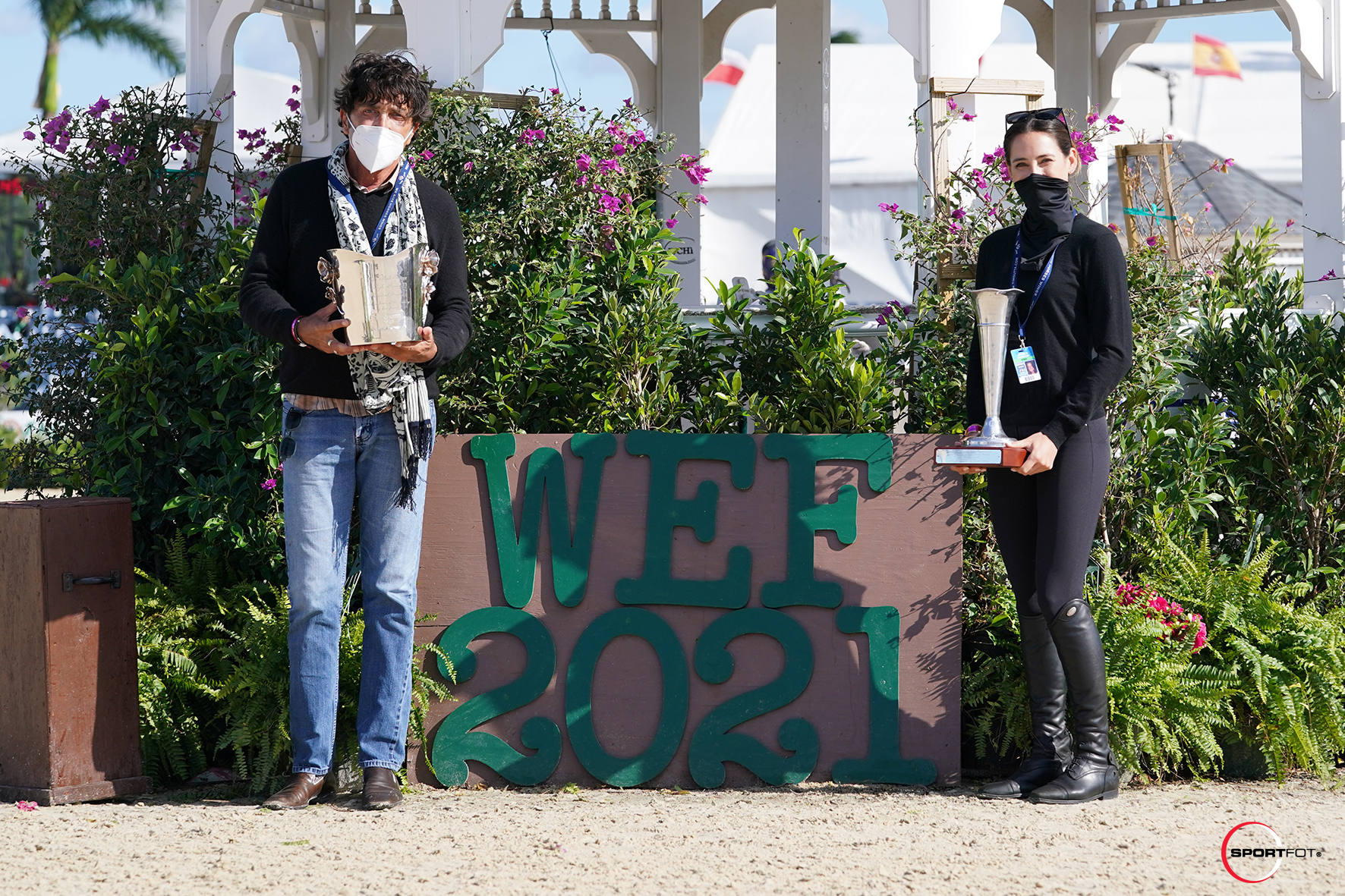 Prior to the jump-off, the Kate Nash Boone Style Award was presented by Michael Meller to Jessica Springsteen to honor the memory of Kate's support and love of "all things equestrian." The 2021 winner was selected by a judges panel, stewards, and ringmaster as the international equestrian who exemplified the best style of riding along with maintaining a sportsmanlike composure while competing in the CSIO at WEF.
The "Cheers" Perpetual Trophy in Memory of Niall Grimes was presented to Bertram Allen as the leading rider representing Ireland in total money won in CSIO classes this past week. Niall Grimes was an accomplished equestrian whose lifelong dream was to represent Ireland in a Nation's Cup Class. It was at the Winter Equestrian Festival in Palm Beach that Niall realized his dream.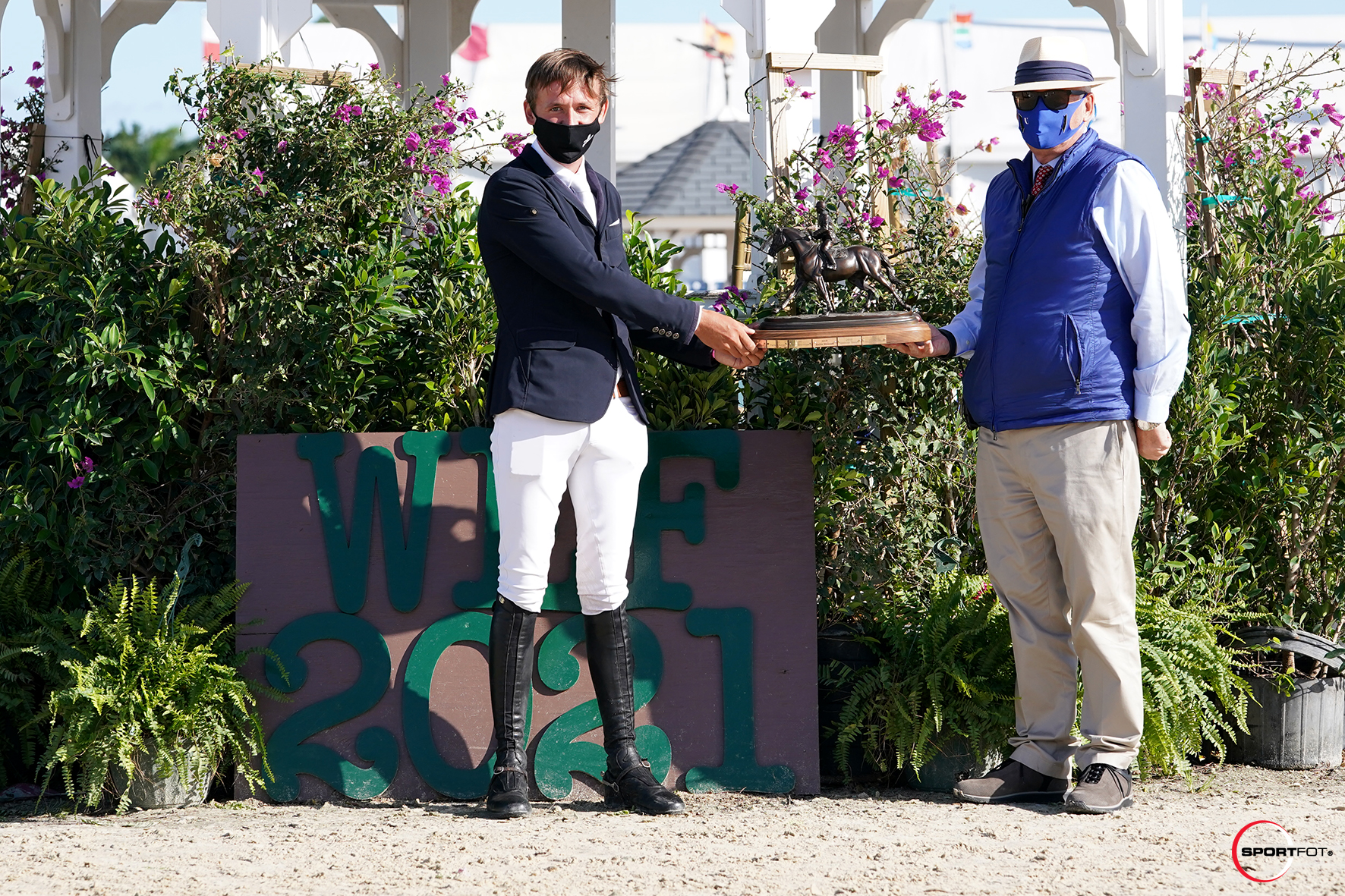 Final Results: 214,000 Grand Prix CSIO4*, presented by JTWG, Inc.
1. SCUDERIA 1918 TOBAGO Z: 2008 Zangersheide stallion by Tangelo Vd Zuuthoeve x Mr Blue
DANIEL DEUSSER (GER), Stephex and Scuderia 1918: 0/0/36.45
2. CHAKARIA: 2010 DSP mare by Chap 47 x Askari 173
ANDRE THIEME (GER), Pferdemanagement & Marketing: 0/0/37.49
3. AMSTERDAM 27: 2010 Holsteiner gelding by Catoki x Acord II
TEDDY VLOCK (ISR), Vlock Show Stables, LLC: 0/0/37.91
4. DICAS: 2009 Rheinlander gelding by Diarado x Cassini I
MARGIE ENGLE (USA), Storm Ridge Capital LLC, Show Horses, Garber & Gladewinds Partners LLC: 0/0/38.84
5. DEZ OOKTOFF: 2008 KWPN stallion by Colandro x Lys Rouge
ROBERTO TERAN TAFUR (COL), Roberto Teran Tafur: 0/0/39.87
6. LEVIS DE MUZE: 2011 BWP stallion by Elvis Ter Putte x Heroine De Muze
IOLI MYTILINEOU (GRE), Elia Construction SA: 0/0/40.80
7. PRESENCE: 2008 Holsteiner stallion by Contendro II x Ulibra
MARIA COSTA (USA), Ravello Farms, LLC: 0/4/36.72
8. CASTLEFIELD VEGAS: 2010 ISH gelding by Cassino x Lux Z
BERTRAM ALLEN (IRL), Martin Egan: 0/4/35.57
9. VINCI DE BEAUFOUR: 2009 Selle Français gelding by Diamant de Semilly x Heartbreaker
DARRAGH KENNY (IRL), Devon MacNeil: 4/71.82
10. LEONE JEI: 2012 KWPN gelding by Baltic Vdl x Corland
MARTIN FUCHS (SUI), Adolfo Jui: 4/72.34
11. ARPEGE DU RU: 2010 Selle Français mare by Apache D'Adriers x Quat'sousABDEL SAID (EGY), Abdel Said: 4/73.06
12. VILLAMOURA: 2009 Selle Français mare by Diamant de Semilly X KASINA
SYDNEY SHULMAN (ISR), Jill Shulman: 4/73.36