By Kate Pettersen for Jennifer Wood Media, Inc.
Wellington, FL – March 10, 2021 – On the opening day of week nine at the 2021 Winter Equestrian Festival (WEF), McLain Ward (USA) and Catoki, owned by Marilla van Beuren, Bob Russell, and McLain Ward, galloped to the top spot in the $37,000 Douglas Elliman Real Estate 1.45m CSI5* on Wednesday, March 10, in the International Arena at the Palm Beach International Equestrian Center (PBIEC).
WEF 9 continues with CSI5* competition, along with a concurrent CSI2*, in the International Arena at PBIEC until March 14 sponsored by Fidelity Investments®. Weekly highlights include Thursday's $73,000 Adequan® WEF Challenge Cup Round 9, Friday's the $37,000 Bainbridge Companies 1.45m Classic CSI5*, the $50,000 Wellington Equestrian Realty Grand Prix CSI2* on Saturday, and the $401,000 Fidelity Investments® Grand Prix CSI5* as part of "Saturday Night Lights." Make sure to watch Saturday night's live stream opening ceremonies to see the induction ceremony for Olympic gold and silver medalist Leslie Howard and Olympic judge and long-time FEI Steward General David Distler into the Show Jumping Hall of Fame. The week concludes with the $73,000 CaptiveOne Advisors 1.50m Classic CSI5* on Sunday. Feature classes are available free live and on-demand on the livestream.
Wednesday afternoon's feature class had 56 combinations contest the 1.45m two-phase format designed by Alan Wade (IRL) which featured obstacles numbered one through 13. A total of 32 competitors produced double clear efforts but as the 18th to go in the starting order, Ward did it quickest aboard the 12-year-old Holsteiner gelding by Catoki x Cartello B, holding the lead to the end of the class to take the victory in 25.51 seconds.
"Alan Wade is my favorite course designer in the world so it's always good to see him again," said Ward. "The power and speed always sets up nicely for Catoki because he's so quick. He's got such good ground speed, which doesn't allow for the bigger-strided horses to catch us over a longer course so it was a good track for us."
Ward and Catoki continue to find success in the International Arena including a win in the Grand Prix during WEF Premiere week. As the 12-week winter circuit moves into its final weeks, Ward is looking to close the home stretch with some big wins. When asked about how he's feeling at this point, the veteran was quite candid.
"Exhausted," he said with a laugh. "No, we'd like to have a good finish. I'm planning right now on taking Contagious to the World Cup Finals [in Sweden] which sounds like it's going to happen and is pretty impressive considering all the things that are happening in the world. I have HH Azur and Kasper Van Het Hellehof to balance out the last few grand prix [classes] here at WEF, and for the most part we've had a nice consistent circuit. We haven't won any of the big grands prix but we've been in the ribbons almost every week in the WEF Challenge Cup and the big classes. In general, I'm happy with the horses, but we could use a big win."
Ward has mentioned in previous weeks that the level of competition at this year's WEF is some of the strongest there has ever been. For him, the difficult classes and top competitors he goes up against week after week have made his preparation for a major championship very high quality.
"It's huge," said Ward. "We've had great sport here; the level has been very high and challenging. I hope that that pays well at the World Cup Finals."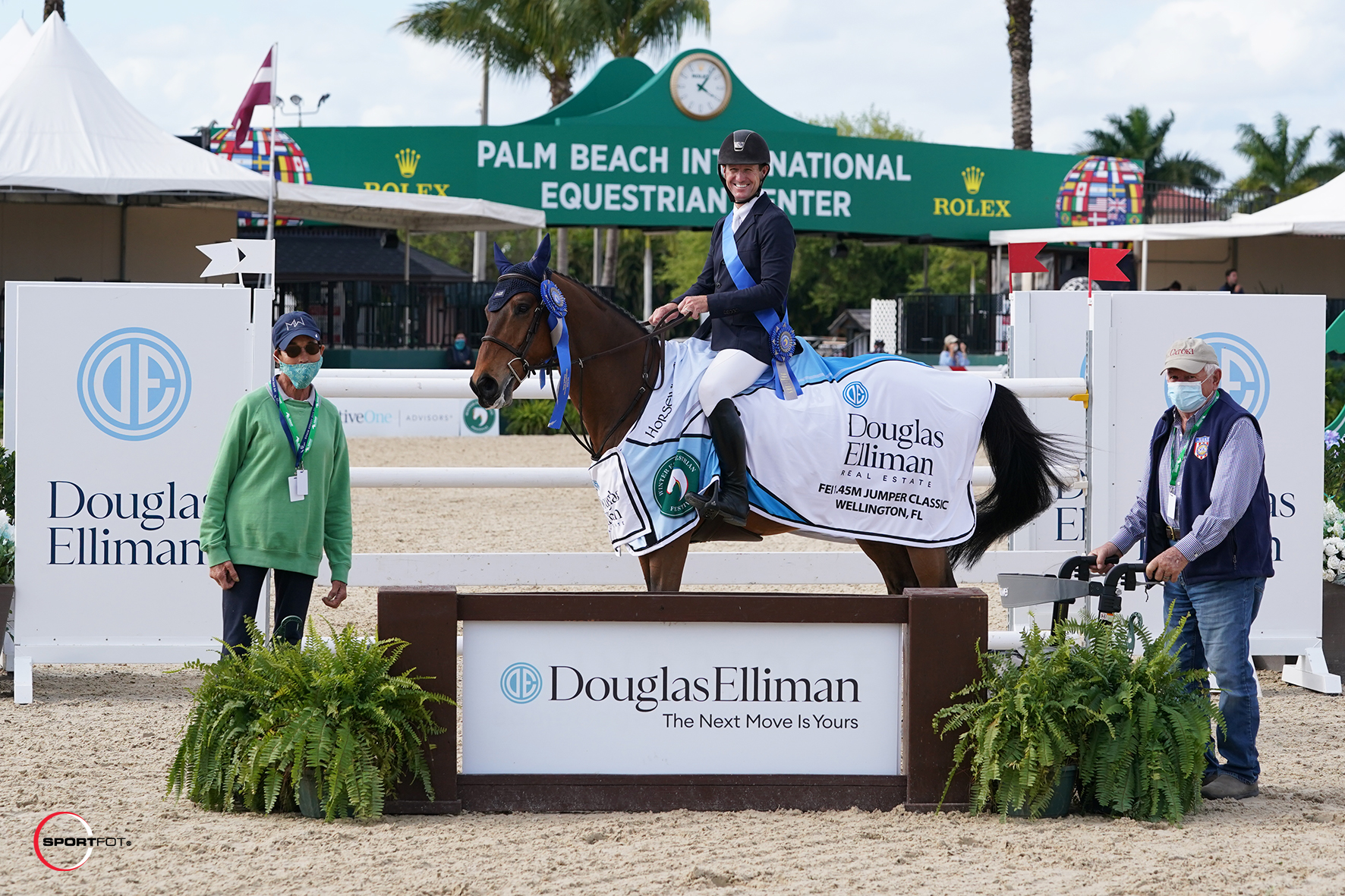 Joining Ward in the winner's circle for Wednesday afternoon's presentation were proud owners Marilla van Beuren and Bob Russell, who are familiar faces on the showgrounds.
"Marilla and Bob have Noche De Ronda and now Catoki, who we purchased about a year and a half ago," he said. "They've been great supporters and fans of the sport. They love it, and they're always up here to root us on. To have a horse like Catoki win so many competitions is a lot of enjoyment."
Earlier in the day, Ireland's Max Wachman opened the week with a win in the $6,000 Wellington Equestrian Realty 1.40m CSI2* aboard Ikaros, owned by Coolmore Show Jumping. The 17-year-old rider and the nine-year-old Swedish Warmblood gelding by Chelltago Z x Feliciano 823 jumped a fault-free round in the two-phase competition, finishing in a time of 26.63 seconds.
Following that, Schuyler Riley (USA) and Quilimbo, a 12-year-old Holsteiner stallion by Quidam De Revel x Limbus owned by E2 Show Jumpers, captured the $1,000 Bainbridge Companies 1.45m. Riley, 49, secured the victory with a double-clear effort over the two-phase track, stopping the clock at 29.98 seconds.
Full Results: $37,000 Douglas Elliman Real Estate 1.45m CSI5*
1. CATOKI: 2009 Holsteiner gelding by Catoki x Cartello B
MCLAIN WARD (USA), Marilla van Beuren, Bob Russell & McLain Ward: 0/0/25.51
2. CHA MU 4: 2010 Westphalian gelding by Cornado II x Rheinsberg
MARTIN FUCHS (SUI), Lee Sportpferde: 0/0/26.29
3. RONJA: 2011 CH mare by Conteur x Ranga
ERYNN BALLARD (CAN), Ilan Ferder: 0/0/26.48
4. FLAIRVONA: 2010 KWPN mare by Air Jordan Z x Vivona
SPENCER SMITH (USA), The 500 Hats, LLC: 0/0/27.21
5. SLIGO BALOU BOY: 2009 Irish Sport Horse gelding by Balou Du Rouet x Catiana
DARRAGH KENNY (IRL), Michael Kearins: 0/0/27.25
6. CACHEMIRE DE BRAIZE: 2012 Selle Français gelding by Quality Touch x Jaguar Mail
DANIEL BLUMAN (ISR), Over the Top Stables LLC: 0/0/27.47
7. CARACAS: 2009 Holsteiner gelding by Cachas x Cosimo
EUGENIO GRAZA PEREZ (MEX), El Milagro: 0/0/27.63
8. BRIGHTON: 2006 KWPN gelding by Contendro II x Quick Star
TIFFANY FOSTER (CAN), Artisan Farms LLC: 0/0/27.72
9.= RMF TINKERBELL: 2008 Oldenburg mare by Incolor x Argentinus
JESSICA SPRINGSTEEN (USA), Rushy Marsh Farm, LLC: 0/0/28.22
9.= IMAGINE: 2013 KWPN mare by Emerald x Heartbreaker
ASHLEE BOND (ISR), Aurora Farms and Little Valley Farms: 0/0/28.22
11. BABYCOMEBACK: 2011 Selle Français mare by Corofino II x Joyau D'or A
YURI MANSUR (BRA), Yuri Mansur: 0/0/28.42
12. CALINA: 2012 DWB mare by CI CI Senjor Ask x Cornet Obolensky
HARRIE SMOLDERS (NED), One Oak Equestrian: 0/0/28.68