By Kate Pettersen for Jennifer Wood Media, Inc.
Jessica Mendoza (GBR) topped the day's $37,000 Wellington Equestrian Realty 1.45m CSI2* with Dublin, a 2007 German Sport Horse gelding (Cobra x Calido) owned by Windsor Farms. The pair rode to victory in the class of 73 entries, after 20 horse-and-rider combinations returned to contest the Michel Vaillancourt (CAN)-designed fast track.
Medoza and Dublin cleared the second course in a quick 31.07 seconds. "I knew that there were a lot of horses coming back for the jump-off," began Mendoza, "so I knew that it was going to be a quick one. I had to get going from the beginning and try to leave little to no room for anyone else to sneak in there."
She continued, "Dublin was very good. At fence number two I turned a little tight and then went a little deep, and he was a good boy with that so I'm very happy with him. He's probably the most careful horse I've ever sat on; he just doesn't want to touch a fence. You're either clear or you'll do something scary when it comes to him. He's amazing; he's very intelligent and knows where his legs are."
The 24-year-old is currently developing her string of horses and is utilizing her veteran mounts while the youngsters move up the ranks. She explained, "This season I haven't really got a grand prix horse ready to go. I've got two nine-year-olds that I'm producing, so I'm just using Dublin and Casanova as I wait for those horses to come up and become grand prix horses."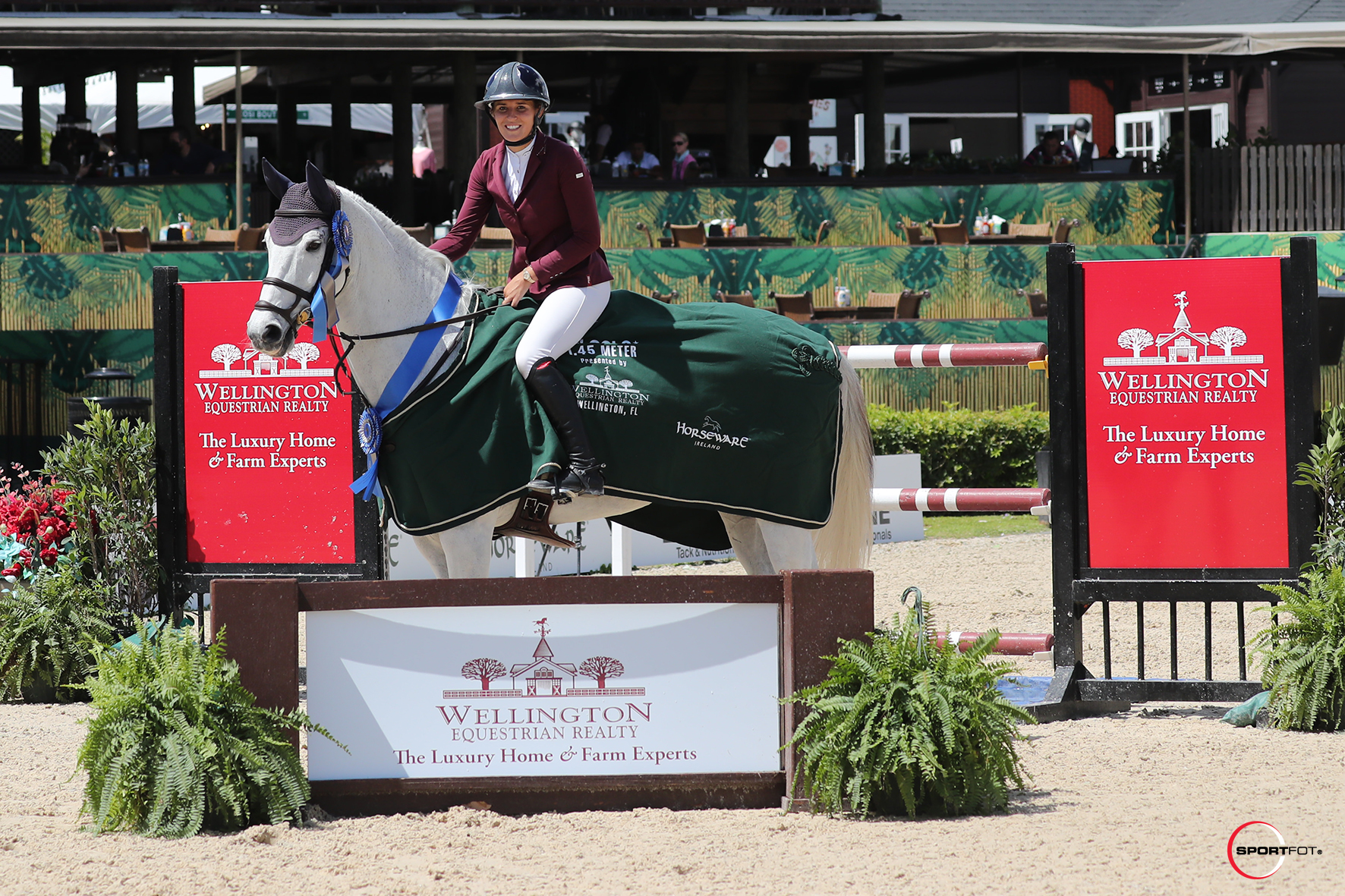 With all that is happening with the global pandemic and now the EVH-1 outbreaks across Europe, Mendoza expressed her final thoughts as gratitude for the WEF organizers for putting on a safe, competitive show. "It's incredible to get to show here," she concluded. "There's such a safe feeling at this venue. The management does a great job paying attention to the social distancing and biosecurity. We are all just very thankful to be here."
Celso Ariani (MEX) rode to second place aboard Ukulman De La Nutrina, Ricardo Romero's 2008 Selle Francais gelding by Quick Star, after completing the jump-off in 32.50 seconds. Third went to Laura Chapot on Mary Chapot's 2005 Oldenburg gelding (Chacco Blue x Landcapitol), Chandon Blue, finishing in 32.50 seconds.
Final Results: $37,000 Wellington Equestrian Realty 1.45m CSI2*
1. DUBLIN: 2007 Deusches Reitpferd gelding by Cobra x Calido
JESSICA MENDOZA (GBR), Windsor Farms: 0/0/31.07
2. UKULMAN DE LA NUTRIA: 2008 Selle Francais gelding by Quick Star
CELSO ARIANI (MEX), Ricardo Romero: 0/0/32.50
3. CHANDON BLUE: 2005 Oldenburg gelding by Chacco Blue x Landcapitol
LAURA CHAPOT (USA), Mary Chapot: 0/0/32.505
4. VALENTINO V Z: 2009 Zangersheide stallion by Verdi x Converter
MARIA COSTA (USA), Ravello Farms, LLC: 0/0/32.71
5. MENDINI DR: 2012 BWP mare by Hunters Scendix x Cleopatra Van Spalbeek
CONOR O'REGAN (IRL), Dynomite Ranch, LLC: 0/0/34.38
6. SCATO VAN DE MOLENBRUG Z: 2010 Zangersheide stallion by Scendix x Cleopatra
JENNIFER WAXMAN (USA), The Scato Group, LLC: 0/0/34.83
7. DAVIDSON: 2008 KWPN gelding by Harley VDL x Chin Chin
Alex Matz (USA), Five Star Partners: 0/0/34.85
8. CHADES OF BLUE: 2008 Oldenburg gelding by Chacco-Blue x Zamite M
ALEXANDRA THORNTON (GBR), Dunwalke LLC: 0/0/36.84
9. TANAEL DES BONNES: 2007 Selle Français gelding by Watch me van't Zorgvliet x Don Pierre
BRIANNE GOUTAL-MARTEAU (USA), Gerald Ford: 0/4/32.50
10. UN DIAMANT DES FORETS: 2008 Selle Francais stallion by Diamant De Semilly x Grace Des Forets
JIM IFKO (CAN), Eventyre Farms:0/4/33.02
11. HORTENSIA VAN DE LEEUWERK: 2007 Belgian Warmblood mare by Corland x Danora Van De Leeuwek
MANUEL GONZALEZ DUFRANE (MEX), Manuel Gonzalez Dufrane: 0/4/33.24
12. VDL STELLA: 2012 Brazilian Sport Horse by Cardento x Capitu Da Santa Helena
CARLY ANTHONY (USA), Portfolio Horses, LLC: 0/4/33.26